I forgot the backup PIN, is it possible to unlock my LG G3?
Backup PINs are essential if you just set up Voice or face recognition or pattern lock System. So if you set up a strong password thinking of no one can recognize it easily, you may forget it. But your LG phone is equipped with an LG backup PIN that you set while setting up screen lock.
But what if you forgot your backup PIN? You of course want to set up/change the backup PIN or bypass the PIN itself completely. So, this guide shows you how to change the backup PIN or bypass the PIN or pattern lock?
Part 1. Everything About LG Backup PIN You Need to Know
LG Backup PINs are set up while setting up a screen lock on LG phones that are required as a backup to the common screen locks like pattern lock, face recognition, and voice recognition. The backup PIN comes to the rescue when you forgot the pattern lock or your LG phone or the phone failed to unlock through your voice or face recognition.
So, the backup PIN works as a secondary layer of the locking system when your phone doesn't recognize the primary unlock key. That's why LG devices recommend having a backup PIN, even if you forgot the PIN code or pattern, a backup PIN will help.
Part 2. Setup/Change Backup PIN Code on LG Phone
If you are setting up a pattern lock, voice recognition, or face detection on an LG device, it's mandatory to set up a backup PIN. So, it's essential to know the process of how to set it and change it if necessary.
If you want to enable pattern lock on your LG device, please follow these steps.
Step 1: Firstly, you need to choose the device lock for your LG phone, just go to the home screen and select Settings.
Step 2: Choose Screen lock Settings and then tap Select Screen Lock.
Step 3: Then, you are allowed to pick the screen lock method from these options.
None
Swipe
Face Unlock
Pattern
Password
Step 4: Tap on the Pattern Lock option and hit Next.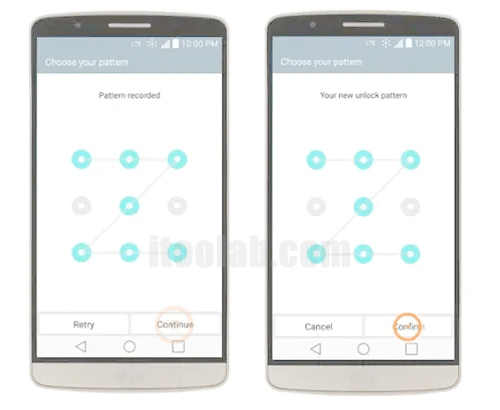 Step 5: Now draw an unlock pattern on the grid lines using your finger and tap Continue. You are required to draw the pattern again for confirmation.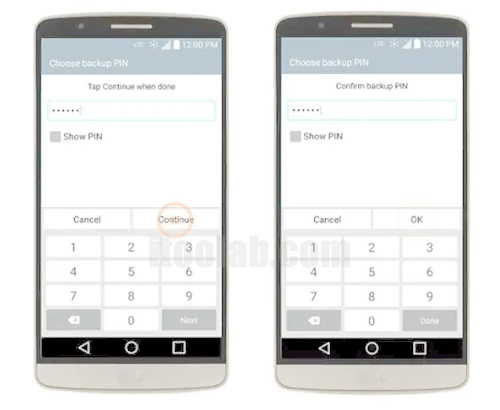 Step 6: Now, tap Next and type the LG Backup PIN as a backup unlock key.
Step 7: Tap Continue once you enter the backup PIN at first and re-enter it to confirm.
Step 8: Hit Ok as you entered the Backup PIN and you are done.
If you would like to change the Backup PIN code on LG phone, just easily follow the way as above.
Part 3. Unlock LG Phone Forgot Pattern Lock
If you forgot the backup PIN of your LG phone running Android 4.4 KitKat or lower, you can unlock the LG phone using a backup PIN. Once you draw an incorrect pattern and try to unlock your Android device, follow the steps below.
Step 1: Tap the Backup PIN option, if you remember the exact one.
Step 2: Enter your PIN-code here and tap Done.
Step 3: At this point, you will be redirected to the Screen Unlock Settings from where you can reset your lock screen pattern.
You Might be Intereseted in Bypass LG Lock Screen Without Reset or Data Loss
Part 4. What to Do If Forgot Backup PIN on LG?
Today we are prompted to set up a passcode or PIN code for almost everything but it's quite tricky to remember them all. The password manager assists you to keep tabs on your all passwords but they aren't found useful when it comes to forgetting LG backup PIN.
So, here comes two more methods to remove patterns or PIN locks on LG phones make sure you read them carefully.
Solution 1. Bypass pattern lock on LG phone with Google account
If you have an Android phone, you have to link it to the Google account to enjoy Google Play services, Gmail, and more. If you are running any model of LG including G3, G4, G5, and forgot the backup PIN, this method will surely work for you.
You can follow the steps below to complete this action.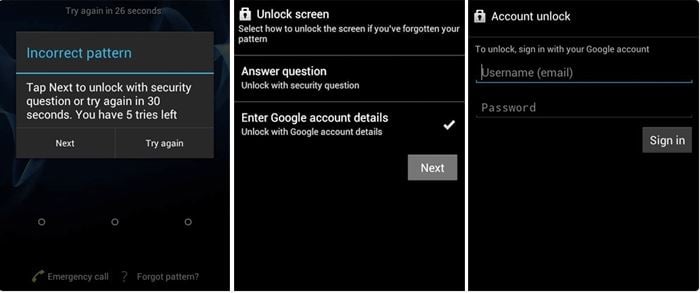 Step 1: Tap on the Forgot pattern option located below your lock screen, if this option is unavailable, draw the wrong pattern five times.
Step 2: The next screen will ask you which option you like to pick to unlock your phone. Choose Enter Google account details.
Step 3: Now type your Google account's ID and password and log in, ensuring internet connectivity.
Note:
Backup code will ONLY work on Android 4.4 or lower, if you are running the latest OS, the next section will help.
Solution 2. Remove pattern password on LG with unlock tool
If you have gone through all the methods mentioned above to recover forgotten LG backup PN but finally come to know that you don't remember your Google account. What will you do next? Are you deciding to wipe out your LG phone or managing to visit an Android technician to unlock your phone?
Wait a minute! You are close to reaccessing your LG phone just in a few minutes. Wondering how? This is possible with the Android unlocking tool iToolab UnlockGo (Android), as this tool has a specialized screen lock removal ability to quickly unlock LG screen lock hassle-free.
Can I unlock the phone manually?
Most of the phone unlocking methods are built into your Android thus attempting them wrong or missing any step may lead your phone to malfunction. It may harm your device performance or corrupt your software.
Why should I use UnlockGo (Android)?
While UnlockGo (Android) tool is Android-friendly, safe, convenient, and handy to use with less technical knowledge. Hence, it removes the screen lock without importing harmful files or creating software glitches.
LG Screelock Removal Tool
Removes PIN, pattern, password, and fingerprints easily
Unlock screen lock without data loss on Samsung
Unlock LG phone without backup PIN code
Suitable for LG and other major Android tablets and phone models
Step 1 Connect LG phone
Download iToolab UnlockGo (Android) on your Windows PC and open the tool.
Choose Unlock Screen Lock, click Start on the next screen and connect your LG phone with your PC using a USB cable.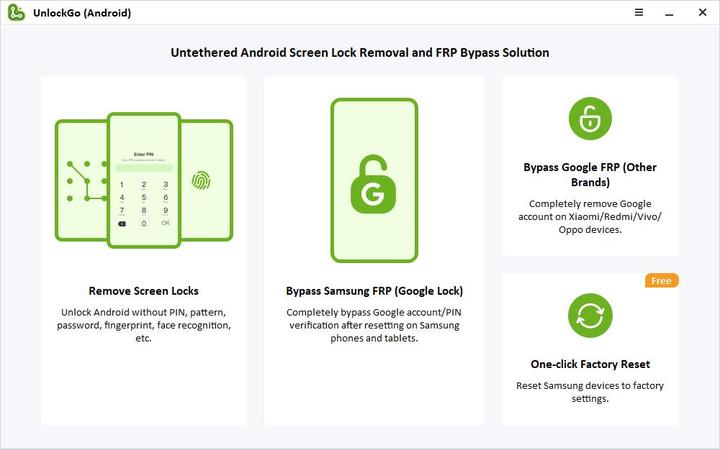 Step 2 Confirm the device
Here you need to inform UnlockGo (Android) your locked Phone brand. Once you select it from the list, click Unlock.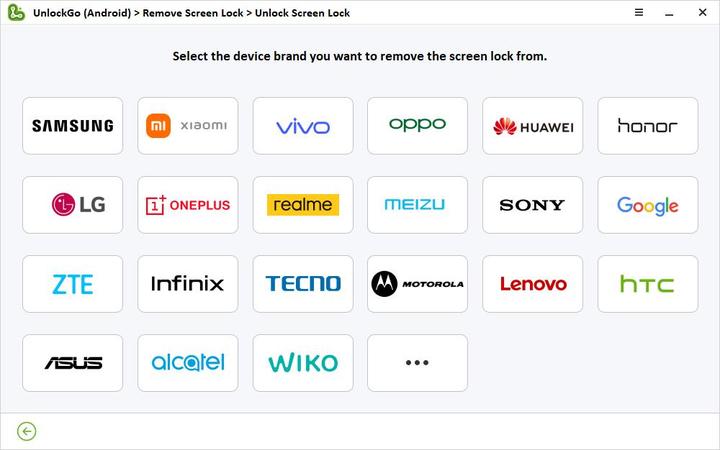 Step 3 Boot your LG in Recovery mode
This step needs your device to enter recovery mode. Simply hold down the Power button and Volume Down keys until the System Recovery screen appears.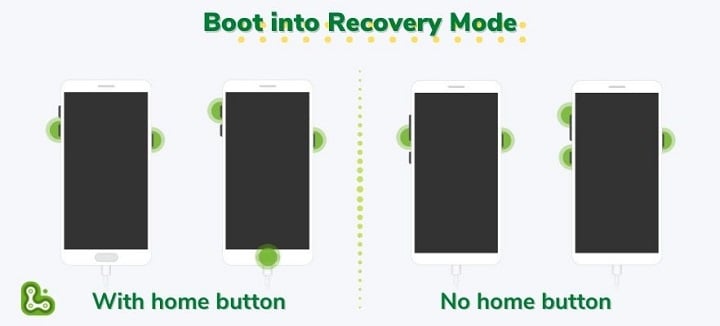 Step 4 Unlock LG phone without Backup Pin
As you switched to recovery mode, follow the steps on your screen to remove the forgotten LG Backup Pin. Finally, your LG phone unlocked and you will get a fully accessed phone.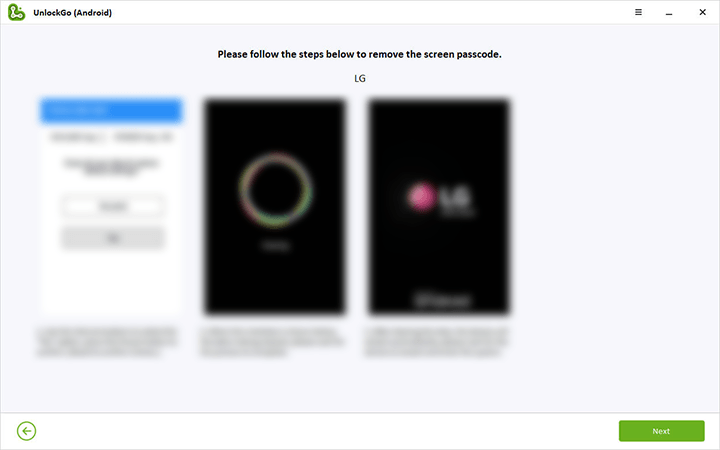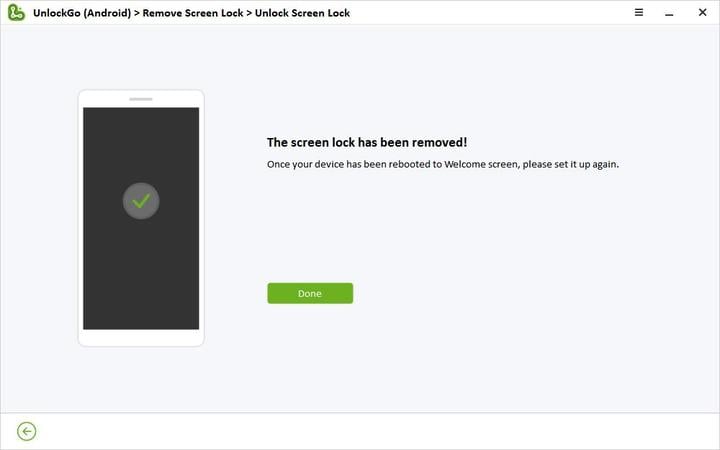 Conclusion
Unlocking a locked phone is a slightly technical issue that can be performed through authentic solutions. Remember, each solution has its own requirements according to the criteria.
If you want to cut those boundaries, and want to bypass LG backup PIN in just 5-10 minutes, try iToolab UnlockGo (Android) now!