Keeping our personal identity safe and secured is our foremost priority since currently the entire world is participating online. Digital Security is crucial which means your smartphone and other personal devices needs to be password, pattern or pin protected. With so many security measures in place it is possible to forget one's pattern password and lose access to one's device. If in case you get locked out of your device or forgot pattern lock on Samsung Galaxy you can use any of the methods mentioned in this article to get out of this hitch.
How to Bypass Pattern Lock on Samsung S10/J7/Grand Easily
Your Samsung Galaxy Smartphone is full of contingencies for getting locked out of your phon. All models of the Samsung Galaxy has something new to offer but their security patterns are pretty much the same. In case you forgot pattern lock on samsung galaxy s10/10/9/8/a51/j7, you can try out any of these approaches. Many of these methods may require you to have a stable internet connection.
Method 1: Using PIN Code
This is the simplest method to follow in this list and it involves using the previous PIN code you had set before you changed your phone's security to a patter lock. Follow these steps;
Draw wrong pattern 5 times.
Tap on the PIN request.
Type in PIN and tap "Done".
This will remove the previous pattern lock.
You will be redirected to Screen Unlock settings where you can reset your phone's lock screen.
Method 2: Using Find My Mobile
If you are a loyal Samsung user then you would know that they have a "Find My Mobile" feature that ensures you can find your device or erase it if in case it gets misplaced. It can also be used to bypass pattern lock on Samsung and here are the steps you need to follow;
Log onto your Samsung Account which you had setup from your web browser.
Click on "Lock My Screen" option and enter pin.
Now, click on the 'Lock' option to be able to change your old pin to the new pin.
Enter in new PIN and bypass pattern lock on Samsung.
Method 3: Using Google Account (working on Android 4.4 or lower version)
Having a Google Account is a life saver for a lot of people. It can make your digital life much easier. You can use it to back up all your data or even use it as a second gateway to access your phone if it gets locked. Find out how to bypass pattern lock on Samsung with these steps;
Draw the wrong pattern lock on your Samsung Galaxy 5 times.
Tap on "Forgot Pattern" on the bottom of the screen.
Now enter in your Google email id and password to unlock device.
Sing in into your account.
You will be redirected to the Screen Unlock settings where you can reset Samsung Pattern Lock.
Method 4: Using Android Device Manager
The most efficient way to unlock your Samsung Galaxy smartphone is by relying on your Android Device Manager. You can use this feature even when your phone is switched off but for that you need to keep it activated beforehand. But, this step would also erase all the data from your device as well.
On your web browser visit the page google.com/android/devicemanager.
Sign up to this page using the Google Account you had set up from this device.
Select the handset you wish to unlock.
Click on the "Erase" button to remove existing pattern.
Method 5: Using ADB (working on usb debugging is enabled)
This method is used for debugging your Android system but it can also be used to reset your pattern lock. The steps can be a bit confusing at first but it is easy to follow.
Connect your handset to your computer.
Open your computer command prompt.
Type in "adb shell rm/data/system/gesture.key" command and press "Enter".
Restart your handset. Your screen lock will be gone.
Method 6: Using Emergency Call (Low success rate)
This method is probably the most devious one on this list but can only be executed on Android versions 5.0 to 5.11. What you need to do is click on the emergency call option showing up the bottom of your lock screen and type in 10 (*) asterisks. Copy this set of 10 and keep pasting it back in the same dial box until there's no space remaining for more characters. This would result in your lock screen crashing, allowing you to access your smartphone. It is important for the users to know that this method isn't the most reliable and is dependent on a flaw in the system.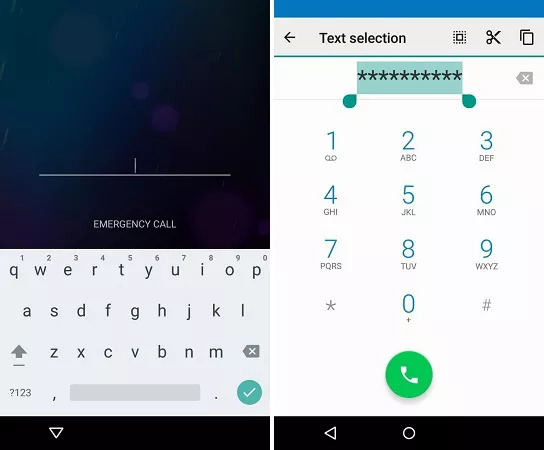 How to Unlock Samsung Phone Forgot Pattern Lock without Losing Data
"How do I unlock my Samsung pattern lock without losing data?" The question that many of us ask! Losing data is a phase that no one can afford. And some of the methods can result in such phase. Before you panic, we have a great tool for you i.e. iToolab UnlockGo(Android). This tool works wonder no matter if you have forgotten your password, PIN or any other lock. You can remove lock within seconds. Let us know how to unlock Samsung grand pattern lock using UnlockGo (Android).
UnlockGo (Android) – Samsung Lock Screens Removal
Remove all Android screen locks, PIN, password, pattern, fingerprints, face lock
Unlock Samsung screen lock without data loss
Covers over 15 mainstream brands, 2000+ Android models
Bypass Samsung FRP lock on Android 5~13
Allows for customized plans
Step 1: Simply download and install the tool. Once done, connect your Samsung device and click "Unlock Screen Lock".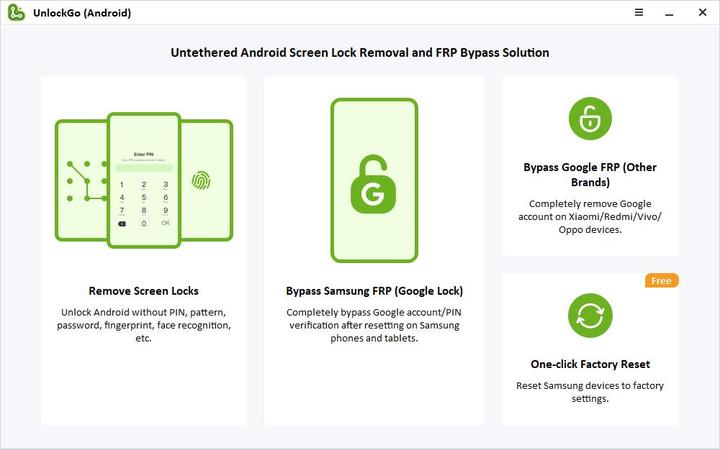 Step 2: On the next screen, click "Start" button to confirm your device information.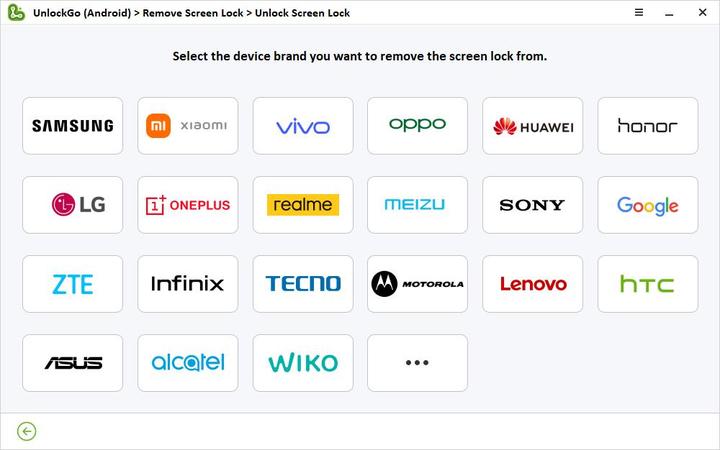 Step 3: Next, you need to put your device into recovery mode. Follow the on-screen steps to do that and then remove screen passcode.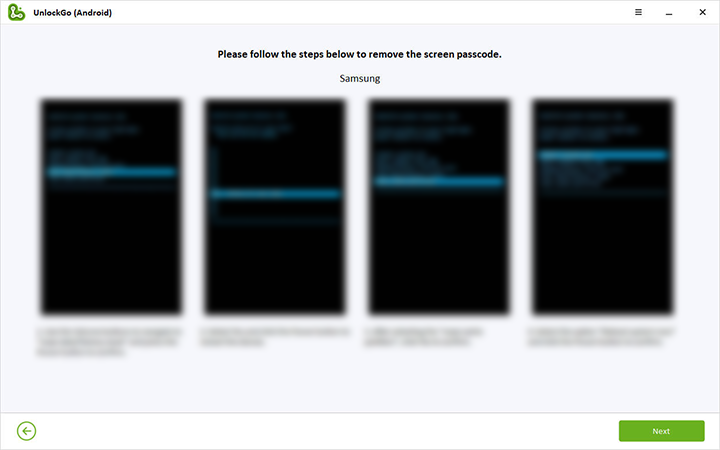 Step 4: The unlocking process will take a few minutes, once done you can set your new passcode.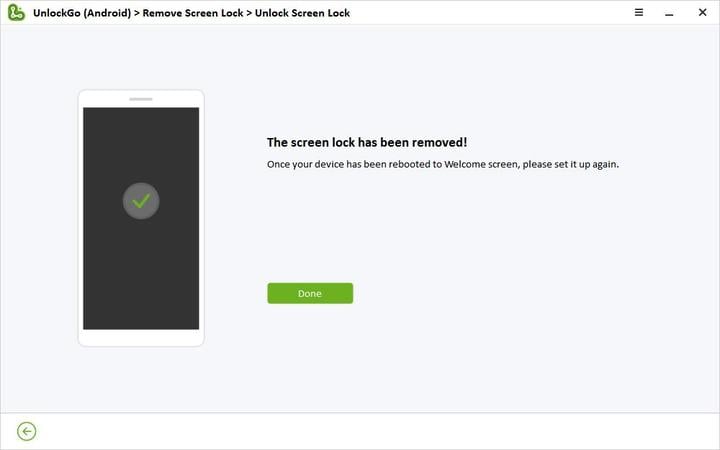 Also Know: How to Unlock Pattern Lock on Samsung Galaxy Tab
Your Samsung Galaxy Tab is the same as your other Samsung android devices with a few a few exceptional differences to its interface. Then again, you can still use the same methods except the ADB and emergency call methods to unlock your Samsung Galaxy Tab. So if you are wondering how to bypass samsung lock screen without losing data, you can follow the above methods.
Conclusion
If you have trouble remembering your screen lock pattern then any of the above methods should be able to help you unlock your Samsung Galaxy smartphone quite easily. Keep in mind that it is always great practice to back up all your essential data as unlocking your phone may put them at risk. You can also choose UnlockGo (Android) if you forgot Samsung phone password if you don't wanna lose your data. Hope this article really helps you!