Xiaomi/Redmi phones are popular due to their affordability, quality build, strong performance, innovative features, and user-friendly MIUI customization.
So to keep strangers off your phone you need a Mi account for strong security purposes but there are times when you need to bypass it if you forgot Mi account credentials, you purchased a second-hand Mi account locked phone, or your device is locked just after performing a factory reset.
Keeping all these situations in mind I prepare an extremely helpful article for you that introduces powerful Mi account unlocker tools that are worth trying. But before getting into the topic make sure you clear your vision about the Mi account.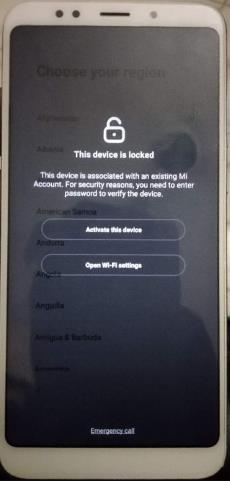 Part 1: What Is Mi Account?
Xiaomi's Mi Account is crucial for accessing the array of Mi features. Similar to a Gmail account on regular Android devices, a Mi account unlocks Xiaomi services like Mi Cloud data sync, phone tracking, device lock, flash sales, Mi F-codes, games, themes, and more.
Just as you'd expect an Android user to have a Gmail, Mi mobile users need a Mi account for these perks. It's the gateway to Xiaomi's offerings, enhancing your device experience.
But if you are locked out of it you need a Mi account unlocker tool to regain access to your phone. So check the following tried and tested tools I mentioned below to save your research time.
Part 2: Top 2 Mi Account Unlock Tools
Now, in this section, I will discuss two Mi account bypass tools to remove Mi accounts on Xiaomi/Redmi/Poco devices. These tools are also compatible with other Mi models and are successfully used as Redmi Note 9s, Redmi Note 9, and Redmi Note 9a Mi account remove unlock tool.
Top 1. Mi Account Unlock Tool
Meet the Mi Account Unlock Tool. It helps MIUI users bypass Mi Cloud verification and turn off their accounts without a glitch. So when you forgot your Mi account logins download the Mi account unlock tool to get rid of an annoying locked Mi account.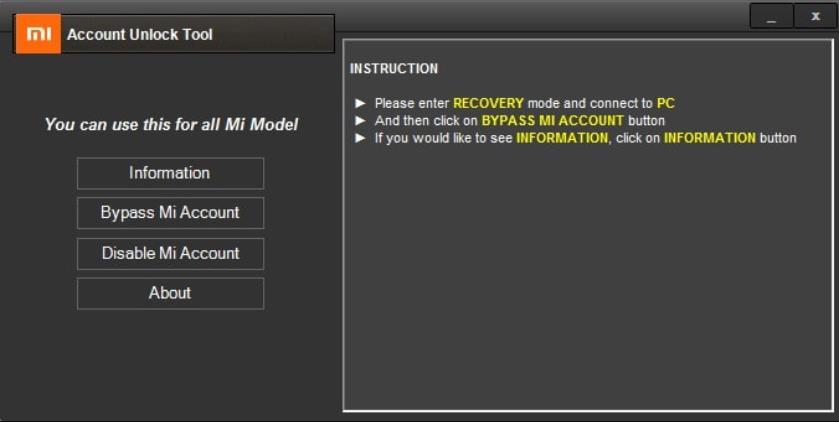 But to help you make better decisions I want you to check out the pros and cons first.
Pros
Helps to regain access to your devices when you forget your Mi account credentials.
User-friendly interface, with a feasibility for users to disable their Mi account.
Works across various Windows versions.
Cons
The latest 2023 MIUI account unlocker tool might doesn't work on MIUI 10 or higher.
Latest version of the tool should be installed from a trusted site.
The latest Mi drivers should be installed on your PC.
If you come up with the requirements the tool asks, follow these steps to unlock your Xiaomi/Redmi phone.
Download the Mi account unlock tool
1. Visit a trusted download site and navigate to the designated folder.
2. Double-click the downloaded file to initiate the Mi Account Unlock Tool installation.
3. Go through the on-screen instructions to finish the download.
4. Once a pop-up message confirms installation appears, the tool is ready to use.
Using the Mi Account Unlock Tool
1. Set up and run the tool on your computer.
2. Put your Mi device into recovery mode by pressing the "Volume Up" and "Power" buttons together.
3. Connect your Mi device to the computer using a USB cable and open the Mi tool.
4. Access device connection details in the "Information" section.
5. If "Information" isn't visible, check the USB connection and downloaded drivers.
6. Click "Bypass Mi Account".
7. Your device will reboot automatically after a successful bypass.
Top 2. TPS Xiaomi Tool
TPS Xiaomi Tool, also known as Techeligible Phone Software, is designed to provide comprehensive solutions for Xiaomi devices. It offers functions like removing FRP locks, unlocking the bootloader, flashing firmware, and more. This tool simplifies troubleshooting and device management tasks for Xiaomi smartphones, making it a valuable utility for both enthusiasts and technicians.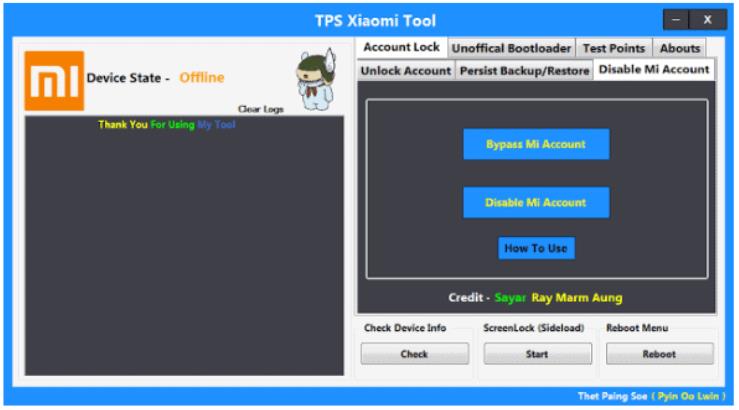 Pros
Bypass FRP locks and Mi Account verification.
Allow users to access detailed information about connected Xiaomi devices.
Cons
Involves technical processes and commands.
Performance might be based on Xiaomi device models, firmware versions, and regional variations.
1. First, download the TPS Xiaomi Tool, Xiaomi Qualcomm USB Driver and MTK USB Driver on your computer.
2. After extracting the tool files on your PC, run the TPS_Tool.exe. Follow the on-screen guidelines to complete the installation.
3. Launch the TPS Xiaomi Tool.
4. Turn off your mobile device and enter Fastboot mode by holding the Power and Volume down buttons simultaneously. Connect your phone to your PC using a USB cable.
5. Download Fastboot and ADB drivers on your PC. Enable USB debugging in your mobile's settings.
6. Launch the command prompt on your computer and enter the following commands:
adb devices
adb reboot edl
Confirm any pop-ups and enable USB debugging.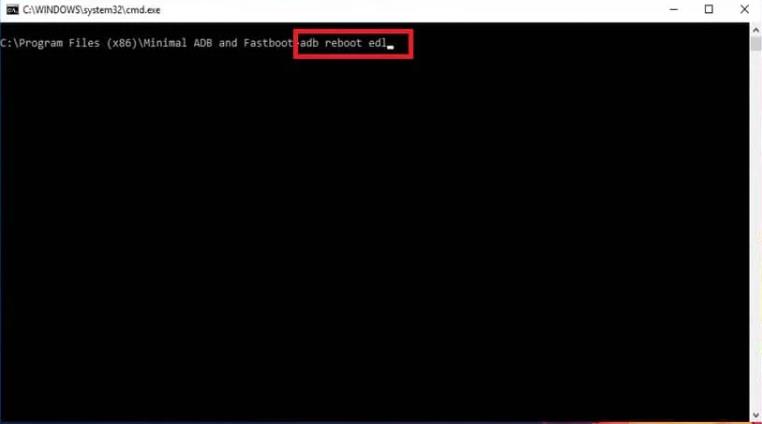 7. Open the TPS Xiaomi Tool and verify if your device is in ADB or Fastboot mode.
8. Click "Check Device info" in the tool to ensure your device is correctly connected.
9. Below "Account Lock", select "Disable Mi Account" > "Bypass Mi Account". After this step, your Mi phone will unlock successfully.
Bonus: How to Unlock Mi Phone with Google Account Verification
After performing a factory reset on your Xiaomi/Redmi phone, you will need to enter the Mi account information or Google account information to unlock your device. After checking the above content, you have 2 Mi account unlock tools. But what if you need to enter the Google account username and password and you forgot the previous account credentials?
If that is your situation, I have iToolab UnlockGo (Android) for you, a powerful FRP bypass tool that can bypass Google account verification on Xiaomi/Redmi/Poco devices to unlock your phone in minutes.
Step 1 Free download UnlockGo (Android) FRP bypass tool on your Windows or Mac computer. Choose "Bypass Xiaomi/Redmi/vivo/OPPO Google Lock" on the home screen.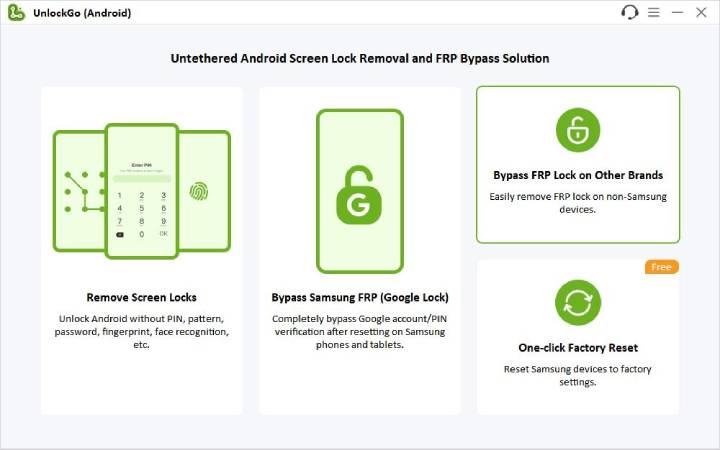 Step 2 Connect your Xiaomi/Redmi device to the computer with a USB cable. Then choose your phone brand.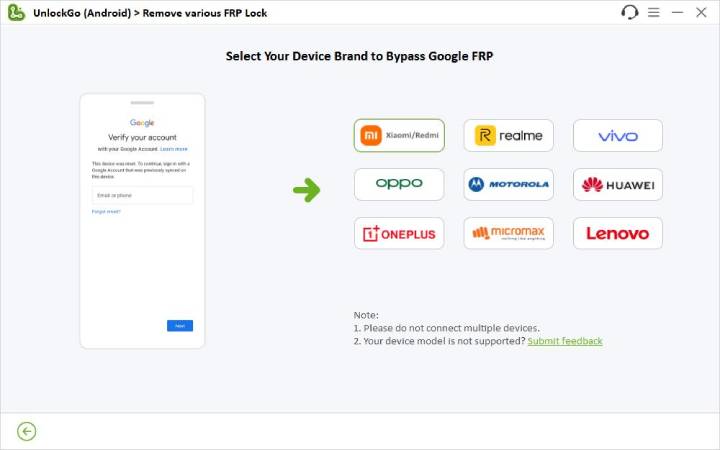 Step 3 Follow the prompts to initiate Fastboot mode.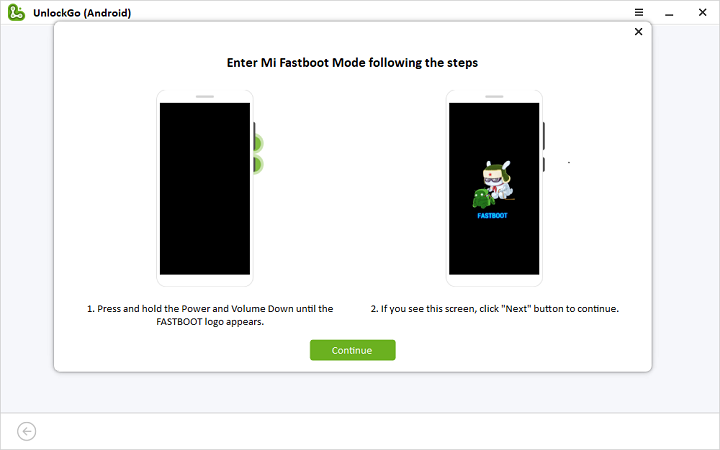 Step 4 Use the Volume button to choose the "Connect with MIAssistant" option, and confirm using the POWER key.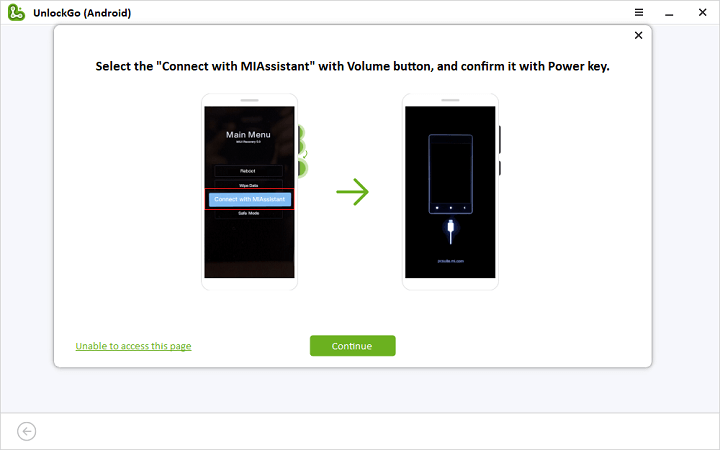 Step 5 Wait a few seconds for the reboot and your Mi phone will be unlocked successfully.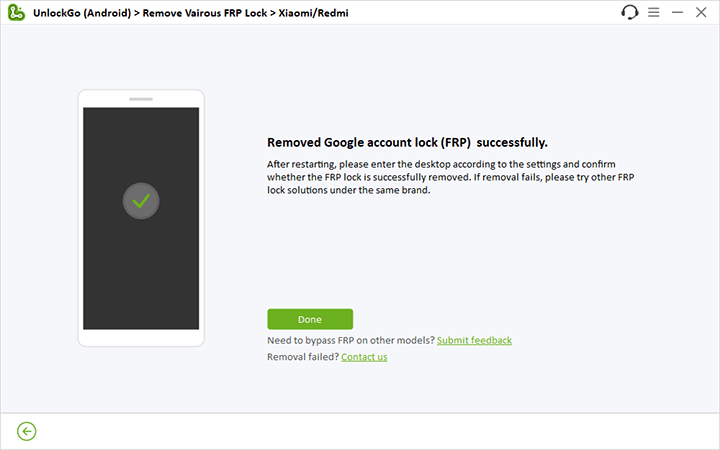 Wrapping Up
When it comes to your locked Xiaomi/Redmi phone, authoritative Mi account unlocker tools come up to quickly bypass the Mi account and help you regain access to your phone. But you have to face several technical steps from downloading to bypassing your Mi account using these tools.
If you need to unlock your Mi phone with Google lock, we suggest that you try iToolab UnlockGo (Android). You can download it for free!