Facing FRP lock issues on your Realme device? There are several triggers for this problem, but a common one is performing a hard reset without knowing the associated Gmail ID. Similarly, purchasing a pre-owned phone without checking its linked Google account can leave you clueless about the device's Gmail credentials. This situation can't let you bypass the Google Verification screen unless you can access the previously synced Gmail ID.
If you find yourself in this difficulty, don't worry because this guide will give you three different methods for Realme C30, C33, C35, C11 FRP bypass, and lastly, a bonus tip at the end to make the process easier and quicker with easy-to-follow steps.
So just check out!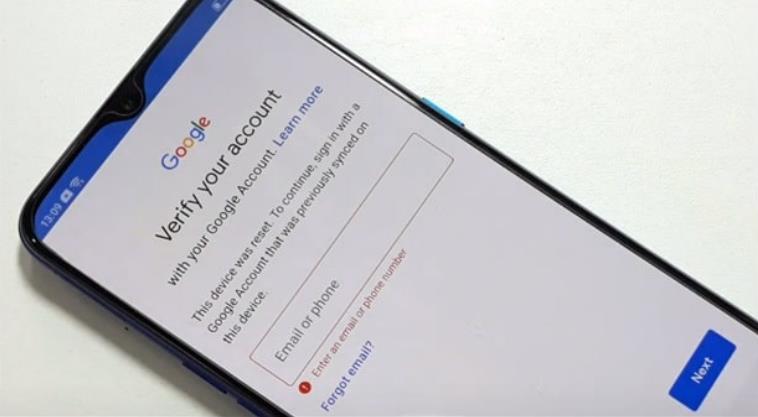 Method 1: Bypass FRP on Realme with FRP Reset Code
Realme FRP reset codes provide a swift solution for bypassing the Google account lock on any Realme phone. These codes offer an efficient alternative to using the Realme Unlock Tool, making the unlocking process easier.
If you want to bypass the Realme FRP lock screen and face account information amnesia, these codes come to the rescue. So let's check the process.
1. Begin by powering on your Realme phone.
2. Connect your device to a Wi-Fi network.
3. Return to the Welcome page.
4. Access the Emergency Call function.
5. Dial either *#813# or *#812# and confirm by tapping OK.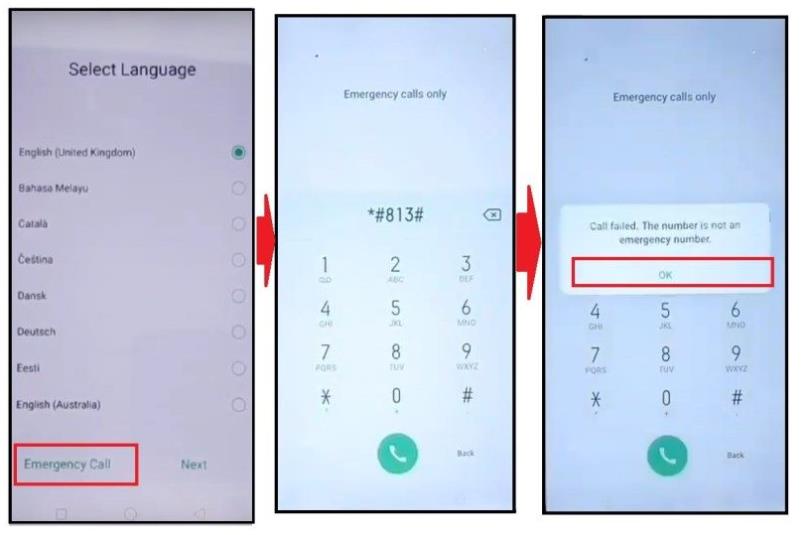 6. Allow the screen to remain untouched until the Realme phone's Home screen appears.
7. Navigate to Settings, then click About Phone and tap the Version option 7-10 times.
8. You will see the "You are now a developer" message on your screen.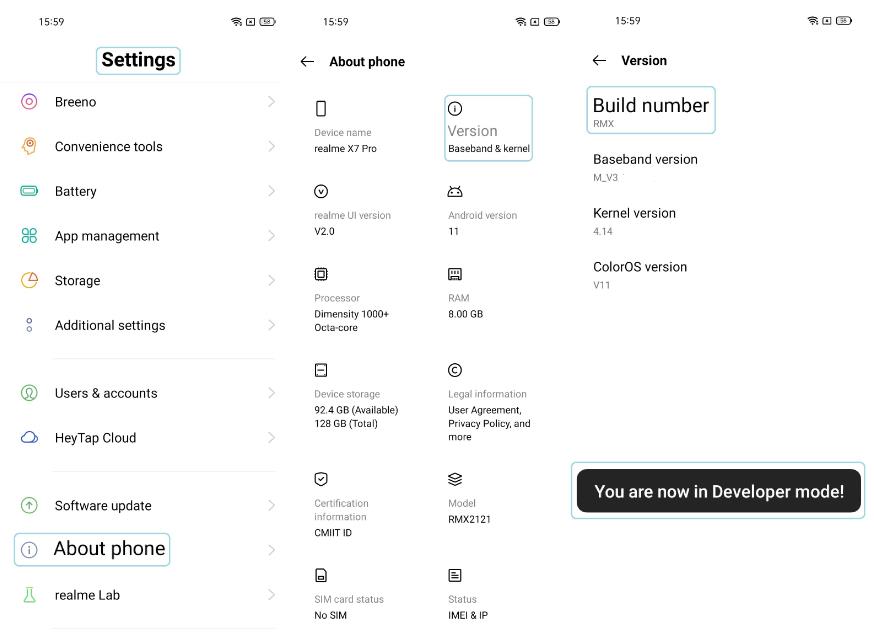 9. Press the back button and access Settings and tap the Developer Options.
10. Enable OEM Unlock and USB Debugging in the Developer options menu.
11. Return to the Settings menu and select Additional Settings.
12. Go to Backup & Factory Reset, and choose Erase All Data.
13. Wait for your Realme phone to power on.
14. Enjoy a fresh start with the initial phone setup.
Method 2: Bypass Realme C11/C35/C30 FRP with Talkback Feature
Looks like the Realme FRP reset codes are not working for you, check this talkback feature method that effortlessly helps in Realme C11 FRP bypass, Realme C35 FRP bypass, and Realme C30 FRP bypass without the need for a computer or additional FRP tools.
Note: This process is complicated and time-consuming. It is recommended for tech-savvy users or those comfortable with technical assistance.
1. Begin by connecting to a Wi-Fi network.
2. Long press the Volume Up and Volume Down buttons simultaneously and tap "Turn on".
3. Repeat step #2 to enable the Talkback feature to bypass Realme FRP easily.
4. Swipe an "L" shape from the opposite direction on the screen to access additional options.
Note: If prompted by "Allow Android Accessibility" select "While using the app".
5. Double-tap on the option "Use Command Voice".
6. Say "Google Assistant" loudly.
7. Tap the "Keyboard" icon, then search and select "Youtube".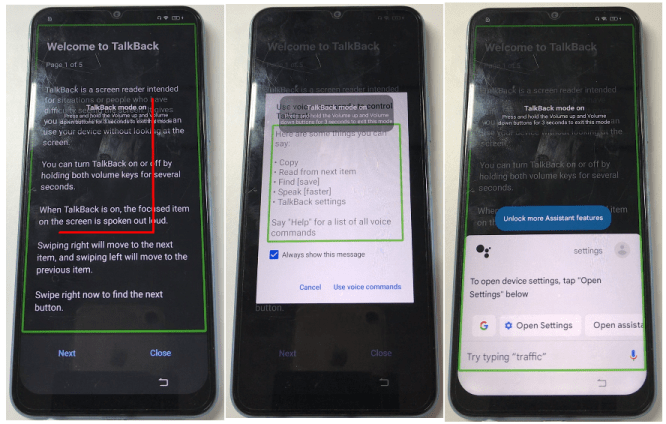 8. On the Youtube website, tap the "Profile" icon, then go to "Settings".
9. Navigate through About and then choose Youtube Terms of Service.
10. Select "Chrome" from the bottom shared window and choose "Always".
11. From Chrome's home screen, click Accept & Continue > No Thanks.
Access Device Settings to Remove FRP
12. Search "Download FRP Tools" in the browser.
13. Go to the techeligible.com website.
14. Scroll through the page and tap "Access Device Settings".

15. Navigate to Accessibility and then select Accessibility MENU.
16. Turn on "Accessibility Menu Shortcut".
17. Tap on "Allow" > "Got it".
18. Go to App & Notification and choose See all Apps.
19. Tap the three dots and select "Show System".
Deactivate Apps from App Info Page
20. Find and select Google Play Services, and tap Disable > Disable App.
21. Tap on the Force stop option and then OK.
22. Return to the app list and Android Setup, and tap Force stop > OK.
23. Move back to the main Hi There screen and choose Next > Skip > Skip and lastly Don't Copy.
24. As the "Checking for update" window appears, swiftly tap the Human icon > Assistant > Settings and then tap Enable.
Note: If your Google Play Services failed to activate, you need to move back to the Checking for Updates screen and repeat all steps once again, attempting all these steps swiftly.
25. Proceed through Next > More > More > Accept.
26. Complete the setup wizard to successfully bypass Realme FRP.
Method 3: Bypass Realme FRP with vnROM APK
If you found the above method technical, check this reliable APK for bypassing Google account verification on Realme devices. This software is designed to work seamlessly with the majority of Android models.
The vnROM Bypass presents a straightforward and effective solution for dealing with FRP locks. This tool is available completely free of charge, moreover, you won't encounter any ads while using this application.
Here is a step-by-step guide to using the vnROM Bypass APK to bypass Realme FRP but make sure you pay attention while attempting the process.
1. Download the vnROM Bypass APK in a USB drive and connect it to your Realme device using an OTG cable.
2. Turn on your Realme device with a WiFi network connected.
3. Tap the Home button three times to activate Talkback, an accessibility feature.
4. A new menu will appear on the screen, tap on "Talkback Settings" from this menu.
5. Tap the Home button three times again to open Settings menu.
6. Go to "Help & Feedback" from the menu.
7. Choose "Get Started with Voice Access" from the options.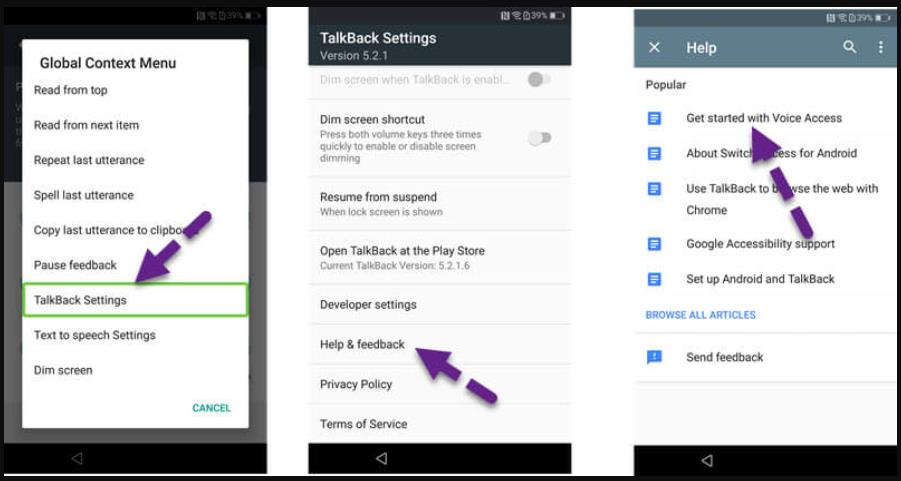 8. A YouTube video will be displayed; tap the Play button.
9. Inside the video, find and click on "Getting Started with a Voice".
10. Tap on your User icon located on YouTube.
11. Click on "Terms and Privacy Policy".
12. Tap "Cancel" and then access your Bookmarks.
13. Locate and select "Download History".
14. Inside Download History, tap "My Files" to access your USB drive.
15. Find the vnROM Bypass APK and install it on your phone.
16. In your device settings, enable the option to install apps from unknown sources.
17. After installation, proceed to the device settings.
18. Perform a factory reset of your device from the settings.
Now, you can set up your device without FRP restrictions.
Bonus Tip: How to Bypass Realme Lock Screen?
We understand the frustration and stress that comes with this situation. While there are various tools out there claiming to solve this issue, it's crucial to be aware of the potential risks too while performing these procedures.
Moreover, if your phone locked you out due to any type of screen lock at any time, get your hands on iToolab UnlockGo (Android) program – a game-changing Realme screen lock removal solution that stands out for its uniqueness and efficiency.
iToolab UnlockGo (Android) – Powerful Android Unlocker Tool
Seamlessly bypass FRP on Samsung, Xiaomi, Redmi, vivo, and OPPO devices.
Remove passwords, patterns, PINs, fingerprints, or face recognition locks on all Android phones.
Unlock Samsung devices (up to S7) without data loss or factory reset.
Simplify the unlocking process, making it quick & stress-free.
To avail the benefits of UnlockGo (Android), download the tool on your PC first and then follow these steps.
Step 1 Launch the UnlockGo (Android) tool and select the "Remove Screen Locks" option. Click the green Start button and connect your Realme phone to the computer.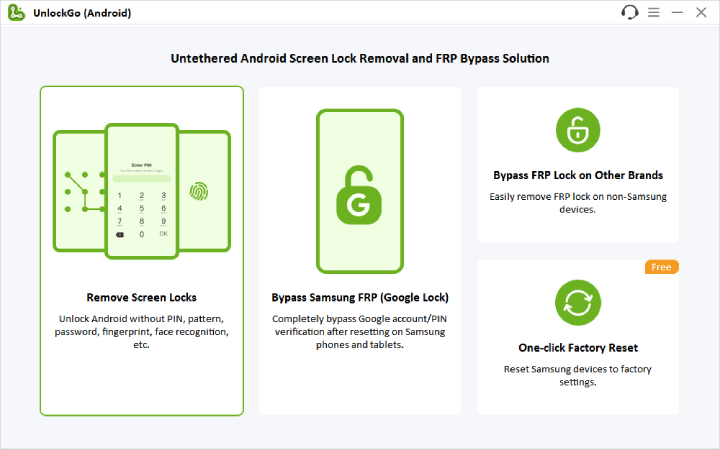 Step 2 Select your phone brand to continue.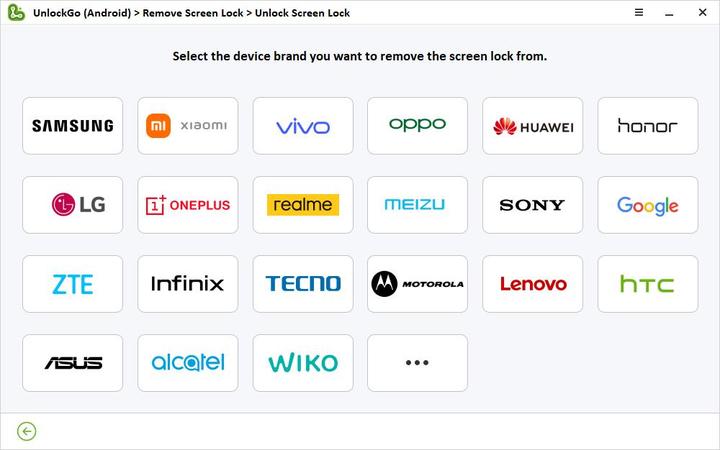 Step 3 Put your Realme phone in Recovery mode. Once your phone successfully enters Recovery mode, follow the step-by-step directions on-screen to eliminate the screen lock.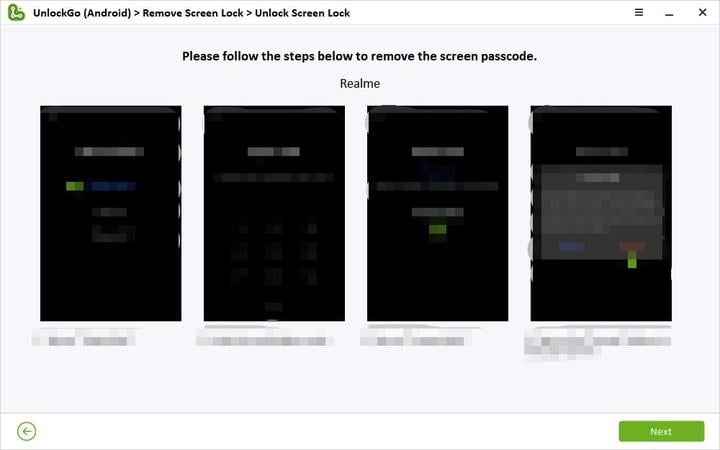 Step 4 Concluding the process, reboot your smartphone. Upon restart, your device will be unlocked and you can create a new password.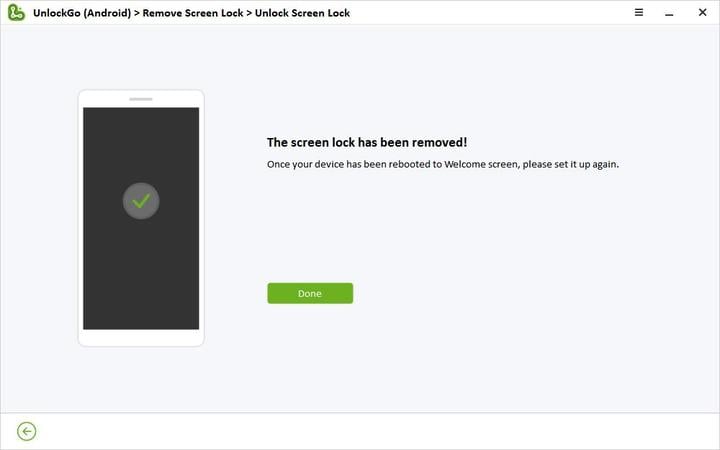 Final Words
Before using tools for Realme FRP bypass, take into account the potential compromise of your device's security, warranty implications, and the overall impact on your data. Make an informed decision that aligns with safeguarding your device and personal information.
But when it comes to bypassing Realme screen locks, trust UnlockGo (Android)'s secure solution – no data compromise or security risks during unlocking and simplifies the process, making it easy for you to access your device in minutes.