Factory Reset Protection FRP is a security feature designed by Google. It has been added to Android devices with the operating system 5.1 and above. FRP will be activated on your device if your Google account has been registered. So, after a factory reset is performed, you will require your Google account credentials to log in to your Android device. Sometimes, users forget their Google account's password after a factory reset. If you are a Samsung A02/ A02s user, you must also wonder how to bypass FRP on Samsung A02/A02s without a Google account. In this article, we have gathered methods that will be helpful in this regard.
[One-Click] New Method for Samsung A02/A02s FRP Bypass
Several methods are floating across the internet that claims to bypass FRP without Google, but most are not secure, and some have lengthy procedures that first-time users cannot crack. So, we recommend the readers use iToolab UnlockGo (Android). It is a powerful tool and is helpful in bypassing FRP lock without Google verification, screen locks, app lock, and other activation locks. It is an all-in-one android toolbox for people who don't have much technical knowledge.
In the updated version of the tool, you won't have to follow a 30-step long guide you can't follow up. However, you will be able to bypass FRP in three simple steps in significantly less time. The tool is compatible with bypassing Google account on Samsung A02/A02s and other android devices with OS 5-12.
UnlockGo (Android) – One-Click Samsung FRP Removal
Bypass Samsung FRP lock on Android 5~12
Smart and user-friendly interface
Doesn't require another phone to backup FRP app
No need to download FRP bypass APK
Bypass Samsung FRP without a Samsung account
Steps to Bypass FRP on Samsung A02/A02S
To bypass Google account on Samsung A02/A02s, here is a step-to-step guide you can follow:
Step 1 Connect FRP-locked Samsung device to PC
Once you have installed UnlockGo (Android) on your PC, connect your Samsung A02/A02s to your PC using a USB cable. Launch the program and click on Remove Google Lock (FRP) from the interface.
Step 2 Select the one-click FRP removal solution
In the next step, click on the highly recommended All android version option and click on the next button.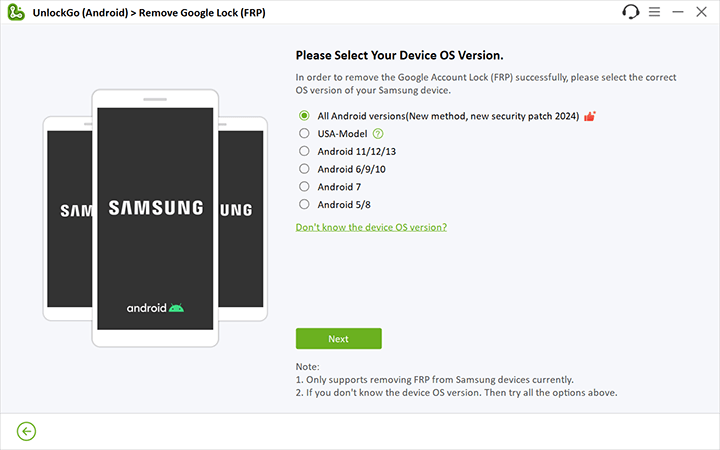 Step 3 Remove FRP lock on Samsung Device
You will have to wait for a few seconds and then follow the instructions on the screen, which will help enable USB Debugging with the secret codes in the hidden menu.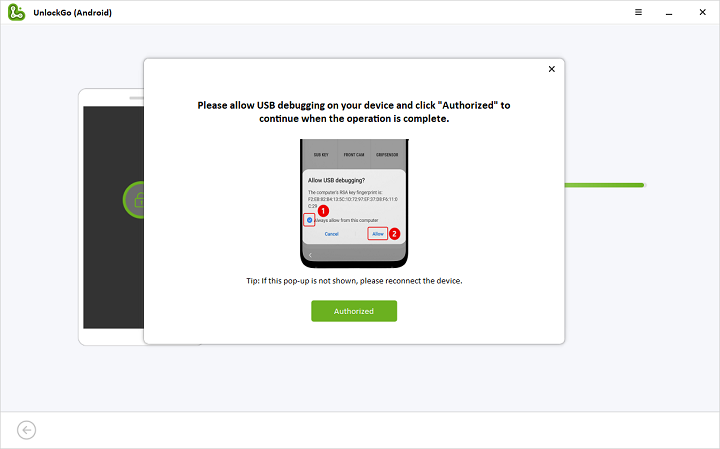 After this process has been completed, your Samsung device will be rebooted automatically, and you will be able to access your device.
[27 Steps] Bypass Samsung A02/A02s FRP without PC
After you have performed a factory reset on your device, your phone will return to default settings, and the FRP lock will be activated. In that scenario, if you don't have a PC run the FRP bypass tool to unlock your Samsung device. Then there is a method that will allow you to bypass the Samsung A02s FRP lock without a computer. Follow the detailed guide below:
Back to the Welcome screen, long-press the home button and Volume up button simultaneously.
You will be asked to use the TalkBack feature and tap on the Use option.
Swipe right, tap on allow to record audio while using the app, and tap on "Use voice commands."
Then, say Google Assistant and then long press home and volume up button simultaneously.
Then type Open YouTube. When the app opens up, tap on the account in the top right corner and tap on Settings.
Next, tap About in the settings menu and select YouTube terms and services.
It will redirect you to Google Chrome. Here in the search box, enter "vnrom.net/bypass."
On this webpage, tap on Galaxy Store. Search "os14 launcher", then install and open the app.
You will enter your Samsung account credentials and tap on Agree to all the terms and conditions.
Once that is completed, you will tap "Enter" and select App Library and give the necessary permissions for the application.
Then, you will go to your Phone Settings app. In the settings menu, tap on Accessibility and select "Interaction and dexterity."
Next, turn the toggle to enable the assistant menu. Tap the section to select assistant menu items.
Now you need to remove all the items except Menu Settings.
Go back to the Settings menu and tap on Accounts and backup.
Then you will get an option to restore data. Tap on the restore button. Select "Install" from the pop-up.
When it finishes, go to the Notification bar app and enable Accessibility. Here tap Installed services – Notification bar. Allow it to have full control of your phone.
Go back to the Notification bar main menu and then enable Notifications and allow notification bar.
Go to the Settings – Privacy – Permission manager – Files and media.
Here you will tap on three vertical dots in the top right corner and tap "Show system."
In the "Package disable pro" section, allow management of all files.
Turn off the Wi-Fi.
Now, activate the Package disable pro from the home screen.
You will get to KLMS Agent, agree on the terms.
Turn on the Wi-Fi.
In the packages section, disable Android Setup program. Find Samsung setup wizard and tap clear data.
Tap back to the setup screen. Your device will be all ready to set up.
Finally, you are here on the home screen.
In Conclusion
Although there are various methods to bypass FRP lock on your Android device. After going through this article, you know that iToolab UnlockGo for Android is efficient and relatively easy compared to the other methods. We recommend that the readers give UnlockGo for Android a try for the Samsung Galaxy A02s FRP bypass.