Samsung Knox is a security framework that allows an organization to track all the Samsung devices within the organization. On the contrary, Alliance Shield X is the tool to redistrict apps and file packages, configure app permissions and control remotely. However, many users encounter the following error, Samsung Knox is not detected on Alliance Shield X.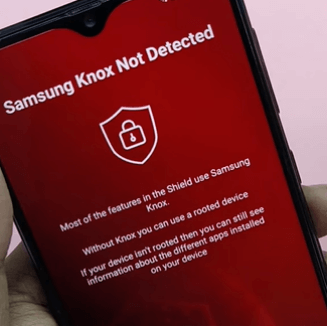 If you're also seeing the said error on your Samsung device, keep reading. In this brief guide, we'll take a quick look at how to troubleshoot Samsung Knox not detected on Alliance Shield X. We'll also share an effective way to bypass FRP without Alliance Shield X on your Samsung device. So, without any further ado, let's get started.
Why You Can't Activate Samsung Knox on Alliance Shield X?
Now, there are different reasons why you might be unable to activate Samsung Knox on your phone. In most cases, the truth is that your Samsung phone does not have Knox.
Yes, that's right. Not all Samsung models are secured by Knox. Some of the previous generation Samsung devices do not support Knox and that's the major reason why you might be unable to activate Knox on your device.
How to Enable Knox on Alliance Shield X?
So, what's the best way to troubleshoot Samsung Knox not detected on Alliance? Well, here are the effective solutions to activate Knox within the Alliance Shield apps.
Way 1. Activate Knox on Alliance Shield App
If you don't know how to activate Knox, here are the steps to be followed.
Step 1: After installing the app, launch it and tap on "NEXT" on the main screen.
Step 2: Give the permissions required until you see the "GOT IT" option.
Step 3: Now, enter your username and password of Alliance account to sign in.
Step 4: Name your device after then. Once done, tap on "NEXT" and enable the "Device Admin" toggle switch.
Step 5: Tap "Accept" on the following page followed by "NEXT".
Step 6: Now, a "Knox" toggle switch will be shown. Tap on it to enable.
Step 7: Tap on "AGREE" › "NEXT" › "FINISH". This is it. The Knox will get activated.
Also Read: Troubleshooting – Fix Alliance Shield X too many devices registered
Way 2. Set up device owner with QR
Many users don't know this, but it's possible to set up an Alliance Shield on a device using a simple QR code. However, for this method, you'll have to perform a factory reset, which will most likely delete all your important files. So, before proceeding any further, make sure to back up all your data so that you don't have to deal with any data loss whatsoever. Once the backup completes, follow these methods to enable Samsung Knox on Shiel X by scanning a dedicated QR code.
Step 1: Go to "Settings" and follow the on-screen instructions to factory reset your Android phone.
Step 2: Once the reset completes, your device will automatically restart. At this point, tap anywhere on the startup screen at least 6 times.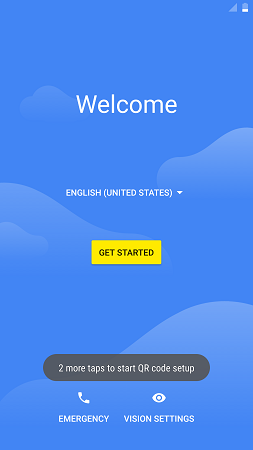 Step 3: This will open up your phone's camera. Scan this QR code shown below.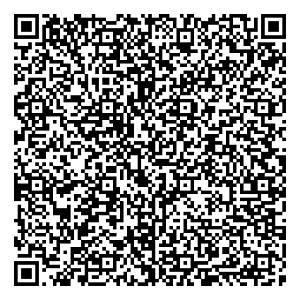 Step 4: Once you've scanned the QR code, you'll be able to set up your work profile by following a few easy steps.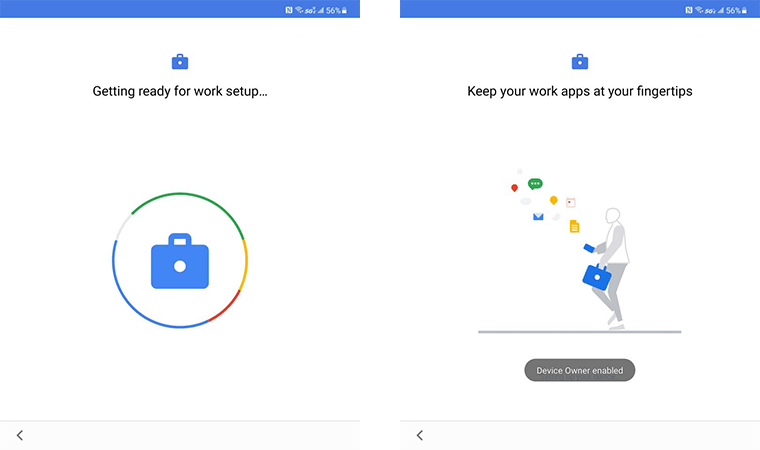 Step 5: Then you will be guided to install Alliance Shield. After that you can enable Device Admin and Knox as Way 1.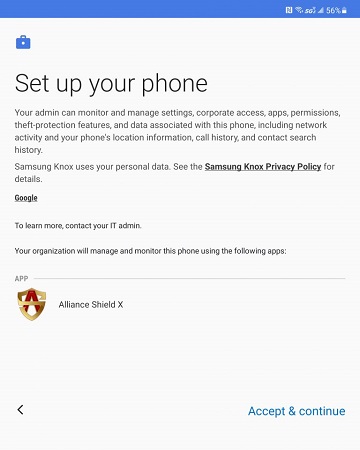 2023 Samsung Android 11/12 FRP Bypass without Alliance Shield X
Now, in case your Samsung phone or tablet doesn't have Knox, that means you can't active Knox on Alliance Shield X, and you are stuck on the Google FRP screen. In many situations when Alliance Shield X is not working, users often have to rely on professional FRP bypass tools to get the job done. Here is an effective alternative to disable Factory Reset protection.
You can use iToolab UnlockGo (Android) – a pro FRP removal software – specifically designed to remove different types of screen locks from Android. It provide the backup option to bypass FRP with Alliance Shield, but in their latest update, UnlockGo gives you one-click FRP solution.
To remove the Google lock for all Samsung devices, UnlockGo works well on Android 5-12. It means even if you own the latest Samsung flagships like Fold 3 or Flip 4, you'll be able to bypass FRP without Alliance X Shield.
So, here's the step-by-step process to bypass FRP lock on a Samsung device when Alliance X Shield is not working.
Step 1: Start by installing UnlockGo (Android) on your computer and launch the tool to get started.
Step 2: On its home screen, select "Remove Google Lock (FRP)" and connect your Samsung device to the computer.
Step 3: Click the "Start" button. On the next screen, select "All Android versions" and click "Next".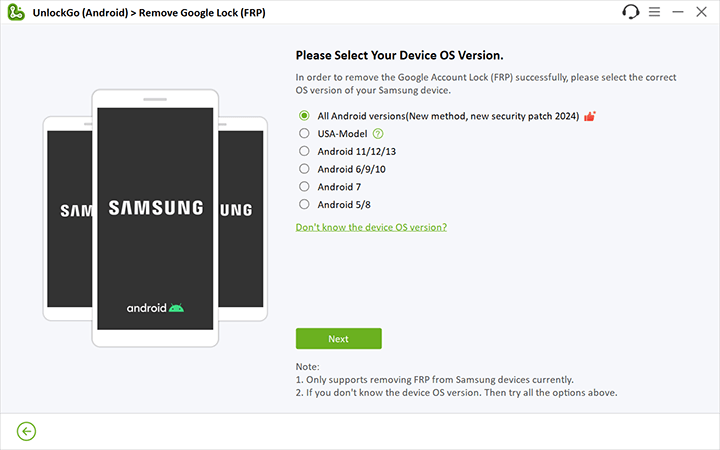 Step 4: Wait for a few seconds and you'll see an instruction window on your screen. Use the displayed secret code to activate USB debugging and click "Next".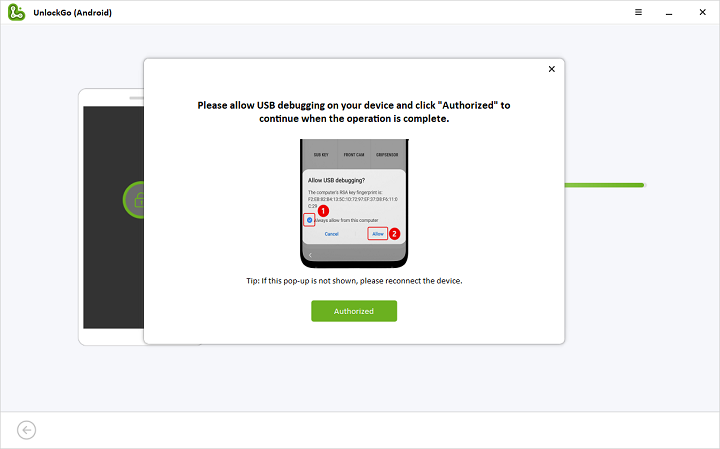 That's it; this will automatically remove the FRP lock from your Samsung device and you'll be able to use it freely. No need to worry about data leakage.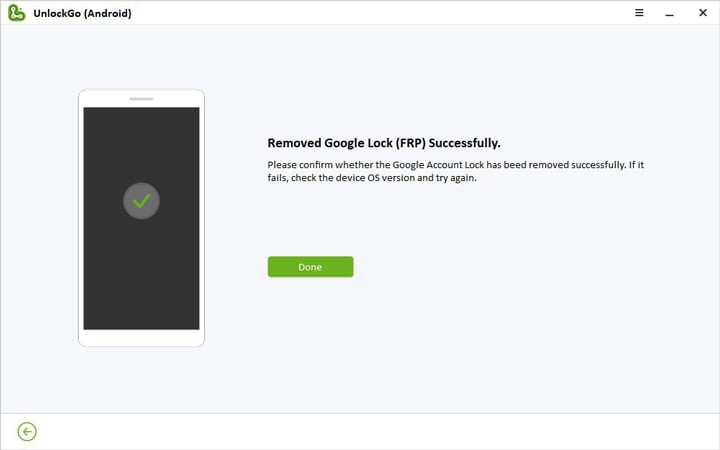 Conclusion
Samsung Knox is a great tool for organizations to track the devices of their workforce. But, once an employee decides to leave the organization, Samsung Knox can often become a privacy issue, especially when they want to perform a factory reset and gain complete authority over the device. If you're stuck in a similar situation, it would be better to bypass FRP lock on Samsung. Of course, the optimal way to do the job is through Alliance Shield X. But, if Samsung Knox not detected Alliance Shield X, you can also use a tool like iToolab UnlockGo (Android) to remove Google FRP lock.