When it comes to our Android phones, security takes the lead. We've all been there safeguarding them with passwords, and creating complex codes to keep prying eyes away. But memory can be a tricky thing.
Now, the question that echoes in your mind when you forgot the password is: "Is there any master code or technique to unlock my Android phone?"
Fortunately YES! So read the guide to uncover the truth behind this mystery and catch the secret codes to unlock Android phone passwords. Moreover, if the codes don't work I add some finest unlocking solutions to unlock your phone without a password with a 99% success rate. So let's check out!
Part 1: Is There Any Secret Code to Unlock Android Phone Password/Pattern?
In this era of smartphones, there's a buzz about secret codes that can unlock any device. But what's the real deal?
Let's break it down in easy terms and find out the most working codes below.
*#*#7780#*#* – It promises to reset your phone to its factory settings, but it will erase all data, including your password. Some Android users say it's a secret code to unlock an Android phone without losing data, but it's not always sure.
*2767*3855# – A code that's supposed to reset your Android phone, wiping out everything like data, settings, and apps. It's like a fresh start, but there's a catch: it can bypass your Android phone's password too.
Is It Possible to Use Secret Code to Unlock an Android Phone Password without Losing Data?
No, these codes might sound cool and free, but you've got to be careful. While some have used them successfully, others have ended up losing their important data. Especially *2767*3855# will erase all data from your device, so if you're up for the challenge, go ahead and give them a try.
Part 2: How to Use Secret Code to Unlock Android Phone Password/Pattern?
Unlocking an Android phone using a master code might seem like a puzzle, especially when considering its differences across various device models and Android versions. If you're curious to give it a shot, here are the simple steps to using the master unlock code for Android.
Step 1: Turn On Your Android Phone
To kickstart the unlocking process, just press your phone's power button to turn it on.
Step 2: Open the Dialer App
Find and open the dialer app on your phone, it's usually an icon with a phone receiver.
Step 3: Enter the Secret Code
With the dialer ready, type in the secret code provided earlier. Make sure you get it right to avoid any hiccups.
Step 4: Start Unlocking
Once you've entered the code, hit the call button to set the unlocking process. Your phone will then act on the command tied to that code.
Master codes don't have a one-size-fits-all success rate. Their effectiveness can differ based on your phone's brand, model, and software version. Plus, remember that using these codes might lead to data loss. So, stay cautious and think about other options.
Your phone's security is vital, and if you can't unlock it with secret codes, there are safer solutions that are worth trying, check them below.
Part 3: What If the Secret Code to Unlock Android Phone Password Doesn't Work?
If you're unable to use the universal unlock PIN for your Android device, you can attempt the default master unlock PINs: 0000 or 1234.
If those don't work, I strongly recommend you follow the methods one by one mentioned below.
Solution 1. Unlock your Android Phone Password with Lock Screen Removal Tool
It's common to forget the passwords, PINs, or patterns we use to protect our Android devices. So when you pick risky methods, like trying secret codes, to bypass forgotten passwords, these methods can lead to irretrievable consequences, risking the security and functionality of your device.
Confused, What to do next?
Try iToolab UnlockGo (Android) – a cutting-edge solution designed to safely and effectively unlock Android devices while preserving data integrity. Let's get more into it!
UnlockGo (Android) – Password Unlocker
Empowers you to unlock PIN, patterns, passwords, fingerprints with ease (Android 12/13).
Unlock Samsung devices without the worry of data loss ((Before S7).
Regain Android access without compromising security & complicated procedures.
Perform a seamless and secure FRP bypass for Samsung, Xiaomi, Redmi, vivo, OPPO.
No matter the brand, you can trust UnlockGo (Android), for Huawei, LG, Motorola, etc.
Now it's clear that UnlockGo (Android) is your ultimate solution to securely unlock your Android password. Let's see how it works!
Step 1 Download and install iToolab UnlockGo (Android) on your Windows or Mac PC. Launch the software and select "Remove Screen Locks". Click the "Start" button and connect your phone to your PC using a USB cable.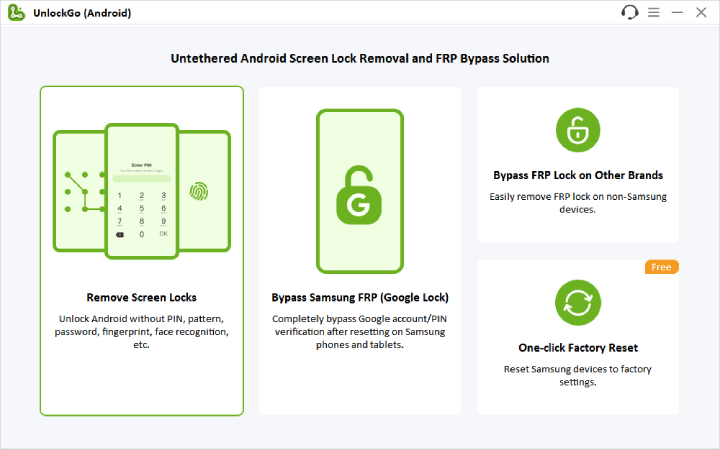 Step 2 Once your device is connected, a window of supported phone brands will be displayed. Choose your device brand from the list.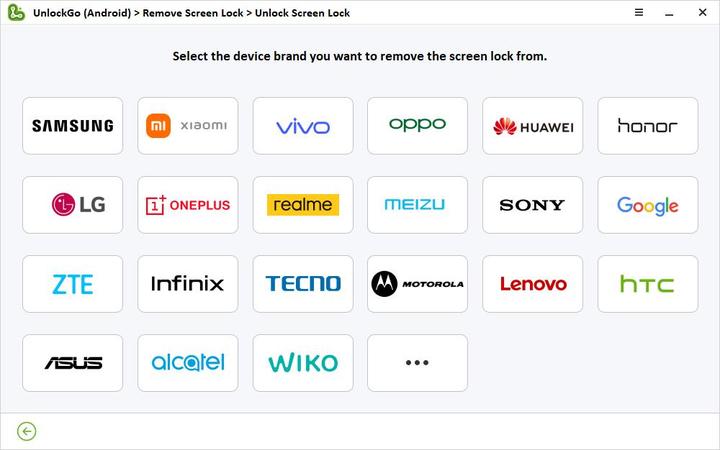 Step 3 Follow the on-screen instructions provided by UnlockGo (Android) to proceed with removing the screen passcode.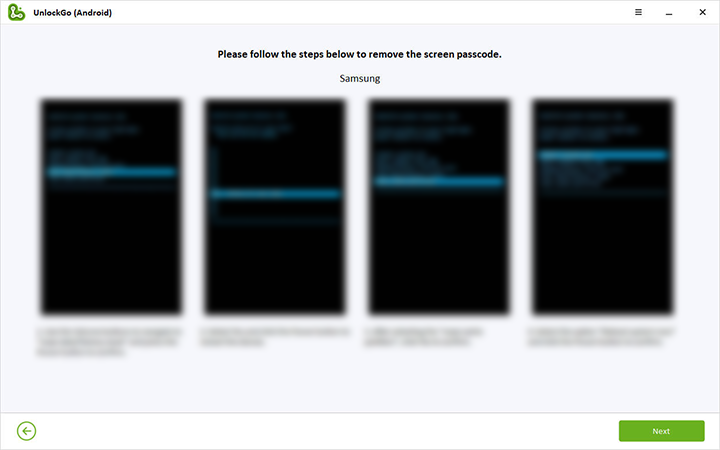 Step 4 After successfully removing the screen passcode, you'll receive a confirmation message. Reboot your phone to complete the unlocking process.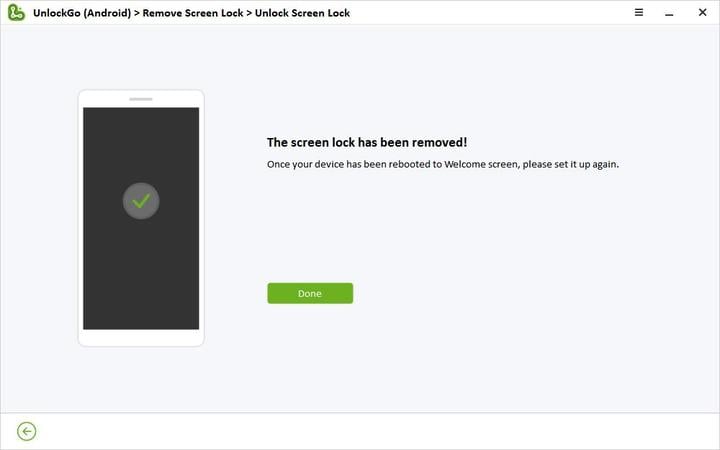 Once your device reboots, you'll be prompted to set up a new password.
Solution 2. Unlock Android Phone Password with Google Account
If you've lost access to your device or need to ensure its security in your absence, Android Device Manager is here, it's a versatile tool designed primarily to safeguard user data and prevent unauthorized access in case of theft or loss.
While it's a better alternative to the secret code to unlock Android phone passwords but the darker side is this method comes with a significant limitation so for remote actions like locating, locking, or erasing your phone's data, your device must fulfill certain conditions:
Your phone must be powered on.
Its Wi-Fi should be connected.
Location settings must be turned on.
Once you fulfill these requirements follow the steps mentioned below.
Step 1: Make sure you're logged into your Google account associated with the locked Android device.
Step 2: Visit the official Android Device Manager page by going to https://www.google.com/android/find
Step 3: You will have options to locate, lock, or erase your device. Select "ERASE DEVICE" to reset your device, and the password will be removed successfully.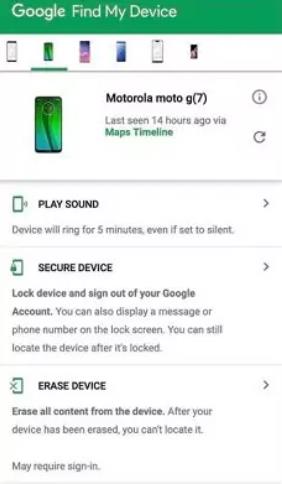 Attention: All data on your phone will be permanently erased.
Bonus Tip: Secret Code to Unlock Phone with Keypad
Mobile phones harbor a treasure trove of secret codes. These codes serve as keys to unlock your device, perform comprehensive device tests, disclose your unique IMEI code, and show a range of other diagnostic checks.
So, let's check out the list of USSD codes designed to unlock your device by resetting or formatting it.
Note: Use the codes at your own risk, we are not responsible for any potential loss or software damage.
| Android Brand | Codes | Functionality |
| --- | --- | --- |
| Nokia | *#7370# | Remove security code – Formatting |
| Samsung | *2767*2878# | Bypass security code (Formatting) |
| LG- Panasonic | *#9999# or 42*002# | Formatting |
| Motorola | *#74#000225# | Formatting |
| Sony & Erickson | *70*80*700# | Formatting |
| Alcatel | ###337*07# | Resetting |
Summary
The appeal of using master or secret codes to unlock Android phone passwords might be tempting, but their effectiveness is far from assured. Relying on such codes can lead to unpredictable outcomes and potential risks.
But with iToolab UnlockGo (Android) Password Unlocker, you're empowered to unlock your Android device with complete confidence and ease. Say goodbye to the insecurity of master codes and welcome a reliable solution that delivers results every time, try now!