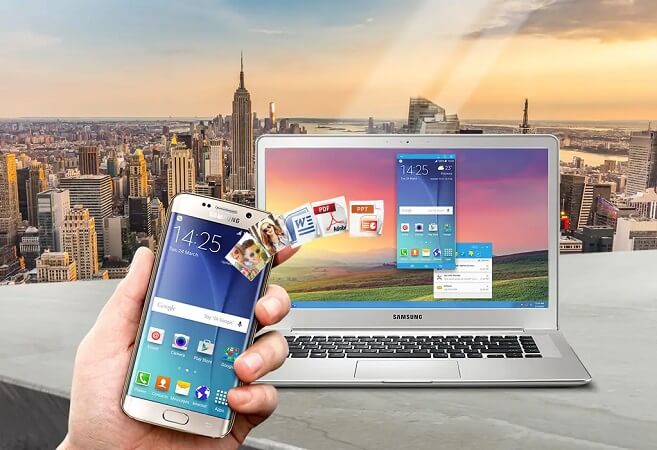 Samsung SideSync tool makes it easier to share media files and data from your Android to your PC. But it was revealed recently that the SideSync application bypasses FRP too. FRP lock is considered a security layer of your device when used in an illegal environment. But it will lock you too if you forgot your Google account login credentials or password.
Also! If you just bought a used phone that is FRP locked, no one will unlock it except the real owner. So, if you lost access to your phone and were locked out, don't worry! Because you are a few steps away to bypass FRP with the SideSync tool. So let's get started.
What Is SideSync Used For?
SideSync tool has been introduced by Samsung as an easy PC-Android solution that allows sharing windows, screens, and data. This tool facilitates you to share between a PC and Samsung Galaxy smartphone and Galaxy Tablet with Galaxy smartphones.
Learn more about the SideSync tool below.
About SideSync
SideSync app gives you the flexibility to share your screen, photos, videos, and important data files from your Android to Windows or Mac PC. With SideSync you can enjoy most of your Android features on PC like receiving notifications if your mobile phone and computer are connected with SideSync.
Does It Work On My Samsung Device?
Samsung introduced the SideSync app to overcome some Android issues so if you are locked out of FRP on a Samsung device, the SideSync tool is proven helpful to bypass it. With all the exciting features, SideSync can bypass FRP but it does not support all Samsung models which is the biggest drawback.
Hence, SideSync is not compatible with Samsung Galaxy S9, S9+, and later. If you are running these models, you could check the bottom of the blog, we have shown alternative solution.
Note: SideSync is no longer available on Google Play Store because Samsung switched to the new app Samsung Flow but you can still download SideSync for your Windows PC.
Prepare For Samsung SideSync FRP Bypass
SideSync tool has its requirements, take a look at them carefully before going through the process.
Download and install SideSync on your PC
Now we need to download SideSync for FRP bypass on a Windows PC or Mac. Note that your PC should have .NET framework 3.5. You don't need to download any other link just download it from Windows as it is re-created.
Download and install SideSync APK on Samsung phone/tablet
As you come up with the software requirements move on to the next step where you need an OTG cable to connect your Android with your PC and download SideSync FRP APK files. Check the complete process below.
Download and install the SideSync application on your PC or laptop.
Connect your phone to your computer on the google account verification screen.
Now plug in the first end of the OTG adapter with your Android and connect another end to the flash drive with APK.
Your Samsung phone launches the file explorer automatically to show the root directory of the attached flash drive.
Now tap the APK file.
A pop-up window appears with a warning that sideloading of the apps is blocked by default. Tap Settings to continue further.
Allow to install from Unknown sources and select OK.
Now you need to install the APK file.
After that, open the SideSync. Now, you can successfully access the Settings menu.
Disconnect the OTG cable from your Samsung phone.
Scroll down to look for the Backup & reset option and perform a factory reset.
Video Guide For SideSync FRP Bypass On Samsung
Here comes a video tutorial to bypassing Google accounts using the SideSync app that works on Samsung Galaxy devices (Android Marshmallow 6.0 and lollipop 5.0).
Is SideSync Best For FRP Removal?
Samsung SideSync tool is found helpful in removing FRP but it works under OS versions limited to Android 6 and lower. Moreover, the official website does not show any guidelines to bypass FRP using this tool. Hence, it is designed to enjoy Android features on your PC and transferring files.
Which Software Is Best For FRP Removal?
Now, you must be thinking about how to bypass FRP conveniently if you have a Samsung phone with the latest Android OS. The next method coming to you is even simpler that needs no APK files or links downloading to bypass FRP. Introducing iToolab UnlockGo (Android), a powerful Samsung FRP bypass tool that helps to remove FRP in Samsung devices running Android 5-12.
Samsung FRP Bypass Tool
Bypass Samsung FRP in minutes (Android 5-12)
Unlocks screen locks in Samsung devices without losing data
Removes PIN, pattern, password, and fingerprints on all Android OS
No complicated steps or technical skills required
Compatible with 15+ leading Android brands, 2000+ Android models
Can't wait to regain access to your beloved phone? Just download iToolab UnlockGo (Android) on your Windows PC and follow the steps below.
Step 1: 1.Connect your Samsung phone with your PC and launch the tool. Choose the option Remove Google Lock (FRP).
Step 2: Click the Start button to bypass FRP and select the correct OS version.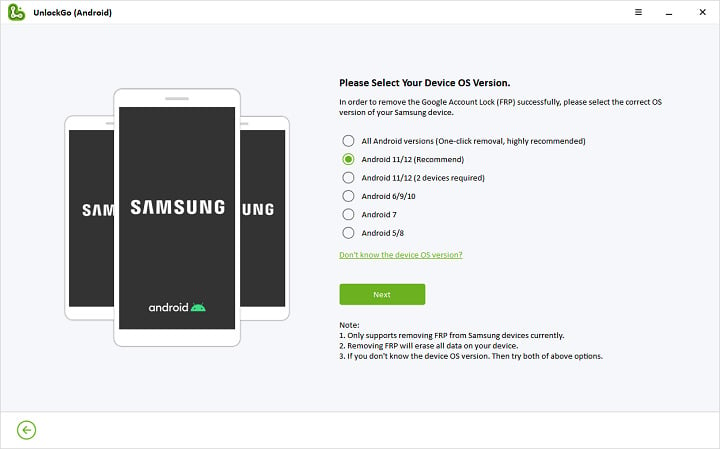 Choosing the correct OS version of your phone is mandatory to remove FRP successfully and ensure your device is connected to the Internet throughout the process.
Step 3: UnlockGo sends a command automatically to enable internet access on your Android.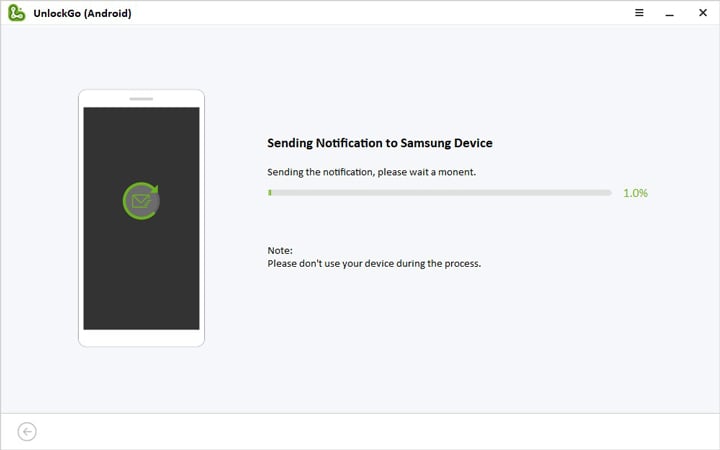 Step 4: Tap on the "View" button and you will be asked to follow further on-screen steps.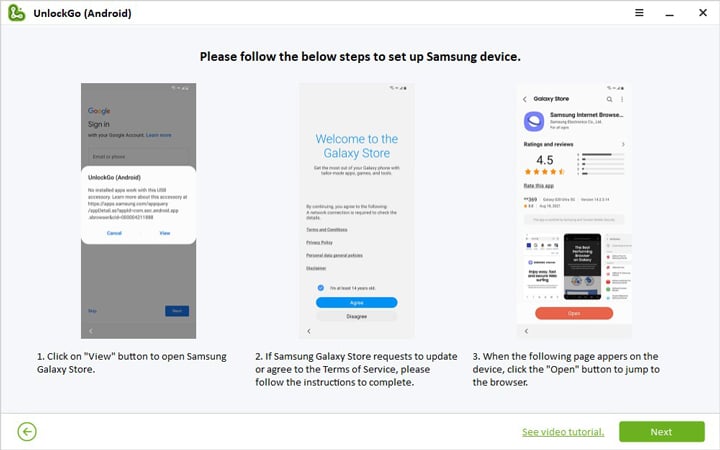 Step 5: Success! You bypassed FRP now just set up your Samsung device to start with a new Google account.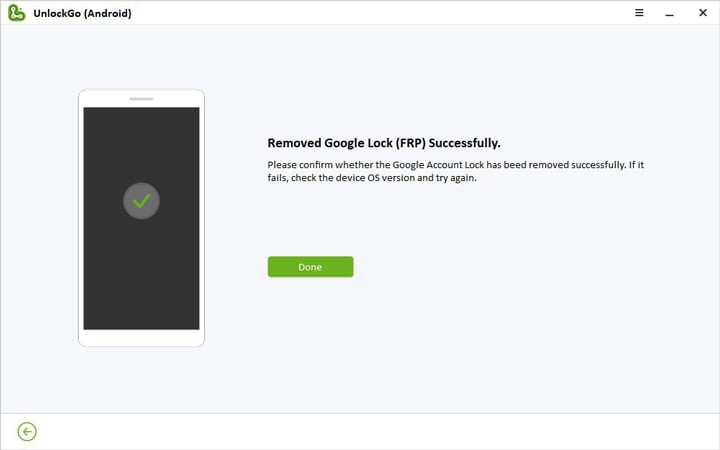 Conclusion
Although SideSync is a free application of Samsung the process to bypass FRP with SideSync is slightly technical. It supports limited Android OS so your device must fit the compatibility criteria to use SideSync appropriately.
If the SideSync method did not work for your device, use iToolab UnlockGo (Android) which guarantees a successful Samsung FRP bypass just in a few minutes without any technical assistance. So what are you waiting for?