Phone lock is a way to protect the data and information of the user stored. All the information stored in a locked phone is way much safer than a phone that's accessible by anyone. But sometimes these screen locks can create troubles if the user forgets them. In this blog, we are going to help users on how to unlock Mi phones.
When Do You Need to Unlock Xiaomi Phone
Many situations might force a Xiaomi phone user to unlock their device such as:
You may have locked your phone after entering the wrong password five times.
The Mi phone unlock feature isn't working due to a broken or shattered screen.
Purchased a used Xiaomi phone that has a screen lock.
Your new pattern is too complex to remember.
These are the common reasons whenever a user wants to perform a Mi phone unlocking process.
Method 1. Official Way to Remove Mi Phone Lock Screens
Forget your screen lock and worrying about how to unlock your Mi phone? Well, Mi phones can be unlocked if you have a Mi account created already. Mi account allows a user to remove the screen lock of many Xiaomi phone models.
A warning message will appear on your screen when you have entered the wrong password five times.
Tap on "Forget password" option appears on the bottom corner.
Now enter your Mi account's details such as username and password to reset your password Mi phone lock.
If you have also forgotten the Mi account password, then you will have to reset it as well. You can easily reset your Mi account password by visiting the Xiaomi Cloud website and tapping the "Forget password" option and entering a new password by following the instructions.
You can recover your account by entering your "Mi Account ID" and unlock your Mi phone from there.
Method 2. How to Unlock Mi Phone without Mi Account Password
The above method only will be only useful if you have already a Mi account, but without a Mi account then there's no relief. So, how does a user unlock a Mi phone if they haven't created a Mi account? Well, we will make use of a third-party tool that will help us to address this issue. iToolab UnlockGo (Android) is a well-known name in unlocking smartphone lock screens and it's specially designed for such scenarios.
It can unlock all types of screen locks quickly including pattern, PIN, password, fingerprint, and face lock as well. It supports 15 brands including Mi and 3000+ android phones and tablet models. Anyone having no technical knowledge can use it to unlock their Mi phone. Let's dive into the step by step details of how it works:
Step 1. Download and Install UnlockGo (Android)
The process begins by downloading the setup of UnlockGo for Android and installing it below. After that Launch the tool.
Step 2. Connect Mi Phone
Now connect your Mi phone with your computer using a USB cable and click on "Unlock Screen Lock". Click on the "Start" button on the next screen to begin the process.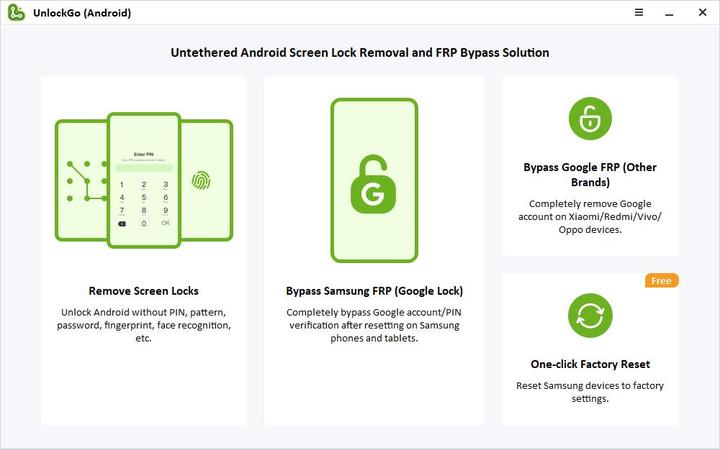 Step 3. Confirm Brand of Your Device
In this window, you have to choose the brand of your phone. Make sure if the brand chosen isn't correct, correct it by yourself and click on "Unlock".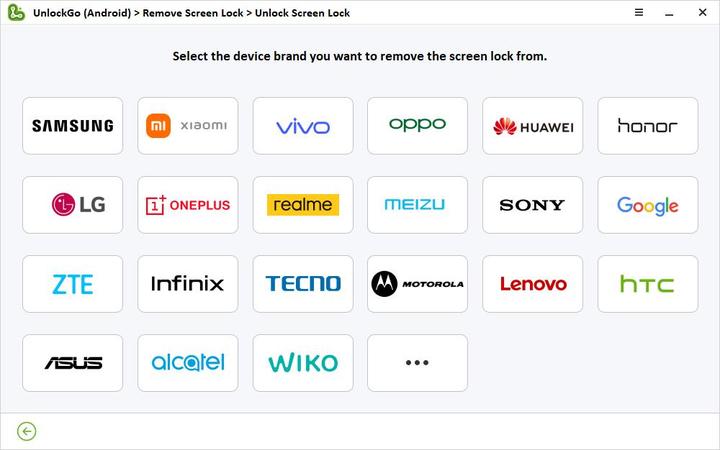 Step 4. Enter Your Device into Recovery Mode
In this step, you have to put your Mi phone into Recovery mode with Volume up and Power key. For this, you can follow the on-screen introduction to get your device into recovery mode.
Step 5. Start Unlocking Mi Phone
On entering in Recovery Mode, follow the guidelines that are visible on the UnlockGo tool.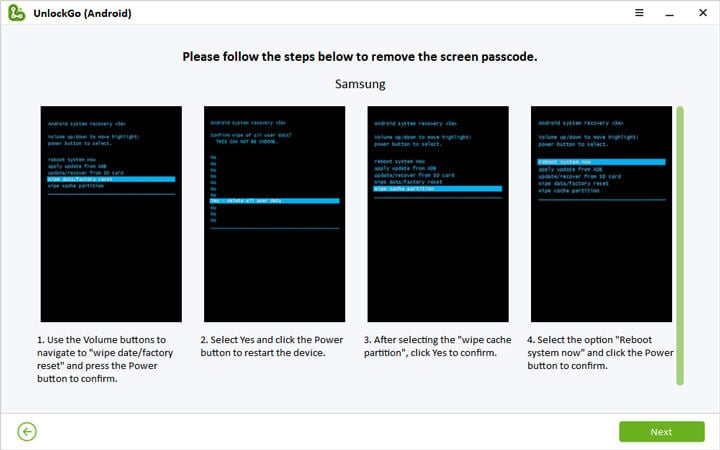 When the unlocking process is completed you need to reboot your Mi phone. Later, you are able to set a new screen password.
Method 3. How to Unlock Mi Phone with Hard Reset
Method 3. How to Unlock Mi Phone with Hard Reset
If you want to unlock Mi phone without a computer, then this method can help you but you have to sacrifice all the data stored on your phone. Because this method works on hard reset and that works by removing all the data and settings. Let's know how it works.
Turn off your Mi device and now press the "Volume up" and "Power" key simultaneously until you see the logo of Mi appearing on the screen.
Your device will reboot into recovery mode and you have to tap on "Wipe Data". You can navigate using the volume key and use the power key to enter.
Choose "Wipe Data" and confirm it.
Once the process is finished, you can choose "Reboot" and this will restart your phone. Now you can choose a new screen lock for your Mi phone.
Method 4. How to Unlock Mi Phone by Mi PC Suite
If you have a Xiaomi account, in addition to Method 1, higher Android OS versions can be unlocked using official Mi PC Suite. Let's get into more details on how to unlock Mi phone with PC.
Download and install the Mi PC Suite on your computer.
Turn Off your Mi device and hold and press the Volume Up and Power key together until the Mi logo appears on your phone screen.
Choose the language by using the Power key and selecting "Recovery".
Now connect your Mi phone with your computer using a USB cable. The ROM version will be shown once it's detected by the computer.
On the interface of the MI PC suite, choose "Update".
Start the wiping process by clicking on the "Wipe" button and choosing the ROM version that was detected in step 4 by your computer.
Now tap on the "Update" button and this will start installing the ROM on your Mi phone.
Once the installation process is complete, your phone will be unlocked.
But this method is not a perfect solution for unlocking Mi phones as many Mi phones modes can't be detected by the Mi PC Suite. This method also has a drawback that's erasing all the data on your phone.
Conclusion
In this blog, we have shown you four methods to unlock Mi phone. All these methods work but one of the reliable and efficient methods is using the UnlockGo Android tool as this doesn't require any tech knowledge and can be used by anyone.
Xiaomi Screen Lock Unlocker
Remove all Android screen locks, PIN, password, pattern, fingerprints, face lock
Unlock Samsung screen lock without data loss
Covers over 15 mainstream brands, 2000+ Android models
Bypass Samsung FRP lock on Android 5~11