You are not limited to just one service; you can make the change at any time. If Verizon doesn't offer a service that doesn't meet your expectations, perhaps AT&T will or may already have. And switching from Verizon to AT&T can be easy, but it can also be painful if you don't follow the correct path. In this article, we will guide you on switching from Verizon to AT&T in the standard way.
Should I Switch from Verizon to AT&T?
There can be different reasons for switching from one carrier to another. One of the common reasons we came across is the coverage. You might be living in an area where the coverage of Verizon is not up to the expectation, and you find AT&T provides better coverage.
Being a Verizon customer, you might be paying too much for your current plan, and you find a better deal in AT&T for lower cost can also be a reason to switch between the networks.
Also, many network providers provide discounts and benefits when users switch from one network to another to encourage other users to switch from their competitors.
Verizon vs. AT&T Comparison
1. Network Coverage
When it comes to network coverage between Verizon and AT&T, Verizon has the most robust 4G network covering over 70% of the lower 48 states while AT&T covers 58% of it. Though there is no huge difference between these 2, some states have better AT&T coverage than Verizon. It's primarily depended on the place where you live. On the other hand, AT&T has the best 3G coverage from all the network providers. Since AT&T network coverage isn't as reliable as Verizon in most cases, we can say Verizon provides better coverage than AT&T.

2. Network Speed
Even though you have the best coverage, it doesn't mean you have the best speed. Currently, when it comes to downloading speed, Verizon offers averages 32.2 Mbps download speed experience over AT&T. But again, this speed depends on the location of the user. But, as an overall figure, Verizon overrules the network speed from other network providers.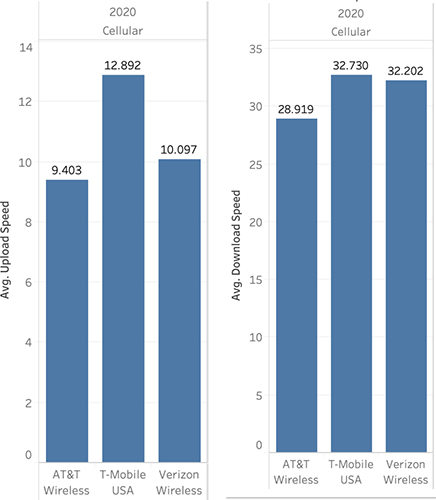 3. Service Plan
When it comes to both network providers, they offer similar unlimited plans and family plans. There is not much significant difference between the plans. But underneath the plans, some tiers are offering different added advantages.
On the price level, AT&T is a little cheaper compared to the same plan provided by Verizon. Suppose you are looking for more than 100GB of data usage; AT&T's unlimited Elite plan suits you. If you are a basic user and use very little data, you can go with an AT&T unlimited starter pack. If you are a moderate user like me, you can use Verizon's Do more unlimited plan, which provides up to 50GB. All in all, service plans depend on the usage and the purpose it's been used.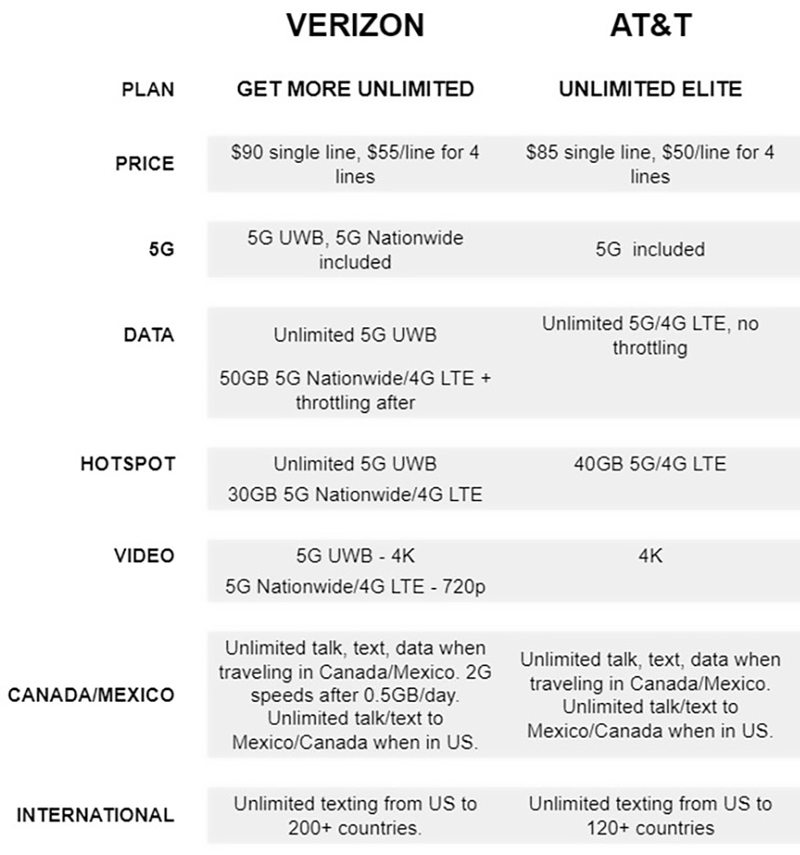 How to Switch from Verizon to AT&T
Unlock Your Phone
Before switching the network provider, it is important to check whether you have any outstanding payments remaining with the current provider. If so, make sure to pay out the remaining amount before switching. If you are not sure about the amount you owe, always contact the network providers through the below numbers to verify the status of your connection and the remaining amount.
AT&T: (800) 331-0500 or 611 from your AT&T phone
T-Mobile or Sprint: (800) 937-8997 or 611 from your T-Mobile phone
Verizon: (800) 922-0204 or 611 from your Verizon phone
✨ Bonus 1: Unlock iPhone with SIMUnlocker to Switch Any Carrier
iToolab SIMUnlocker that'll help iOS users unlock the carrier SIM card on their iPhone without any hassle. As one of the common iOS issues, iToolab decided to overcome it by designing a feature-packed software that would allow users to easily unlock the SIM carrier on their device. SIMUnlocker is compatible with all iOS versions, starting from iOS 5.0 to the latest iOS 14.7.
Here are some of the exclusive features of SIMUnlocker that make it the most reliable SIM carrier unlocker for iPhone:
Remove SIM-Lock from any iPhone you want
Compatible with all iOS versions
Supports all SIM Carriers and mobile networks
Remove "SIM Not Supported" and "SIM Not Compatible" errors on iPhone
Download it from here.
✨ Bonus 2: Unlock Phone Online with DoctorSIM
DoctorSIM is an innovative online service that offers to unlock any phone or tablet online without the need for technical knowledge of mobile devices. The unlocking process is quite fast (a matter of minutes); they also offer the best prices. With this unlocking method, you will keep the warranty of your device in force. On the other hand, it has a wide range of payment methods, all of them safe and certified to keep your data protected. But that's not all; it also has a customer service team available 24 hours a day to answer all your questions.
Keep Your Number
In short, yes, you can keep your number from Verizon. Still, it depends on some terms and conditions from both Verizon and AT&T. So, before canceling the Verizon subscription, you can confirm with AT&T whether your number is accepted to transfer here. If you are unsure about the eligibility, you can refer to the AT&T official guide on transferring the number.
To transfer the Verizon number to AT&T, you need to have the following details:
The name or the SSN associated with the Verizon plan
New AT&T SIM card
Verizon account details and PIN
Back up your data
Step 1: In many cases, network providers provide cloud storage for a small cost to store your contact information. If not, you can backup your contacts into your PC.
Step 2: To backup the information into the PC, you need to have a USB SIM card reader. Suppose you don't own it, better to purchase it for your use.
Step 3: Once you have the SIM card reader, carefully insert your SIM card into it.
Step 4: Connect your USB SIM card reader onto the PC and follow the instructions on retrieving the contacts.
Step 5: Copy the contacts into the specified location and remove the SIM card at the end.
Final Words
It is up to you to decide whether you want to switch from Verizon to AT&T. If so, always follow the methods we have listed here to get the switching done correctly. We recommend you use iToolab SIMUnlocker to save time and to get it done by yourself easily.