Why is WhatsApp telling me no backup found? This error commonly occurs when you try to restore the backup from Google Drive or iCloud. Undoubtedly, WhatsApp is the most used messaging application and is used by millions of users worldwide. However, sometimes, it becomes difficult to detect WhatsApp backup. So, if you are seeing "no backup found WhatsApp" error, this guide is for you. Here we will guide you on how to fix this problem without any hassle.
Part 1. Why is WhatsApp Telling Me No Backup Found?
If WhatsApp says no backup found on both Google Drive or iCloud, then there can be many reasons for it. Some of the top reasons are discussed below.
Reason 1: No Backup Exists
If you are trying to restore WhatsApp backup, but it says no backup found, it means that there is no backup available. There are chances that you forget to create the backup file, which is why you are seeing this error.
Reason 2: Different Backup Location
The second and most common reason is restoring the backup from a different location. Most users make this mistake, and that is why WhatsApp doesn't find your backup.
Reason 3: Backup file is Corrupted
Remember that if your backup is incomplete, then WhatsApp will not recognize it. This happens when you upload corrupted backup files.
Reason 4: Permission Issues
If your WhatsApp device doesn't have the necessary permission, then it would be difficult to find the backup file. So, make sure to check your Settings before restoring the data.
Part 2. How to Fix WhatsApp No Backup Found Google Drive?
In order to fix WhatsApp no backup found on Google Drive, then here are two different solutions that you can try. You can use these solutions to fix WhatsApp no backup found on Android devices.
1. Check your Google Account
If your WhatsApp is unable to restore the data, it means you are using a different Google Account. To fix this problem, you first have to check your Google Account on WhatsApp. Here is how you can do it.
Open your WhatsApp application and go to Menu, then choose the Settings option.
Click on Chats and select the Chats Backup button.
You will be redirected to a new page where you'll find the Gmail account you connected with your WhatsApp application.
Once you have checked the account, try again and restore the data.
If this method doesn't work, try using the local backup.
2. Use Your Local Backup
If WhatsApp says no backup found, then you can try local backups to restore the data. Here are the steps which you can follow to restore data from Local backups.
Open your File Manager application and visit the /SDcard/WhatsApp/Databases or Internal Storage/Whatsapp folder.
Search your WhatsApp backups and rename them.
Now, uninstall your application and reinstall it from the Google Play Store.
Complete the verification process and click the "Restore" button to restore the files and images.
Part 3. No Backup Found WhatsApp iCloud, What to Do?
If you are using iPhone and see the "WhatsApp no backup found" message on your screen, then there is a problem with your backup files. To fix this problem, you can follow the steps below. To Fix this problem on iPhone, check the ways below.
1. Enable iCloud Backup Option
Open your Settings on your iPhone device and choose the iCloud option.
Now, look for the iCloud Backup option and click it.
Next, turn on the option if it is turned off.
2. Check your iCloud Storage
All your iPhone WhatsApp photos are backed up in iCloud, so if you see the "WhatsApp no backup found" error it means there is an issue with your iCloud drive storage. To solve this problem, check your iCloud storage, and if it is full, then remove the data and try again.
Part 4. The Ultimate Way to Restore WhatsApp Backup!🙌
After trying all the above methods, if your WhatsApp showing no backup, then it's time to use a third-party tool to restore the data. Undoubtedly, iToolab WatsGo is the best tool for restoring WhatsApp backup. With this app, you can restore data on both Android and iPhone devices.
Step 1. First, download the tool on your PC and click the "WhatsApp Restore" option. Make sure your device is connected to the PC.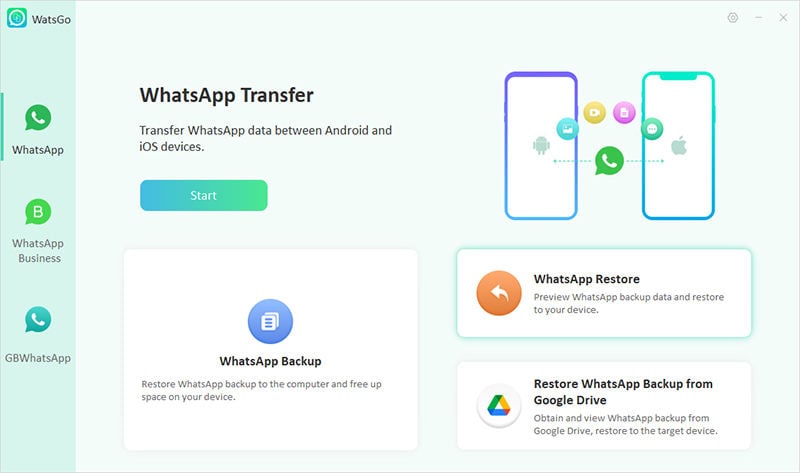 Step 2. If you have backed up WhatsApp using iToolab WatsGo, you can choose the backup data which you want to restore.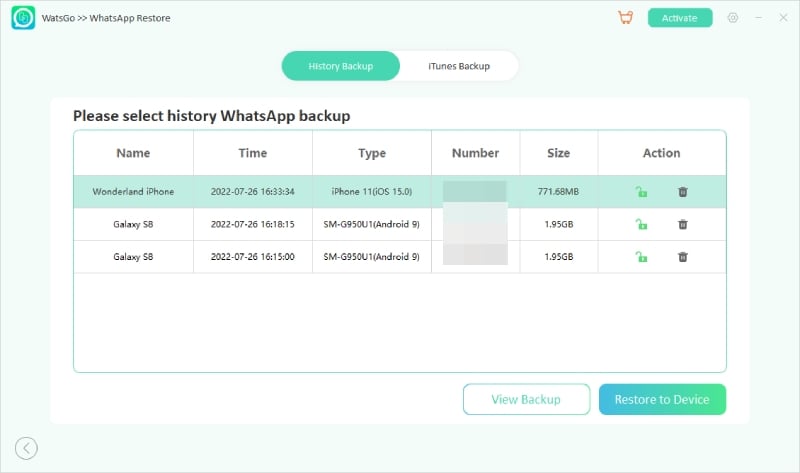 Step 3. Now connect the target device to the computer, and wait for a few seconds. Basically, the program will convert the data, which you can easily transfer to iPhone.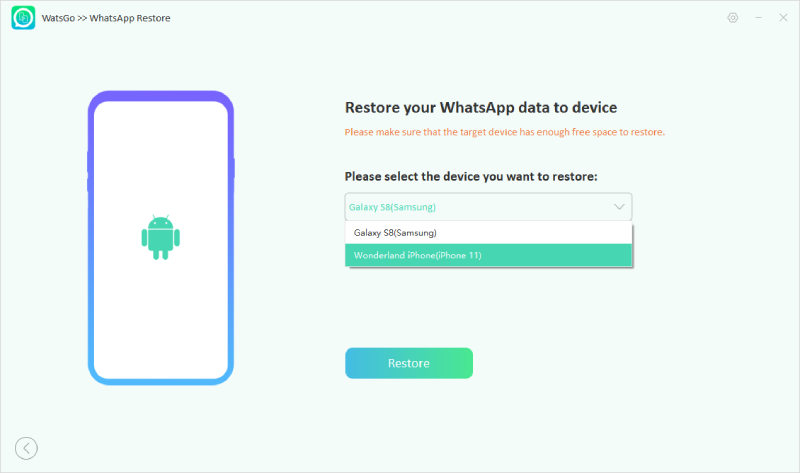 Step 4. Finally, within a few minutes, the backed up data on Android will restore the data on your iPhone device.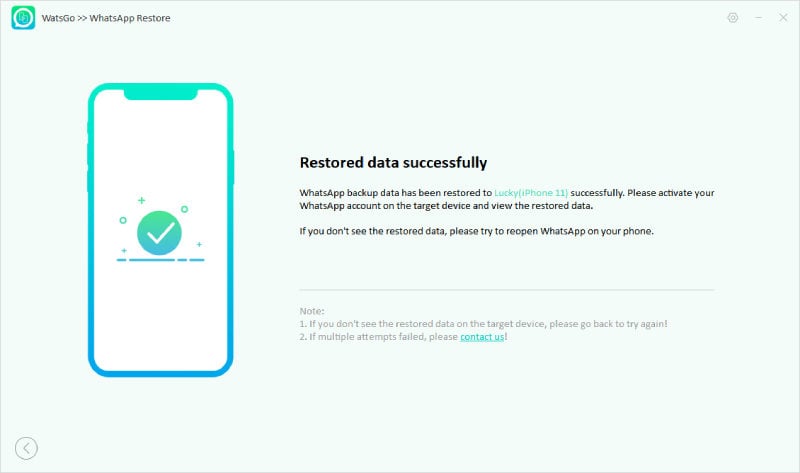 That's it! With these simple steps, you can easily restore WhatsApp data to a new device if your WhatsApp backup is not working.
Restored Backup Successfully!
Due to some reasons, if WhatsApp backup not found, don't worry; you can try the above methods and fix this issue in no time. Also, you can download iToolab WatsGo, which helps restore backup from one device to another. This app is easy to use and restores your data within minutes.