Setting up passwords is extremely important to keep your data secure both at the workplace and at home. Nobody wants to keep their files vulnerable to threats like privacy breaches, accidental data deletion, or any threat you know of!
There are a few steps that you can take to unlock your computer, like: Reinstalling the system. Asking an IT worker. Factory reset Windows. Find a Windows password cracker software.
Well, the problem is that reinstalling or running a factory reset will eventually destroy all your important data. So, in this blog, we'll discuss how you can bypass the lock screen and save yourself from losing any data from the computer using password cracker software.
Best 4 Windows Password Cracker Software Free Download
Here is a list of 4 of the most popular and best free Windows password cracker software for you to try!
1. UnlockGo – Windows Password Recovery: Crack Windows Password Easily!
UnlockGo – Windows Password Recovery is one of the leading tools in the technological world that helps users reset their Windows passwords. It resets a Windows password by creating a Windows password reset disk.
Requires just a one-click to create a Windows password reset disk.
Reset/remove Windows Admin/Local/Microsoft/Domain account passwords.
Add or remove any account (either Local, Admin, or Guest).
Available for all Windows versions.
Supported for all PC brands.
Whenever you want to password crack Windows 11/10/8/7/XP/Vista, UnlockGo for Windows can become your go-to tool. UnlockGo for Windows is one of the best Windows password cracker tools available on the internet right now!
Steps to Use UnlockGo – Windows Password Recovery
Download and install the UnlockGo – Windows Password Recovery tool from the official website. The software must be installed on a separate computer that's easily accessible to you. Run the software and use a DVD/CD or a USB to burn the program on it.

Insert the Bootable media device (DVD/CD or a USB) into the computer whose Windows password needs to be cracked. Follow the on-screen instructions and enter BIOS menu.

After entering BIOS menu, then you can using arrow key to select boot tab and boot device priority to set bootable USB/CD/DVD, finally press F10 to save and exit.

When exited BIOS menu, your locked computer will reboot and then show up UnlockGo (Windows) icon and then ask for Windows system and you can select target account to reset/remove password.
Using UnlockGo – Windows Password Recovery is extremely easy because of its user-friendly interface. You can try this step-by-step guide to get access to a locked computer.
2. Crack Windows 10 password Ophcrack
Ophcrack is a free windows password cracker software. It basically works on a rainbow table cracking system that allows a program to crack a password's mathematical hashes from the databases.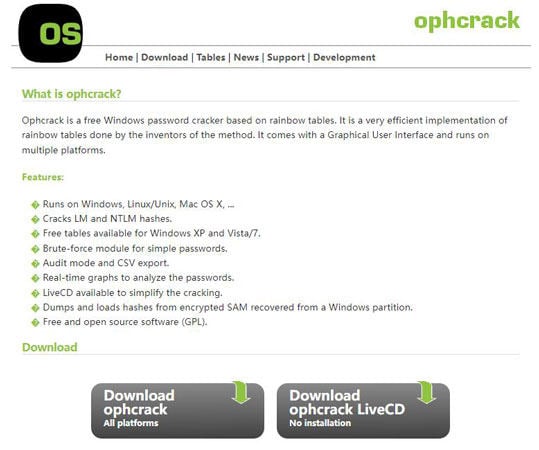 The rainbow table cracking system is quite an effective method of cracking passwords that are saved in the form of hashes in databases. Even if the password is strong and contains a complex combination of letters, numbers, or special characters, Ophcrack will surely crack it for you!
The rainbow table algorithm takes a lot less time as compared to the brute force algorithm. The difference between both of these algorithms is huge and the way they crack Windows 10 password, is really interesting and different. Moreover, Ophcrack is also a Windows XP password cracker!
Ophcrack is a free-to-use program, but the only problem is that it only recovers password that has less than 14 characters. It does offer an interactive Graphical User Interface (GUI) but it is not as friendly as you would expect.
3. PCUnlocker to Crack Windows Password
PCUnlocker offers a free trial but it isn't a free program to use. It can help you in resetting your Windows password. It works effectively when you need to crack Local admin password Windows 10.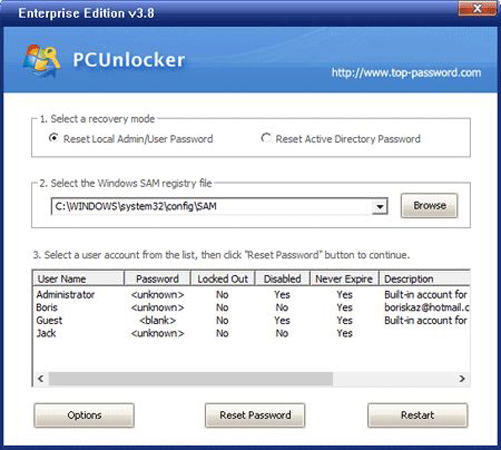 PCUnlocker is completely safe to run on your PC. Most people are concerned about the security and privacy of their personal data, for them, PCUnlocker can be a perfect choice. Our team has tested its reliability and concluded that it does not corrupt any of the data files and you can use it without worrying about your data loss.
Even if you doubt it, you can try its free trial before buying the paid version. PCUnlocker offers a free trial for users to have a real-time experience of how the software works and how it cracks Windows passwords. If you think the software works fine for you, don't hesitate to shift to a paid version which unlocks more helpful options.
4. Passper WinSenior
Passper WinSenior is a paid tool and they offer a 30-day money-back guarantee. So, if it doesn't work for you, you can get a refund within 30 days of the purchase. However, Passper WinSenior is one of the most popular Windows 10 password cracker tools and it has a phenomenal success rate. It can reset and remove your Windows passwords within just a few clicks.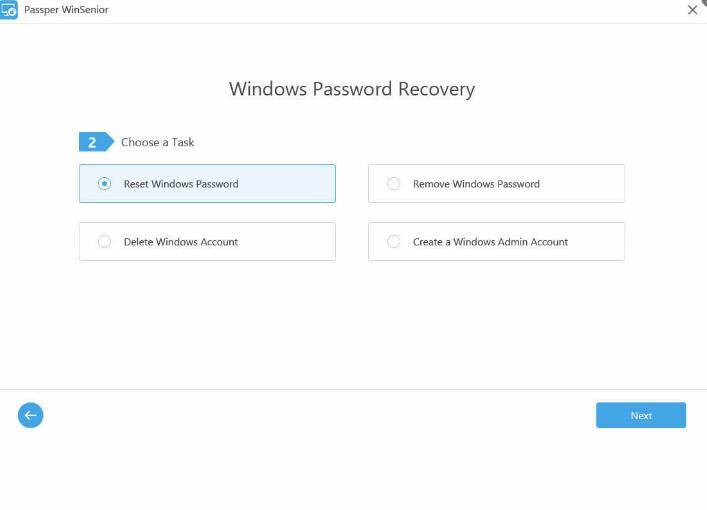 The only downside of Passper WinSenior is that, for some reason, it doesn't work on Windows 11. And that's it! You can try these 4 software programs and you will definitely be able to unlock your computer without losing your data.
Why Only 4 Software Options?
Because we value your time! It's as simple as that. We don't want you to download and try sixteen different software and decrease your disk space. We only listed the ones that actually work! All the four software mentioned above have the highest rate of success and they're pretty effective too.
Our in-house team of professionals dig deep into the internet and found some of the coolest and most powerful password cracker for Windows free download programs available right now.
After a series of extensive research on the best Windows password cracker programs, we have got you a list of the 4 software that you can try for yourself without a second thought!
Interested in knowing about Crack Windows Password Using CMD? Here's what the experts say!
Summary
Getting stuck on the lock screen of Windows due to a forgotten password can be annoying. Don't let this frustration get over you and destroy your day by trying out the methods we discussed in this article.
Here this blog discussed how some of the most powerful Windows password cracker programs can solve your problem by removing your Windows password without losing any of your precious data. You can follow our guide with the certainty of getting effective results with UnlockGo – Windows Password Recovery.