Is there a way to trick the life360 app?

I snuck off to my girl's house at 12:30 am last night and almost got caught bc my mom uses the life360 app to try and monitor me and my brother. Is there a way to trick the app or at least get it to stop working properly?

–Extracted from Reddit
Life360 is a family or group-centric location-sharing driving, chat, and communication safety tool designed to give users peace of mind regarding the location of their family members. But don't you feel irritated when someone is watching what you do and where you go all day?
We find similar concerns with many people who search for solutions to stop tracking them without letting others knowing it. But not to worry now. We have brought you the best possible solution to change the location without getting noticed by others.
Is Life360 an invasion of privacy?
Some users have about Life360 because they see it as an invasion of privacy, which, to a degree, it is. Spouses can control each other's movements, just as parents can monitor their children's travels. Just because you have the means to monitor your children 24/7 doesn't mean you should. It is wise to know where your child connects (and disconnects), but it can ruin a relationship when that action becomes a concern. If you are concerned about your privacy, you may be interested in learning how to spoof your location on Life360. This can help you take control of your privacy and feel more secure as the day progresses. Fortunately, spoofing your location is pretty easy to do. Let's take a look at how you can do it yourself.
Life360 Location Hacker (iOS)
AnyGo is a GPS spoofing software that allows spoofing the iOS device's location without jailbreaking. The specialty is that you can set your customized routes, speed, and destinations as required. Importing GPX files enables you to customize the exiting routes to add your routes. Also, you can hide the current location from the public to protect privacy. AnyGo provides the ability to simulate the location in one click, so you don't need to go through a tedious process. Due to the 24×7 customer support AnyGo provides, it is always recommended over other software.
💡 Key Features
Spoof to any location in the world with one click
Best suited for location-based gaming and service apps like Facebook, Snapchat, Pokémon Go, Spotify, etc.
Stimulation of routes through different modes and import routes with GPX files
Custom speed setting to virtualize the real human movement
Multiple devices can be connected at the same time and change the location as required
Compatible with latest versions of iOS
Trick Life360 to Keep Location in One Place
By using the Teleport mode, you can spoof to a fixed location and keep it unchanged. Hence, it doesn't update your current location if you move away from that location since you have used the fixed location teleport. This is a great method to make others feel that you stay in one place.
Step 1: Download and install AnyGo
You can download and install AnyGo. Once it's installed, launch the software.
Step 2: Connect iPhone to the PC
The next step is to connect the iPhone to the PC that you installed, AnyGo. When the connection is successful, click on the Start button in the window.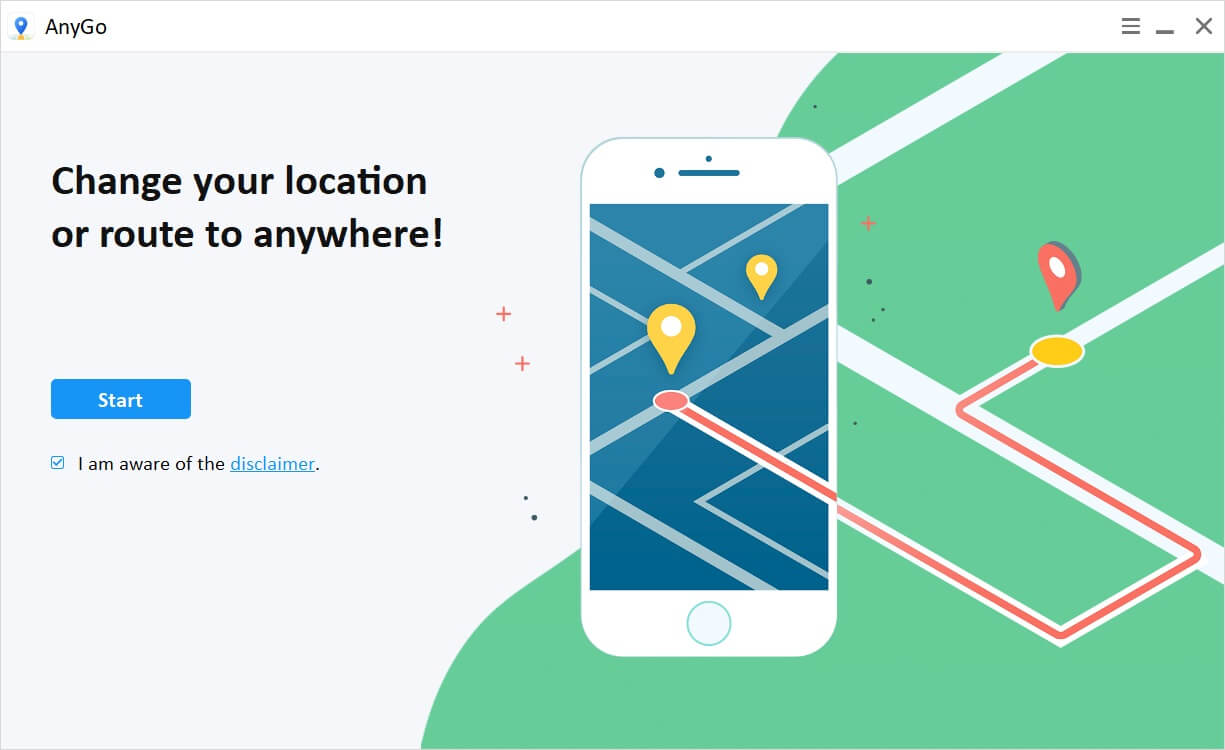 Step 3: Search the destination
Now click on the Teleport icon and type the destination in the search bar. Next, select the destination from the suggested list and click the Search button.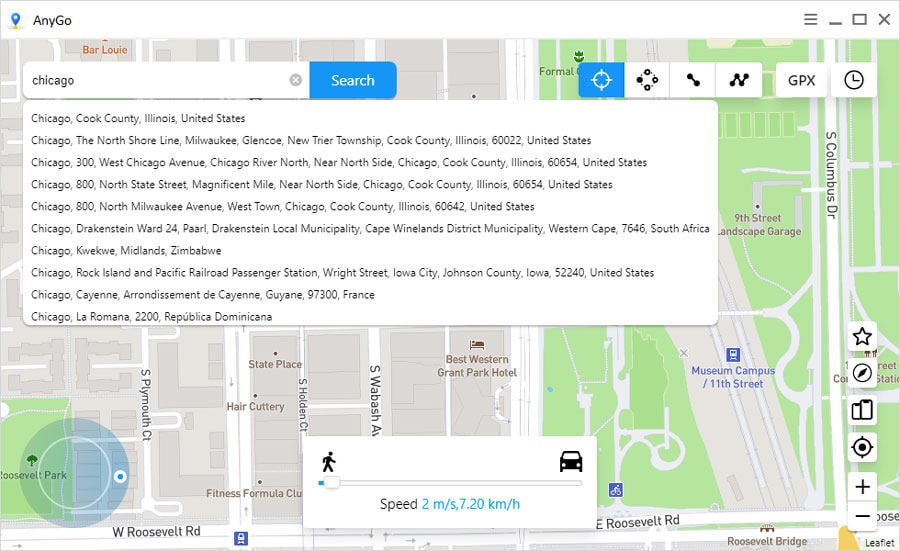 Step 4: Teleport to the location
Finally, click on the Go button to teleport to the destination.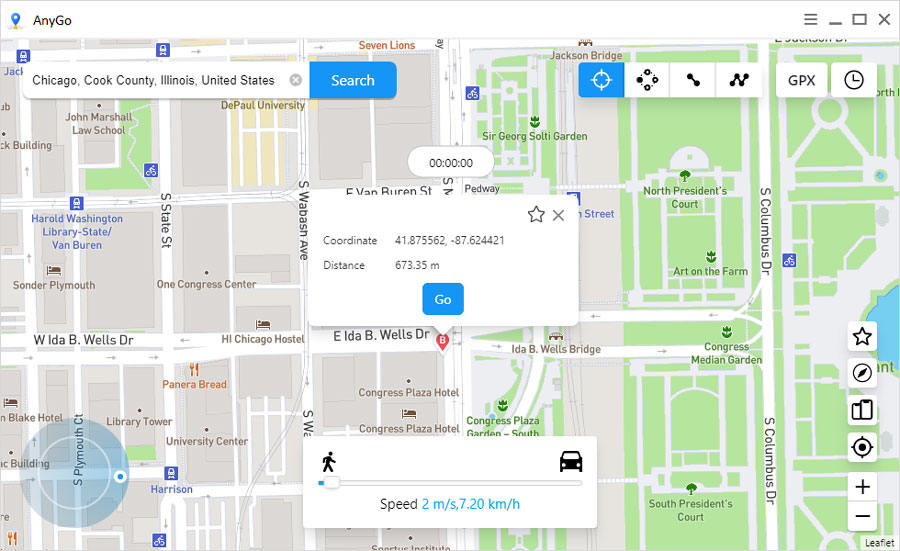 Cheat Life360 Moves like Real
Similarly, as mentioned above, after downloading and installing the software, you can move along a specified route between 2 or multiple predetermined locations instead of waiting in a fixed location. This will make the others feel that you are traveling to a location from another location.
Step 1: Select the mode
Click on the Two-spot or multi-spot in the upper right corner of the screen. Then select the places you want to travel to in sequence order. When you mark the places, a popup will show the distance you cover.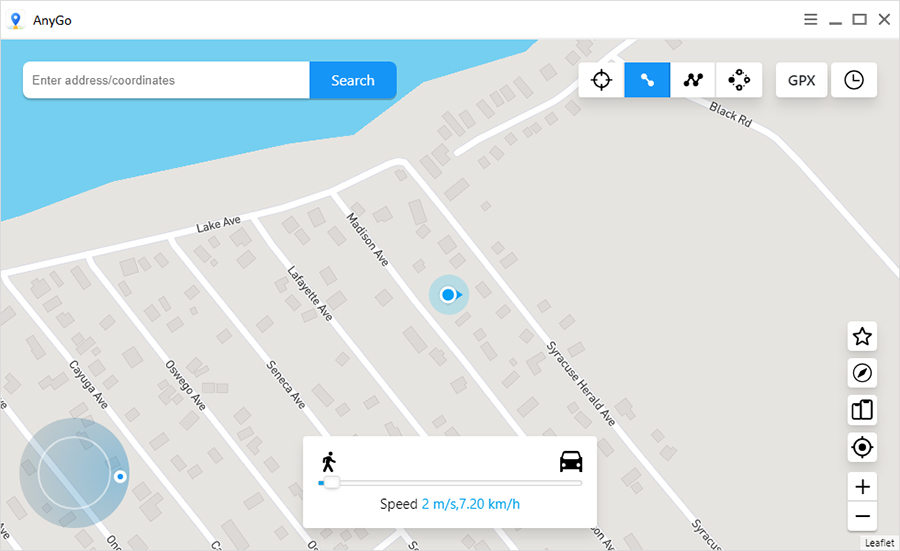 Step 2: Set the traveling mode
You can set the speed of travel from the slider, and you can select either walking, cycling, or driving. Depending on each mode, you can set the speed. But remember to set it natural; otherwise, people will feel it as false spoofing. With the introduction of AnyGo new version, you find all the previous routes you frequently used for natural movement.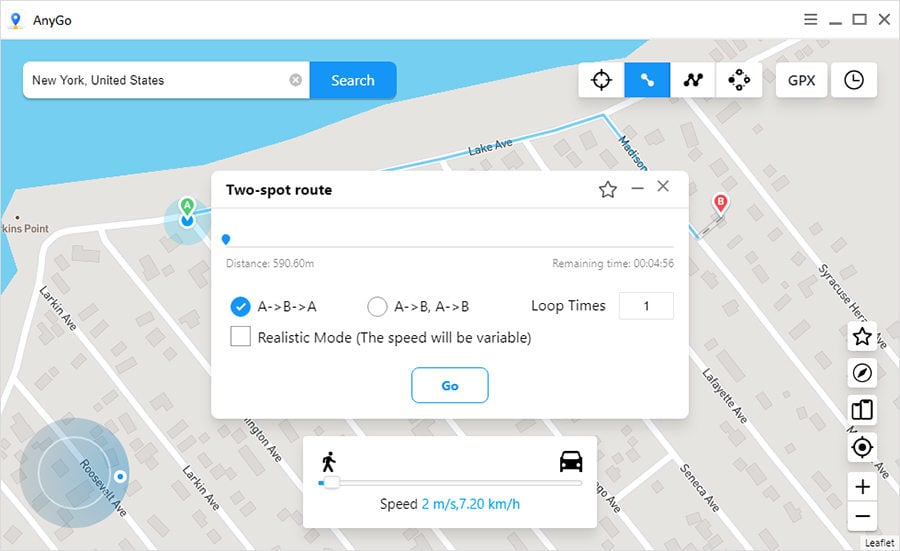 Final Thoughts
With the introduction of AnyGo, now you no longer need to worry about the Life360 app. Early day's people used to use VPNs or uninstalling the app, which didn't work as expected. AnyGo has brought a new dimension to the location spoofing, and no one else from outside feels that you are spoofing the location. Now your privacy is not invaded, and you can do anything you want but with intelligence.