Pokémon Go uses GPS from mobile devices to locate, capture, train, and battle virtual creatures, called Pokémon, to appear in the player's real-world location.
But there is one more way to play the game. The player can mock location on Pokémon go for free on your iOS devices. The necessity of mock location for Pokémon Go players is indeed not hidden to users of this location-centric app. This feature allows showing a change in a location without taking a foot outside to stroll around the neighborhood to find the perfect Pokémon.
Does Mock Location Work on Pokémon Go?
Is it still possible to mock GPS on Pokémon Go? Can someone control the character going outside while staying at home? However, Pokémon Go encourages players to go out and catch the perfect Pokémon's. Some game assistants can help players mock locations on Pokémon go to play the game when they are not willing to move out from home. So, by synchronizing the phone GPS after choosing a location, players can easily find and catch their favorite and sometimes even rare Pokémon's with ease.
So, the reply to the query "Can someone mock GPS on Pokémon Go", is YES.
How to Mock Location Pokémon Go with iToolab AnyGo
For both iOS and Android
iToolab AnyGo allows the player to easily mock location on Pokemon Go iPhone and Android in just 1 click to any destination in the world! You can also imitate natural GPS movement by creating multi-position routes on a map. This is advantageous for location-centric game lovers who are unwilling to move out. AnyGo works well with all GPS-based AR games and apps and it is compatible with the latest iOS 16 and Android 13.
Read this simple step-by-step guide to use AnyGo to mock the location app for Pokémon go.
Step 1: Download and insatll AnyGo on your computer, connect the iOS device to the computer and go to the program's main window & click on "Start".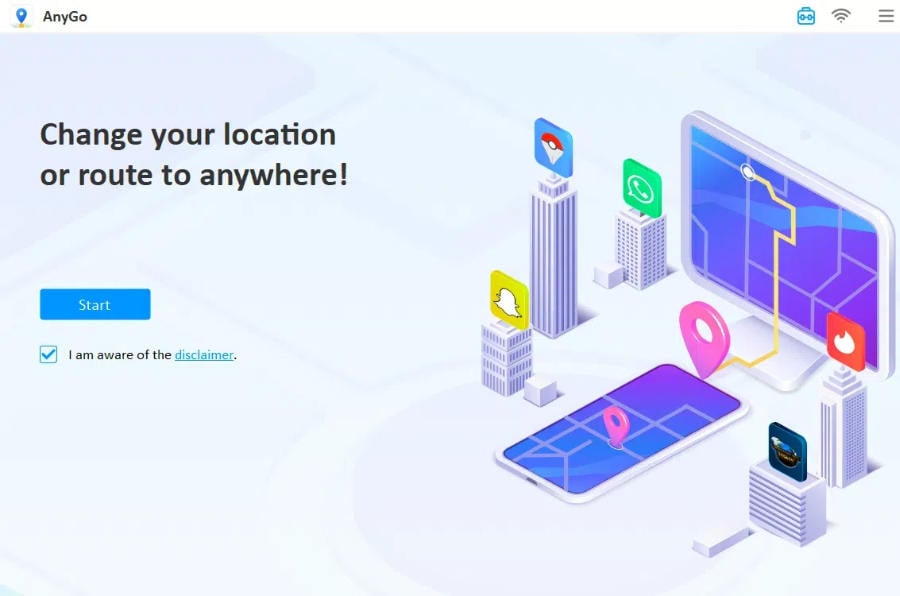 Step 2: Check the next page for your current location on the map. Click on the "Center On" icon to set the accurate location.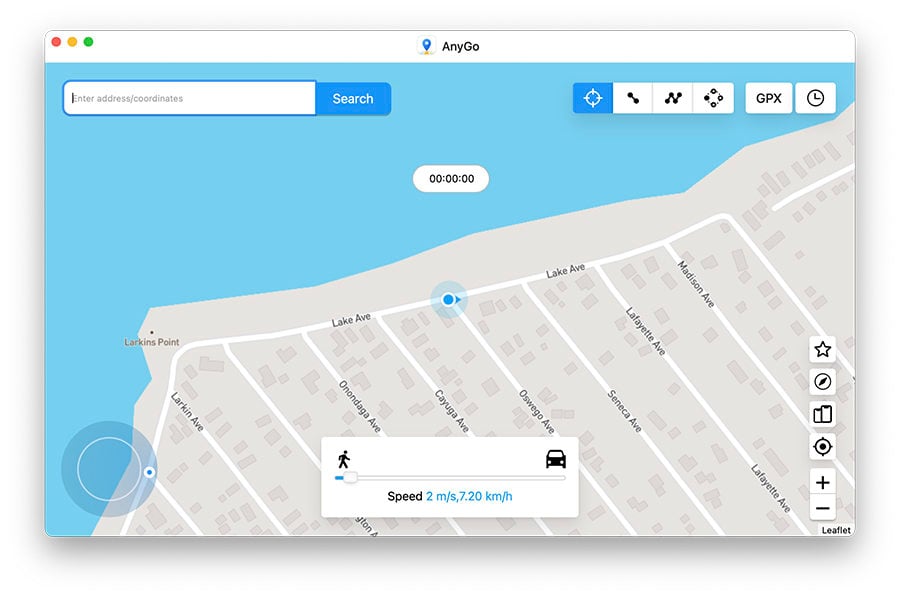 Step 3: Go to the upper-right corner of the screen and click on the "Teleport" icon to add the location you'd like to teleport to. Now click "Search".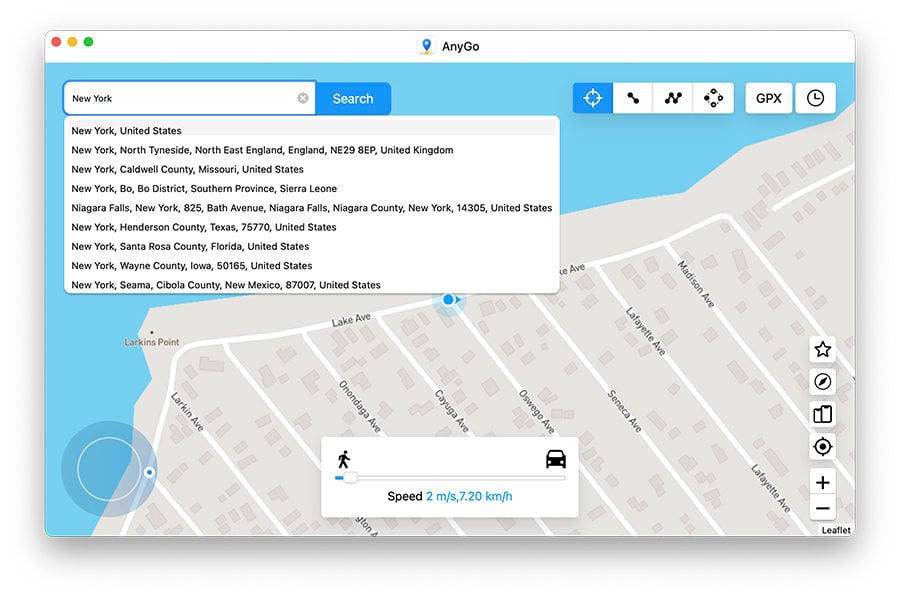 Step 4: Click "Go" to teleport.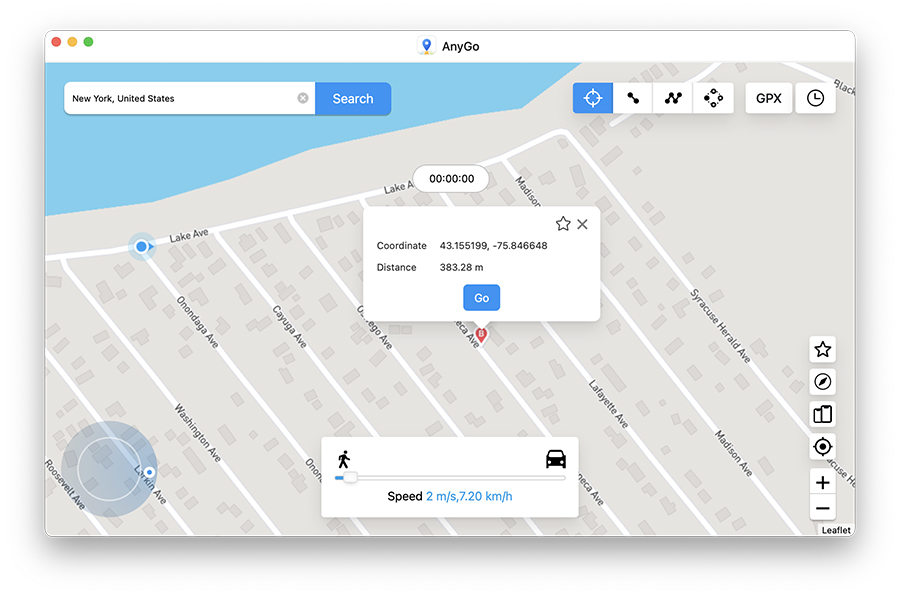 This mock location app for Pokemon Go is the best choice for the player. You can go anywhere you want to catch more rare Pokemon. By the way, it's a 100% safe way.
For Android User
GPS Joystick is an app that allows a player to easily test location-based apps like Pokémon Go by mocking the location. Through an overlay joystick control, it overwrites the user's location with a fake location disguising the 3rd-party apps, websites, or services. The app consists of a "Joystick" option with which the location could be changed instantly.
So if you are an Android user and wondering about the best way to spoof location, here is how GPS Joystick app can help you.
Install the GPS Joystick app from Play Store.
Once installed, you are required to set this app as the default mock location app. And for this, simply head to "Settings" > "Developer Options" > "Select mock location app" > choose "GPS Joystick".
Note: You will need to turn on the Developer options. This can be done by heading to the "About Phone" section in your device's settings and clicking the build number 7 times.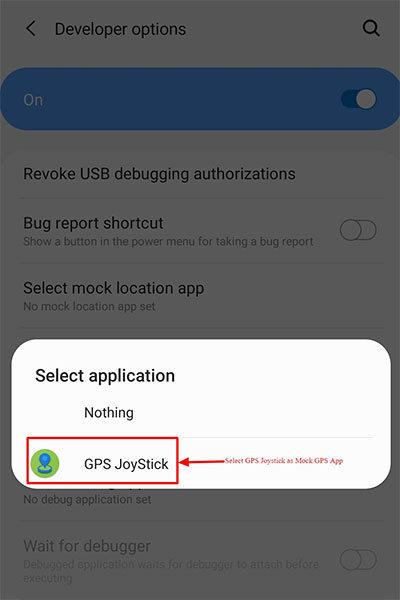 Once these requirements are over, you just need to opne the app and hit "Set Location". Apart from that, you can enter GPS coordinates as well of the location you wish.
Also, in case GPS coordinates are confusing to you, you can simply pin the desired location by opening the map. Upon this, click "Start" and you are good to go!
That's how GPS Joystick will help teleporting you with the selected location. You can now open the Pokemon Go app and play with this new location.
Essential Tips: Fix Pokémon Go Mock Location Error
Pokémon Go is a boon for gamers who love Augmented Reality (AR) based games. Locating, capturing, training, battling with virtual characters is altogether fun for gaming enthusiasts. But since its release players have encountered multiple glitches in this game and "Pokémon go error 12: Failed to detect location" is lately the most common one reported. Here is an easy solution to fix this problem.
Clear the Cache and Data of the game:
Go to the "Setting" option on your device.
Tap on "Apps and notifications".
Now find Pokémon Go and select the Storage option.
Now click on Clear Data and Clear Cache.
This will help in resolving the issue: mock location Pokémon Go failed to detect location.
Conclusion
There you go! After reading this guide, you already knew the solutions for Pokémon go mock location. Go ahead and try using the above ways to mock GPS on the location-based games. Apart from an unwillingness to step out of your house, it is also not safe to walk into shady areas at any point in time. Hope this article can help you!
Spoof GPS Location on Pokemon Go
Works well with LBS games and apps such as Pokémon GO.
Multiple modes to fake GPS movement.
Simulate walking, cycling or driving at a variable speed.
Spoof location of multiple iPhones simultaneously.