"My Snapchat location is wrong, and I do not know how to fix it. What is the cause of this error, and is there any solution available to resolve this wrong Snapchat location error?"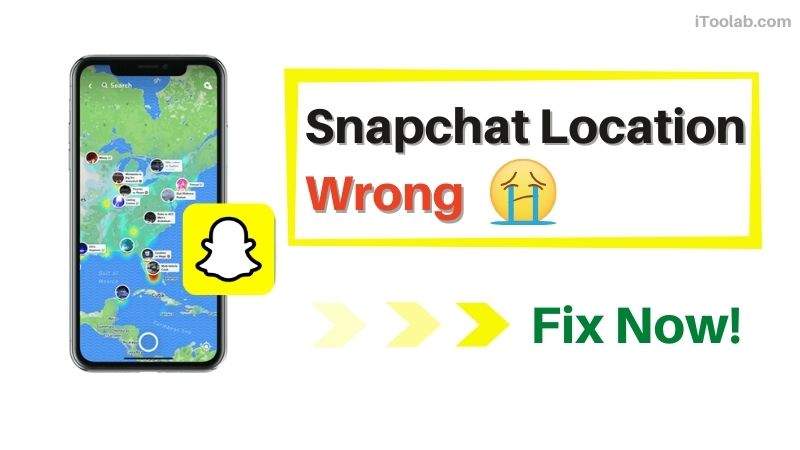 Much like any popular social media platform, Snapchat also offers the location-based feature to learn the real-time location of friends and followers. However, recently many users have raised an issue online that Snapchat map frequently shares the wrong location. We know that it is pretty annoying. Still, several easy ways to fix the "Snapchat location wrong" issue exist, and we will explore them in this detailed guide.
Keep reading!
Can Snapchat Location Be Wrong?
Yes! We have reported several instances where the Snapchat location has been faulty.
So, what should one do to fix the Snapchat location wrong error? Well, It's so important to take a step back and figure out what's causing all the headaches! If you know 'where' the social app is going erroneously, then it's easy to put an end to the wrong Snapchat location mistake that seems never-ending.
Here are some reasons that might be behind the glitch in the location feature of Snapchat:
✖️ You are Offline or Have Enabled Ghost Mode
If you have not been using the Snapchat application on your mobile, then after approximately 6 hours, your location will be removed or hidden from other users. Also, ensure you have enabled the GPS function from settings. Moreover, this issue occurs when the Ghost Mode feature is activated on the app(hides your location from others, but you can check their position).
✖️ Bugs in the Snapchat App
If you are using an older or outdated version of the Snapchat app, chances are high that the location function, along with other features, will malfunction. So, we recommend always keeping all of your installed apps up-to-date. Also, ensure you are not using a modded form of the Snapchat app.
✖️ You are Using a Location Spoofer
In case you have activated a VPN or a fake location software, then there is a possibility that the "Snapchat location wrong" error will occur.
How to Fix the Wrong Snapchat Location on Android/iPhone?
The Snapchat Map is a pretty useful and fun feature of the popular social app. We understand how frustrating it can be when you and your friends display the wrong location.
However, the good news is that this "Snapchat map wrong location" issue can be resolved instantly. You only have to apply the following techniques. Check them out!
1. Restart The Snapchat App
Apps tend to have many bugs, which can sometimes lead to the app crashing in specific environments. For example, if you are experiencing an issue with the Snap map not loading, it's recommended to restart Snapchat on your Android or iOS device. This method does the trick most of the time. If not, check out the next solution.
2. Enable Location Feature from Settings
If, for some reason, the Location Services(iOS) or Location feature(Android) is disabled on your device, then it is pretty evident that the "wrong Snapchat location" error will pop up and annoy you.
So, you ensure that GPS is working on the phone or tab. Here is how:
🔧 For Android:
Open the Settings menu, and tap on Location.
Now, locate the Location Access option, and turn it on.
That's it!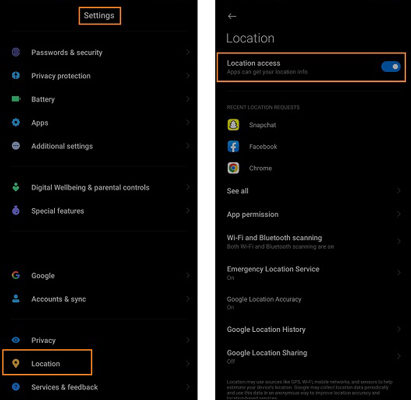 🔧 For iOS:
On your iPhone, go to Settings, and tap on Privacy.
There, select the Location Services option.
Now, tap Location Services again to enable the feature.
The Snapchat location mode will work again!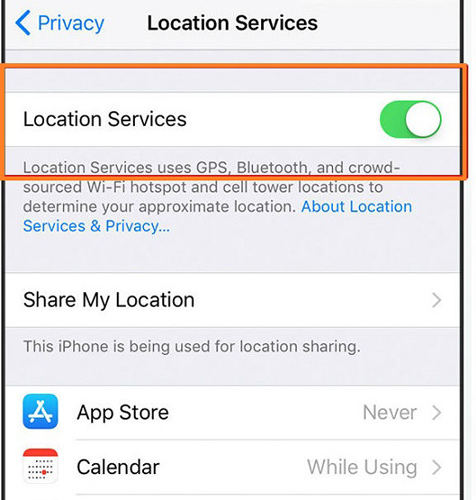 3. Give Snapchat Location Permission
Snapchat is a really popular and fun app, but if your phone isn't using it correctly, then you won't be able to enjoy its full functionality. Make sure that your location permissions are turned on, as well as access to mobile data for this app so that location accuracy will not be compromised.
Follow the steps for iOS and Android to enable the permissions for Snapchat:
🔧 For iOS:
Open Settings and tap on Snapchat.
Now, head over to the "Allow Snapchat To Access" section and select Location.
Simply give the location access to the social app.

🔧 For Android:
From Android Settings, open Apps.
Select Snapchat, and tap on App Permissions.
There, select Location, and go to the "Location Access For This App" section.
You can enable the "Allow all the time" option or "Allow only while using the app" to fix the wrong Snapchat location issue.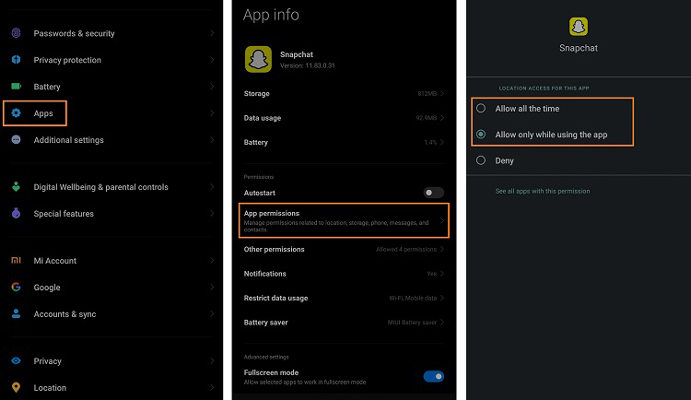 4. Delete The App And Reinstall It
If none of the above methods reaps any results, then some underlying bug in the Snapchat app is causing all the trouble. In such a case, we suggest deleting the application from the device and installing it again.
Best Tip: Change Location on Snapchat without Anyone Knowing
Now that you understand what was causing the wrong Snapchat location error and the methods to fix it, there is still one issue that needs addressing. What if you wish to change your position on the Snap Map so that no one really knows where you are. This action ensures both your privacy and security.
Well, it is possible when you are using the user-friendly iToolab AnyGo program for iOS devices. When you enable it on any Windows or Mac system, AnyGo lets you teleport to any entered location, and the best thing is that no one will know about this activity.
Want to learn how to manage your location on Snapchat with iToolab AnyGo? Follow the steps below:
Step 1 Begin by attaching your iOS device to the desktop/laptop. Now launch the software, and on its home screen, click Start.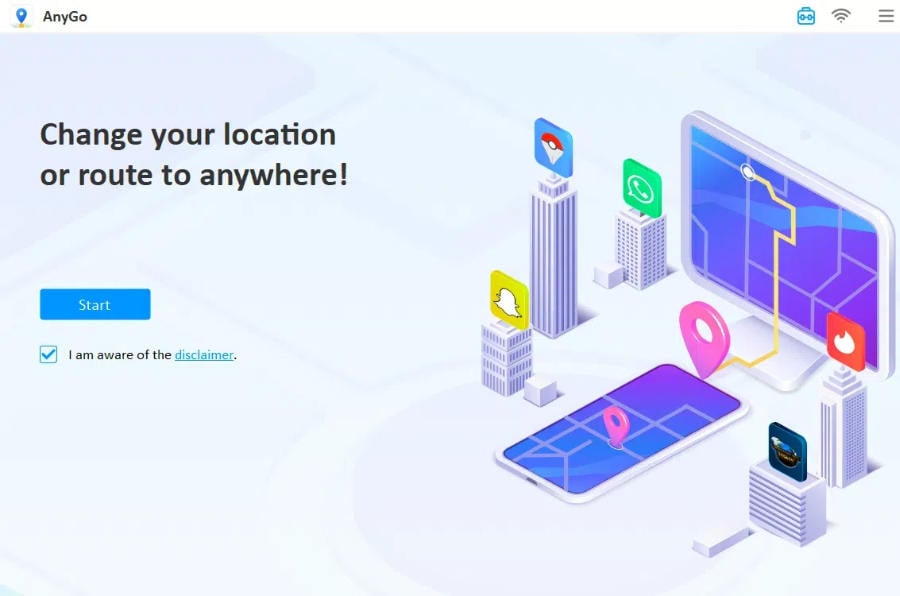 Step 2 Next, the program will share your iPhone's present location. If somehow the information is inaccurate, click the Center On button to fix it.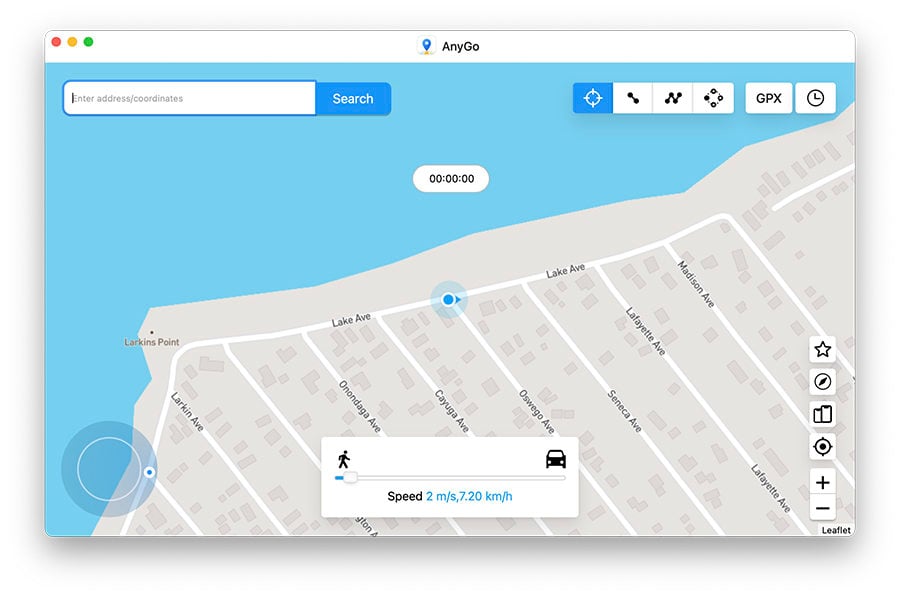 Step 3 Now, hit the Teleport button, and you will be asked where you would like to jump. Simply enter the location into the search bar, and enter.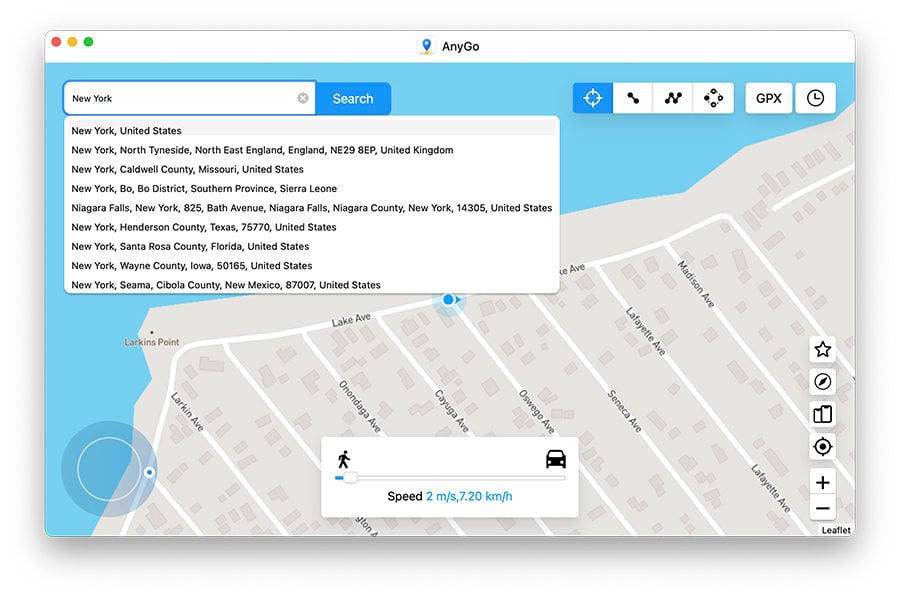 Step 4 By this step, AnyGo will display the entered location on its map. If satisfied with the results, click on Go to finally change your Snapchat location.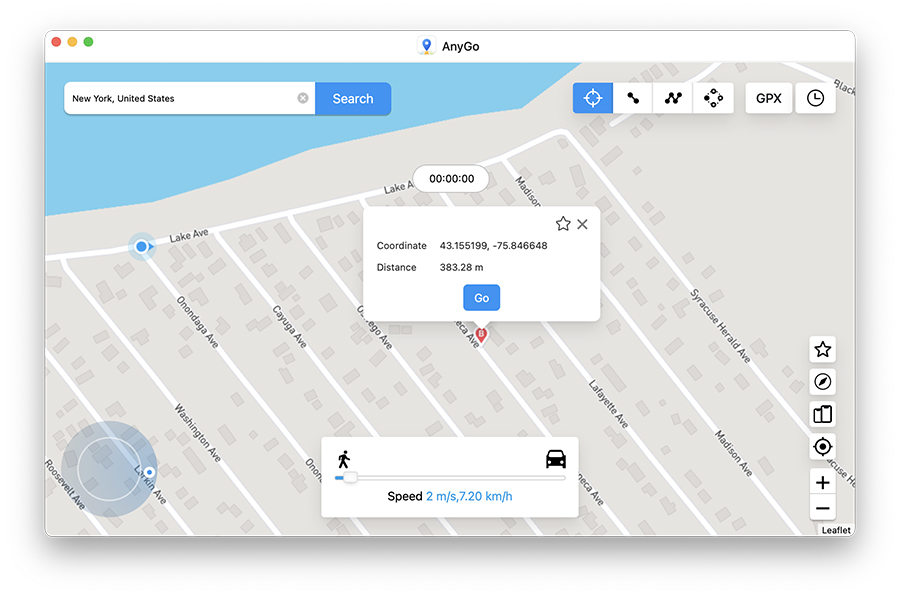 Now, you can have fun with your friends on Snapchat that you are visiting someplace exotic while in reality you never left the house, and they will believe you, thanks to AnyGo.
People Also Ask about Snapchat Location Wrong
Q1: Why Is Snapchat Showing the Wrong Location of My Friend?
A bug inside your Snapchat application could be the factor causing the wrong location issue. Also, there is a possibility that your friend could be using a location spoofer or VPN.
Q2: How to Update my Location Settings on Snap Map?
Within the Snap Map interface, there is a Settings menu. There, you can enable/disable the location feature and also select which person can or can not view your current position on the map.
Q3: How to Hide the User Location on Snapchat?
You can enable the Ghost Mode feature in the Snap Map to hide your location. Moreover, by using iToolab AnyGo, you can fake your whereabouts.
💡 Also Read: How to Hide and Change Your Location on Snapchat Map
Final Words
The Snap Map is quite an exciting feature for interacting with friends on the famous social media platform. For this reason, when you face the "Snapchat location wrong" error, the annoyance that comes with it is pretty understandable. However, after reading this post, you know how to make the Snap Map functional again. Additionally, if you want more fun with your mates or just wish to preserve your privacy, there is no better option than iToolab AnyGo.