A common problem faced by Apple users is how to fake GPS location without getting caught. Well, WooTechy iMoveGo is a wonderful location spoofing app to fake your location data in different apps and mobile games. But does WooTechy iMoveGo work as advertised? In this article, we are describing to you the 2022 latest WooTechy iMoveGo in-depth review that you should know. Let's take a look at the in-depth WooTechy iMoveGo review to determine if this is the solution for you.
What Is WooTechy iMoveGo?
For both iOS and Android users, WooTechy iMoveGo is an excellent desktop location changer application. If you want to spoof location on your phone, or even show off your route between two destinations, this tool is a good option. With only one click, it skillfully allows you to spoof your location to anywhere you want. This tool has a feature that allows you to simulate GPS movement according to the route you choose.
It also has a pretty helpful joystick mode and while playing VR games like Pokemon Go, it often comes in handy. Even for the users who are using a location spoofer for the first time, this location spoofer is fast, versatile, reliable and user-friendly. It doesn't even require you any knowledge or jailbreaking. You can pause at any time while using this tool and also can set coordinates.
Pros And Cons of WooTechy iMoveGo
Every tool has some pros and cons of it. Unlike other tools, WooTechy iMoveGo also has some pros and cons. Here we are upholding the pros and cons of this location spoofer:
🙂 Pros

This location spoofing tool supports both Android and iOS devices.
Including games and dating apps, this tool supports all location-based apps.
Allows you to freely control the movements with Joystick mode.
🙁 Cons

Apps like Pokemon Go can easily detect this tool.
It requires your technical expertise and also the interface is quite confusing.
Sometimes when you're trying to switch your location, the top bar moves slowly or lags unexpectedly.
When you're having trouble, it is hard to reach customer service. To interact with them, you can email them and wait for a long time.
The latest iOS 16 is not supported.
How to Use WooTechy iMoveGo?
To spoof GPS location via WooTechy iMoveGo, here is a step-to-step guide given below:
Step 1: At first, you have to download and install iMoveGo on your computer and after it has been installed, launch the software.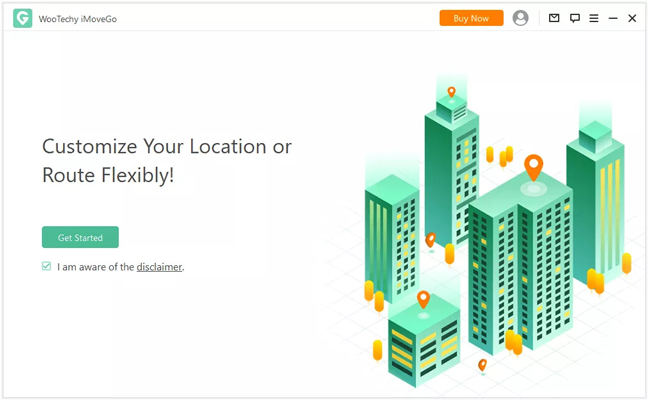 Step 2: By using a USB cable, you can connect your iPhone/iPad to your computer and click on "Trust" after unlocking your iOS device.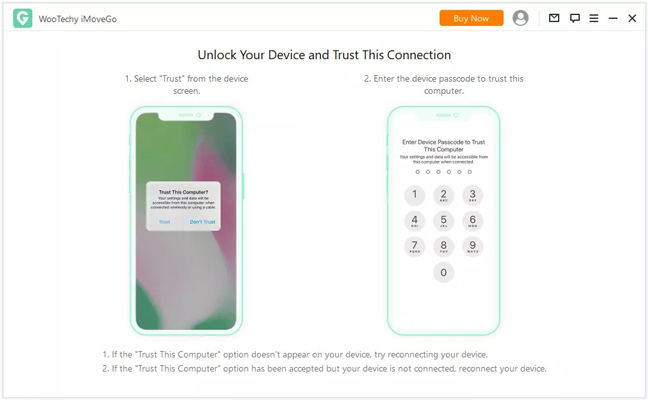 Step 3: After that, the map will start loading. Wait until the map has been completely loaded. From the upper right corner of the screen, click on the "Teleport Mode" option.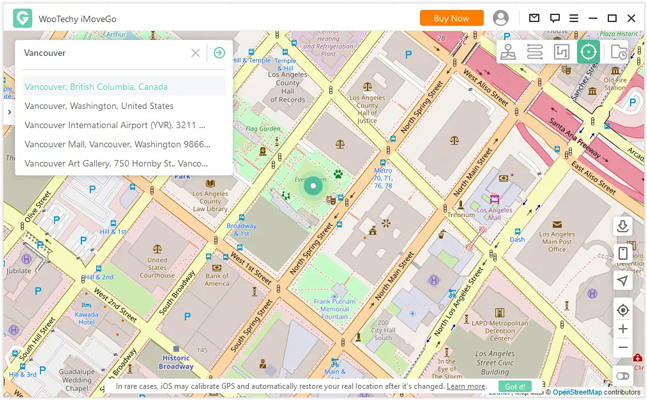 Step 4: You can choose the location that you want to change to. Click on the "More" option that will be displayed after you have selected the location.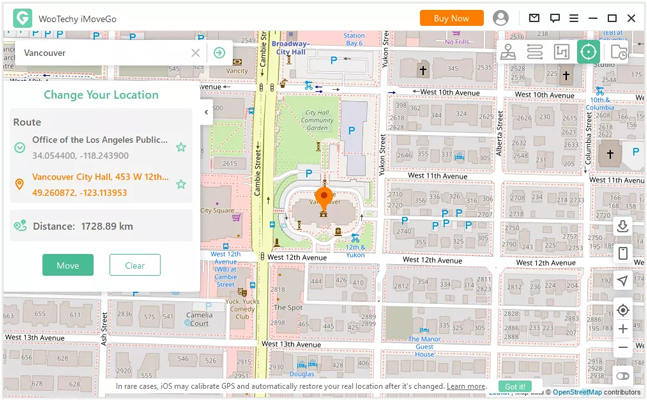 Best Alternative Location Spoofer for WooTechy iMoveGo
If WooTechy iMoveGo cannot meet your need and it is not working, then you can take a look at its best alternative location spoofer – iToolab AnyGo. Without jailbreaking your phone, your location will be changed and the tracker will be disabled with just one click quickly. You can also create a fake location so that your social networks like Twitter and Facebook will not be able to track your whereabouts. Moreover, iToolab Anygo can spoof location of multiple iPhones simultaneously.
🏆 Key Features:
✅ Spoof GPS location on iPhone without anyone knowing.
✅ Simulate walking, cycling or driving at a fixed or variable speed.
✅ Pause and resume your movement at any time.
✅ Play all LBS games such as Pokémon GO at home without moving.
✅ Fully support the latest iOS 16 beta.
Video Tutorial
Step 1 Install iToolab AnyGo on your computer and launch it. Then click on "Start" in the program's main window after connecting the iPhone to the computer.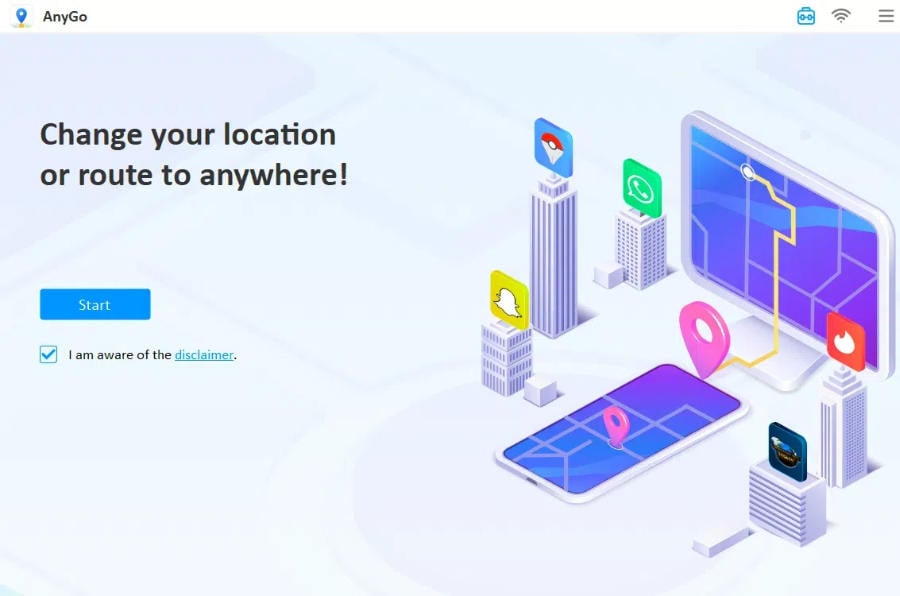 Step 2 A map will appear on the next page where you can see your current location. After that click on the "Center On" icon to get the correct location if the location shown is inaccurate.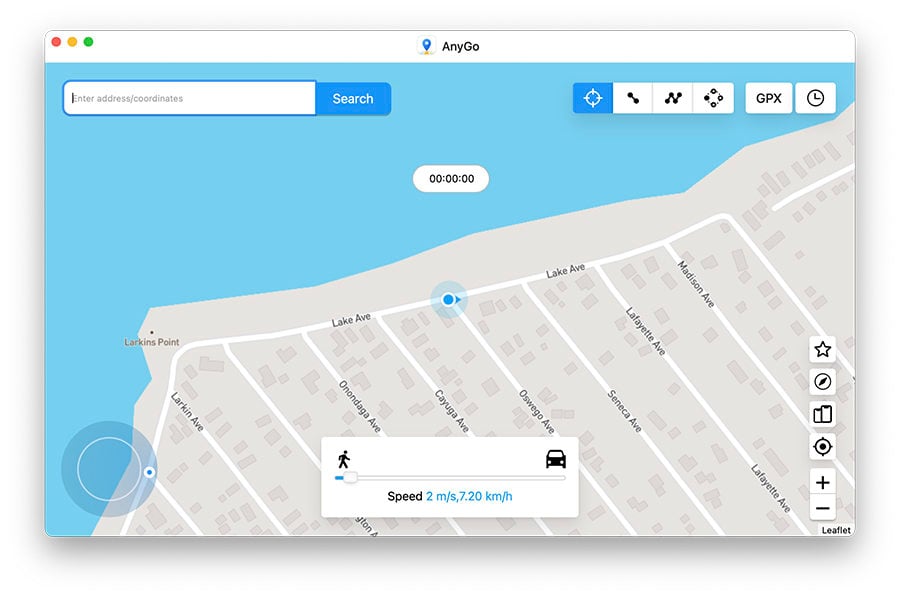 Step 3 Enter the location you'd like to teleport to after clicking on the "Teleport" icon in the upper-right corner of the screen.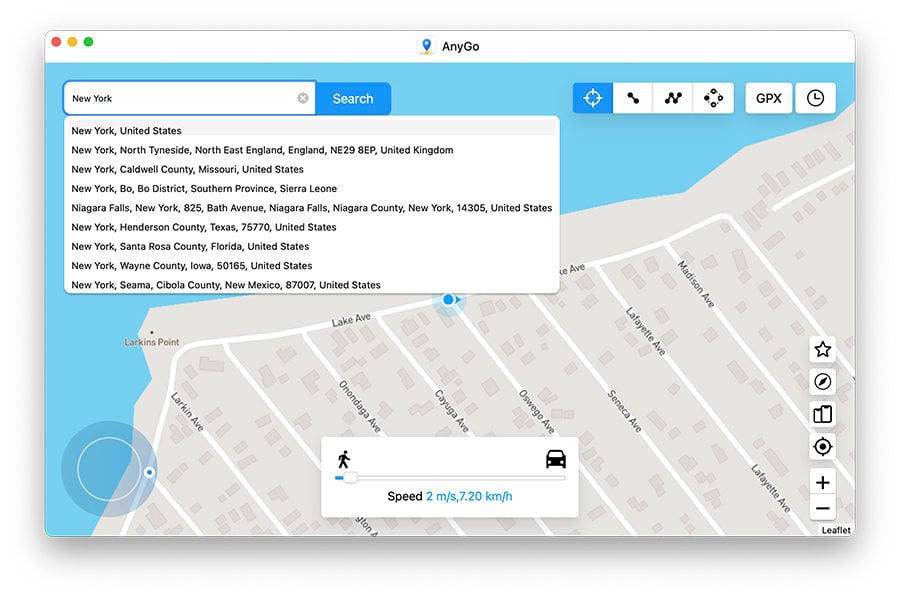 Step 4 Your new desired location will be recorded by the system and then to teleport, click on "Go".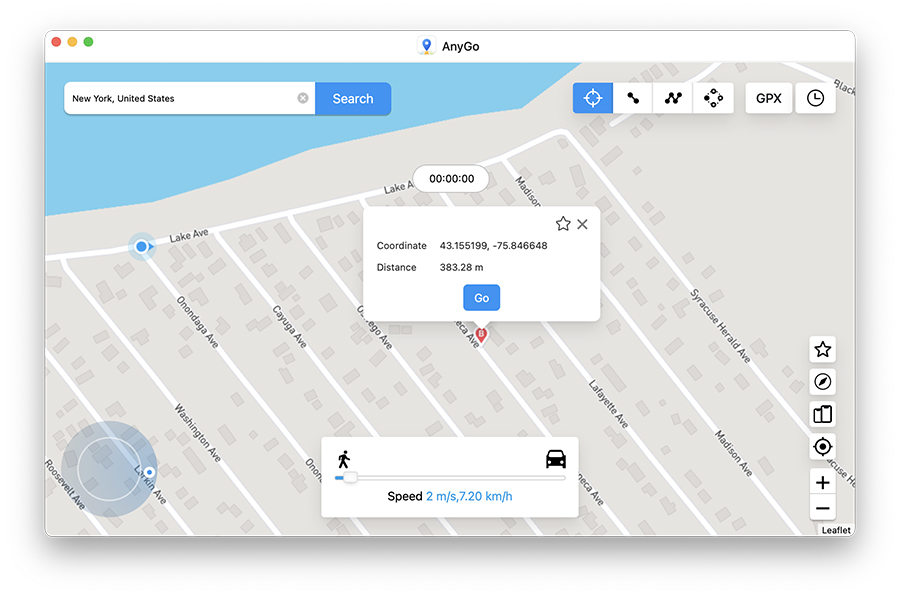 Conclusion
WooTechy iMoveGo seems like an excellent application from all appearances that offers you the opportunity to hide your location data or spoof your GPS. While the app is good to use but the interface is pretty confusing and the tool can easily be detected by games like Pokemon Go which is not good at all. Again you have to face difficulty to contact the helpline if you face any trouble. For this reason, we would like to suggest you use iToolab AnyGo, which has excellent plans and more reliable than WooTechy iMoveGo.
Simply copy and paste the following code before purchasing iToolab AnyGo to get 10% off the original price:
iToolab AnyGo Coupon 🛒🛒🛒
10% OFF iToolab coupon code for iToolab AnyGo
-10% 100%