Let's say you accidentally lost your phone, the person who finds it can't access it if you set up a screen lock. But it was not a big deal before the Android 5.1 lollipop as a simple factory reset bypassed the screen lock. The Google Lock (FRP) makes the phone inaccessible until the person enters Google account credentials used to sync previously on that phone.
But most Android users, especially those who purchased a second-hand phone, reported that they ended with an FRP lock asking for a Google account. This article has what you want if you are an FRP victim searching for a swift Chrome FRP bypass. So, let's see how to do this!
[2022 New Method] Open Chrome with FRP Lock
The only way to remove the FRP lock before resetting is to remove your Google account only from the phone's settings.
However, if you are the one who recently bought a used phone, are found concerned asking how to bypass Android FRP with Chrome. Well! The answer is simpler than you think. You just need to download the iToolab UnlockGo (Android) tool, which will bypass FRP for you in a few minutes.
Moreover, you don't need to go anywhere. UnlockGo (Android) guarantees secure FRP removal within a few clicks without any software glitches.
Samsung FRP Bypass Tool
Successfully bypass FRP on Samsung phones (Android 5-12)
Unlock Samsung devices without data loss
Remove PIN, pattern, password, and fingerprints instantly
A user-friendly tool with quick and easy processing
Supports world-leading Android brands Samsung, LG, Motorola, Xiaomi, etc.
Have you finished downloading UnlockGo (Android)? Great! Now you are just a few clicks away from regaining access to your valued phone. Just follow the easy steps below.
Step 1 Connect your Samsung phone to your PC
Install and launch UnlockGo (Android) on your computer and connect your Samsung smartphone with it using a genuine USB cable. Choose the option Remove Google Lock (FRP).
Step 2 Choose the Samsung OS version
Click the Start button to confirm your purpose. After that, choose your existing Android OS version and click Next.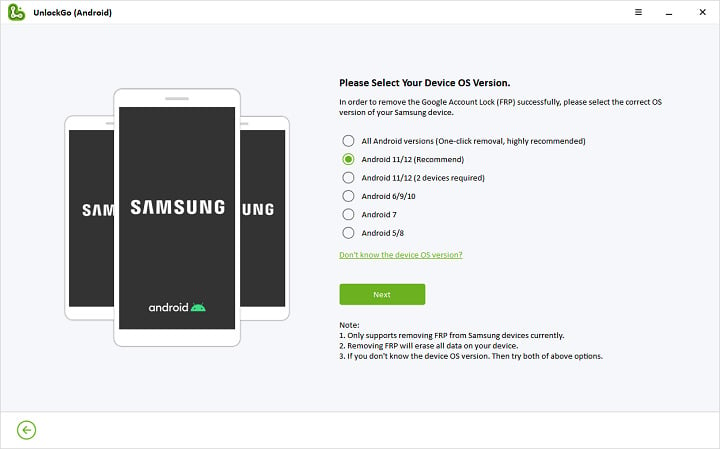 Note:
Please choose the correct OS version, or it may result in FRP removal process failure.
Step 3 Samsung phone gets a notification
UnlockGo (Android) sends a notification to your Samsung phone. Keep your phone connected and ensure you don't use it until the process is finished.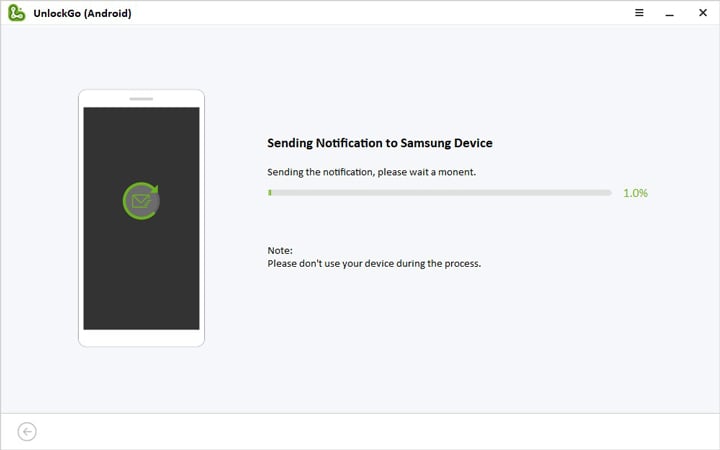 Step 4 Bypass Google account verification
Tap View on a pop-up message to enter the Google map. Choose a location to start navigating and say a voice command Open Chrome to open the browser.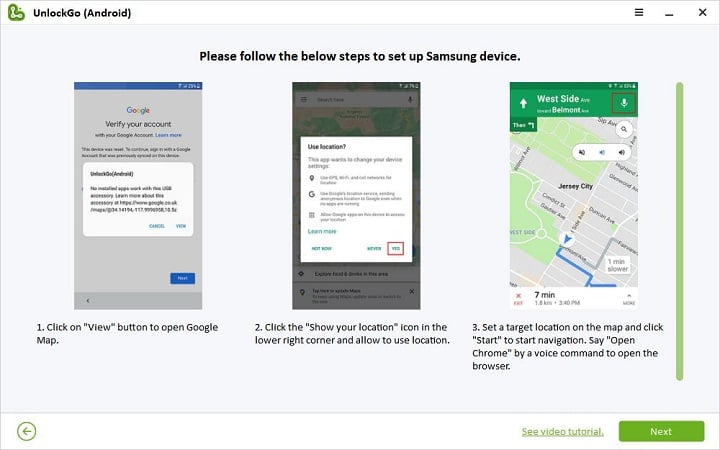 Follow the video guide below to remove FRP completely and set up a Samsung phone.
Success, now you have a fully accessed phone with no FRP lock.
[General Method] Bypass Android FRP with Chrome & Google Keyboard
In this section, we will learn to bypass FRP with Chrome using a Google keyboard. Make sure you follow each step accordingly.
Note:
This process only works for Android OS 5-6. The tool mentioned above will work best if you run the latest OS version.
Step 1: Connect your Android phone with a strong Wi-Fi connection and choose Google Keyboard.
Step 2: On the Google verification page, tap the e-mail section.
Step 3: A keyboard window pop-up. Tap the @ button on the keyboard to open Input options.
Step 4: Choose Google keyboard settings and tap the three dots at the screen's top-right corner.
Step 5: Now, choose Help & Feedback.
Step 6: Select Search Google & send results from your keyboard.
Step 7: A page opens with a guide showing how to perform this action, just ignore it and long tap any words from the guide. The words should be highlighted in blue.
Step 8: Now, tap the Web search option in the top right corner.
Step 9: A dialogue box appears with two options to complete this action. Choose the Google app.
Step 10: Then, tap the search bar and type Settings.
Step 11: You will get a Settings icon and tap on it.
Step 12: Select Backup & reset and then choose Factory data reset. Tap Erase everything to confirm.
Step 13: Once the resetting process is finished, your Android reboots automatically.
Suppose your Android comes up on a welcome screen with the option to skip your Google account and password. That means you have bypassed FRP without a computer.
Conclusion
As you Googled how to bypass FRP, you will get tons of results but note that every method has its requisites and boundaries. If you come up with all of them, you can bypass FRP successfully. These processes run according to the OS version, just like the Google Keyboard method.
But what's better than a handy tool, iToolab UnlockGo (Android), bypassing FRP in simple steps without any technical expertise. UnlockGo (Android) allows you to bypass FRP in Samsung devices running Android OS 5-12. The best part is you don't need to sit for a long time to keep an eye on typical steps. Use the tool without fear of getting your phone malware infected. Choose your plan now!