Google Account is a pass to your Android phone. It downloads and installs apps, sets up emails, calendars, backs up Google photos in the cloud, etc. Removing Google Account from your phone sometimes helps you to streamline things but you must know what that means. It will erase all information (emails, contacts, settings) and terminates your access to Google Play Services.
This guide assists you to avoid possible complications that occurred during Google Account removal.
Part 1. Why Do You Need to Remove/Delete Google Account from Phone?
You need to remove your Google Account when you choose to sell a phone because a locked phone will be challenging to the buyer. This condition suffers you too if you purchased a used phone locked with a Google Account.
Further, to save memory from frequently updating Google apps, the Google Account that you no longer to use should be removed from Android device.
Part 2. How to Delete Google Account from Phone?
Removing Google Account from Android phone means to delete all data associated with that account. So, make sure to back up before performing this action.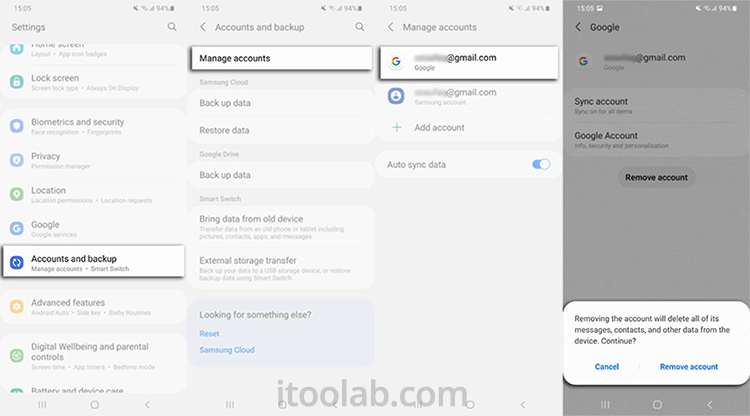 Navigate to Settings on your device. Choose Accounts & backup.
Tap Manage Accounts.
On this page, you will see Google Accounts that you have been created for your device. Choose the one that you want to delete.
Confirm by tapping on Removing Account.
Note:
This method is applicable on Android OS 11, other OS version might be slightly different.
Video Tutorial: How to Remove Google Account from Android 10
Part 3. How Do I Remove Google Account from Android Remotely?
Google allows you to delete Google Account from your Android remotely to save your device from illegal use. However, this action requires your PC or another device to achieve it.
Log in to your Google account from another device. Choose the Security option.
Move down to Your Devices and choose Manage devices.

A list of devices will appear showing how many devices are linked to your Google account. Tap on your lost device, click the Remove button beside Account Access.
Google alerts you with a pop-up message confirming if you want to remove your Google Account. Click Remove.
After the process, a confirmation message appears to show that your account has been removed.

Theoretically, this will only log out your account instead of removing it completely. An alert notification on your Android device will ask you to type your password to regain access.

To delete Google account from Android thoroughly, go to Settings > Accounts on your phone, select the Gmail you have logged out and tap on "Remove Account". It should be remove completely with the final confirmation.
Part 4. How to Delete Gmail Account Permanently without Password?
Removing a Google Account is still a challenge especially if you purchase a phone locked with the Google account of the last owner. You can't delete your account if you forgot Google Account credentials as we discussed in parts 2 and 3.
Quick Tip
iToolab UnlockGo (Android) is popular for quickly removing Google account verification (FRP) from Samsung phones and tablets. Its eye-catching user interface, responsive processes, and high ratings for Google account removal increase its reputation among Android users.
Moreover, this tool effectively removes the Android lock screens (PIN, pattern, password, face unlock).
Google Account Lock Removal
Bypass FRP on Samsung device without Gmail
No technical or coding knowledge required
Remove screen locks on all Android devices within a few minutes
Unlock earlier Samsung devices without data loss
In a nutshell, UnlockGo (Android) is an all-in-one solution for your Android Unlocking requirement. So, without delay, let's remove Google Account from your phone.
Step 1 To remove Google Account, you need to download iToolab UnlockGo (Android). Connect your Samsung smartphone with a computer. Open the UnlockGo tool on your PC and choose Remove Google Lock (FRP).
Step 2 Click the Start button, choose the latest FRP solution that works on Android OS 5-13. Click the Next button.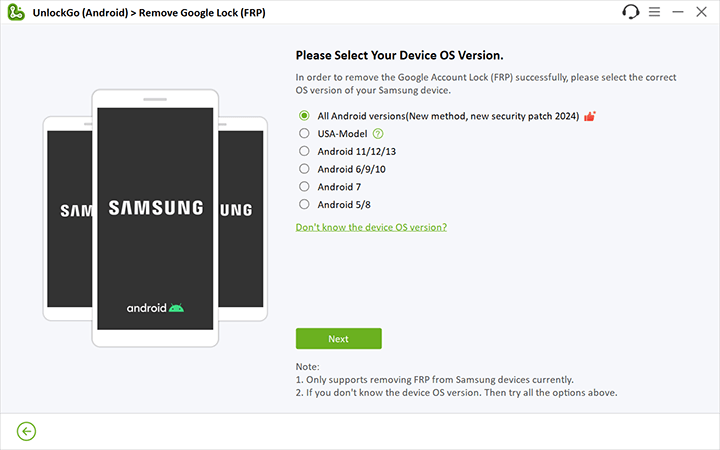 Step 3 UnlockGo (Android) will show you how to enable USB debugging when Google locked your phone.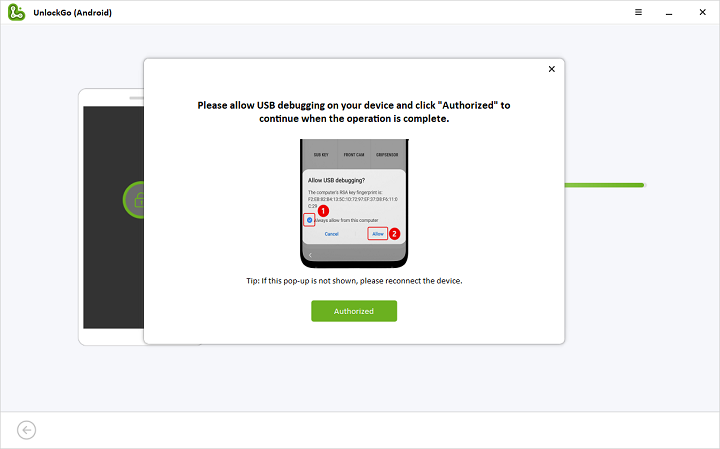 Step 4 Now, your Samsung phone should be restarted by the software in a few seconds. After that, you are able to get into the phone without any hassle.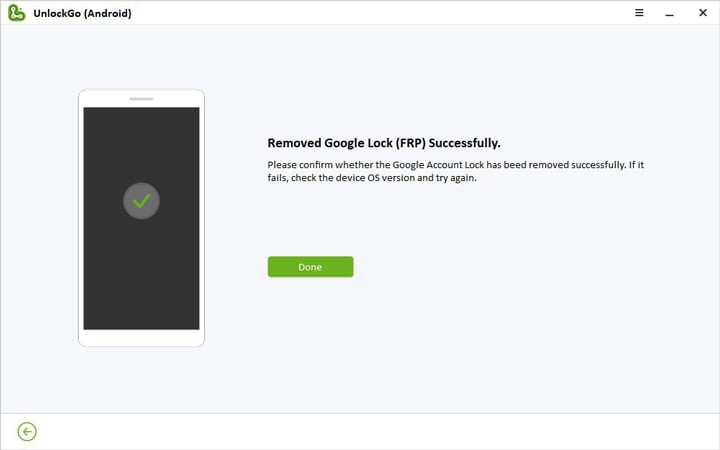 The Bottom Line
There is a growing need to remove Google Account from phone for privacy protection. The FRP lock is turned on once you log in Google Account on your device. To protect your phone from these issues carefully read the warnings before enabling FRP. But if you are still stuck to the Google verification page, UnlockGo (Android) is all set to remove the Google account handily.