Signed out your Google account long time ago and cannot recall the password to sign in again? Without the Google account password, you're unable to enjoy the Google services like Gmail, Contacts, Photos, Maps, etc. You can't download and update Apps from Google Play Store, either.
It's a common thing to forget Google account password. So, relax. We'll tell you how to recover or reset your forgotten Google account password on Android devices. Keep reading.
Part 1: How to Reset Forgotten Gmail Password on Android?
Forgetting a Google password on an Android phone is quite common and if you are reading this section, I have some good news for you! You can reset your Gmail password with very simple steps that take only a couple of minutes.
In this section, we are using two different processes to reset your Gmail account password, if you have access to your Android phone use the first method but if you lost complete phone access you should go with option 2.
Reset Gmail Account Password with Android
Follow the process mentioned below the reset your password using your phone.
1. Go to the Settings of your Android phone.
2. Navigate to Google – Manage your Google Account.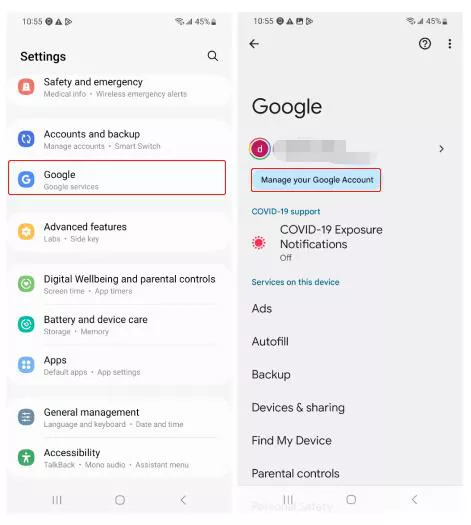 3. Tap on the Security tab. Find the Password option under How you sign in to Google. Tap on it.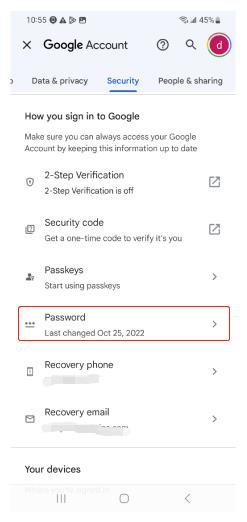 4. Tap on the Forgot password? option.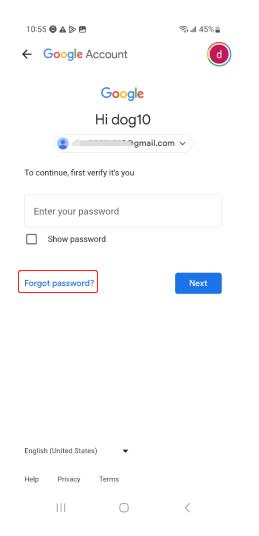 5. The Account recovery interface will show up. Choose a way to complete the verification.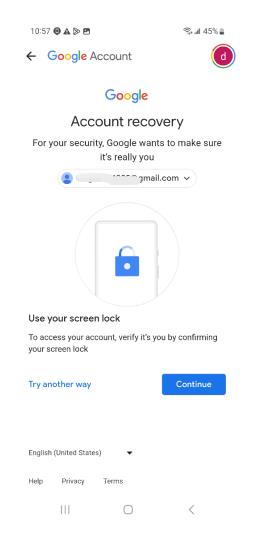 6. Then you can reset a new password.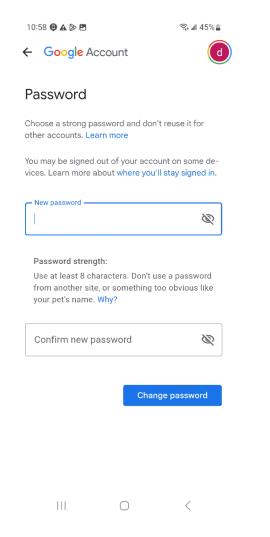 Reset Gmail Account Password without Android
You can use this method to reset your Google account password without relying on your locked phone, just follow the step-by-step process below.
1. First, visit the Google Account Recovery Page.
2. Now, enter your user name or Gmail ID associated with your Google account. In case you can't recall the exact email address, try another one you used to sync previously.
3. Click Forgot Password.
4. Now, Google will ask you to verify your identity, it will ask some questions related to your account's security, answer them according to the information you provided while creating your account.
5. If you can't answer these questions, Google will ask you for a recovery email or phone number linked to that account. It will allow Google to send a verification code on your phone or guidelines to reset your password.
6. At this step, you need to check your recovery email or phone for the verification code, once you have that code, enter it on the verification page.
7. As you successfully entered the code, you will be redirected to the reset password page, choose a strong password that you can remember.
Part 2: Factory Reset Your Android Phone and Forgot Google Password?
While Google accounts hold the power to unlock access to apps, movies, music, important data, etc, it will lock you out if you factory reset your phone without removing it from the Google accounts of your Android. A couple of weeks before I visited a tech forum where I found a query from an Android user asking:
I factory reset my Samsung phone and forgot my Google password. Please suggest how can I regain my phone access
It could be very distressing when you factory reset your Android phone assuming that you completely forget the password. Without a password, your new shiny phone will remain a mere paper white and block your access to the world of apps and services that you need crucially. The situation could be worse if you purchased a second-hand Android phone that requires Google account verification and you can't reach the previous owner.
So stop fretting! Because the tool I am going to reveal will remove your Google account in a few minutes and serves as a lifeline when you forgot your Google account password on Android.
iToolab UnlockGo (Android), an all-in-one Android unlocking tool committed to resolving the frustrating issue of forgetting your Google account password. The tool has years of experience in unlocking Android devices. It has been reviewed and trusted by the users worldwide.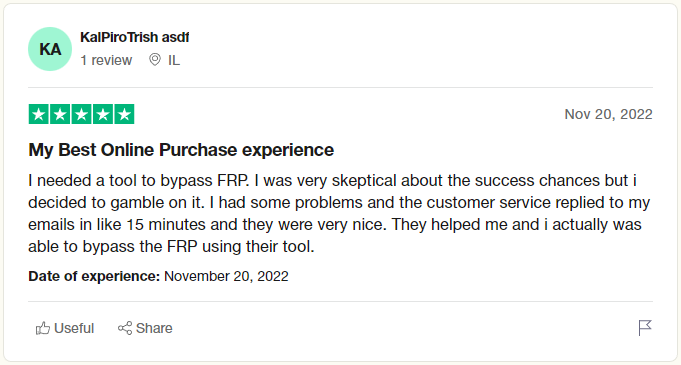 UnlockGo (Android) – Best Android Unlocking Tool
It supports to bypass Google account verification on Samsung, Xiaomi, Redmi, vivo, OPPO devices without Google account password.
Based on the advanced technology, it guarantees a 99% success rate.
The tool is easy to use. And you can enjoy all Google services within minutes.
It's compatible with Android OS 5-13, and it runs perfectly on Windows and Mac OS.
It also supports to remove all screen locks on Android devices.
Now, let's start the process by downloading iToolab UnlockGo (Android) on your Windows PC and following the steps mentioned here. I'll take Samsung device as an example.
Step 1 Connect your Samsung device to your PC using a USB cable. Launch the tool and select the option Bypass Samsung FRP. Click the Start button to proceed.
Step 2 At this step, you will see various Android OS version options to choose from, I recommend using the All Android versions option which is a new method to bypass Samsung FRP. Click the Next button to continue.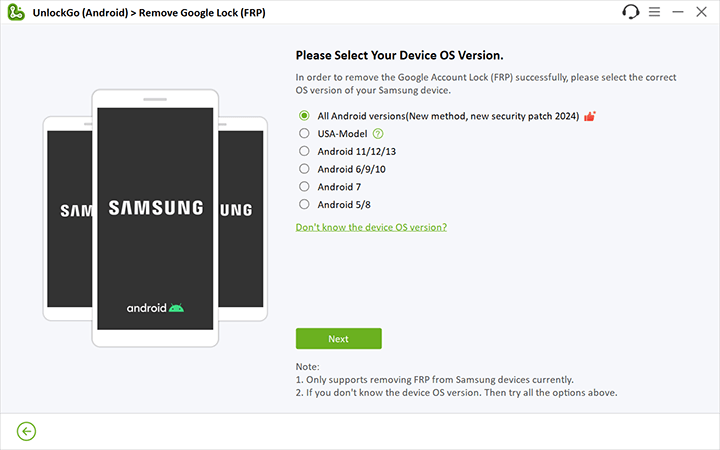 Note: If you have installed the latest Samsung security patch of 2023, choose option 1 to bypass FRP but if you have not installed it yet you should go with other options according to your OS version.
Step 3 Please wait for a few minutes for the pop-up which ask you to follow some instructions. You need to enter the code to access Samsung's hidden Diagnostics Men.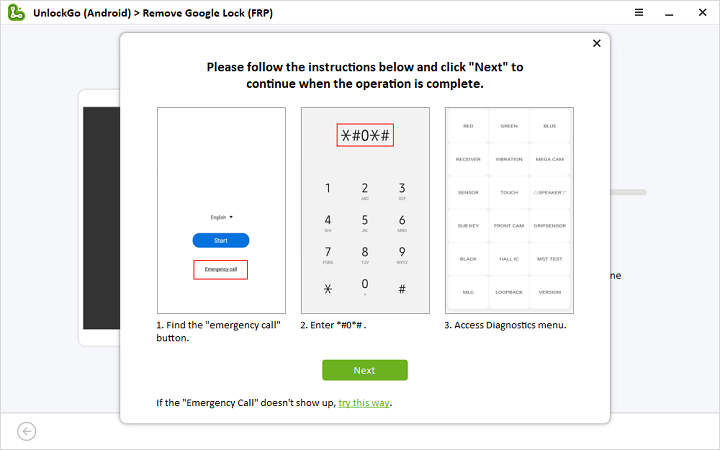 UnlockGo (Android) will help you activate USB debugging on your phone.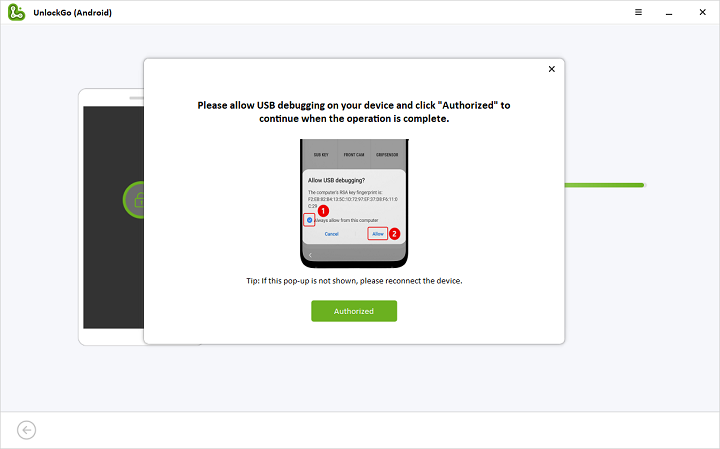 Step 4 Once you grant permission to UnlockGo (Android), your stuck Google account verification screen will be bypassed shortly and your Samsung phone will reboot automatically.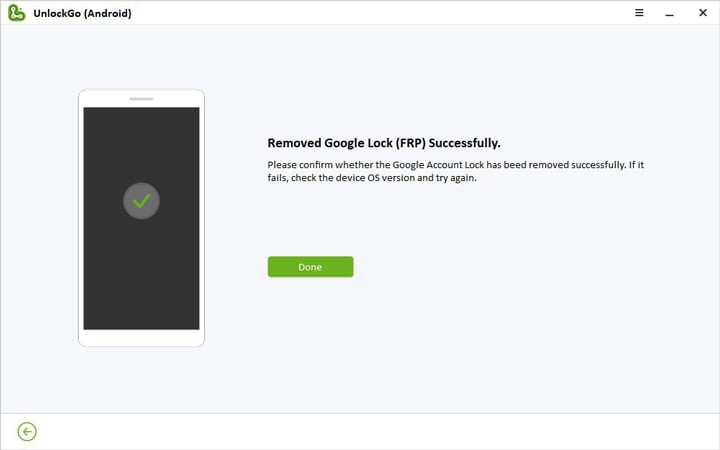 Part 3: How to Avoid Forgetting Google Password for Android Again?
If you want to empower yourself to manage your Google account passwords easily, then adopt these tips and say goodbye to the woes of forgotten passwords.
Choose a memorable password that contains a combination of words and sentences, that is easy to remember for you but difficult for others to guess.
If you find out that you can't remember passwords anyway, use password manager that helps to secure your password and fill it in the field automatically once you save it in them.
You should make a habit of periodically updating your Google account's password, aiming for a schedule after every three to six months. This practice will help you to keep your password fresh and easy to remember.
Once you create a Google account, always take advantage of the Google Account Recovery facility. Make sure to set up a recovery email and phone number linked to your Google account.
It's That Easy!
The severity of forgetting the Google account password of your Android phone should never be underestimated as it's not a matter of inconvenience but the potential loss of access of multiple services and data. But after reading this blog post I hope you can recover or bypass your Google account when you forgot your Gmail password on Android.