Does your Samsung tablet hang? Does it give you failures, or do you intend to sell to somebody else? If you are a Samsung user having such problems or intent, resetting your Samsung tablet to factory settings might be the only option to clear out the existing issues and remove settings.
In this guide, we will show you how to factory reset Samsung tablets in different ways and introduce you to software to reset your device without facing problems.
Things You Should Know Before Resetting Samsung Tablet
There are some things you need to know before resetting your Samsung tablet to factory settings.
First and foremost, you need to know that factory reset will delete all your data stored on your Samsung tablet, as well as linked account credentials. After resetting, you can set up your Samsung tablet as a new device. Therefore, please remember to back up your important data and write down your account credentials before you perform a factory reset operation.
Secondly, make sure that your Samsung tablet has enough battery power. The resetting process will be long if there is a large amount of data on your device. Therefore, please ensure there's at least 50% battery power before starting the process.
Method 1. Factory Reset Samsung Tablet via Settings
The easiest way to hard reset Samsung tablet is through Settings menu. But this method only works when you can access the home screen of your Samsung tablet.
Open the Settings app on your Samsung device and search Factory data reset.
Tap Factory data reset and read the provided information.
Tap on the Reset button when you agree with the information.
If any password is requested, you may provide it as required. Then tap on the Delete all button to complete the process of factory resetting a Samsung tab.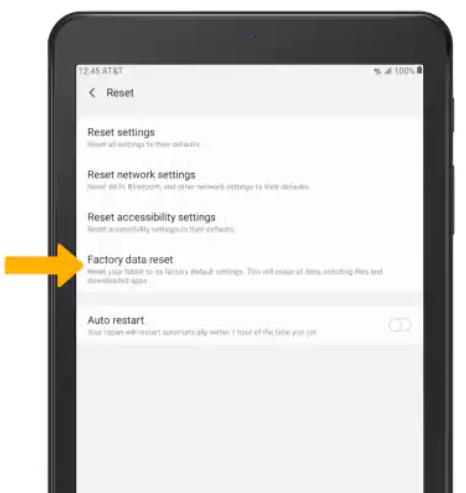 Method 2. Factory Reset Samsung Tablet with Buttons
If the touch screen of your Samsung tablet isn't responsive or not working, you can factory reset your Samsung tablet with buttons. By using this method, you'll need to put your Samsung tablet into Recovery mode.
Here is the way you can reset Samsung tablet via Recovery mode:
Make sure to turn it off.
Keep holding the Volume Up, Home, and Power buttons together until the Samsung logo appears.
Move through the list using the Volume button and select wipe data/factory reset. Then confirm it with the Power button.
Select Yes and click the Power button again on the next screen.
This will start the hard reset, and once it is done, your tablet will reboot automatically.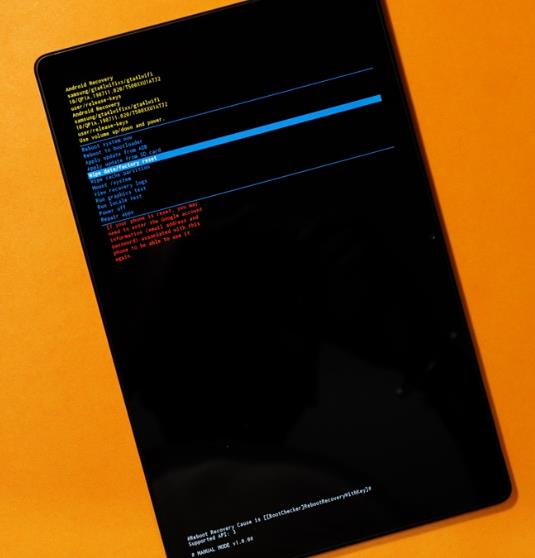 Note:
If you have logged into a Google account and set a screen lock on your Samsung tablet, like pattern, PIN, password, etc., you'll need to enter the Google account credentials after resetting.
Method 3. Reset Samsung Tablet with Free Samsung Factory Reset Tool
What if you can't hard reset Samsung tablet via Settings menu or with buttons? Don't worry; we have a free Samsung factory reset tool for you. iToolab UnlockGo (Android) can help you factory reset Samsung phone/tablet in one simple click. It supports all Android OS versions and Samsung devices, including Samsung Galaxy Tab, Tab A series, Tab S8/S7/S6/S6 Lite, Tab S2, Tab 2/3/4, etc. It will only take 5-10 seconds to complete the resetting process. Therefore, it's a must-have tool for running a second-hand phone shop or phone repair shop.
Here is how to factory reset Samsung tablet with tool.
Step 1 After installation, run iToolab UnlockGo (Android). Choose "One-click Factory Reset" on the main interface.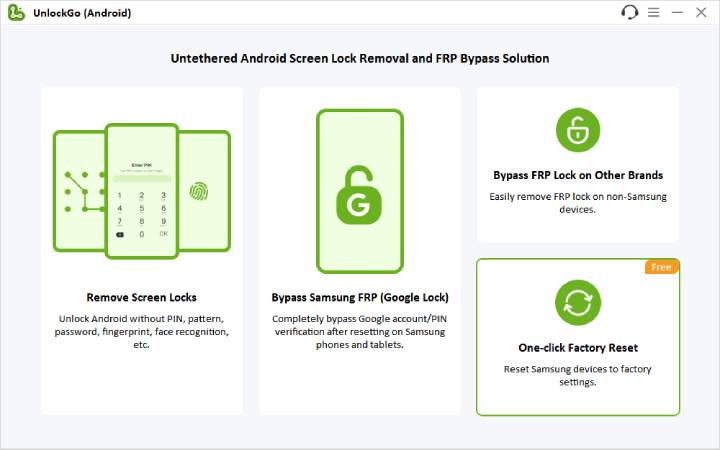 Step 2 Connect your Samsung tablet to the computer with a USB cable. Then click the "Reset" button to continue.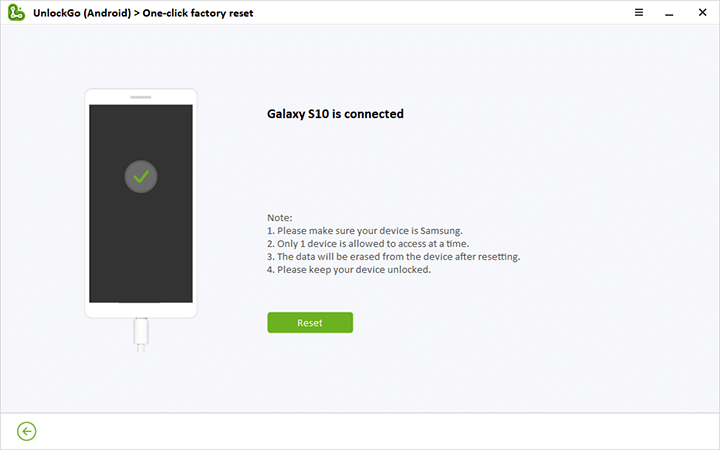 Step 3 The tool will start to reset your Samsung tablet after your confirmation.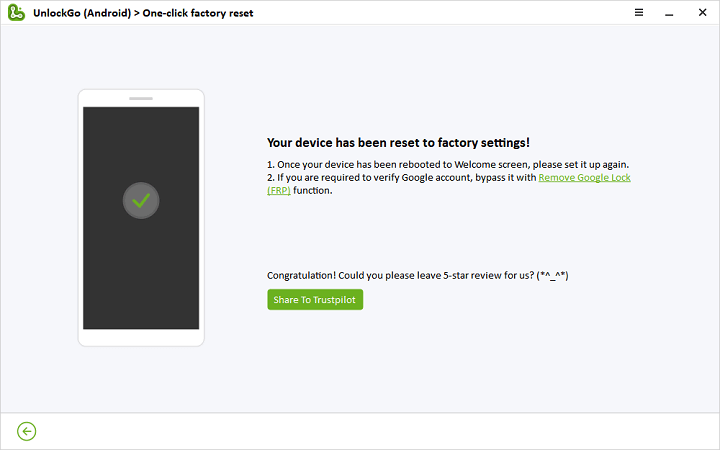 Method 4. 1-Click to Factory Reset Samsung Tablet without Password🔥
It's easy to reset a Samsung tablet to factory settings if you know the screen lock password. However, there exist a situation where you forgot the screen lock password or purchased a second-hand Samsung tablet with screen lock. No matter your situation, iToolab UnlockGo (Android) got you covered.
Here are the steps to remove screen lock from Samsung tablet. Once your Samsung tablet has been unlocked, it'll be reset to factory settings.
Step 1 Launch UnlockGo (Android) on PC
Launch UnlockGo (Android) and select "Remove Screen Lock" on the home page.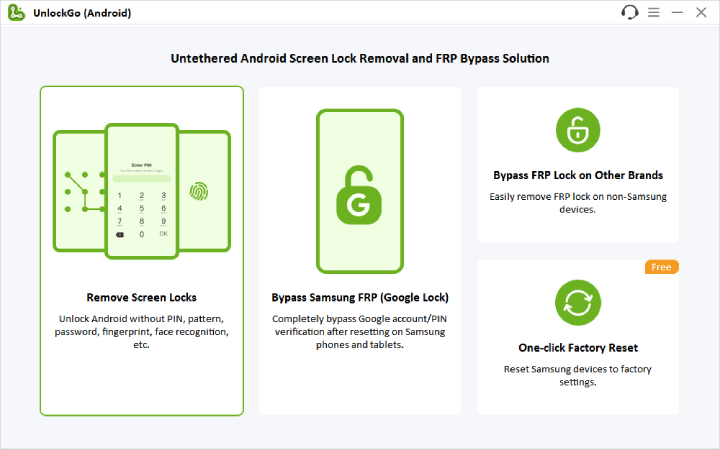 Step 2 Start to unlock Samsung Tablet
On the next screen, you will need to connect your device with the PC. If your Tab is running Android 12, click on the one-click removal screen lock link below the button.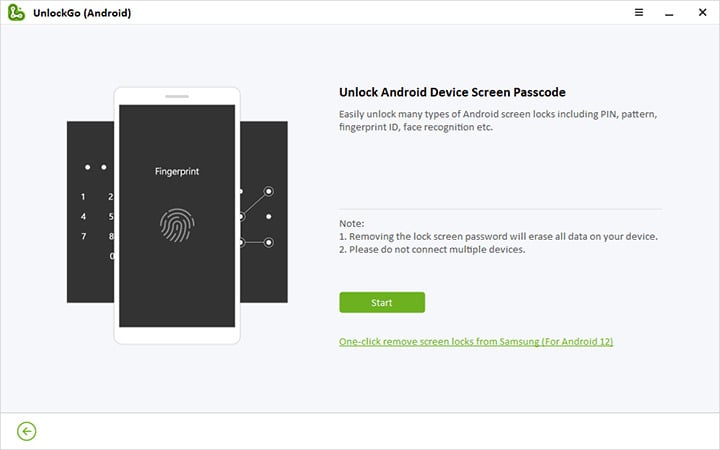 Note: For other Android OS version, click start button to general process.
Step 3 Get into the resetting process
When it shows the device is connected, then click on Unlock button. Your Samsung Tab should be reset to factory settings without password.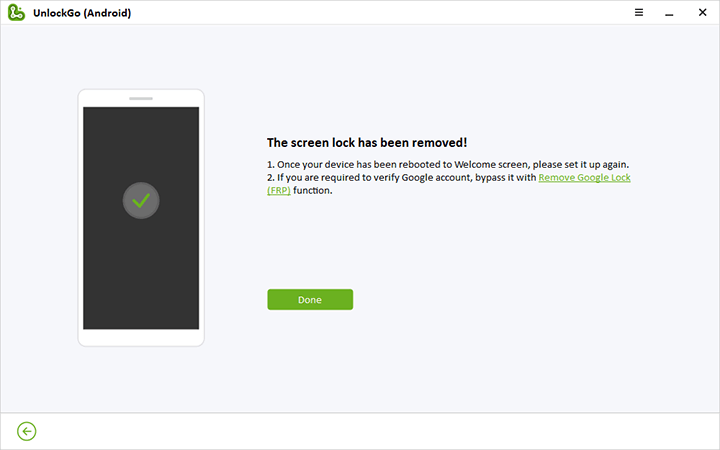 ❗ Important Note:
🔹 After a factory reset Samsung tablet, Google Device Protection functionality gets triggered, and only the account owner can unlock the device. So once you reset the Samsung tablet with the Recovery Mode, you need your Google account credentials to unlock the device.
🔹 If you intend to sell your Samsung tablet, clearing all your linked accounts to the device is needed. You need to remove all the data, including the linked Samsung account and the Google account. Otherwise, this will misuse your data for different illegal activities.
Bonus Tip: Bypass FRP After Resetting Samsung Tablet to Factory Settings
If you purchased a second-hand tablet, sometimes you may find that the previous owner has not removed the linked Google account and you need to enter the original Google account credentials after factory reset it. In this case, it is hard to remove the Google account without knowing the credentials. For that, you can use our software iToolab UnlockGo (Android) to bypass the Google Verification Lock (FRP) and get access to the device.
With the leading technology, UnlockGo (Android) has become one of the most recommended software to resolve many of the issues faced by Android users. UnlockGo for Android provides a step-by-step guide to unlock your device, even a non-technical person finds it easy.
Video Tutorial: Bypass Samsung FRP Android 5-13
Back Up Your Data Before Factory Resetting Samsung Tablet
This article shared the easiest ways to factory reset Samsung tablets with or without password. You must follow the steps that we have elaborated to make sure you are doing the reset correctly since incorrect ways could damage the device software. Also, you can try iToolab UnlockGo (Android) if you want to reset Samsung tablet quickly and efficiently. Last but not least, please remember to back up your precious data before resetting Samsung tablet to factory settings.