Your new Android phone is all set to be your most secure mobile bank when you tied everything to it by setting up a Google account. Each activity that you perform like play store purchases, saving passwords, online shopping is carried out with this account.
But if you received a secondhand Android device with previously Google account, definitely, it is a sturdy lock for you. To learn how to remove the previously synced Google account from Android, keep your eyes on the following sections.
Does Factory Reset Remove Google Account?
No, factory reset is not a solution to remove Google account because if you factory reset your phone without removing Google account, it triggers Factory Reset Protection (FRP). In this case, you have to use a professional tool or call the last owner (if you bought a used phone) to sign in with the Google account that was previously synced on this device, then remove Google account from Android device remotely.
Technically, factory reset only deletes the general data of your device but will not remove your Google account permanently. When you log back to your device after reset, using your Google account credentials and password, you can restore and reinstall phone from the backup data saved in the Google cloud.
How to Remove Google Account from Android Phone without Factory Reset?
Android users want to remove their Gmail account from Android for many reasons. Especially when they need to sell their phone or to save some memory by persistently updating Google apps on an account that is of no use.
Here I explain two simple methods that will remove your Google account without factory reset.
Method 1. Remove Gmail from the Android Settings menu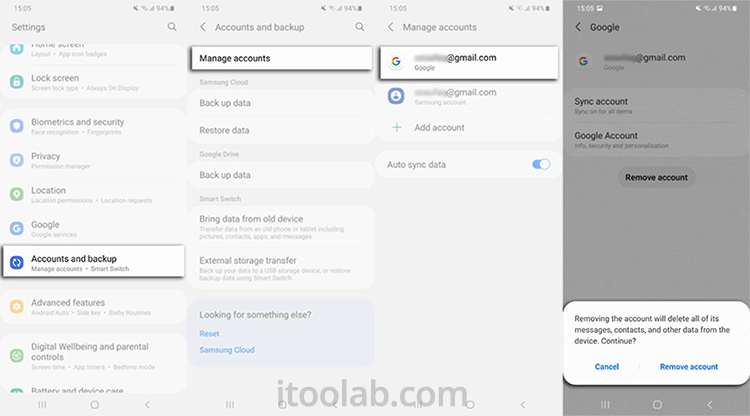 Step 1: Head to the Settings of your Android phone and select "Accounts & Backup".
Step 2: Hit "Manage Accounts".
Step 3: This page will show a list of Google accounts associated with your device. Tap the one you want to remove.
Step 4: 4.A message pop-ups by informing you that this action will delete all data about the account, click "Remove account" to confirm.
Method 2. Remove Google account from Android phone from computer
Google ensures the security of Android phones by allowing removing accounts from Android phones remotely in theft, locked, or lost cases.
To remove the Google account without a factory reset, you need another device or a PC to complete the procedure accurately.
Step 1: Sign in to your Google account using another device or computer and select the "Security" option.
Step 2: Scroll down and click "Your devices" and select "Manage devices".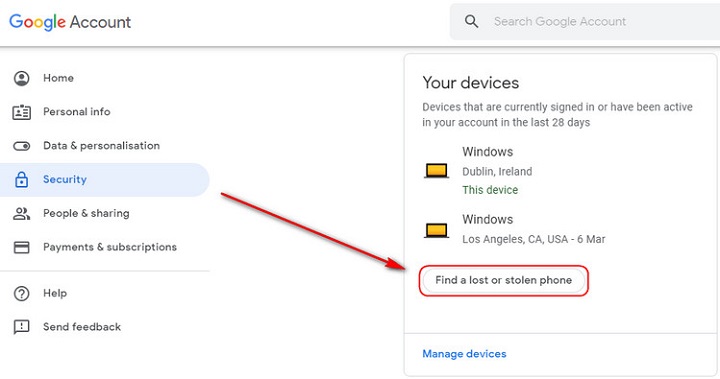 Step 3: A list of devices appeared linked to your Google account. Click on "Find a lost or stolen phone" and then choose the "Remove" option located next to "Account access".
Step 4: Google confirms once more if you want to delete your account, choose "Remove".
Step 5: You will then receive a confirmation message that your account has been removed.
Note: Actually, it will only sign out your account instead of deleting it permanently. A notification pops up on your phone to enter the password and regain account access.
Step 6: To delete Google account systematically, navigate to "Settings" then "Accounts". Select the Gmail that you use to sign in and choose "Remove account". The account will then be removed completely.
How to Bypass Google Account on Samsung without Password?
To preserve your data from unauthorized access you need a Google account for Samsung that works as a protective shield for your device. Besides blocking others' access to your phone your account may lock you too if you forgot the password.
For bypassing a Google account on Samsung phone and tablet without password, iToolab UnlockGo (Android) is a versatile solution for all Android unlocking needs. You may encounter many unlocking tools but UnlockGo (Android) is recommended due to the device's privacy protection, shortest unlocking period, and best user experience.
How-to steps
To learn how to remove a Google account from Samsung without a password with UnlockGo (Android). Follow this step guide.
Step 1: Connect Samsung device with PC
To remove FRP, download and install iToolab UnlockGo (Android) on your PC first. Now, connect your Samsung phone with a PC and open the tool. Choose Remove Google Lock (FRP) option from the homepage.
Step 2: Pick the new FRP solution
Confirm your choice by clicking on the green Start button. Now select the first option from the list that is available for all Samsung devices.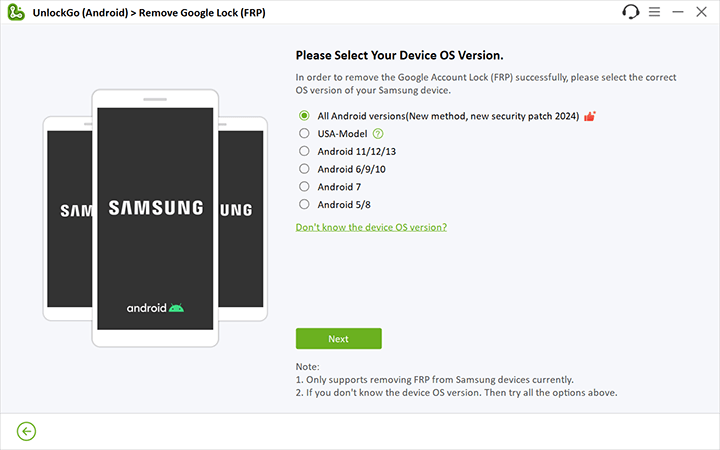 Step 3: Enable USB debugging
Enter the secrect codes in emergency call. Then, your Samsung phone now receives a prompt that asks for USB debugging permission. Do not use your device and keep it connected until the process is finished.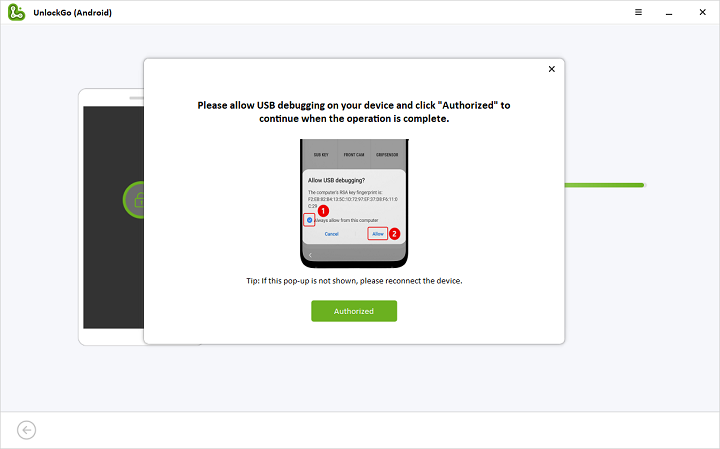 Step 4: Restart your Samsung device
After this process, your device should be reboot automatically.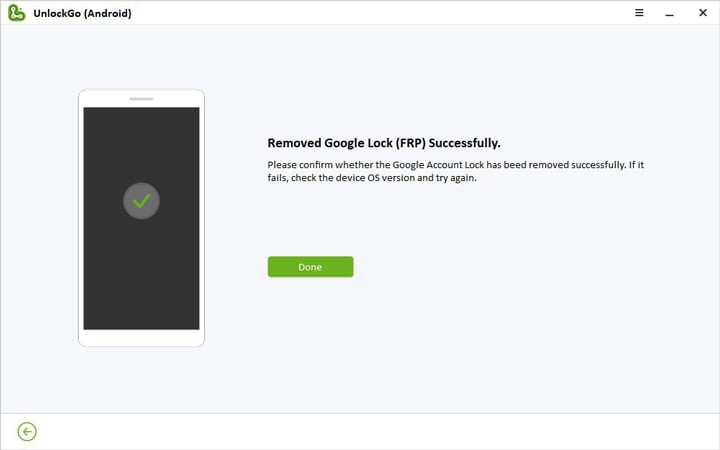 How to Remove Google Account from ZTE/Motorola after Factory Reset?
If you are using Motorola or ZTE phone and want to know how to take Google account off the phone after a factory reset, UnlockJunky is here for you.
UnlockJunky is a trusted remote FRP unlocking team that claims to unlock your device within 5 minutes without the last owner's participation. Hence, the site strives to remove Google account FRP, carrier unlocking, and Samsung account unlocking with ease.
Bypass Google Account with UnlockJunky
Step 1: To avail of this service, go straight to the official website of UnlockJunky. On their startup page, you will find a section where you need to enter your device information. After that, click "Unlock" Now to proceed.

Step 2: It will redirect you to the secure payment portal, where you have to pay for the service by debit/credit card or Paypal.
Step 3: Now install UnlockJunky's remote client program, USB redirector on your Windows PC or Mac. Enter the tech address you received in the order email after the payment process.
Step 4: Now, plug in the device via a USB cable that needs to be unlocked.
Step 5: Now open the live chat box to confirm that the device is all set to run the procedure. The technician will join you shortly and ask you to wait for 5-15 minutes until the FRP removes from your device.
The Bottom Line
This guides clear the confusions and doubts that pertained to how do I bypass previously synced Google account. Using a third-party tool when it comes to removing a Google account is a better option than doing it with long complicated steps. That's why iToolab UnlockGo (Android) offers tools that align with user needs to ensure the product's compatibility with upgrading computer systems and Android devices.
The best part of this tool is the one-time payment will allow you unlimited multiple device use in a particular period with protected online payment.