No matter which device you own, you are going to face trouble in case you forget your phone lock password. It can happen with Oppo device owners too. You may try entering the password multiple times but can end up facing the worst. Your Oppo phone can become inaccessible and you may not be able to perform any task on it.
But don't worry if you have got your Oppo phone locked and don't have the password. Here we'll show you a complete tutorial on how to reset Oppo phone without having the password.
Why You Need to Reset Your OPPO Phone?
All of us enjoy the smooth, glossy, and excellent appearance of the OPPO smartphone with nice functions. But still, full storage or overloading of applications can create problems for you. Now, have a look over possible situations when your Oppo phone needs to be reset.
1. Stuck on a program
Situations like your device functioning slowly or getting stuck at some task are also seen. This is when you need to format Oppo phone.
In addition, malware or bloatware infected files can corrupt your device. During playing a game or video editing, has your device ever been stuck? Don't blame the internal component for this because the corrupted files, infected apps, or full storage capacity are responsible for it. In such conditions, you can wipe data in Oppo without password.
2. Protect the privacy data when lost your phone
By mistake or getting played by luck, you can lose your device. It's not in your hand to get the device back but ensuring your data doesn't get accessed by someone else can be done. You can protect the data by remotely resetting your phone.
3. Locked screen due to forgot password or Smart Lock not working
Forgetting passwords is a common issue for phone users. And sometimes, the smart lock can malfunction. Both these issues leave no option other than resetting your phone.
4. Forgot Privacy Passcode
When you forgot app encryption and privacy passcode Oppo, this can lead to some great troubles. Users have to pay the cost of forgetting the privacy passcode by resetting their phones. No other way is there to use your device.
5. Take Back Work cell phones from former employees
Former employees keep many of their data saved in their work cell phones. So before handing over them to the newer employees, they have to reset.
6. Before Selling and Give Away
Planning to sell or give away your device? Never ever do it without resetting it. Otherwise, the new owner can misuse your data saved on the phone. Also, it may trigger FRP lock.
Reset OPPO Phone to Factory Settings
You can factory reset Oppo phone using the settings menu. In fact, every android device comes with the feature of Oppo phone reset. However, this process only works when you remember the password of your lock screen or no PIN lock on your phone. If you are not able to unlock the screen due to forgetting the password, move to the next section.
To factory reset the Oppo phone, do the following:
Step 1: Tap on the "Settings" icon.
Step 2: Scroll down and choose "Additional Settings".
Step 3: Go to the "Back Up and Reset" option.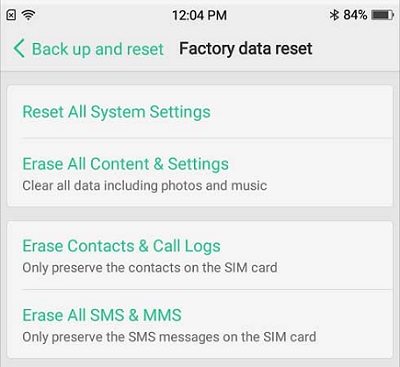 Step 4: Next, select "Reset to Factory Settings".
Step 5: At last, tap on the "Erase All Content and Settings" and then twice on the "Erase Data".
Note: If you set screen lock, PIN or pattern will be required at the final confirm.
Perform Hard Reset on OPPO without Password
Now, the method we are sharing here will help you in Oppo factory reset without password. Even you can perform Oppo a5s hard reset without any hassle if done everything right. Here's how to reset your Oppo phone model A5s properly using the recovery menu.
Step 1: Switch off your Oppo phone by pressing and holding the "Power" key for a few seconds.
Step 2: Open the Recovery menu by pressing and holding the "Volume Down" and "Power" keys together until the Oppo logo does not show up on the screen.
Step 3: Leave the keys free when the option to "Select Language" comes up. Choose the "English" language for your convenience.
Step 4: Use the "Volume" buttons to move up and down between the shown options. For the hard reset, choose "Wipe Data" with the "Power" button. In the end, confirm it by tapping "OK". After that, wait for some time for an automatic reboot. Now, your device is ready to use.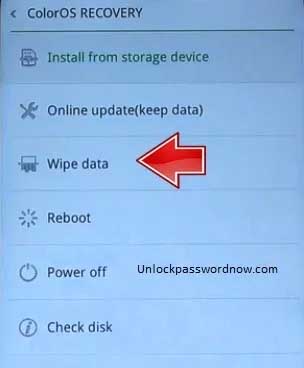 Reset OPPO Phone with PC When Lost
Until now, you had the phone with you so resetting it was pretty easy. But imagine the situation when your device is lost. What would you do in that case?
After all, your device has some important data such as pictures, contacts, and more. The culprit can use all your data for some malicious purpose and this can be troublesome for you.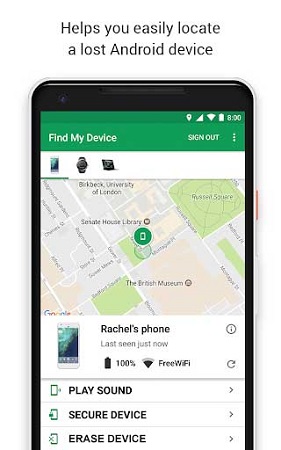 We know you don't want some other person to access your valuable data. So, consider using "Android Device Manager" – the Android Oppo password unlock tool – to locate and erase your phone. Before you move on, you need to know the requirements for using Google Find My Device.
Prerequisites
Your phone is turned on
Your Google Account is present in the device
Internet or Wi-Fi connection is active
Your account is visible on Google Play
Have the location and ADM activated
Note:
If these conditions are not met, please contact the carrier to block your lost phone.
Read the tutorials on how to format the OPPO phone that you have lost.
Step 1: Try Secure Device
First, try to get back your device with the "Secure Device" option in ADM by locking it remotely and adding a message or phone number on the screen.
Step 2: Erase Device
If you have received no response from anyone, there is no chance of getting back the device. Now, all you can do is remove all the data with the "Erase Device" option.
Pro Tip: Remove App Lock & Privacy Password in OPPO
As you know now what to do with your lost Oppo phone and how to reset it, it's time to learn to remove the Oppo phone app lock & privacy password. Knowing this can save some time in unlocking your phone when you forget the password. Further, it will also help you to uninstall an application if the device is lagging.
For removing the Oppo phone app lock, you can use the UnlockGo for Android. It's a brilliant software to remove any kind of screen lock on your Android device. Developed by iToolab UnlockGo is an easy-to-use tool for all major Android brands. It enables you to quickly remove your lock screen and bypass biometric authentication.
OPPO Unlocker
Easy to use even by any novice
Safe and secure
Remove privacy and App encryption password
Remove all Android screen locks, PIN, password, pattern, fingerprints, face lock
Follow the procedures given here to reset the app lock password in Oppo using UnlockGo (Android):
Step 1 Install the UnlockGo Android
Download the tool and finish the installation process. Run it and choose "Unlock Screen Lock". Connect your Android device to the computer and hit the "Start" button.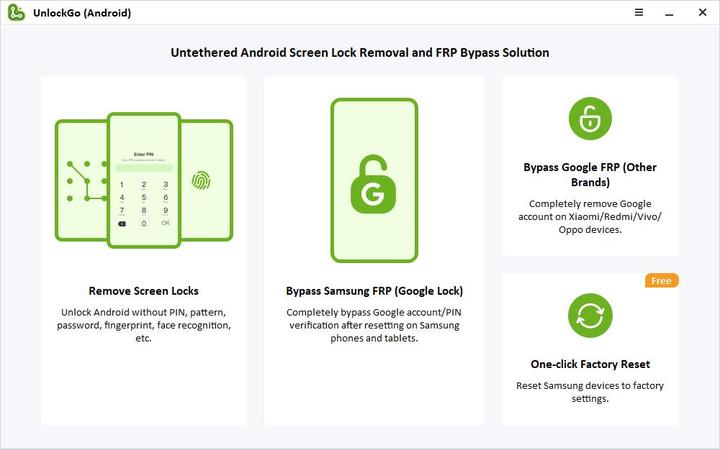 Step 2 Confirm Device Information
Check whether the software has identified your device or not. If it's wrong, replace it with the phone brand from the options. Click "Unlock" after that.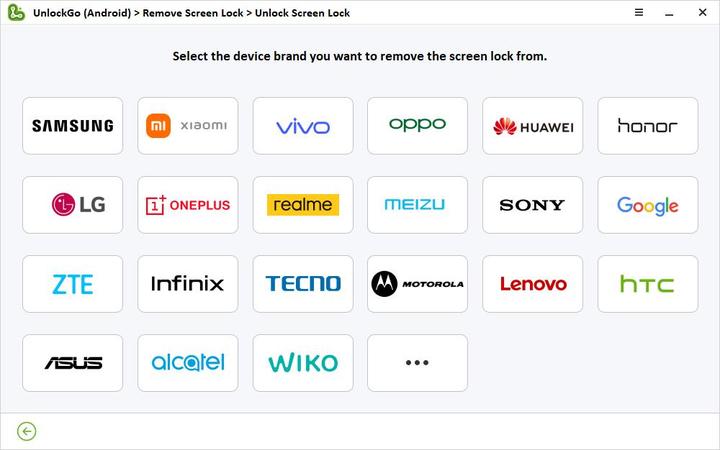 Step 3 Go to Recovery Mode
Carefully follow the on-screen instructions to put your device into recovery mode. As the recovery mode is working, keep reading the instructions on the screen to unlock the device.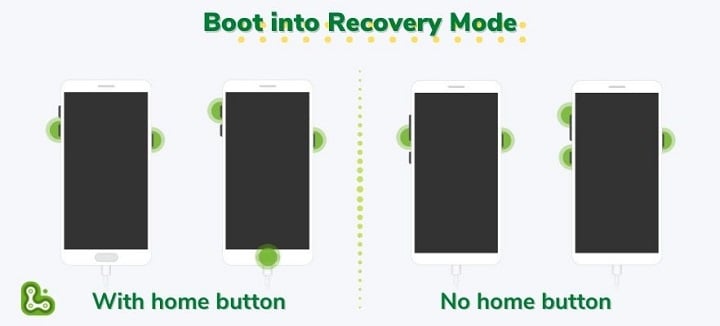 Step 4 Unlock Successfully
Click on "Next" and then wait for the device to reboot.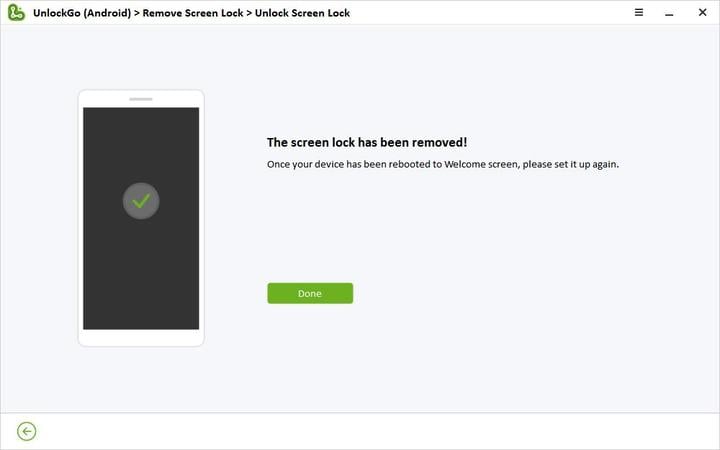 Extra Tips: Remove Google Account From OPPO Phone
1. Remove Gmail account from OPPO phone Settings
Before performing the hard reset on your Oppo phone and removing the screen lock, delete Google account from your device too. Otherwise, another problem with the FRP lock can come your way. To do so, do the following:
Open "Settings" › "User & Accounts" › "Google".
Tap on the Email address you want to erase from the device.
Hit the "two-dotted icon" on the upper right corner of the screen and choose "Remove Account".
2. Remove Google Account remotely
Google provides you the option to delete Google account remotely from your phone. You can check this feature on your PC and Google account settings. Go to "Security" and "Manage devices" from where you can choose to keep or block access to the device.
Conclusion
Actually, resetting a smartphone is a risky job and users are advised to handle it with extreme care. You need to use the right set of tools and processes to use your Oppo device as usual again.
We have shared some of the best ways of how to reset Oppo phone without password. Now, it depends on your convenience and other factors. And when it's about unlocking OPPO app lock, you can always rely on the UnlockGo Android.