Google Assistant is an artificial intelligence-powered virtual assistant that interacts with you through your voice. The feature relies on natural language processing and machine learning to understand and act to your command. All you need to say is, Hey Google, and it will help you out with virtually anything.
Do you know you can use Google Assistant without unlocking phone? To get the answer, make sure you read the complete article. But before starting, let's learn how to set up Google Assistant on Android.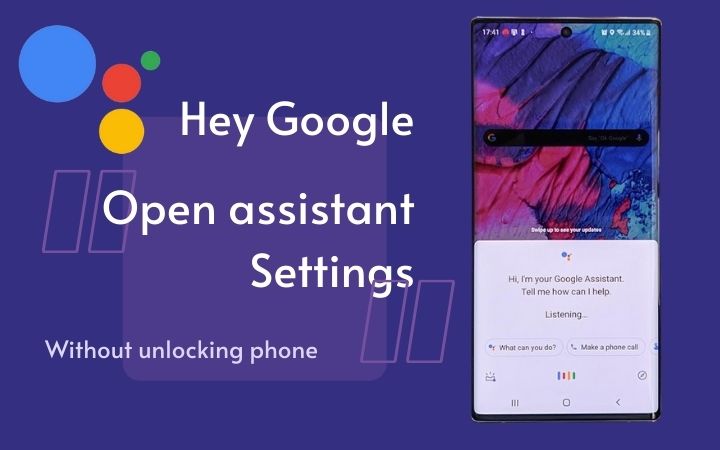 Part 1: How to Set Up Google Assistant on Android Phone?
Google Assistant was launched on Google Pixel smartphones but it is now available on all modern Android devices with the AI system. To run it on Lollipop 5.0 or higher, download Google Assistant from Google Play App. While older Android versions can get Google assistant through an update.
To set up Google Assistant on your Android, you must check the following criteria.
Google Assistant supports more than forty languages. Make sure that it supports your language.
To use Google Assistant with full potential, see if your phone has:

Been updated to Android 5.0 or higher with 1.5GB available memory
Google App which version is 6.13 or higher
Installed Google Play Services

On your Android, tap and hold the home button or say Hey Google. If the Google Assistant is OFF, you will be asked to turn it ON.
Start Setup with saying "Hey Google, open Assistant settings" > All settings > General > Preferred input. Choose Voice or Keyboard to ask or type questions and command.
Part 2: How to Use Google Assistant When Phone Is Locked?
What can I do with Google Assistant without unlocking my phone?
You can do a lot with Google Assistant without unlocking phone. It does much more cool stuff for you than you think.
Set timer and reminders
Read shopping list
Check Google Calender events
Give access to your contacts
Read your messages and latest emails
Note:
These features are only compatible with Android 8.0 or above.
But to make all these tasks done on a locked phone you must first train a reliable voice model. Open Google app > Settings > Voice Match. Here, teach a voice model to recognize your device.
Something Google Assistant cannot do on the locked phone
With the most advanced features of Google Assistant, to protect our privacy, there are still some tasks banned even if turn on Google Assistant without unlocking phone.
Ask for personal information
Make payments
Navigate to Google Photos
Request Google Assistant to open other apps
How to turn on Google Assistant on the lock screen?
If you want to access private apps through Google Assistant like emails or messages while you are locked out of your phone.
On your Android phone say Hey Google, open Assistant settings
Under All settings, choose Lock screen
Turn ON or OFF Allow Assistant on lock screen option
Part 3: How to Get Personal Results on Your Lock Screen?
When you or your trusted people recorded the voice model, you could use Google Assistant when phone is locked. More surprising is assistant could show custom contents according to the voice from each one.
Say Hey Google, open Assistant settings or OK Google, open Assistant Settings. You can also do this by going to Settings, search Google Assistant settings on your phone.
Choose Personalization
Turn Personal Results on
Turn Lock screen Personal Results on
As optional, turn on or off Personal suggestions on lock screen based on your needs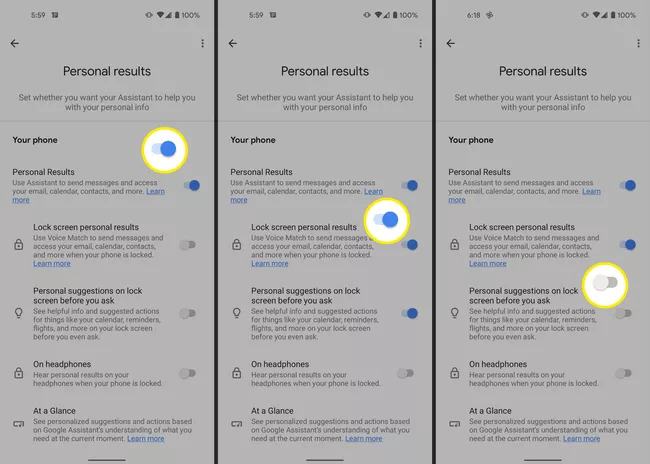 Part 4: Can I Unlock the Phone with Google Assistant?
In 2021, Google Assistant has removed the feature of unlocking a phone with voice commands (hey Google, unlock my phone) on all advanced Android devices. However, Google Assistant unlock phone with voice command in the older Android version but new versions removed it.
It is possible to unlock your phone with PIN, Pattern, Password, or Face lock. But what if you forgot your password? The situation sounds terrifying! There is a solution to each problem. If you are in an emergency then a professional tool works for you.
Unlocking screen locks couldn't be that much easy before iToolab UnlockGo (Android). It is a smart Android lock screen removal tool that efficiently removes screen locks on all Android versions and bypasses Samsung FRP lock. It is an ultimate solution that removes PIN, Pattern, Password, or Face recognition in a matter of minutes.
With supporting 15 brands and 2000+ Android models, UnlockGo (Android) unlocks your phone with its built-in advanced unlocking technology. On the contrary, ZERO technological skills needed on you.
Download and install iToolab UnlockGo (Android) before starting the process.
Step 1: Open UnlockGo (Android) on your computer, choose Unlock Screen lock. Click Start and connect your device with a PC.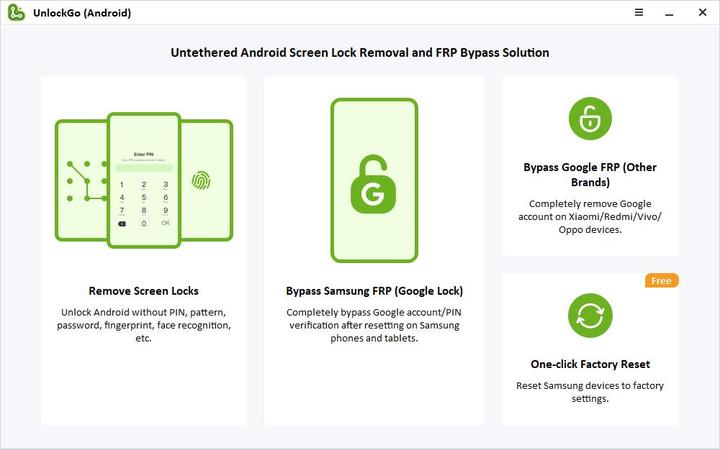 Step 2: Before beginning, confirm the brand of your device and click Unlock to begin the process.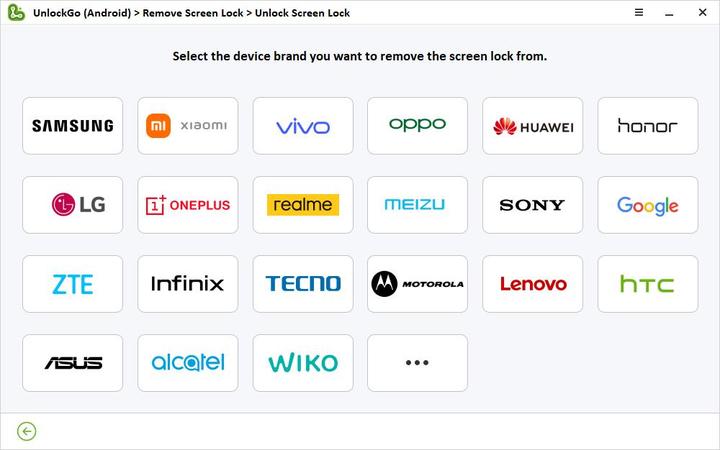 Step 3: Follow the screen instructions to boot your device into Recovery Mode.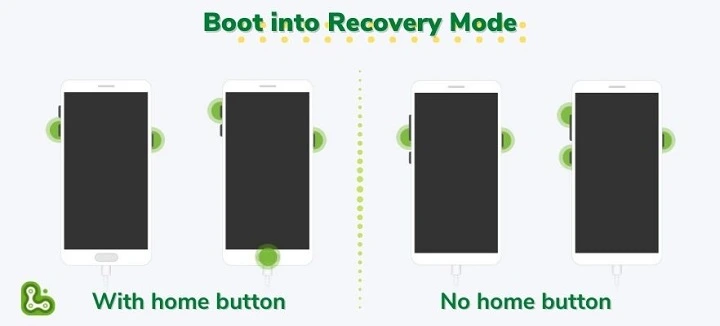 Step 4: As your device is entered in Recovery mode, follow the on-screen steps carefully as shown below.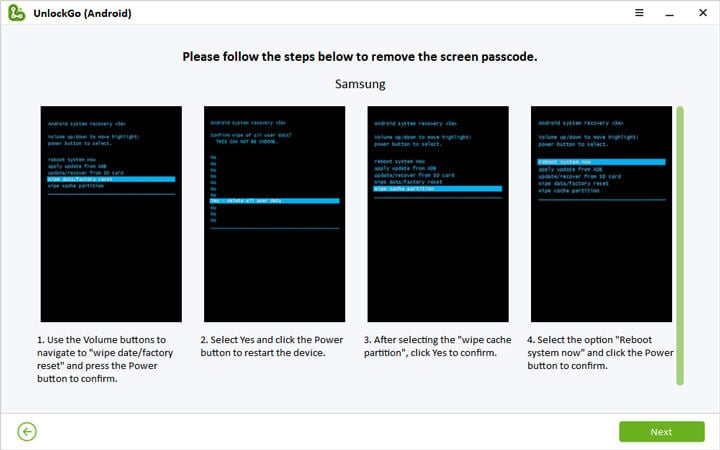 Step 5: Congrats, your phone is unlocked. Restart your device and set a new password.
Part 5: People Also Ask about Hey Google
Q1. How to use Google Assistant lock my phone?
Say "Hey Google, open Assistant Settings" > Routines > add new command by +New button.
Tap on Add starter > Voice command. Type in your commands.

Lock my phone
Lock screen
Go to sleep

Tap Add Action > Try adding your own, enter Open [Screen lock] app. Type the full name of screen unlocking app.
Q2. What can I say instead of hey Google?
Do you know you can customize the activation word Hey Google with some interesting alternatives? Choose one from them and have fun.
Hey Googs
OK Goku/ Hey Goku
Okee Doodle / Hey Doodle
Hey Noodle / OK Noodle
OK Goo Goo / Hey Goo Goo
Conclusion
In summary, Google Assistant is loaded with advanced technologies. You are allow to use Google Assistant without unlocking phone but you can't get access to most stuff for safety. In case you forget your password, UnlockGo (Android) helps you fix it quickly and avoid something awkward happening. Additionally, it also bypasses FRP lock. Now, it's free download for my readers.