Recently, WhatsApp has added a new feature to their App, and now users can add a location sticker on their WhatsApp status with their current location. The Location sticker is just like the sticker available on Instagram.
In addition, users can use this location sticker to identify their current location on the Map and then share their status. Now let us show you how to add a location in WhatsApp status; follow the exact steps to get better results.
Part 1. How to Add Location in WhatsApp Status on Android
Many users have a question on their minds, how do I add a location on WhatsApp, don't worry; we are here to answer all your questions. Follow the below instruction to add location in WhatsApp on Android devices.
Unlock your Android device and then launch WhatsApp on your Smartphone.
Select the Status option and tap the Camera icon to choose any picture from your gallery.
Once you have selected the picture, press Emoji Icon in the top right corner.
Find the Location sticker and then tap on it.
You can either use your current location or search for any location manually.
After selecting the location, you will now see a location sticker of your selected location.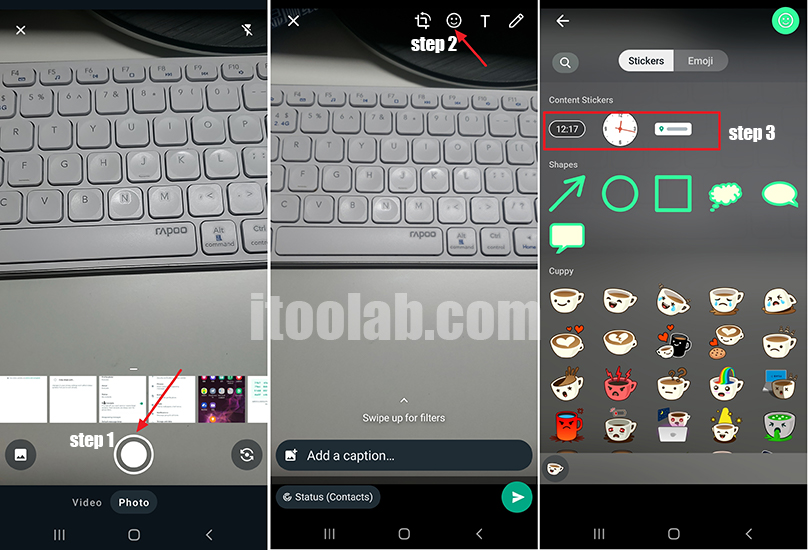 Ensure that your WhatsApp is updated because if your App is not updated to the latest version, you won't be able to add a location sticker to your status. Go to the Google play store to update your App to the latest version.
Part 2. How to Add Location in WhatsApp Status on iPhone
Follow the instruction below to learn how to add location on WhatsApp status on iPhone. The steps to add a location sticker on WhatsApp status on iPhone are quite similar to an Android device.
First, open your iPhone and then launch WhatsApp on your device.
Now choose the Status option and then tap on the My Status option.
Choose any picture and select the Emoji icon from the top right corner.
Select the Location sticker and then choose my current location option to share your current location on your status. You can also choose it manually.
Your selected location will appear on your location sticker.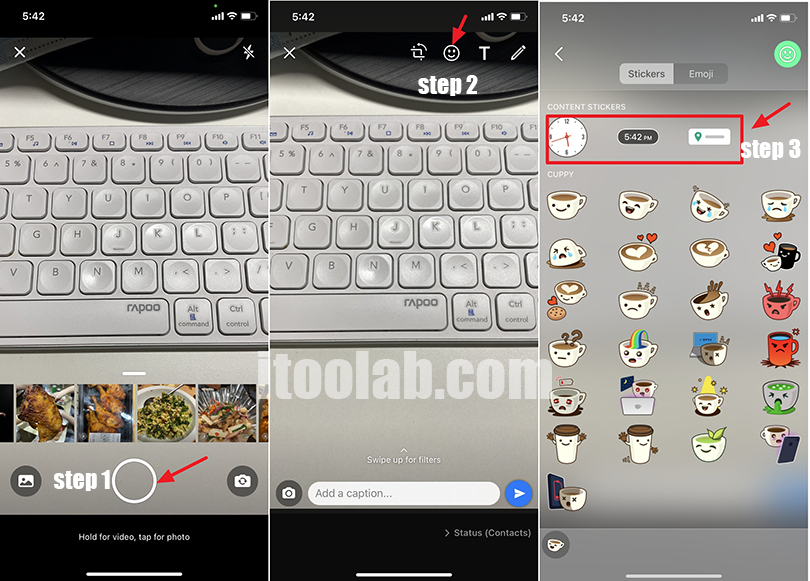 Part 3. Other Related Questions You Also Want to Know
1. How Do I Share a Location from Google Maps on WhatsApp?
Follow the steps given below to share a location from Google Maps on your WhatsApp.
Launch the Google Map App on your Smartphone.
Now search for the location you want to share on your WhatsApp.
Once selected, choose the Share places option and then choose WhatsApp.
Now your selected location will be shared with your desired contact.
2. How Do I Update Location on WhatsApp Status?
You just have to follow simple steps to update your current location on WhatsApp status.
Launch the WhatsApp App on your Smartphone and then select the Status option.
Choose the camera icon and then select any picture from your Gallery.
Now select the Emoji icon available on the top right side.
Choose the location sticker and then select your current location to update the location on WhatsApp status.
3. How to Add Temperature to WhatsApp Status?
If you want to add temperature to your WhatsApp Status, follow the instructions below.
Launch WhatsApp on your smartphone and then go to Status.
Now select the camera icon and select any picture.
Choose the emoji icon and then select the Temperature sticker.
The temperature will be added to your WhatsApp Status.
Note: Currently, there is no temperature sticker available on WhatsApp, but when it will be available on WhatsApp, you can follow the above steps to add it to your status.
4. Why Can't We Share Location on WhatsApp
There could be many issues that can prevent WhatsApp from sharing locations. Here is the list of problems that can cause this issue on your WhatsApp.
Bad Internet Connection
WhatsApp is not Updated
GPS is not active on your Smartphone
Permission not granted on WhatsApp
The current location is not available on Map
5. How to Transfer Shared/Live Location on WhatsApp to New Phone
Suppose you want to transfer your current WhatsApp data, such as your messages, pictures, videos, live location, and more, from an old phone to your new phone. In that case, iToolab WatsGo – WhatsApp Transfer is the best program for this job.
With the help of this program, you can transfer your data from Android to iPhone or Android to Android by following simple steps. It supports many data types, such as Messages, images, contacts, videos, and more. You can also create a backup file of your WhatsApp data and store it on your PC to save your device storage.
Did you enjoy this tip? Subscribe to iToolab YouTube Channel
Follow the below steps to learn how to transfer WhatsApp data from Android to iPhone.
Step 1. Go to iToolab WatsGo official site and then download the program on your computer, then launch it and select WhatsApp from the left panel and select WhatsApp transfe.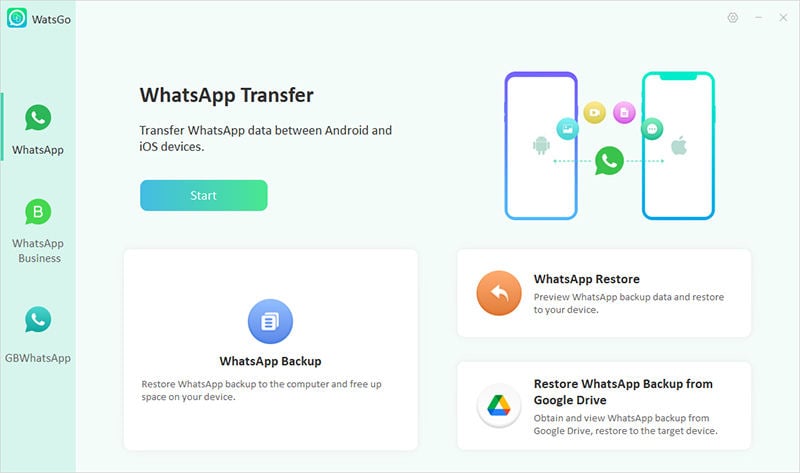 Step 2. Now connect your source device and target device to your computer, and flip the arrows to determine the source device and target device.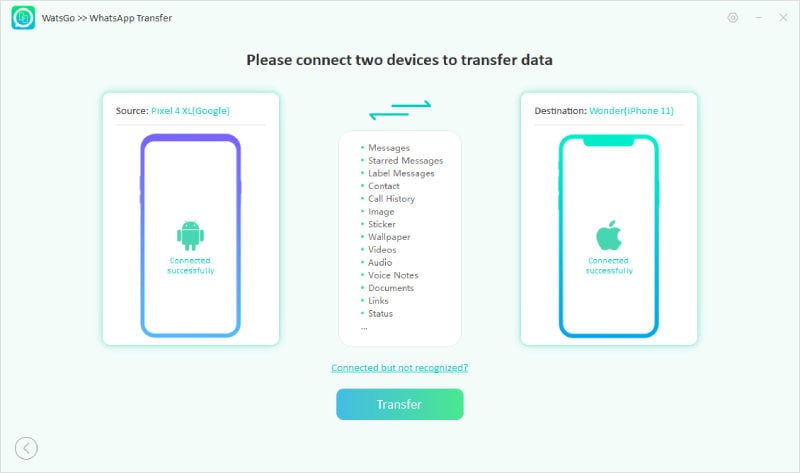 Step 3. After the successful connection, the program will remind you that your target device will be overwritten; if you agree, click on continue to proceed. Choose the WhatsApp data you want to transfer to the target device.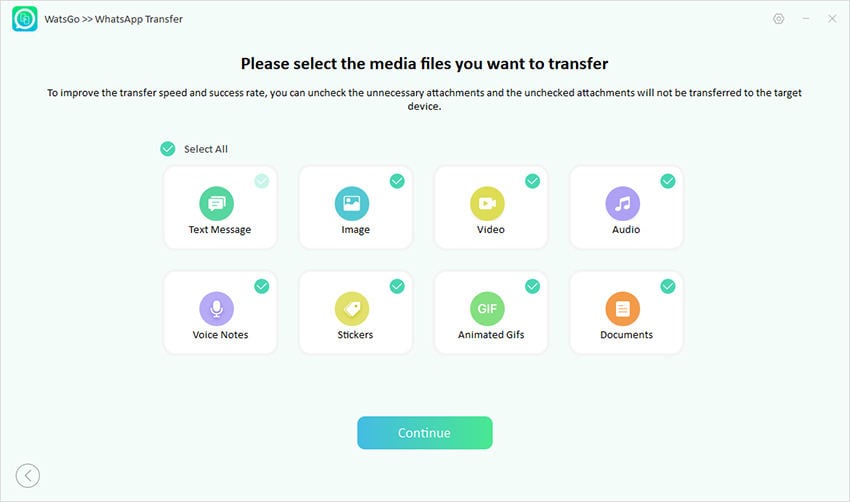 Step 4. Enable the End-to-End Encrypted on your WhatsApp by following the steps shown in the below image. Now your WhatsApp backup is generated and ready to transfer on your new phone; first, you must encrypt your backup with a 64-bit password.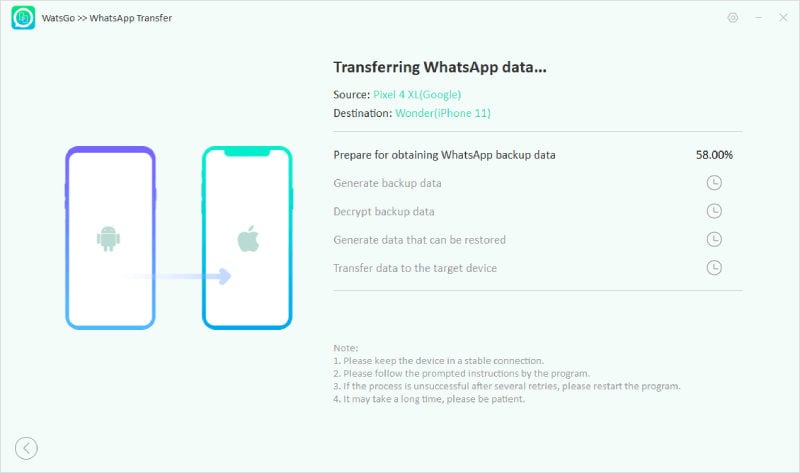 Step 5.Wait for a while because Android data is converted to the format that will then transfer to iPhone. Once the transfer is complete below image will appear on your screen.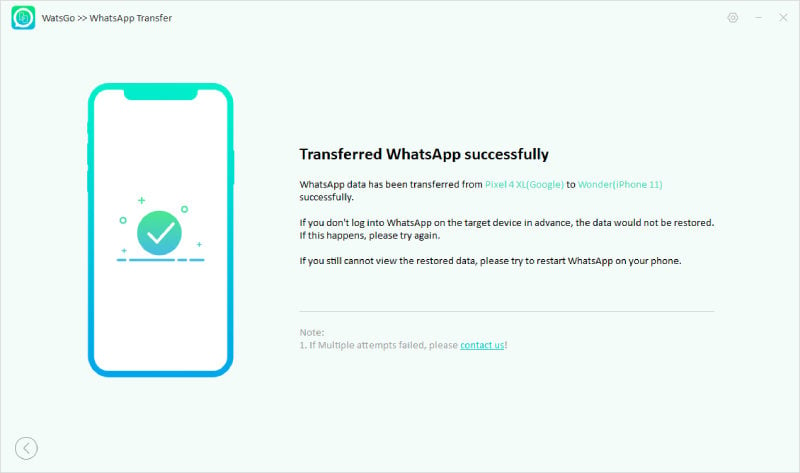 Conclusion
That's all, guy; in this article, we have learned how to put the location on WhatsApp status on Android and iPhone devices. In addition, we have also introduced a third-party program known as iToolab WatsGo that will help you transfer your WhatsApp data from one device to another.