WhatsApp is by far the most popular instant messaging app in the world, with a user base of over 2 Billion. It has many useful features that allow users to connect with their loved ones without incurring any cost. But in recent times, the app has become buggy, and many users complained about WhatsApp Backup Not Working issues.
So in this article, we have listed all the possible solutions to help you backup your important messages as well as media files safely on your device.
Part 1. Why is My WhatsApp Backup Not Working?
Now it is difficult to precisely say the root of the problem as there are a lot of reasons for WhatsApp backup to stop working. Some of the most common reason for WhatsApp not backing up your messages includes:
Not logging into the same Google account when trying to backup messages.
You aren't using the same phone number that was used to create the backup.
If you are using an SD card, some of the files inside the card may be corrupted.
There is no backup file present on your google drive, or the file is manually deleted.
Issue with internet connection.
These are just some of the popular reasons, but there can be many other things that may go wrong. You may also have a combination of these issues, making it even harder to precisely find the source of the issue.
Part 2. Unable to Backup WhatsApp? The Best Way for You
Because so many things can go wrong, the best way to backup all your WhatsApp data locally on your computer or on google drive is to use a third-party solution. There are a few options on the market, but we found WatsGo – Best Alternative to Backup WhatsApp is the most effective and reliable one.
Here is a detailed step-by-step process of backing up messages on WhatsApp using WatsGo. It works both on Android and iPhone.
Step 1: Download and install the application on your computer.
Step 2: Open it and select "WhatsApp Backup".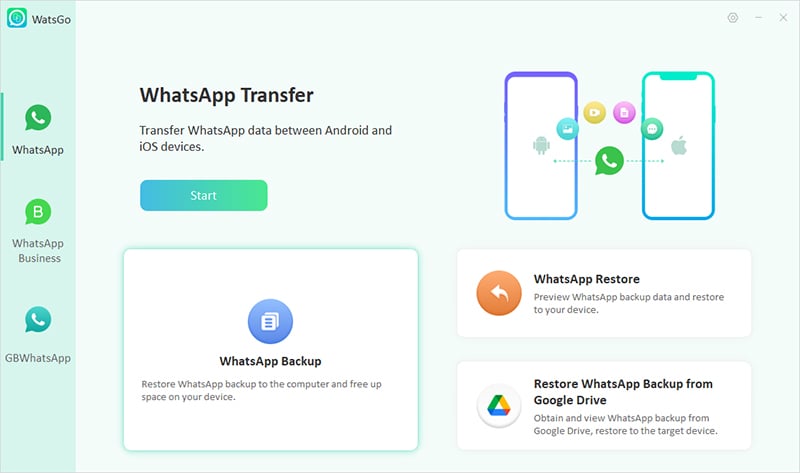 Step 3: Connect your phone using a USB cable and select from the drop-menu/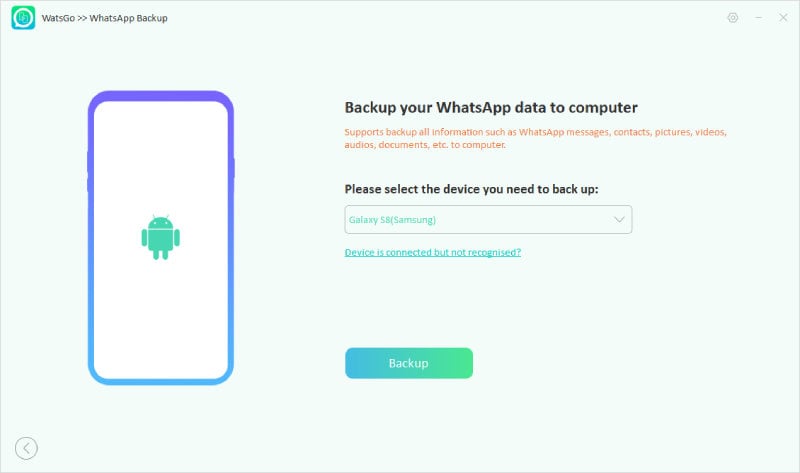 Step 4: Keep your phone connected in the entire backup process. Wait for a few minutes for the backup to be completed.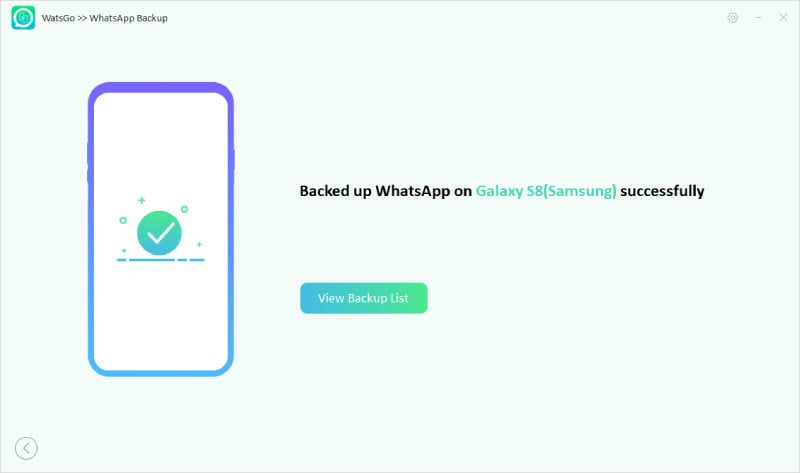 Now you should have WhatsApp locally backed up on your device and can be restored at any time, even without the need for an active internet connection.
WatsGo is the best solution if you are unable to backup messages on WhatsApp. It also has advanced features to transfer WhatsApp data between your android device and iPhone or vice versa. It is truly uncanny how easily you can backup and restore WhatsApp messages, so try the free trial version today.
Part 3. WhatsApp Backup Not Working iPhone
If you are using an iPhone and WhatsApp is not backing up to iCloud, you can try these methods.
Method 1. Make Sure There is Enough iCloud Storage
Unlike Google Drive, which comes with 15GB of free storage, iCloud cheaps out and only provides 5GB of free storage, which is insufficient. So, if you are trying to backup WhatsApp on your iPhone iCloud not working, ensure there is enough iCloud storage.
You can check iCloud storage on an iPhone by following these simple steps:
Step 1: Go to Settings > [your name] > iCloud. The bar graph shows your overall storage usage.
Step 2: Tap Manage Storage for more details.
Method 2. Check If You Have a Good Internet Connection
Slow internet speed is another reason for WhatsApp not backing up files properly. Frequent disconnection and use of a VPN or proxy may also interfere with your internet connection, resulting in issues with the backup of your files.
Method 3. Sign out of iCloud and Sign in again
Do not underestimate the power of cleaning your cache memory, so signing out of iCloud and logging back in may sometimes fix your issue. Signing out of iCloud is very simple, and you can do it in 4 simple steps.
Step 1: Go to Settings > [your name].
Step 2: Scroll down to the bottom.
Step 3: Tap Sign Out; you will be prompted to enter your Apple ID password.
Step 4: Press confirm and wait for iCloud to sign off your device.

Sign Back in using the following steps:

Step 1: Open the Settings app.
Step 2: Tap Sign in to your [device].
Step 3: Enter your Apple ID and password and enter your phone password if prompted.

Update iOS If There is a New Version

Older software is another reason why WhatsApp won't back up, as security concerns exist. So always keep your iOS up to date if you want all your apps to work properly.

Updating your iOS is a simple process:

Step 1: Make sure to plug your device into power and connect to the internet with Wi-Fi.
Step 2: Go to Settings > General, then tap Software Update.

Part 4. WhatsApp Backup Not Working Android

If you are on an android device and find WhatsApp backup not working, try these workarounds.

Method 1. Remove Google Account and Re-add in again

Signing out of the Google account and signing back again may sometimes solve the WhatsApp backup not working issue on Android. For this to work, follow the following steps.

Step 1: On your Android phone, open the Gmail app.
Step 2: In the top right, tap your profile picture.
Step 3: Tap Manage accounts on this device.
Step 4: Choose your account.
Step 5: At the bottom, tap Remove account.

Method 2. Relog into WhatsApp Account

Another proven workaround is to log out of WhatsApp and relog into your account. To log out first, Tap More options > Linked Devices and select logout.

You can log back in by using your phone number; a code will be sent to your phone; put that in, and you will automatically be logged in.

Method 3. Spare up Enough Device Space

If you still can't backup WhatsApp, try freeing up some space from your internal device or inserting a new SD card. You can free up space by deleting old photos or videos that take up too much space.

Method 4. Update WhatsApp to the Latest Version

Just like iOS, you should make sure to update your device to the latest software version. To update your phone on an android device, follow the steps below.

Step 1: Head over to setting.
Step 2: Scroll down and find "About phone".
Step 3: Tap check for update, wait a while, and your device will know if a newer software version is available.

SOLVED!

Backing up WhatsApp messages is particularly important if you want to save your precious memories or find yourself changing your phone often. But with recent updates, many users have complained WhatsApp backup is not working issue and WhatsApp is yet to directly post any update on the matter. The best solution we have to date is a third-party solution from WatsGo, which lets you easily and reliably backup all your WhatsApp data. You can either choose to create a local backup or use google cloud as a backup. WatsGo also lets you transfer WhatsApp data from Android to iPhone and vice versa, so give it a try if you have any issues with WhatsApp backup.

One click to transfer WhatsApp between Android and iPhone

Transfer WhatsApp/WhatsApp business between Android and iPhone.
Backup WhatsApp messages on Android/iPhone to computer.
Restore history WhatsApp backup to Android or iPhone.
High success rate of transferrng up to 90%.
Fast speed to transfer less than 30 minutes for 1.5 G data.