More than 100 billion users use WhatsApp across the world every day. This number shows how popular this app is among users. We all know that every chat on your WhatsApp involves real business and important information you don't want to lose.
If a user loses a chat from a single contact, it could affect many things, but don't worry because, in this guide, we will learn how to restore a Single chat in WhatsApp.
Part 1. Is It Possible to Restore a Single Chat in WhatsApp?
WhatsApp backup does not allow you to restore a single chat, what you will be able to restore is the entire backup. However, you can recover a single chat in WhatsApp with the help of a third-party program like iToolab WatsGo. Moreover, you can restore other WhatsApp data including images, stickers, videos, etc to iPhone or Android.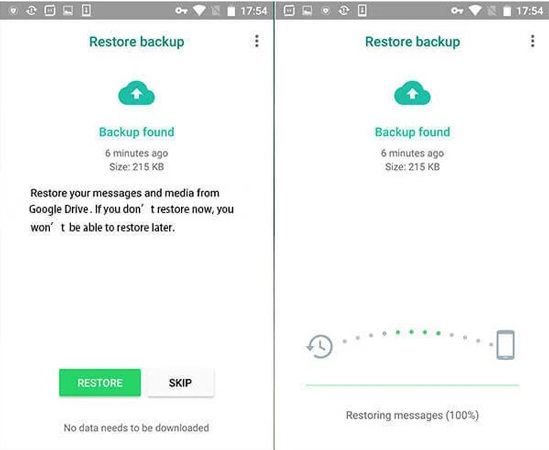 Part 2. How to Restore Single Chat in WhatsApp with iToolab WatsGo?
As we have told you before, it is possible to restore one or two deleted messages from one chat. iToolab WatsGo – WhatsApp Backup Restore Tool, you can easily recover data from a single chat in WhatsApp. Now, I will show you two ways of restoring a single chat using the program below. Make sure to follow them correctly.
Way 1. Restore Single Chat from iTunes Backup
Follow the instructions to restore your Single chat from iTunes Backup using iToolab WatsGo. Visit our official site and download iToolab WatsGo on your computer.
Step 1: Launch the program and then select the restore WhatsApp Backup option from the home page.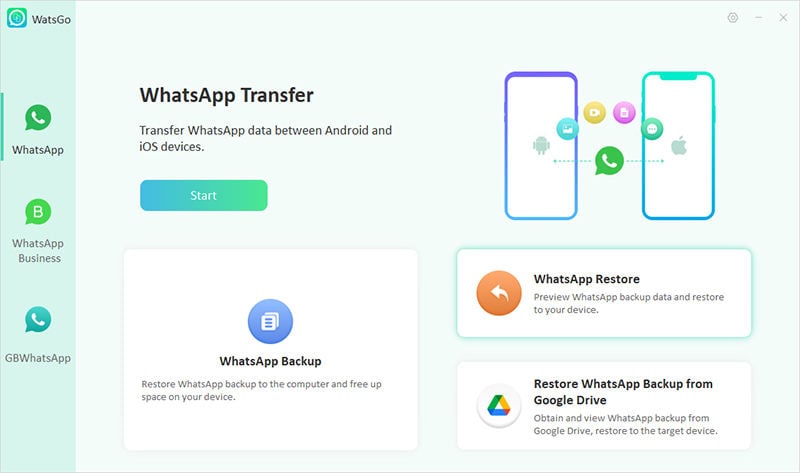 Step 2: Select the iTunes Backup option and then click on the View Backup option available at the bottom of the screen. Once you have clicked the view backup option, a list of all backup history will appear on your screen.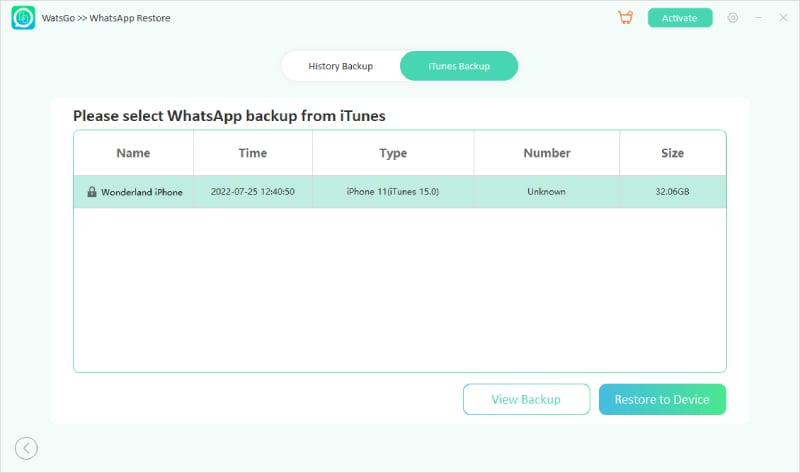 Step 3: Select the single chat you want to backup and then restore to the device option.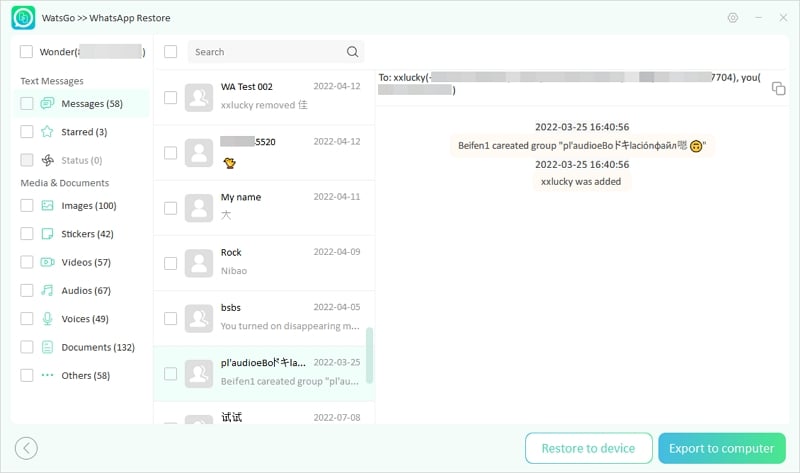 Step 4: Now connect your device and then select the model from the drop-down menu.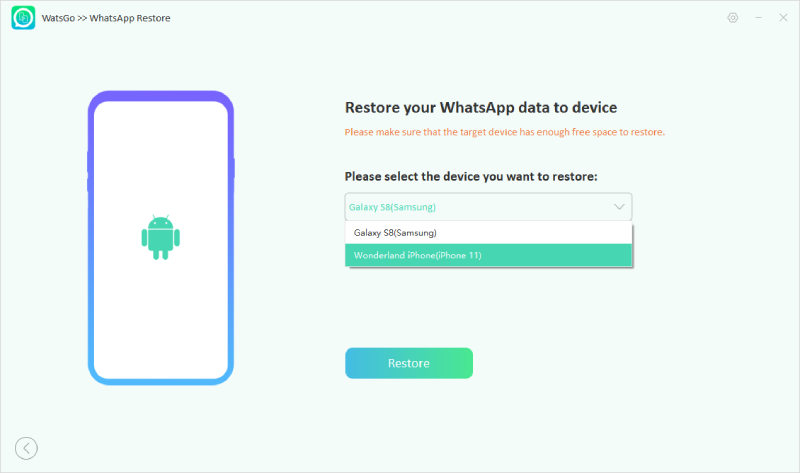 Step 5: iToolab WatsGo will start generating data that can be restored on your iPhone. In the end, WhatsApp Backup data will be successfully restored to the target device.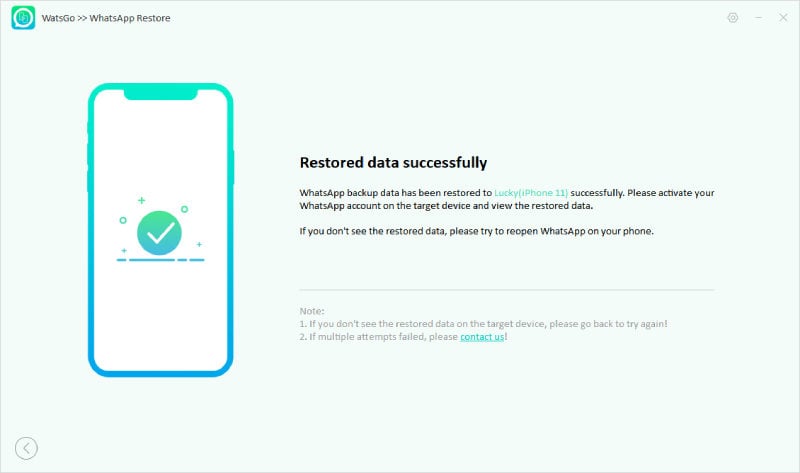 Way 2. Restore Single Chat from Google Drive Backup
Follow these steps if you want to learn how to restore a single chat on WhatsApp from Google Drive backup. Note: Below instructions are only possible if you have already backup your WhatsApp data on Google drive. If you haven't backup data on Google Drive, then first backup your data and then restore it by following the above instruction.
Step 1. Choose the option "Restore WhatsApp backup from Google Drive" after you've started the application.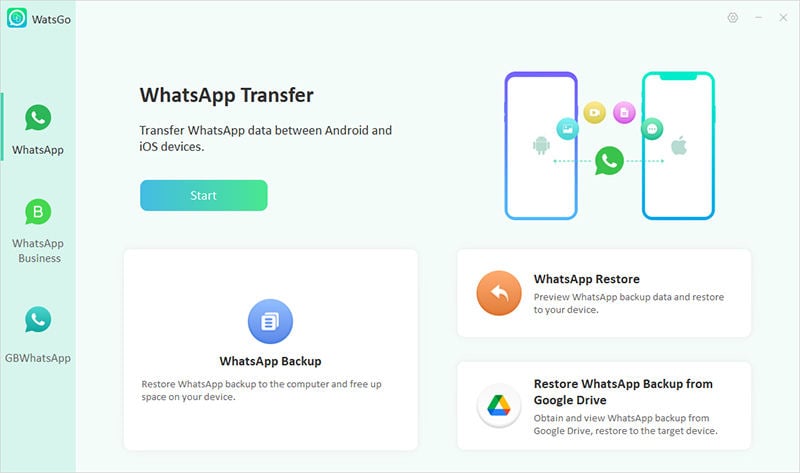 Step 2. Now you need to log into Google Account to get WhatsApp backup. Make sure you've entered correct account and password.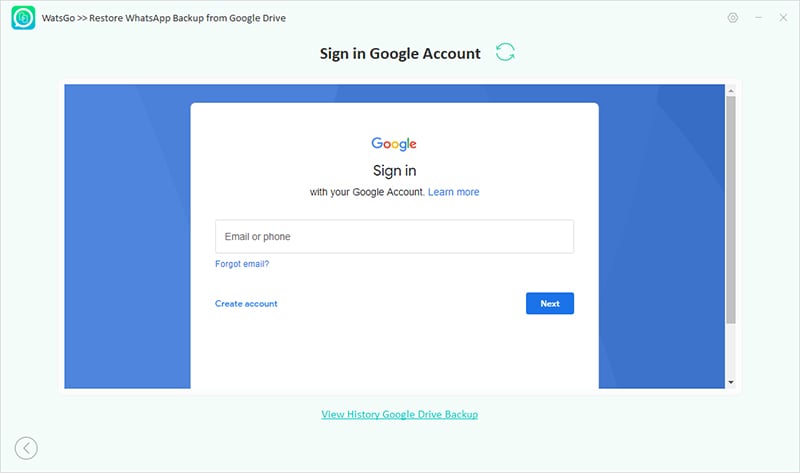 Step 3. You'll see a backup list of all WhatsApp accounts synced with Google Drive after you sign in to your Google Account.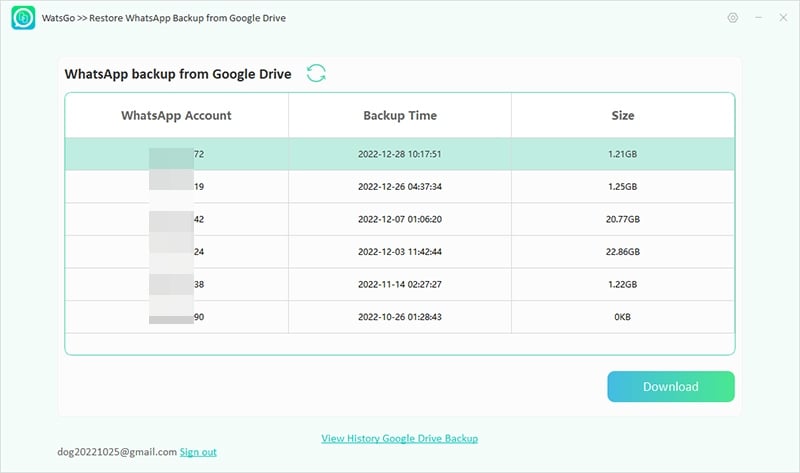 Step 4. Next, please be patient for a while, the program will proceed to access WhatsApp backup from Google Drive.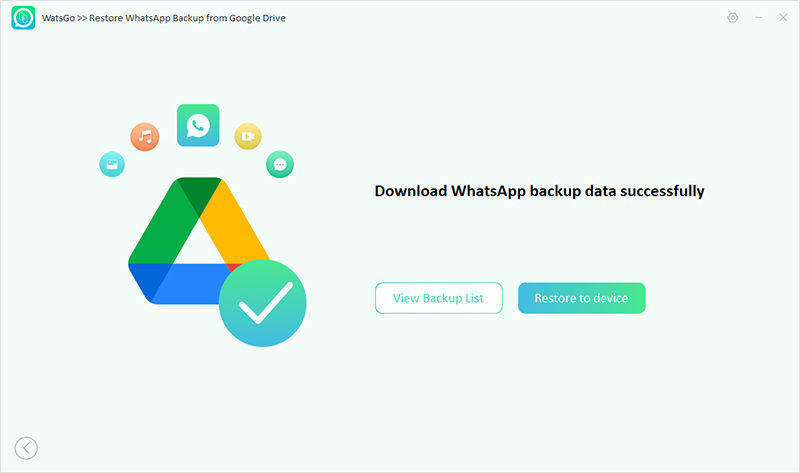 Step 5. Then click the "View Backup List" button to see the downloaded WhatsApp backup from Google Drive.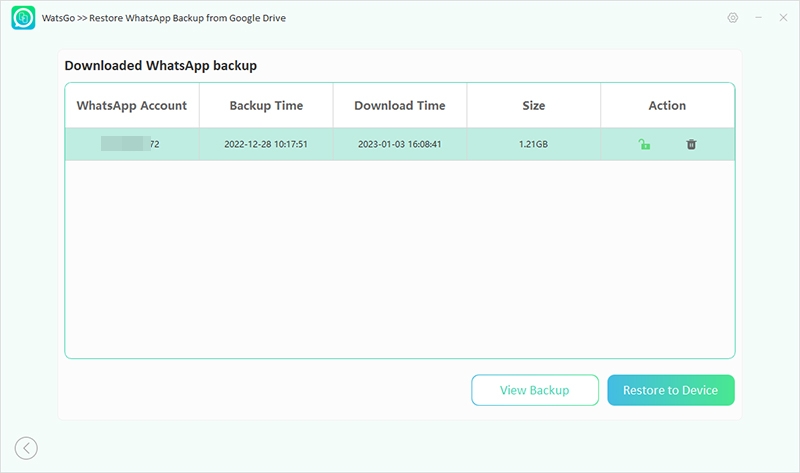 Step 5. Click the "View Backup" and all details will be demonstrated fully.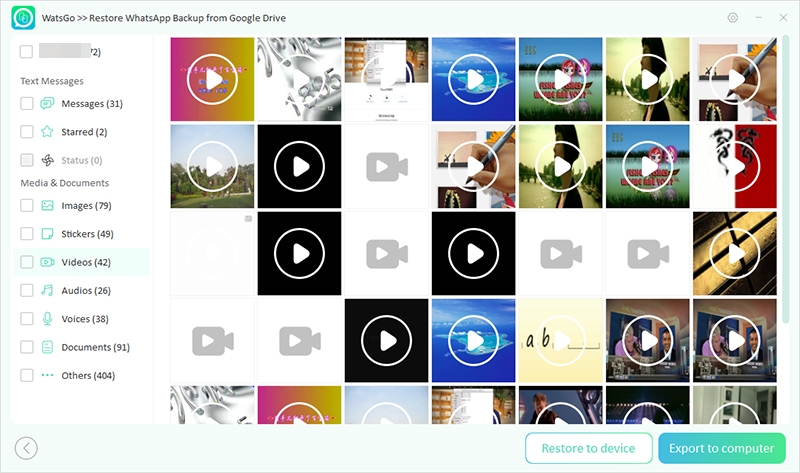 Now, select one or bulk WhatsApp messages to restore to iPhone or Android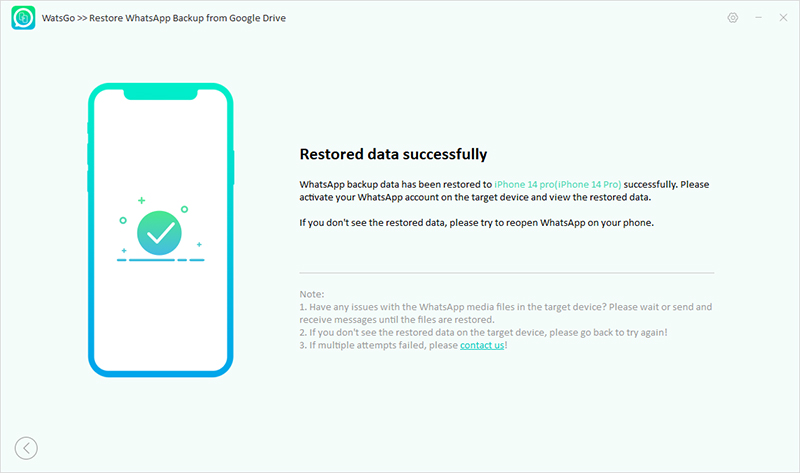 Extra Tips about WhatsApp Backup and Restore👏🔥
We have managed to find two extra tips about WhatsApp backup and restore. Make sure to read them properly so that you don't face any difficulties while backing up and restoring your data on WhatsApp.
Tip 1. Can I back up only one chat in WhatsApp?
As we have told you before, backing up a specific chat is not possible on WhatsApp because WhatsApp creates a full backup of all your chats daily. If you haven't enabled the Backup option, follow the instructions below to enable Backup on WhatsApp.
Unlock your device and then open WhatsApp.
Select the settings option and then tap on chats.
Now find and select chats backup within chats.
Press Auto Backup and tap on the daily option to enable backup daily.
Tip 2. Can I restore the old WhatsApp chat that I skipped to restore?
The answer is yes because you can easily restore WhatsApp chat that you have skipped restoring. The data in your local or iCloud backup is still available by skipping the restore. Therefore you can easily retire them; follow the below tip to restore the skipped data on iPhone and Android devices.
For Android Users
If your backed-up data is available on Google Drive, then uninstall the WhatsApp App and reinstall it again. Restore the skipped chat before making a new backup.
If your backup is available on the local store, reinstall the App and restore the recent local backup.
If you forget to back up your WhatsApp data on Android, your phone will automatically back up your WhatsApp data worth seven days. Reinstall WhatsApp, and you will be promoted to restore WhatsApp data from local backup.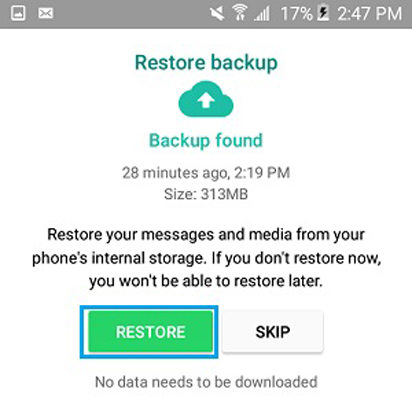 For iPhone Users
If you accidentally skipped your chat restore on your iPhone, you can recover your chat from iCloud backup. But it is only possible if you haven't overwritten the backup with a new one. Simply reinstall WhatsApp to restore the skipped chat on iPhone WhatsApp.
Conclusion
We know that restoring all messages on WhatsApp can cost our devices a lot of time and data. So, restoring a single chat on your device is the best option if you want to save time and data. In this guide, we have mentioned the most effective methods to restore a single chat on WhatsApp through iTunes and Google Drive.
Also, in this guide, we have mentioned a Recovery tool known as iToolab WatsGo – Best WhatsApp Transfer, Backup & Restore that will help you to recover your single chat on your target device. With the help of this program, you can create your WhatsApp backup on a computer and restore it to any device, such as Android and iPhone. This is the end, folk hopefully, this guide has answered all your questions.