Huawei phones have long been a popular option for people who want a device packed with features at an affordable price. However, because of several sanctions enforced on them by the USA and European Union, Huawei phones no longer have access to any of Google's services. This is detrimental for Huawei's users as most Android users these days rely heavily on Google's services. Whatsapp is one such app that requires Google Drive to transfer data to other devices. But do not worry, as in this article, we will show you a step-by-step guide on how to restore WhatsApp from google drive to Huawei phones. So without further adieu, let's get started.
Part 1. Can I Restore WhatsApp Messages from Google Drive to Huawei
If you use an older Huawei device with a Google Drive backup, you can restore your WhatsApp messages. However, if you recently purchased a Huawei device like the recently released P40 or P40 pro, you most likely need a backup on your phone and may not be able to restore WhatsApp messages.
However, do not worry, as there are several possible solutions you can try to transfer WhatsApp data from your device.
Part 2. How to Transfer WhatsApp Chats from None-Huawei Phone to Huawei Phone
Let's cut to the chase. If you recently purchased a Huawei phone and are wondering how do I transfer WhatsApp to my new Huawei phone, this guide is here to help. Huawei does offer its own native app called Huawei Phone Clone transfer that aids users in transferring files between Huawei devices. However, Huawei Phone Clone does not support WhatsApp transfer, so you are left without luck.
But thankfully, third-party apps like iToolab WatsGo will come to the rescue as it is one of the few solutions that works flawlessly transferring WhatsApp Chats from None-Huawei Phone to the Huawei Phone. iToolab WatsGo offers several perks that make it an overall better option when compared to the competition. WatsGo is multi-directional, meaning it can be used to transfer WhatsApp data between any device (both Android and iPhone). It also offers blazing-fast transfer speeds and works reliably when compared to other WhatsApp transfer tools.
But the one feature that truly sets iToolab WatsGo apart from other WhatsApp transfer tools is its incredible user interface which makes it quite intuitive to use. Anyone, even without any prior knowledge, can use the app.
Part 3. Questions about Huawei WhatsApp Transfer
Let us now focus on some of the main queries users may have when using iToolab WatsGo.
Question 1. Is there any free way to transfer WhatsApp from Android to Huawei
The only free app to transfer data from Android to Huawei is the "Phone Clone" app from Huawei. However, you can not transfer WhatsApp data, and if you are someone who cares about privacy, you will probably give this app a pass. But you can use iToolab WatsGo as a much cheaper alternative that works reliably to transfer WhatsApp data from Android to Huawei and from Huawei to other Android phones.
Question 2. Does Huawei Phone Clone transfer WhatsApp
No, Huawei's own "Phone Clone" app does not offer WhatsApp transfer which is a big disappointment. For WhatsApp data transfer between Huawei devices, you have to rely on third-party apps like Toolab WatsGo.
Question 3. How to backup WhatsApp on a Huawei phone
If you are using a Huawei phone that does not support Google services or your Google Drive backup or iCloud backup is not working, you can use iToolab WatsGo to back up your data. Using WhatsGo is also a much cheaper and safer alternative than cloud storage. Here is a detailed guide on how to back up WhatsApp on Huawei phones.
Step 1: Download and install iToolab WatsGo on your computer and launch the app.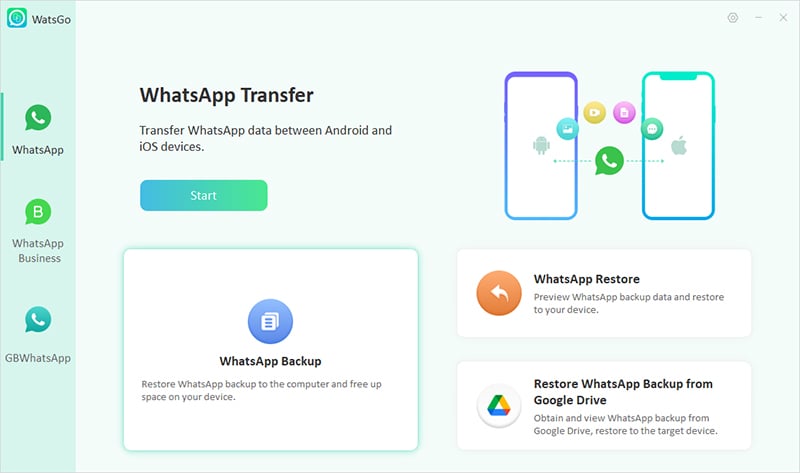 Step 2: Connect your device to the computer via a USB cable and select your device from the dropdown menu.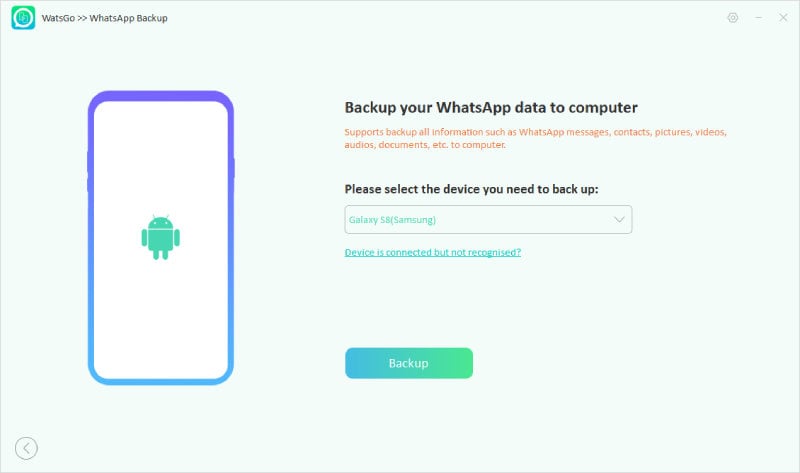 Step 3: Next, turn on end-to-end encrypted WhatsApp backup. This ensures that your backup is safe and protected by a password.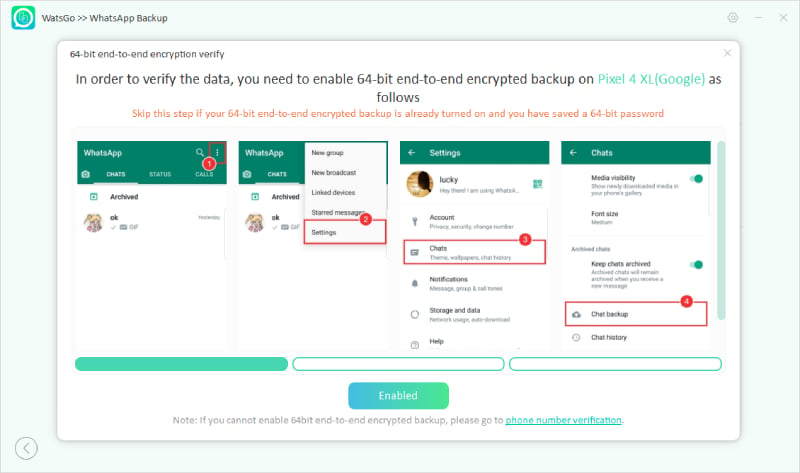 Note: Take a screenshot of the encrypted password in case you forget it.
Step 4: Once the encryption is started, the program starts to create a backup on your device. Now wait for the backup to be completed. You will see a confirmation once this step is completed.
Conclusion
If you recently switched phones and wondering how to restore WhatsApp from google drive to a Huawei phone, iToolab WatsGo will come in handy. It offers a safe and reliable way to back up all your data locally, eliminating the need to keep any sensitive data on the cloud. iToolab WatsGo also has multi-directional features, which allow it to transfer WhatsApp data seamlessly between different operating systems. So if you are in need of a WhatsApp transfer and restore tool, give iToolab WatsGo a try.