Grindr is a great way to meet people in your area, but what if you are unable to find the right partner and need more space? If that's the case, you can use a fake GPS resource to look for potential partners in different locations.
However, one thing worth noting about using fake GPS locations with grind Match: it won't work everywhere! Keep reading below to find out the reason behind the Grindr fake GPS not working issue and how to fix it to meet the love of your life in 2022.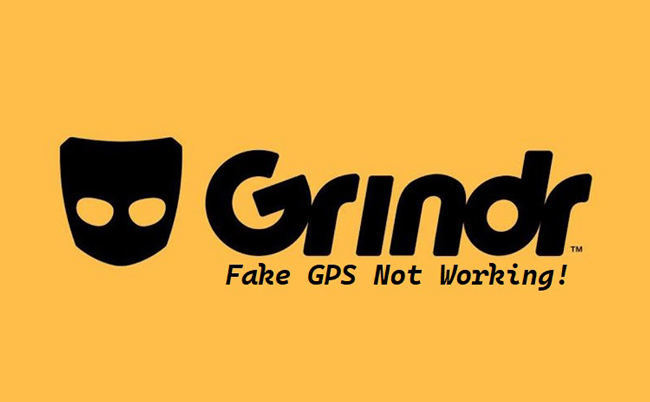 Why Do You Need to Change Your Grindr GPS Location?
The Grindr app is a great way to meet new people, but there are risks involved. First, people can see your location and the places you have visited, which could hurt privacy if not handled correctly. Besides, someone might find out where we are, even though our preferences were set so that nobody would know except ourselves.
Moreover, you should also ensure all necessary information has been added to this account before using it abroad. Some countries have different policies related to online dating or apps like Grindr.
It's not easy to maintain your privacy when using Grindr. One way of doing so is by changing the GPS location on your phone. Still, if you come across the Grindr fake GPS not working error, then follow the remaining half of this tutorial to understand the reasons and how to bypass them.
Why My Grindr Fake GPS Not Working?
Grindr can detect your mock location app and stop it from working. The possible reasons for this happening are:
The version of Grindr you're using might be blocking your pretend GPS service. In that case, we recommend updating the app. However, if you are using the newest version, the best thing you can do is roll back to an older version that is compatible with the fake GPS app.
Other than keeping the Grindr app updated, it is essential to keep an eye on whether you are using an outdated version of the fake GPS application. If yes, we suggest updating the mock location app and getting back to finding the right match.
It's possible an obsolete server code block exists between yours/our servers which makes navigation difficult with the fake GPS app. Sometimes, uninstalling and downloading the app can fix the Grindr Fake GPS not working issue.
Grindr Fake GPS Not Working? Try iToolab AnyGo
Opting for a reliable fake GPS service to find a date on Grindr is absolutely necessary. However, if you happen to install any random application, then the chances are that the Grindr Fake GPS not working error will occur more often than not.
Still, if you are looking for a perfect partner on Grindr using an iPhone, we recommend spoofing your location with iToolab AnyGo, which is compatible with all modern iPhones and iOS versions(7.0 and later). With this dependable AnyGo app, you can go to the hottest dating location in the world and search for your soulmate.
So, what are you waiting for? Install the program on your Windows/Mac desktop now, and apply the following steps to use AnyGo to fake your location while using Grindr.
Spoof GPS Location on Pokemon Go
Simulate GPS movement along any custom path.
Multiple modes to fake GPS movement.
Simulate walking, cycling or driving at a variable speed.
Add cooldown timer to avoid the detection of cheat.
Step 1: Pick your iOS device and connect it with the computer through a USB cable. Once you have installed iToolab AnyGo, launch it on the system, and from the Home Screen, click on Start.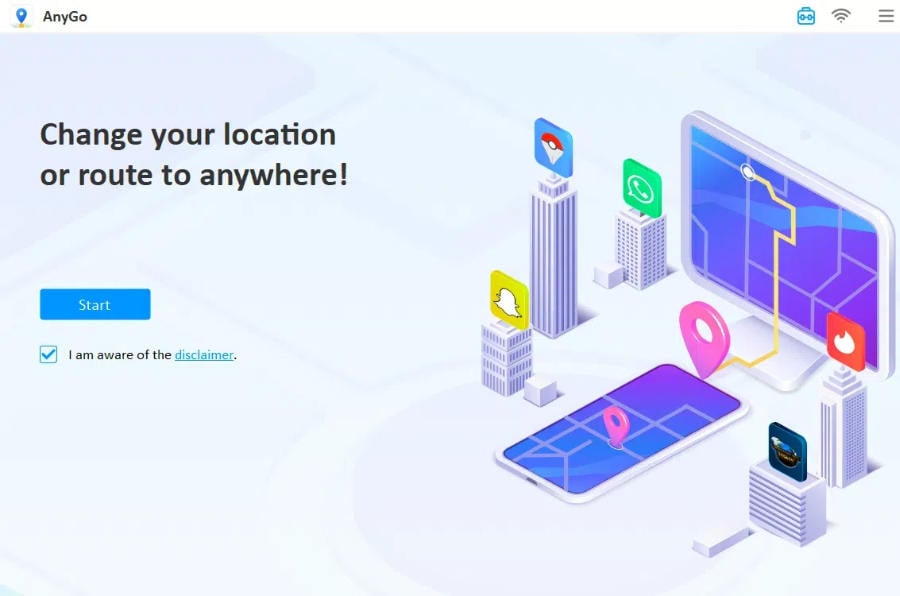 Step 2: The app will share the current location of the iPhone. Check if the information is correct. If not, head over to the top-right corner, and click the Center On button, which will set the accurate position of your device. Verify the GPS detail, and move on to the next step.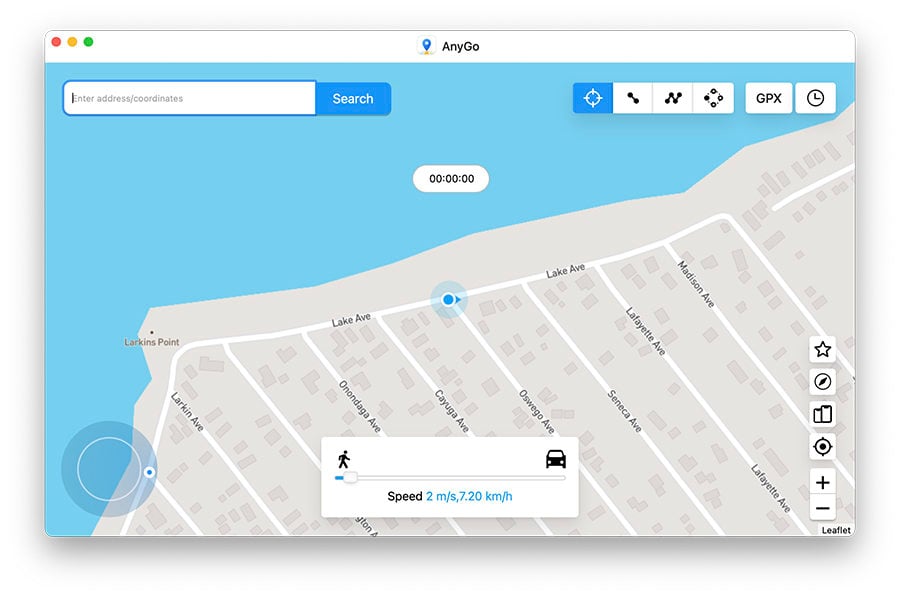 Step 3: You need to enter which place you would like to visit to use Grindr freely. For that, click on Teleport, and enter the location into the search bar before pressing Search.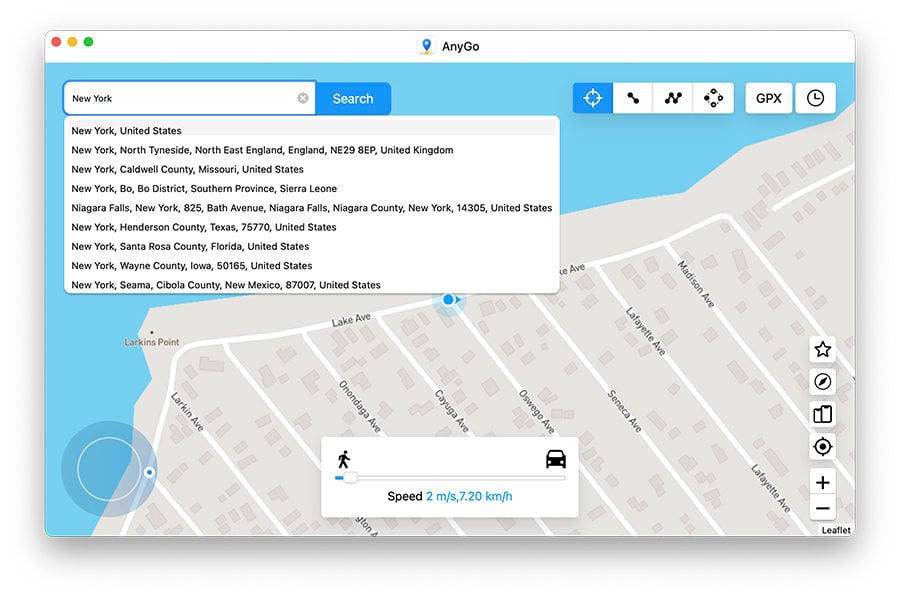 Step 4: Once AnyGo displays the entered area or location, click on the Go button to teleport your device there. Now, you can open Grindr and start seeking the best match for yourself.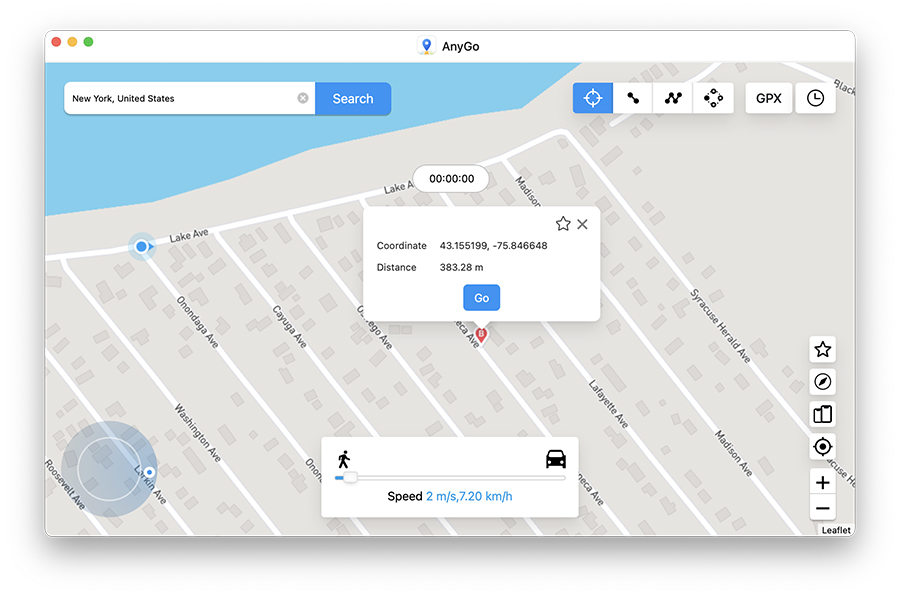 Hot FAQs about Grindr Fake GPS Not Working
Still, want to learn more about fixing the Grindr Fake GPS not working problem? If yes, check out this thorough FAQ section!
Q1: Does Fake GPS work with Grindr?
Though using fake GPS services with Grindr can lead to your account suspension, if you use AnyGo, then everything will be safe, and you can meet the perfect match anywhere in the world.
Q2: Can Fake GPS be detected?
Platforms like Grindr have resources placed to detect when their users enable the fake GPS app to find dates. However, services like AnyGo offer the cooldown timer feature to prevent users from changing their location frequently. This way, the GPS spoofing will remain undetected.
Q3: Does Grindr work with VPN?
Yes, a well-known VPN service can work when you are using Grindr.
Conclusion
If you want to keep your Grindr account secret or use it in a different location, use iToolab AnyGo to fake the GPS location. However, it is vital to understand the risks involved in performing such activity. For that reason, this article can help you. Read the instructions to fix the Grindr Fake GPS not working error, if it ever occurs, and ensure everything will go smoothly.