Nowadays, almost all social media platforms track your location with or without your consent. You may want to stop them by changing your location to keep your privacy with you. Keeping this in view, you might be wondering, "How to fake location on Snapchat?" In this guide, we'll take a closer look at how you can continue using your favorite social media app without revealing your location.
Does the New Snapchat Update Show Location?
If you choose to share your location on the map, your location will be visible whenever you open Snapchat. The latest feature "Snap Map" allows you to share your location with your friends and family. Moreover, you will not receive any notification if someone sees your location.
How to Fake Location on Snapchat iPhone without Jailbreak
Jailbreak isn't always a solution to every problem. You should always look for an alternative way to fake GPS location. If you're wondering, "How to fake Snapchat location on iPhone?" then you must consider iToolab AnyGo. The iToolab AnyGo is among the best tools that help you determine your temporary location. You can change your location on one or more iOS devices at the same time. Here's how you can change your location with AnyGo.
Step 1. Connect your iPhone device to the computer. Now, open the program and click on the "Start" button in the main window.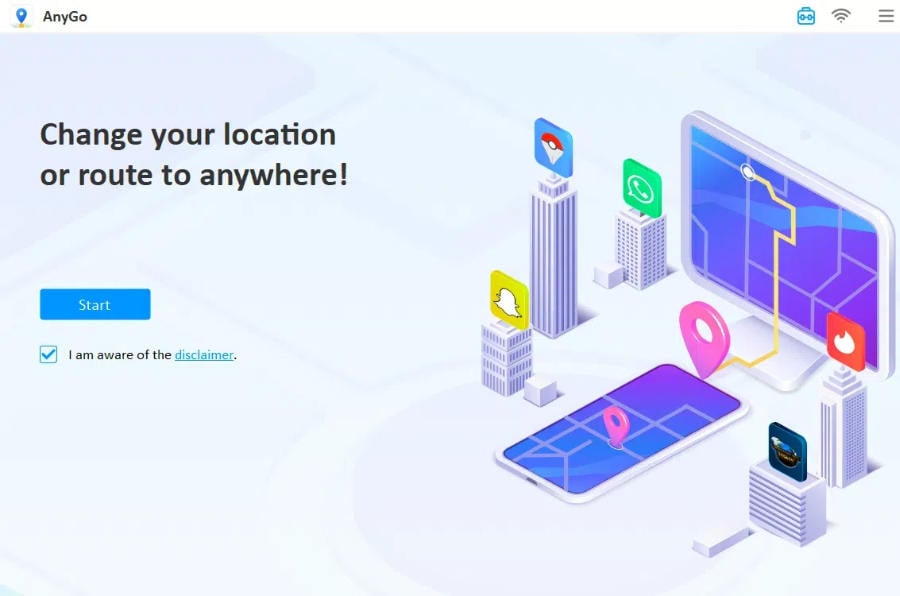 Step 2. On the map, you'll see your current location. The map will appear on the next page. However, if your location is incorrect then you need to tap on the "Center on" icon to get the accurate location.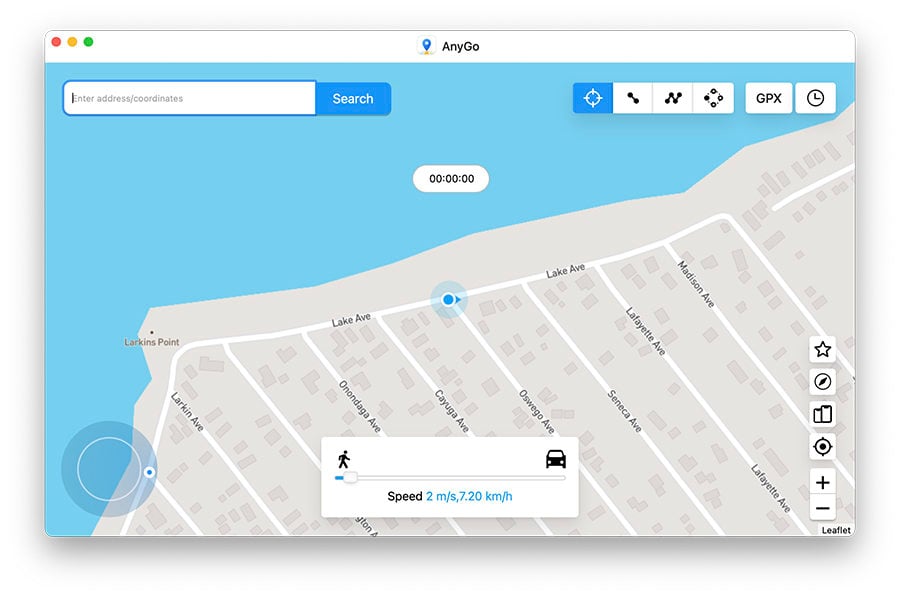 Step 3. Click on the "Teleport" icon located in the top right corner of the screen. Now, enter your preferred location and click on the "Search" button.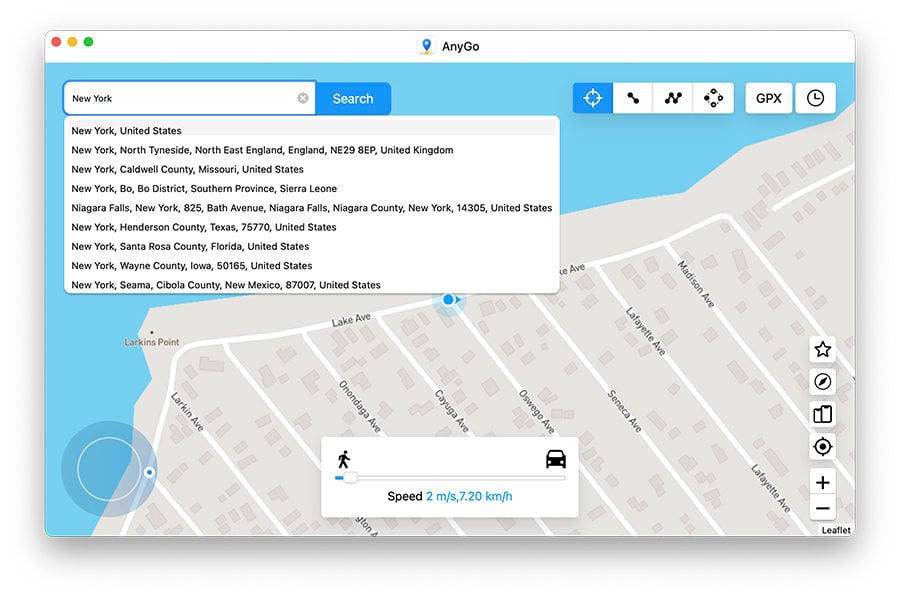 Step 4. The map will move to the new location, you entered in the search bar. Now, click on the "Go" button to change the location.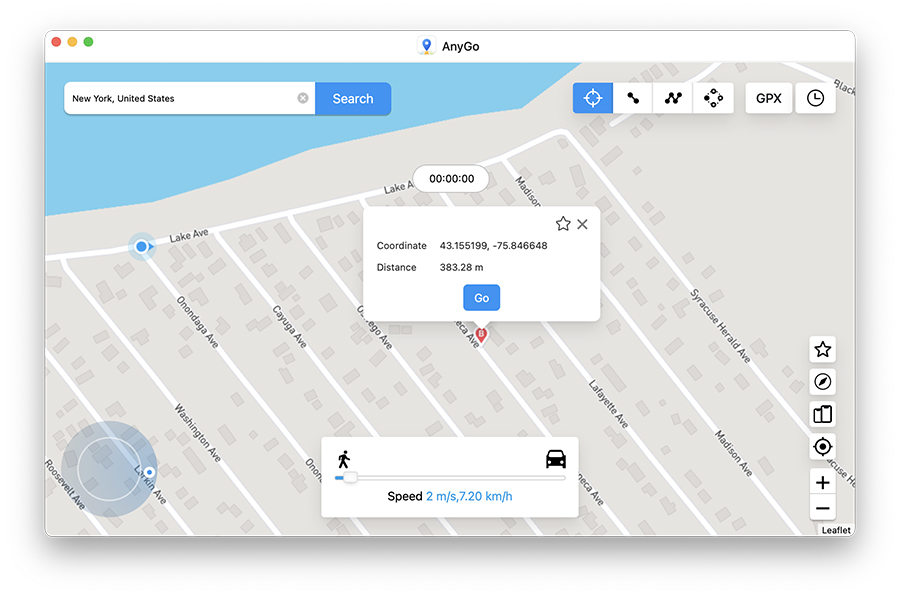 That's how you use AnyGo to fake location on Snapchat filters. No limitations, no complicated steps. Also very safe and fast. But that's not all, it can help you fake location on multiple devices and import GPX file to Pokemon GO too.
How to Fake Location on Snapchat Android
This section is for you if you want to know how to fake your location on Snapchat Android. You can do this by using the Hola app that's available on the Google Play Store. To change location on Android, you need to perform the following steps:
Install and open the Hola app on your Android smartphone.
Turn off GPS tracking on your phone by going into Android Location Settings.
On the app's map, select the location using joystick/ location pointer/ search bar by entering the exact address.
After finding the desired location, tap on the Play button. Your location will be changed.
There are many location faker app for Android. Besides Hola, you can also try Fake GPS Location – Joystick, Lexa etc. But before choosing the app, remember to check the reviews first. It's an important step!
Also Read: How to Fake WhatsApp Location Step by Step
Related Questions about Fake Location on Snapchat
Here are some questions you may also want to know. See if they are helpful to you.
Q1: Does VPN change your Snapchat location?
No, a VPN has nothing to do with the phone's GPS location. It only changes the IP address of your device. Similarly, you can't change your Snapchat location using a VPN.
Q2: Does Snapchat tell you when someone checks your location?
No, Snapchat doesn't send you a notification when someone checks your location. Currently, no feature or tool can help you identify a person who checks your location.
Q3: Is the Snap map ever wrong?
Snapchat Map seems to be very accurate. According to Snap Map reviewers, the feature is even more accurate than some mapping applications. The map identifies the accurate location of a person.
Q4: How to hide Snapchat location?
To turn off the location tracking feature in Snapchat, you need to enter into "Ghost Mode." The Ghost Mode won't allow anybody to see your location. For entering into Ghost Mode, open the Snap Map, tap on the cog icon in the top-right corner, and toggle "Ghost Mode."
Final Thoughts
Snapchat like other social media applications tracks your location. Sometimes, you might not want someone to check your location. In this detailed guide, we've discussed how to fake location on Snapchat on iPhone and Android. Android users can use Hola app whereas iOS users can use iToolab AnyGo to fake their location. The tool is quite useful for anyone who wants to stop Snapchat location tracking. Moreover, you can use this tool to change the location of different iOS devices at the same time.