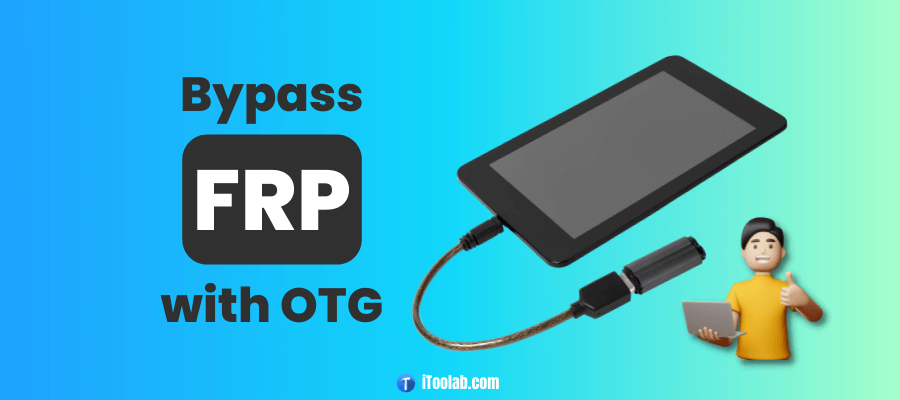 Factory Reset Protection (FRP) is the most powerful security feature in Android that activates automatically when you sign in Google account. With protecting Android phones from unauthorized access, FRP may lock phones if you reset your phone without removing your Google account.
Are you the one searching for ways to bypass FRP so you are at the right place. This article defines how to bypass FRP with OTG simply by installing FRP bypass apk files step by step. So, let's find out!
How to Bypass FRP with OTG & FRP Bypass APK?
Wonder how to use OTG cable to bypass Google account? Here we use the FRP Bypass APK and files, which is designed for Android devices to bypass FRP lock. Moreover, you don't need any registration to use APK, just follow the step precisely listed below.
Step 1. Download FRP bypass APK and files
Start with downloading FRP bypass APK and connect USB.
Please connect the USB with an OTG cable.
Power on your Android phone.
Connect with a strong Wi-Fi network.
Step 2. Install FRP bypass APK
Now, click the Home button thrice to trigger Talkback. You will see a new menu on your screen.
Click on Talkback Settings.
Tap the Talkback button thrice again.
Navigate to Help & Feedback.
Now head to Get Started with Voice Access.
A YouTube video will appear, tap on the Play button to start it.
Click on Getting Started with a Voice in the following video. This will redirect you to the Youtube.
As Youtube opens, you have to click on the User icon.
Click the option Terms & Privacy Policy.
Now, tap on the cancel option and click Bookmarks.
Move to the Download History option.
Click the My files option, it allows you to open your USB.
Install the APK from USB to your Android phone.
An "unknown source" error appears on your screen, go to Settings of your phone to allow unknown sources.
As the APK was installed, you need to reset your Android device.
You bypassed FRP using OTG cable on Android. Now, set up your phone without old account verification.
Step 3. Safely disconnect OTG from the phone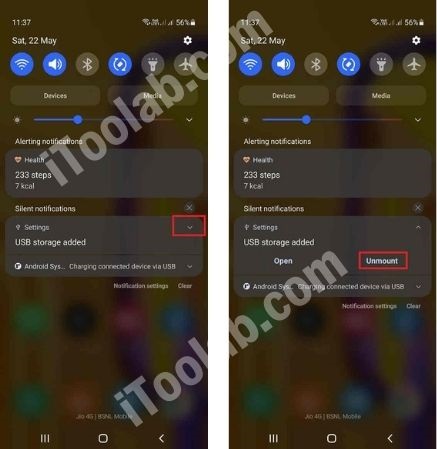 Open Notification panel from top bar on your screen.
Tap the arrow that appears beside the "USB storage added" notice to get the drop-down options.
Tap the option Unmount to disconnect OTG safely.
What Should I Do If Samsung OTG Not Working?
If your Samsung OTG is not working, go through the following checklist to resolve the OTG cable's connectivity issues.
🤓 Common checklist
Check the connectivity using another adapter or OTG cable.
Check out the connectivity using another Flash drive/Pen drive.
Note: Make sure to use cable or adapters that are approved by Samsung only. Using accessories other than Samsung may cause device damage or invalidate the warranty.
Note: If you find the connectivity working in Safe mode, please uninstall third-party apps and check again by booting the device into normal mode.
If OTG still doesn't connect, update the software.
If it still fails to connect, you need to perform a factory reset.
👨‍💻 Advance option: Bypass FRP without OTG
As you can see, bypassing FRP using OTG comes with numerous connectivity issues and shortfalls that finally lead you to factory reset your phone. This is the scenario where third-party Android Unlocker tools help Android users to bypass FRP without OTG using a handy Android toolkit. They magically unlock your phone by providing online services with a free trial to experience actual results before investing money.
FRP Unlock When Samsung OTG Not Working
FRP lock bothers you and blocks access until you bypass it using FRP unlocker APK with OTG but it has some drawbacks too. If your Samsung OTG not working or showing no connectivity, iToolab UnlockGo (Android) is the best FRP bypass tool to pick.
UnlockGo (Android) is a proven software solution for Android users who forgot their Google credentials or purchased a used phone locked with the Google account of the last owner. No matter what your issue is, UnlockGo (Android) bypass FRP lock in 3 minutes, so you can set up your new account in a go.
Bypass Samsung FRP without OTG (Android 5-12)
Removes PIN, pattern & fingerprints hassle-free
Unlocks Samsung phones without data loss
Easy-to-use FRP removal for non-techies
Best partner for phone shops and wholesalers
UnlockGo (Android) is a practical and effective solution for Android users who wants to bypass FRP without OTG or factory reset in Samsung devices. Just install this FRP bypass tool on your PC and see how it solves the issue in 4 steps.
Step 1: Connect Samsung phone with computer
Plugin your Samsung smartphone with a PC using a USB cable. Launch the tool and click the feature Remove Google Lock (FRP).
Step 2: Choose the innovative FRP bypass method
Confirm your choice by clicking the green Start button and choosing the first option on the next screen, which works well with all Samsung models.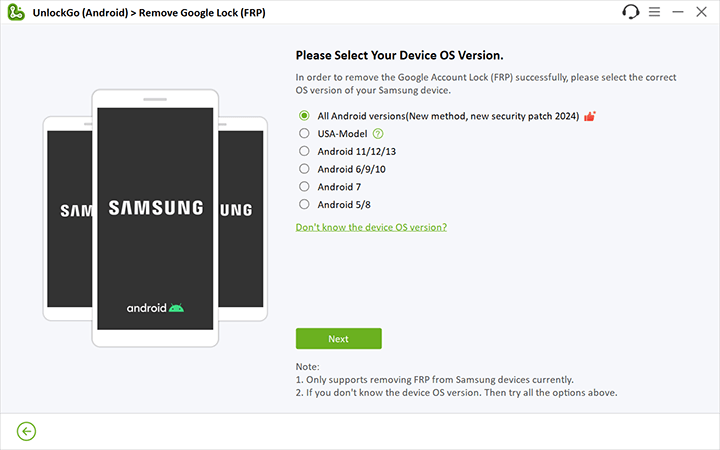 Note:
Keep your device connected to your computer until it restarts.
Step 3: Prepare for bypassing FRP
You need to enter the secret codes following on-screen instruction and then always allow USB debugging on your computer.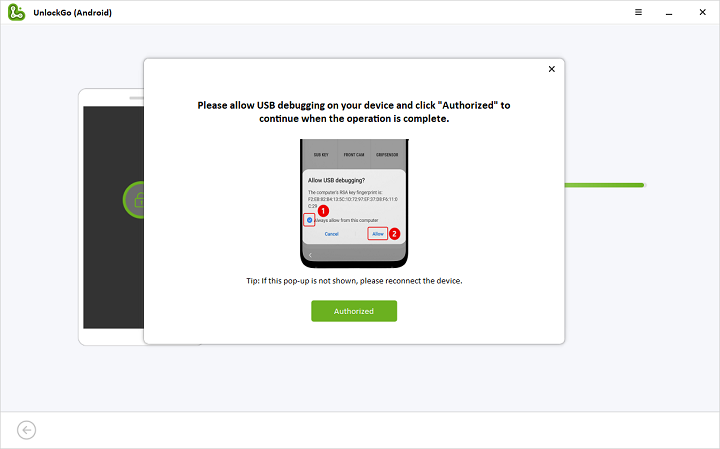 Step 4: FRP bypassed successfully
This process will take a few seconds that once finished will reward you a restarted phone.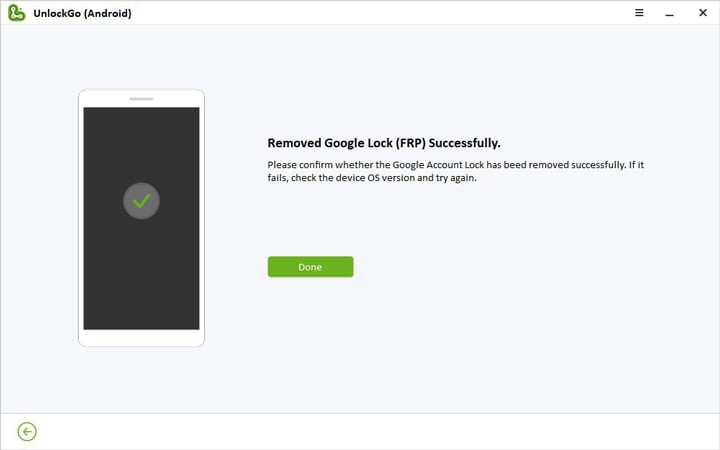 Is Using OTG to Remove Google FRP Lock Good?
OTG or USB on-the-go is a specification introduced in late 2001. It is actually a ticket to connect USB with your Android device. Android users deal with FRP lock using different tactics but you can also use otg cable to bypass Google account.
What is OTG or OTG cable?
OTG or USB (on-the-go) cable introduced a concept of the device that acts both as a peripheral and host role. Your Android phone can operate as an external drive to transfer files but it can also accept input from tons of external devices including a digital camera, mouse, keyboard, or USB flash drives.
What can I do using OTG on an Android device?
It allows the connection of A/V devices, input devices, and data storage
Plugin the mouse and keyboard
Connects Android with the printer
Copy data, information from one device to another
Root and flash your phone
Install custom firmware and apk
The Bottom Line
Bypassing FRP using OTG on Android works with FRP bypass APK which is a long and complicated process. Comparatively, iToolab UnlockGo (Android) removes FRP within 3 minutes without any complicated steps. The choice is yours to choose the method that suits best your Android and unlocks your phone shortly.