If you are a business owner considering switching to a new phone, you may have doubts about transferring WhatsApp business from Android to iPhone (or vice versa). There is no native solution to transfer WhatsApp business between platforms making it rather confusing for the end user. But do not worry, as this article will show you a detailed guide to seamlessly make the transaction using a third-party solution.
Part 1. Can I Transfer WhatsApp Business from Android to iPhone
Although there is no native solution to transfer WhatsApp Business from Android to iPhone, it is still possible to assign data using third-party transfer tools. However, suppose you want to take a backup using a Google Drive or iCloud account and restore it later to your new device. In that case, it's unlikely to work between Android and iPhone as both Google and Apple have separate encryption models which are not compatible with each other. To transfer WhatsApp Business from Android to iPhone (or vice versa), you would need to use a dedicated app instead.
Part 2. The Best Way to Transfer WhatsApp Business from Android to iPhone
There are several workarounds to transfer WhatsApp Business from Android to iPhone, like transferring chats via email, but it has a number of issues. You have to send each text individually, and any media file has to be sent separately. So instead of these workarounds, the best solution for WhatsApp business transfer from Android to ios is to use iToolab WatsGo – WhatsApp Transfer app.
Below is a list of some of the features that WatsGo – WhatsApp Transfer has to offer:
Make multiple backups: Whenever you make a backup of WhatsApp business, both Google Drive and iCloud overwrite the existing backup file, making it impossible to have multiple backups with different data sets. WatsGo -WhatsApp Transfer allows you to create a local backup on your computer and gives you the ability to have a copy of backup files.
Choose the file type: WatsGo allows you to choose the type of file you want to back up or restore. For example, if you only want to back up audio, you can do that using WatsGo. Choosing a separate file is otherwise not possible in other transfer methods.
Easy to use: WatsGo allows you to connect your device to your computer, and with just one click, you can move WhatsApp business from Android to iPhone. No prior knowledge is required, and the transfer is usually fast, taking just a few minutes depending on the size of your file.
Additional data: If you have additional data about your leads, like their contact details, emails, or any group details will also be transferred. This additional information is vital for engaging with your customer.
Here is a step-by-step process for using WatsGo on your computer.
Step 1: Download and install WatsGo-WhatsApp on your computer and connect both your android and ios devices.
Step 2: From the home menu, launch the option "WA Business".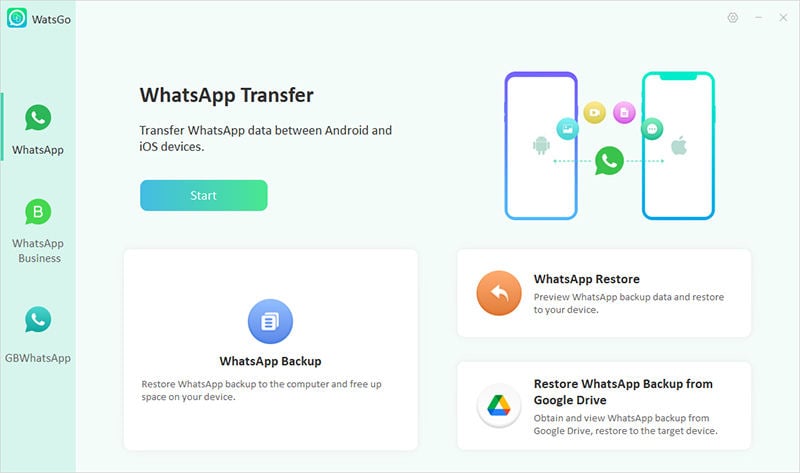 Step 3: WatsGo will detect your devices and set them as source and destination. You can flip the source and destination using the "Flip button" in the middle.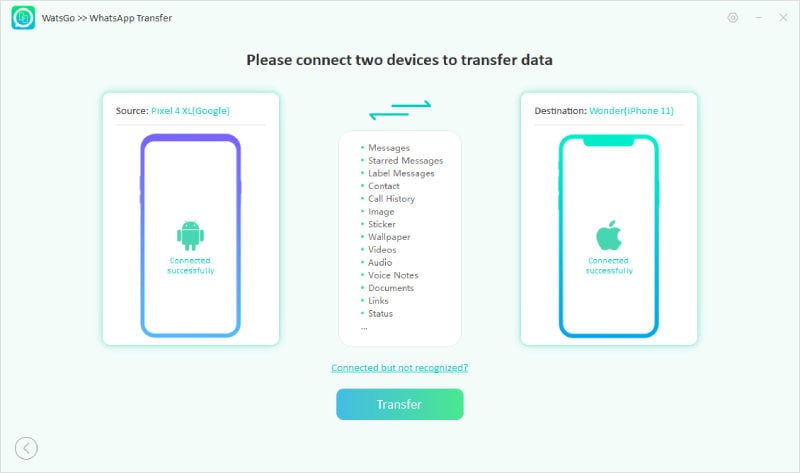 Step 4: Press the start button and wait for the transfer to finish. Depending on your file size, this can take a few minutes.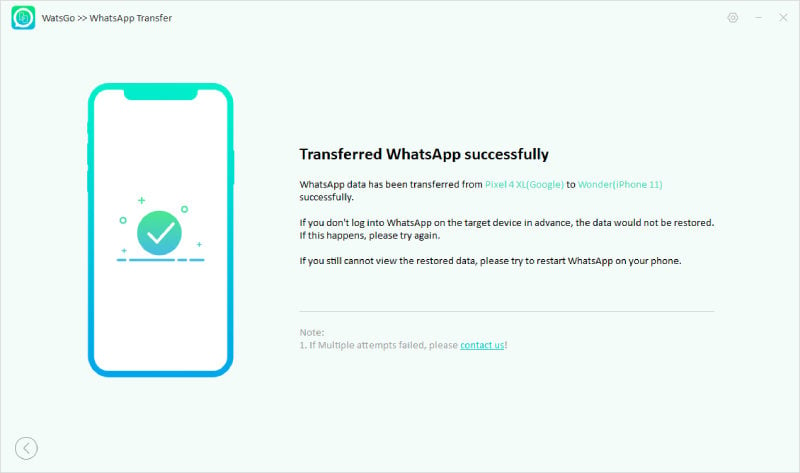 FAQs about WhatsApp Business
Q1. Can I transfer normal WhatsApp to a business account?
Yes, if you have a normal WhatsApp account and want to transfer to a WhatsApp business account, it is possible using Whatsapp's native migration feature. Click here to learn more.
Q2. Can I use WhatsApp and WhatsApp Business on the same number?
No, It's not possible to have one phone number linked to both apps at the same time.
Q3. How to change WhatsApp to a Business account with backup
To set up the WhatsApp Business app:
Step 1: Download the WhatsApp Business app from the Google Play Store.
Step 2: Verify your business phone number.
Step 3: Restore your account from a backup.
Step 4: Set your business name.
Step 5: Build your profile. Tap More options > Settings > your business name.
Q4. Will I lose my WhatsApp conversations if I change to WhatsApp Business
No, you will NOT lose your data when you change your WhatsApp account to WhatsApp business. However, you will lose your data if you go back from the WhatsApp business to a regular WhatsApp account.
Summary
Now you know how to move WhatsApp business from Android to iPhone seamlessly. Although there are other ways, iToolab's WatsGo is the best solution to easily transfer data between Android and iPhone. So, if you are a business owner, we hope our guide will help you take some of your burdens, and you can focus on finding your new device rather than worrying about platform compatibility.