Protecting your data and files has become essential for every user. Any unauthorized person with access to your computer can harm your system or your privacy. If you are thinking about using BitLocker, you need to be aware of the downside of this tool.
BitLocker is the built-in tool by Microsoft to encrypt hard disk drives, but it is too easy to crack. Apart from poor data protection, it also slows down the system after some time. That is the reason why users prefer Windows passwords over BitLocker. If you ever forgot your Windows password, here are some Windows password reset tools to crack the forgotten password.
Windows Password Reset Tool Overview
Before discussing the possible tools in detail, let's compare salient features of these tools in the form of a chart. By comparing these tools, you can see which one is more suitable for you.
| Tools Name | Pricing | Features |
| --- | --- | --- |
| UnlockGo (Windows) | Starting at $19.95 | Reset/Remove Windows Local, Admin, Microsoft, and Domain account passwords. Create/Delete Windows Local Admin, Domain Admin, Guest accounts on Windows 11/10/8.1/8/7/Vista/XP(32/64 bit) & Windows Server 2019-2003 |
| Passper WinSenior | Starting at $29.95 | Remove or reset local/domain user and administrator passwords, and delete or create a Windows account on Windows 11/10/8.1/8/7/Vista/XP |
| PCUnlock | Starting at $31 | Reset lost or forgotten admin/user password instantly on Windows 11/10/8/8.1/7/Vista/XP, Server 2003/2008/2012/2016 |
| Lazesoft Recover My Password | Starting at $27.95 | Reset Windows local/domain admin password, Retrieve product keys on Windows XP, 7,8, Vista and 10 |
| Ophcrack | Free | Brute-force attack module for simple passwords, Tables available free of cost for Windows XP and Vista/7 |
| Offline NT Password & Registry Editor (Chntpw) | Free | Small Windows password removal utility on Windows XP, 7,8, Vista and 10 |
| Trinity Rescue Kit | Free | Easily reset windows passwords with the improved windows password tool, Windows 11 is not supported, but you can try it for other versions |
| John the Ripper | Free | Reset Windows password with command prompt, Works for Windows 7, XP, Vista, 8, 8.1 and 10 |
Windows Password Reset Tool Details
Now, you have an idea about the basic functions of every tool. This section is going to discuss the given tools in detail so you can make the right decision about choosing the Windows password reset tool for your system.
1st Pick: UnlockGo – Windows Password Recovery
UnlockGo – Windows Password Recovery is a premium tool for password recovery with a competitive success rate. If you want easy to use an advanced tool, you must give it a try. Detailed Guide Here.
Pros
Easy to use and comes with an interactive interface that is easy to navigate
The success rate of the tool is quite high as compared to other tools
One tool offers almost every function that you need regarding Windows security
Even works perfectly with the latest Windows 11
Cons
A free version is available for limited functions only.
2nd Pick: Passper WinSenior
You might have seen this tool. This is quite a popular tool to reset forgotten passwords for Windows. The recovery rate is also quite good, but there are some features that could make it even better. Still, it is worth it for the common users. Detailed Guide Here.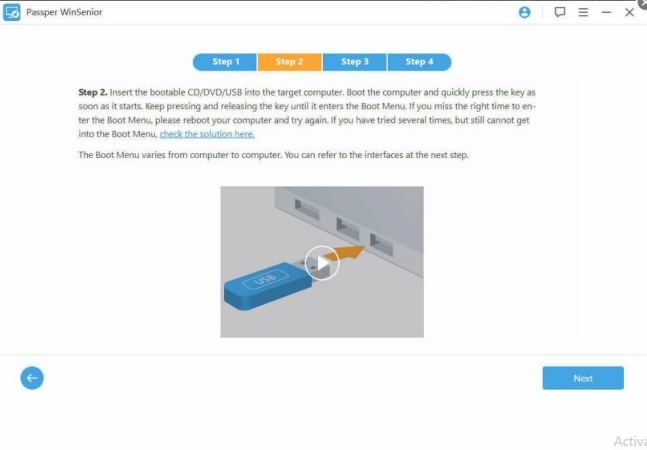 Pros
It can be used for basic password reset operations or to create a password reset disk.
Password reset speed is quite good
Different packages are available for the paid version at different prices.
Cons
This is not a free tool so you will be paying comparatively higher price
The password reset function does not work for Windows 11
3rd Pick: PCUnlocker
If you want to regain login access to your Windows system, the PCUnlocker tool can be a good choice. The standard package starts from $29.95, and it is not the cheapest, but it gets the job done. Users can also create a password reset disk with it. Detailed Guide Here.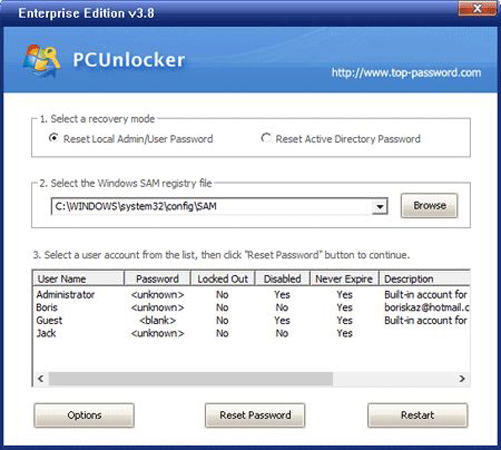 Pros
Compatible with a wide range of Windows versions
User-friendly interface that is easy to navigate
Does not require high system specifications
Cons
The demo version is almost useless and does not offer any functionality
You need to have another accessible computer to run the software
4th Pick: Lazesoft Recover My Password
Lazesoft Recover My Password is a boot disk Windows local password reset tool that offers different functions related to boot and data recovery. You can buy this tool with different licensing options, but for professional use, this is a super-expensive option. Detailed Guide Here.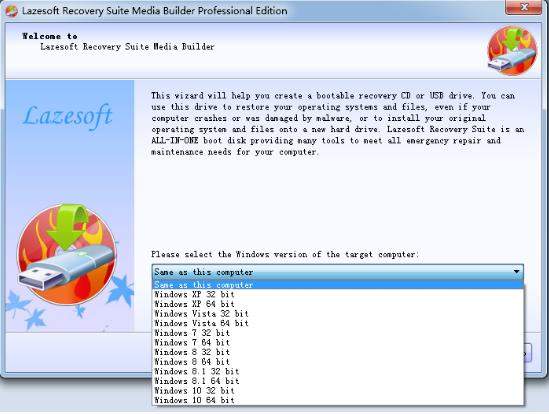 Pros
It is a simple tool that can help you to regain access to your Windows computer
Installation and use are easy for the common users
Supports older versions of Windows too
Cons
Shady security practices with no clear explanation
Functionality is quite limited
5th Pick: Ophcrack
If you don't want to invest money in password reset tools, you should try Ophcrack because it is a free password reset tool. You will find it among the best free Windows 10 password reset tools. Although the user interface is not that modern, you cannot complain as it is free. Detailed Guide Here.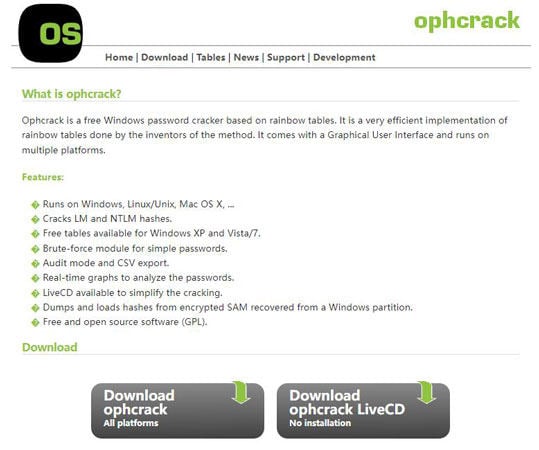 Pros
It is available free of cost
You don't need to install any heavy program for this method
It also works with Mac and Linux
Cons
You need to download a Live CD ISO image of large size
Passwords longer than 14 characters cannot be recovered
6th Pick: Offline NT Password & Registry Editor (Chntpw)
Not everyone would like to use Offline NT Password and Registry Editor as it requires certain skills and knowledge. Unlike other tools on the list, this one does not offer any graphical user interface and can be overwhelming for the majority. Common users can consider other available options. Detailed Guide Here.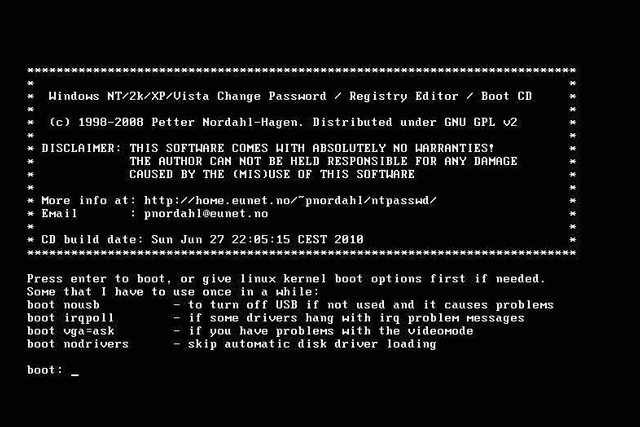 Pros
Does not require an active internet connection
It is free of cost and available for the users
Works fine for the security experts
Cons
The process is not only lengthy but complicated too
Requires strong knowledge of command prompt
Not suitable for the common users
7th Pick: Trinity Rescue Kit
There are not many free password reset tools that work great for Windows and Linux. Luckily, TRK or Trinity Rescue Kit is an amazing tool, a free Linux distribution. The newer version has made the password recovery process a lot easier; still, it does not support an interactive graphical interface. Detailed Guide Here.
Pros
A great option for Windows and Linux users
The size of the file is quite small and does not require GBs of space
There are different useful utilities in the tool
Cons
Support is almost zero as you have to figure out things on your own
The tool could be managed a lot better
8th Pick: John the Ripper
The working of John the Ripper password recovery and reset tool is quite complicated, but it is an open-source tool, so you can use it for different purposes if you are good at coding. There are different other functions too in this tool that you must check. It is free, so there is no harm in using it. Detailed Guide Here.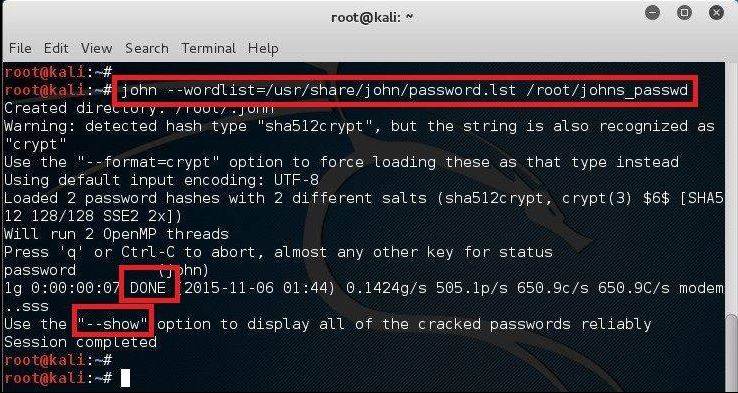 Pros
It is a free tool that can help recover the password for Windows
This is a powerful tool for security experts as it is open source
Cons
You need to login into the administrator account for password recovery
The process of using this tool is complicated
Summary
Here you have different options in the category of Windows password reset tools. Some of these tools are paid, while some are available for free. Almost every tool has some pros and some drawbacks. If we compare the options, UnlockGo – Windows Password Recovery not only offers maximum features but a better success rate too at a competitive price. If you want peace of mind and easy password recovery, give UnlockGo – Windows Password Recovery a try.