"Can I use BlueStacks to play Pokemon Go on my desktop? If yes, it is possible to spoof the location using the emulator? What is the correct method for it?"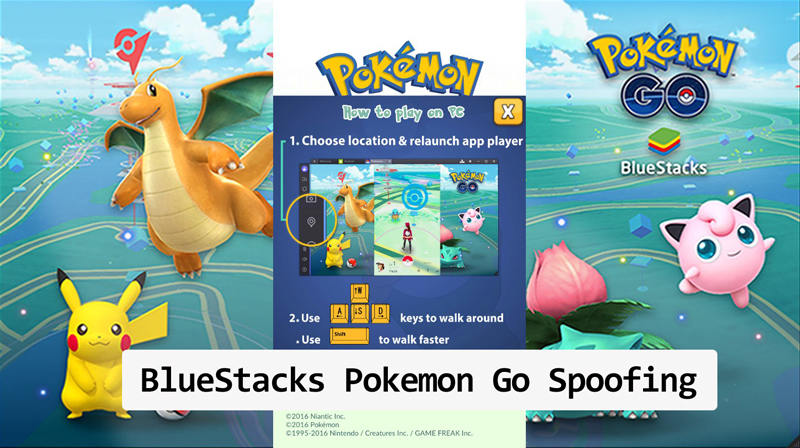 BlueStacks is perhaps the most familiar emulator that supports running Android apps on a computer. Previously, it was a complicated task to play AR-based games on the said emulator.
What is an emulator? Well, it is a third-party platform that connects with your Google account to run specific applications and games you generally access on your Android device. However, now BlueStacks has created a new platform that will make it possible to download and play Pokemon Go on PC/Mac. You'll be able to catch them all battling it out in the virtual world!
Before Spoofing Pokemon Go on BlueStacks
BlueStacks also allows you spoofing location on Pokemon Go but you have to use fake GPS app. PGsharp is a good one for Android and iToolab AnyGo is a best one for iOS/Android. With these tools, you are enable to catch Pokemon all over the world. However, here is a thing you should know: Spoof Pokemon Go location on Bluestacks may result in your account being banned.
How to Spoof Location on Pokemon Go on BlueStacks?
The primary function of an Android app emulator is to debug the apps so that they are accessible on a PC, and BlueStacks is probably the most popular out of the lot. Thanks to the recent update, you can now run Pokemon Go on BlueStacks and install a dedicated spoofing app to play the game elsewhere, where you can actually catch Pokemon and participate in raids/gym battles.
The spoofing apps I was referring to earlier are PGSharp and Fake GPS. Once one of these spoofers is added to your emulator, you can easily enable the functions of Pokemon Go. The guide to using BlueStacks for Pokemon Go is as follows:
Install the latest version of the BlueStacks emulator on the computer.

Once you run it, go to the official website of PGSharp to download the app.
Next, add the application to the emulator, and launch it.
Now, choose the year below 2000(requirement).

However, there is one issue! You can only sign in using either your Facebook account or Trainer Club ID. Why? Currently, PGSharp doesn't allow Google account login, but this issue is expected to be fixed soon!

If, while running PGSharp, you start facing the "GPS signal not found. (11)" error, then add another spoofing app to BlueStacks called Fake GPS.

Simply open the Google Play Store on BlueStacks, and search for Fake GPS. Once found, install it!
Access the spoofer, and follow the onscreen instructions to enable Developer Mode.
Under the Developer Options section, you will find the Select Mock Location button.
Tap it, and select Fake GPS from the list.

Finally, launch the Fake GPS app, and select a new location.
To end, run Pokemon Go on the emulator, and start catching new Pokemon!
Why Is BlueStacks Pokemon Go So Slow on My PC?
During the process of using this software to spoof locations in Pokemon Go, I encountered a number of problems. I had experienced crashes when trying to connect through the proxy or when I was trying to interact on this location-based game. These problems are hard to combat.
However, the only fix that appears to work was just cleaning the cache and restarting from scratch by either reinstalling the spoofers or Pokemon Go and adding the game account back. Also, restarting the emulator worked for me!
After getting past the crashing fiasco, I have also experienced the game to be lagging, and according to my analysis, the following factors could be the reasons behind the issue:
Complicated Installation Process – It is quite tricky to enable an app on any emulator; nevertheless, BlueStacks, especially if you are a person with no interest in tech. There is a chance that you might have missed a step, which is causing the game to lag or crash frequently.
System Requirements – In case you are using a low-end PC(with RAM less than 16GB), then I am afraid you won't be able to fully enjoy playing Pokemon Go on your PC. Enabling apps on BlueStacks requires you to own a high-end computer. Otherwise, the whole scenario would be a nightmare!
App Errors – There are some errors and bugs on the App, which is causing lag or crash frequently.
How to Spoof Pokemon Go Location on PC without BlueStacks
Are you an iPhone/Android user, and the BlueStacks Pokemon Go spoofing technique not working out for you? Well, in that case, you can skip the lagging emulator and instead use a third-party spoofing software, namely iToolab AnyGo, to play the game in a fast and accessible environment. This program works on Windows and Mac-based computers and offers an intuitive interface to change locations efficiently. Also, it supports the latest iPhone 14 models and iOS/Android versions.
Other than providing means to play Pokemon Go in a different area, you can also use AnyGo to keep your site hidden from anyone you don't want tracking.
Best Location Changer for Pokémon Go
168,282 people have downloaded it.
Change GPS location on iPhone/iPad in clicks (No Jailbreak).
Simulate GPS movement along any custom path with joystick.
Collect and import popular GPX route files for next use.
Mock GPS location on up to 15 devices simultaneously.
Works well with location-based social apps and AR games.
Fully support the latest iOS 16/Android 13.
Follow the steps below to quickly spoof the location on Pokemon Go with the iToolab AnyGo software:
Video Tutorial
Step 1 First, launch AnyGo on your computer. Next, connect the iPhone or Android to your desktop, and once all is set, click the Start button from the home screen.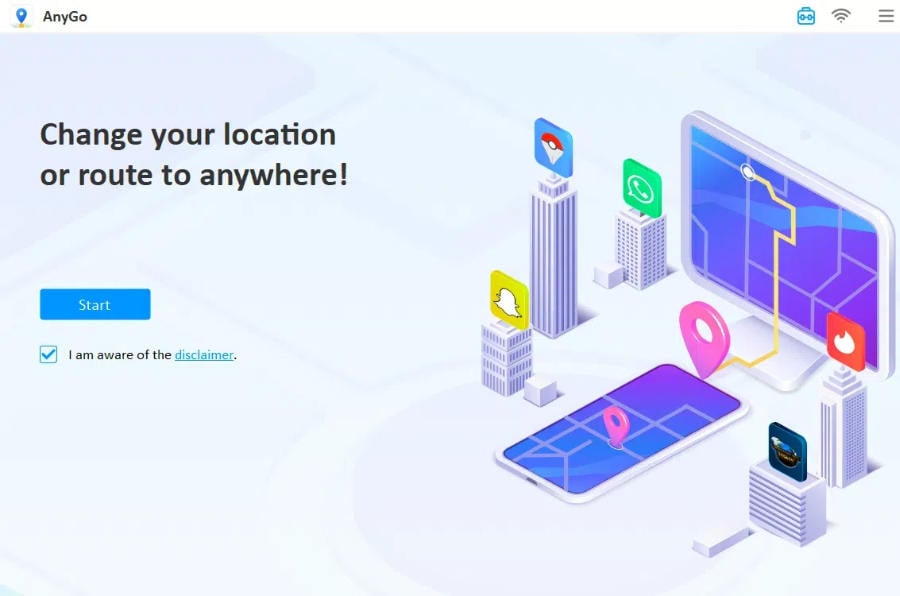 Step 2 Now, AnyGo will display a map onscreen, which will share the connected device's current location. Click the Teleport button to enter Teleport Mode. Next, go to the search bar and enter the area you wish to play Pokemon Go. Once entered, click Search.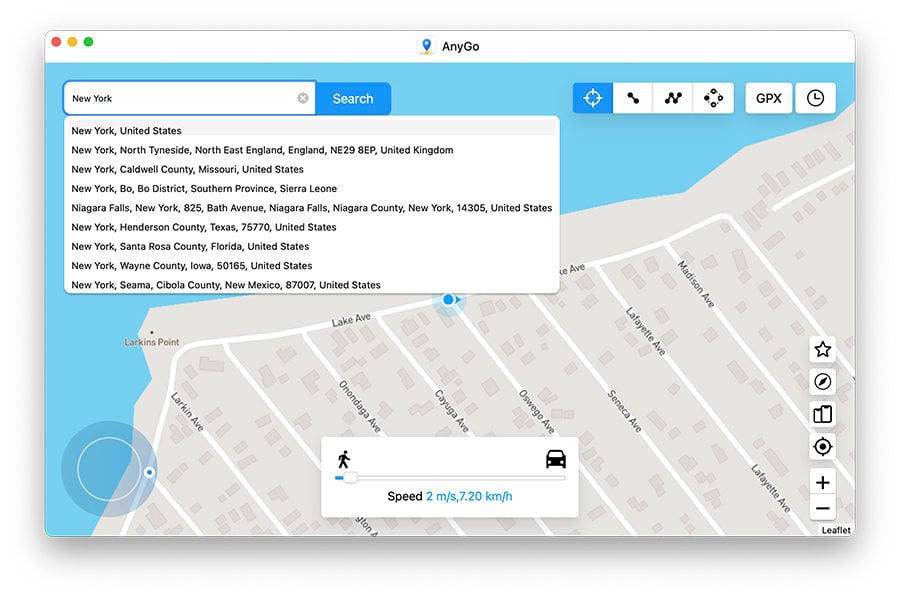 Step 3 You will instantly see the entered location on AnyGo's map. If you think the result is accurate, click Go to finally teleport there. Finally, access your device, and run Pokemon Go. You can now play the popular game in that spot!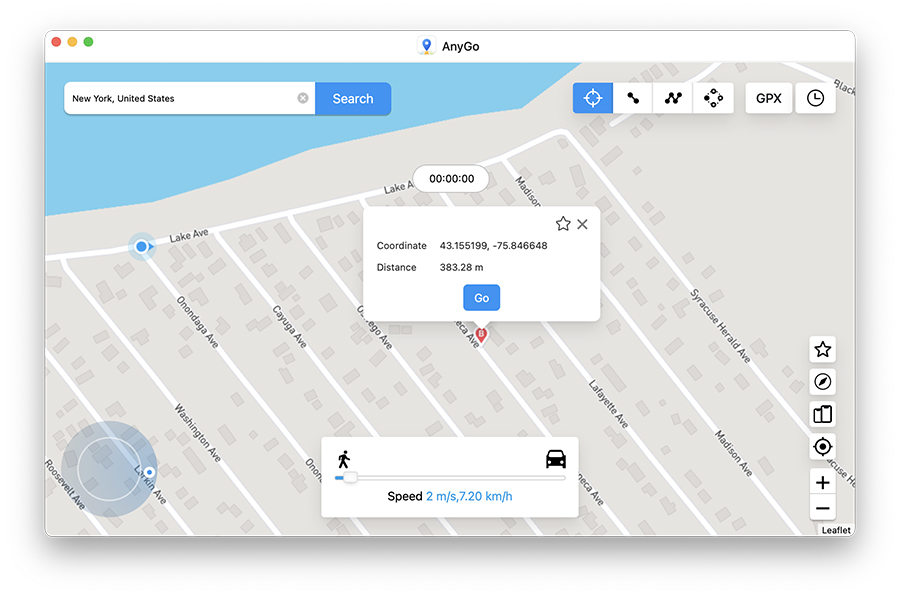 With AnyGo, you can also simulate your GPS movements with varying walking speeds to play Pokemon Go. This feature will prevent the servers from detecting you have spoofed the location or sitting on your couch at home while catching Pokemon Go. Also, the Cooldown Timer feature is handy to prevent frequently jumping to new places.
Also Read: How to Fix Bluestacks Pokemon GO Unable to Authenticate
Summary
This concludes my tutorial on enabling the BlueStacks Pokemon Go app and spoofing location using the emulator. However, if you feel that opting for an emulator is not your cup of tea due to its sluggish functionality, I recommend going for iToolab AnyGo to change your position quickly to play Pokemon Go.
Spoof GPS Location on Your iPhone/Android
Works well with LBS games and apps.
Multiple modes to fake GPS movement.
Simulate walking, cycling or driving at a variable speed.
Spoof location of multiple iPhones simultaneously.