"I want to prevent cross-site tracking as I feel it is an invasion of my privacy. What should I do to make that happen on my phone and browser?"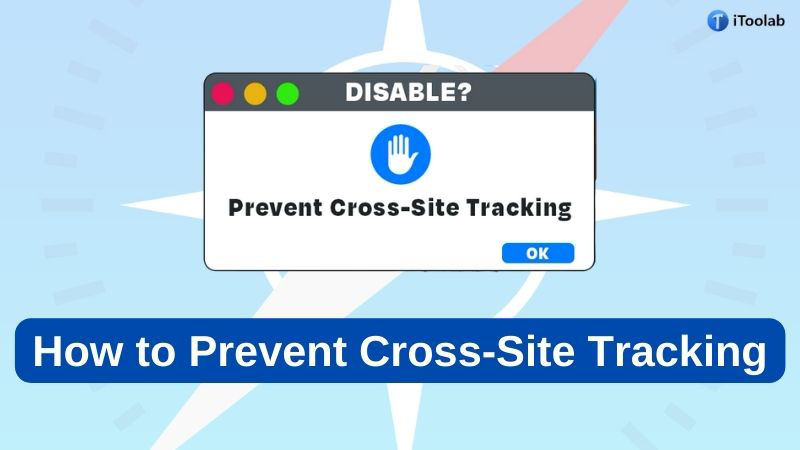 Cross-site tracking is a method of tracking online users across multiple websites in order to serve more relevant ads to those users.  Most of the time, the idea behind cross-site tracking is to build a profile of user behavior and serve advertisements based on that profile. However, for some users, this could seem like an invasion of their privacy.
So, how to prevent cross-site tracking? Well, simply follow our post as we will share the multiple ways to fix this issue for you on phones and browsers.
Part 1: Why Should We Prevent Cross-Site Tracking?
Cross-site tracking is generally done when cookies are enabled on your browser. This allows the websites to keep tabs on all your internet searches, making it efficient to display suitable advertisements in front of you.
If you are a bit concerned after reading the significant amount of snooping the cross-website tracking process does, then check out the list below. You will further understand why it is necessary to prevent cross site tracking.
1. Invasion of Privacy
This process not only keeps a record of your internet activities and personal data but also shares it with third-party cookies to display ads to generate revenue. Standard users do not know that cookies are automatically enabled on their browsers, which is why cross-website tracking is a non-consensual attack on your privacy, which should be stopped.
2. Makes the Browsing Experience Inefficient
While privacy is certainly a big issue with online advertisements, it's not the only problem. Loading content that you haven't asked for will prompt the phone's battery to drain out.
Moreover, it slows down page loading time and displays ads at odd moments, making the web-browsing experience incomprehensible. To avoid these problems, you should ensure that you do not allow cross-site tracking.
If you do not wish for your data and internet searches to be shared with advertisers, then check out the next section of this article. We will be sharing the multiple ways you can prevent cross-site tracking on not only Android/iPhone but also your web browser(PC/Mac).
Part 2: How to Prevent Cross-Site Tracking on Your Phone?
Follow the below-mentioned step-by-step guide to stop cross-site tracking from collecting your data.
1. Prevent Cross-Site Tracking on iPhone
On your iPhone or iPad, you can access the default Safari browser to disable cross-site tracking. Here is how you can prevent cross site tracking on an iPhone:
Open the iOS device's Settings menu, and tap on Safari.
From the list of options, head over to the Privacy & Security section.
Finally, disable Prevent Cross-Site Tracking.
That's it!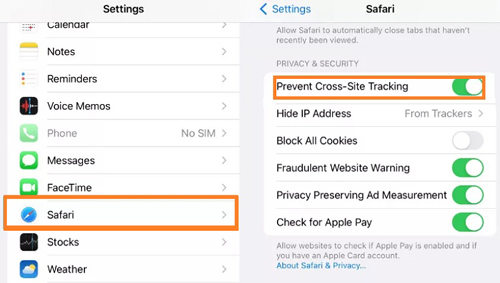 2. Prevent Cross-Site Tracking on Android
Chrome browser is the most popular app among Android users, so you would be required to turn off cross-site tracking on it to keep your data safe. The steps are as follows:
Launch Chrome on your Android device, and tap on the dotted menu button.
From the drop-down list, select Settings.
Now, tap Privacy and Security.
Choose the "Do Not Track" option next!
Turn it on!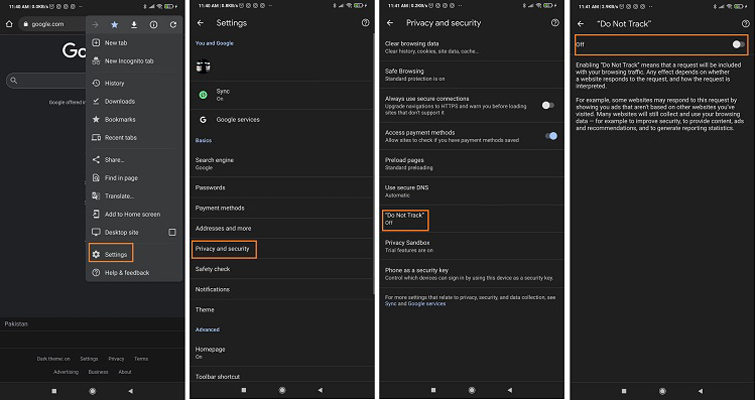 Part 3: How to Disable Cross-Site Tracking on Google Chrome?
Smartphones have taken over the world, but Windows- and Mac-based desktops are still prevalent in offices, schools, and most households. Similarly, the Chrome and Safari browsers are used by pretty much the majority of users on their computers worldwide, so you need to disable specific features on it to prevent cross-site tracking.
Here, we will be discussing how to do that on Mac and Windows:
1. Prevent Cross-Site Tracking for Mac
The Safari browser is available by default on the macOS machine. First, launch it, and then follow the instructions below to stop CST(Cross-Site Tracking):
Access the Safari browser's menu list.
There, click on Preferences, and select Privacy.
Next to the Website Tracking settings, check the Prevent cross-site tracking option.
That's it!

2. Prevent Cross-Site Tracking for Windows
On your Windows PC, you might be using the Chrome browser to scroll the web. If yes, you would want to switch off the CST settings on it to preserve your privacy. Read the following steps to learn how you can do it!
After opening Chrome on the desktop, click the menu bar.
From the list, tap Settings, and go to Privacy and Security.
Now, click the Cookies and other site data option.
Finally, switch on the "Send a "Do Not Track" request with your browsing traffic" feature.
In case you are using the default Microsoft Edge browser, then you can also turn off the tracking feature to Prevent cross-site tracking. The process is mentioned below:
From Microsoft Edge's interface, open the Settings menu.
Click Privacy, search, and services, and go to the Tracking prevention section.
Select the Strict button to block all trackers.

Recommended Solution: Spoof iPhone Location to Stop Cross-Site Tracking
There are plenty of ways to stop your iPhone from being tracked by other sites. However, if you are looking for the easiest and most robust option, then the iToolab AnyGo location spoofing software is the best. Using this simple and easy-to-use app, you can hide and fool your iPhone's actual location in order to stop Google, Facebook, and other tracking sites from knowing where you really are. The program is supported by the latest iOS 16, and it runs on your standard Windows PC or macOS system.
Spoof GPS Location on Your iPhone/iPad
Change GPS location to any destination without jailbreak.
Multiple modes to fake GPS movement.
Prevent Apps from tracking your location.
Spoof location of multiple iPhones simultaneously.
Read on and learn how to activate iToolab AnyGo to prevent cross-site tracking on your iPhone and iPad:
Step 1 Launch the program and connect the concerned iOS device to the computer. Now, from the home screen, click the Start button.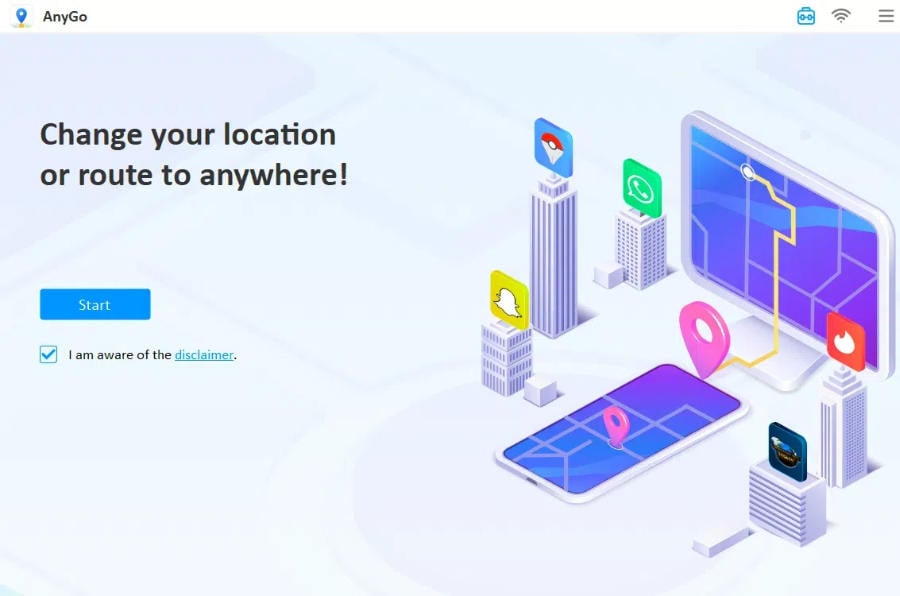 Step 2 Next, AnyGo will share the connected device's current location. If you are unsatisfied with the accuracy of the information, then click the Center On button to fix the inconvenience.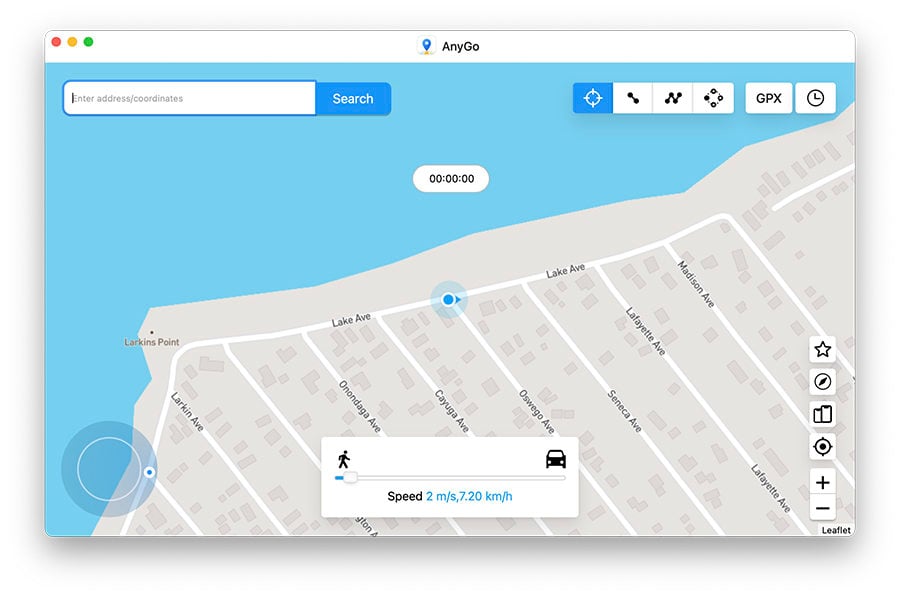 Step 3 Now, you have to choose where you wish to spoof your location. For that, click the Teleport button, and on the Search bar, provide the details of the area, region, or spot. Once done, click the Search button.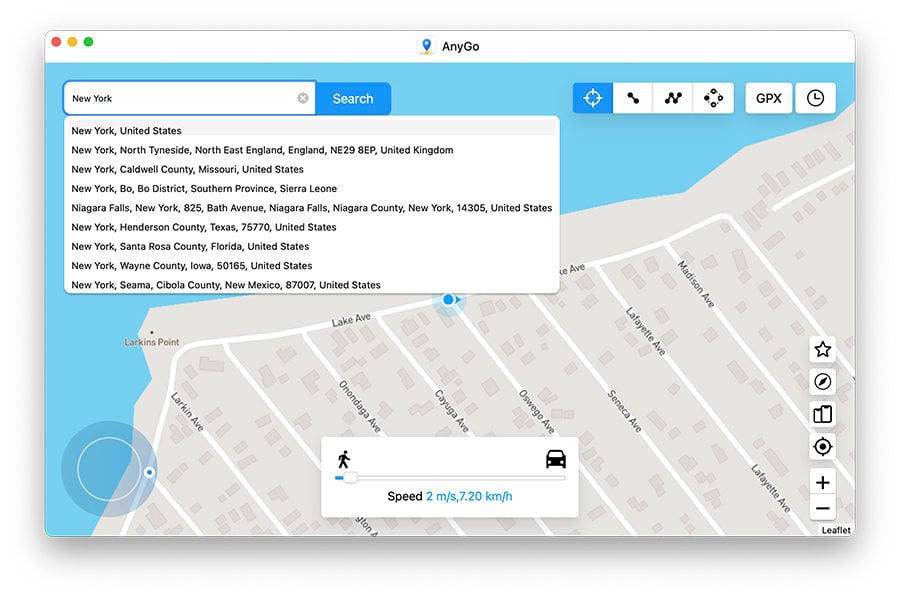 Step 4 As soon as the entered position is shared on AnyGo's map, just click on the Go tab to finally jump there. There on, no one will be able to learn your actual whereabouts, including the sites that aim to record your internet searches.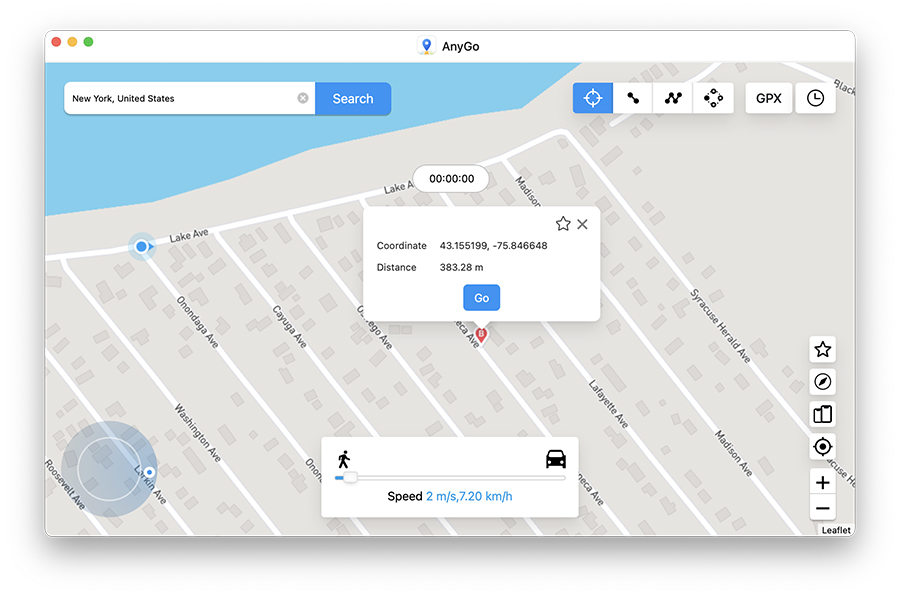 Besides preventing CST, you can use AnyGo to unlock streaming restrictions in your region, play games with fellow players worldwide, and, most importantly, control your internet privacy.
Conclusion
There is nothing more crucial for internet users than their privacy, and cross-website tracking is said to be an apparent invasion of it. So, now you know how to prevent such a thing from happening on your smartphone and desktop browsers. Though conventional methods prevent cross-site tracking, they still leave your location privacy vulnerable. It is where iToolab AnyGo comes in to fill the gap, an essential tool to stop an entity from keeping tabs on your whereabouts.