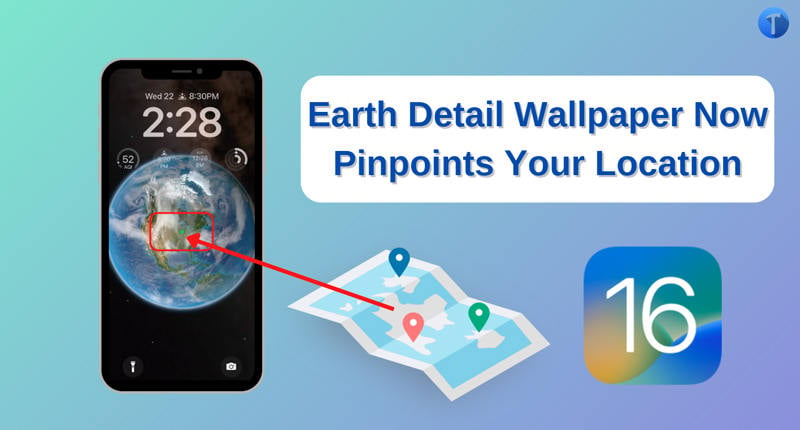 The latest iOS 16 public is now available, and the Lock Screen has the most significant upgrade. Now, you can customize it in whatever form you like, with things such as wallpapers, widgets, etc. With regards to the Earth wallpaper in iOS 16, it now shows your exact location in real-time with the green dot. This feature wasn't available with the previous updates of iOS.
So, how to set the Earth detail wallpaper on your iPhone with the iOS 16 update? To learn the solution, simply read our post, as we will be discussing the quickest way to enable the feature.
How to Set A Dynamic Earth Detail Lock Screen Wallpaper?
Apple has included a handful of dynamically updated lock screen wallpapers that show off the big things in our tiny world. For example, there is a wallpaper of the sky that can change according to what time it is or what day it is certain variables will adjust when needed, like the sun, asteroids, and other planets moving around it.
Also, the "Dynamic Moon" wallpaper changes its image depending on what phase the moon is currently in, where you are in the world and whether or not it is day or night.
Similarly, you can enable the iOS 16 Earth live wallpaper, which shows the image of our planet with your location(presented with a green dot) in real-time. No matter where you go, this wallpaper will follow you and display the position on the iPhone/iPad. Wondering how to enable this cool-looking wallpaper? Check out the step-by-step solution listed below:
Access your iPhone.
Now, press and hold the Lock Screen while tapping the blue-colored + button.
Next, a bunch of options will be available on the iPhone screen. There, press the Astronomy tab.

You can swipe the screen on the available wallpapers to preview them. You can select various options, including Earth, Earth Detail, Moon, Moon Detail, and Solar System.
Once the Earth Detail wallpaper is selected and you have previewed the changes, tap the Done button (top-right corner).
Note: If you wish to make the Earth Detail wallpaper appear on the home and lock screen, simply press the tap the "Set as Wallpaper Pair" option in the pop-up. If not, you can customize the home screen separately.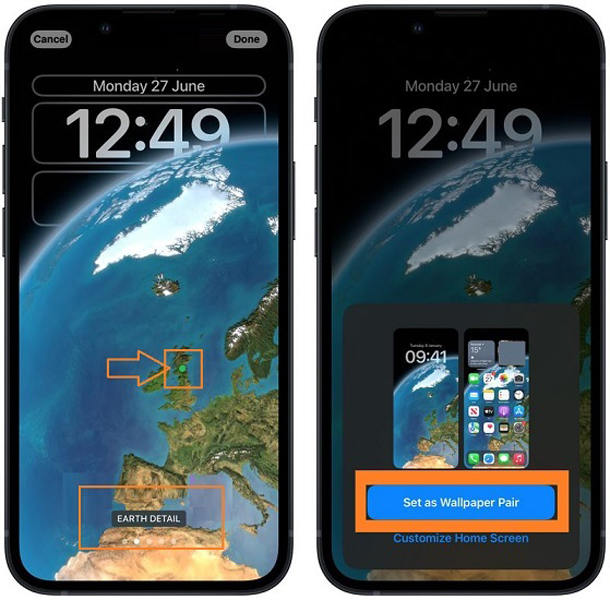 Is it Possible to Change Earth Detail Wallpaper Location on iOS 16?
So, now that you have enabled the iOS 16 Earth lock screen on your iPhone, and it finally shows your accurate position on our tiny planet, is it possible to spoof or fake that location in real-time without anyone knowing? Well, the simple answer is Yes! Using a handy spoofing software that is compatible with iOS 16, you can easily play with your location on the Earth wallpaper. But, the issue is that there aren't many programs available that currently support the iOS 16 update.
However, there is nothing to worry about as iToolab AnyGo for iOS not only is well-suited for the newest update but also runs smoothly on it, without any bugs. Unlike the public itself, which still needs some tightening up! And what can AnyGo do? It can teleport your iPhone virtually to any entered location, and the best thing is that no one will know. Also, once you change your position with this software, the Earth detail wallpaper will display the spoofed one on your iPhone lock/home screen.
Best Location Changer for iPhone
168,282 people have downloaded it.
Change GPS location on iPhone/iPad in clicks (No Jailbreak).
Simulate GPS movement along any custom path with joystick.
Collect and import popular GPX route files for next use.
Mock GPS location on up to 15 devices simultaneously.
Works well with location-based social apps and AR games.
Fully support the latest iOS 16/Android 13.
While this is all fun, AnyGo for iOS also bypasses geo-restrictions to enable you to access specific streaming platforms and to play games, such as Pokemon Go in another region. You can download/install this app on your iOS device to initiate the location spoofing process.
The steps are mentioned below:
Video Tutorial
Step 1 First, run the program on your computer. Next, connect your iPhone with iOS 16, and the Earth wallpaper enabled to the system as well. Once the home screen is displayed, launch the app!
Step 2 Here, the app will share your device's current location. You can enter the virtual location on the search box.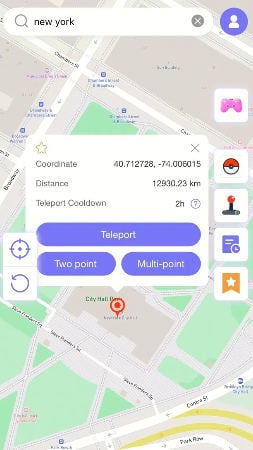 Step 3 Next, tap "Teleport" on the map and your iPhone location will be changed to the specific virtual location. You will notice that the Earth wallpaper on the lock screen will also display the spoofed location.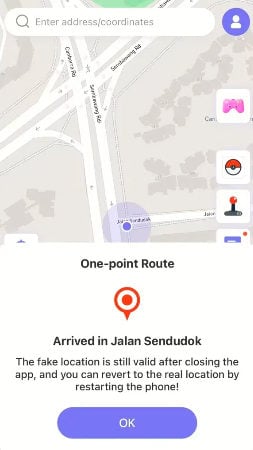 Also Read: iOS 16: How to Change Location on iPhone?
AnyGo for iOS is incredibly easy-to-use and keeps your privacy in your hands. This way, you can control who can know your current whereabouts and who shouldn't! So, what are you waiting for? Try it today!
Simply copy and paste the following code before purchasing iToolab AnyGo for iOS to get 10% off the original price:
iToolab AnyGo Coupon 🛒🛒🛒
10% OFF iToolab coupon code for iToolab AnyGo for iOS
-10% 100%
You May Also Ask Related to iOS 16 Earth Wallpaper
iOS 16 public offers tons of features, which instantly make the users excited. However, whenever a new thing is introduced, it leaves more queries than solutions.
Nevertheless, we have compiled this FAQ section just for this scenario. We hope that it will answer any issue that you have related to the wallpaper and lock screen customization on the iPhone.
Q1: How to Turn Off Location on The Earth Wallpaper?
This process isn't hard! You only have to access the Location Services menu from Settings and there switch off the Astronomy tab. Also, you can enable the Earth wallpaper on older iOS devices(compatible with iOS 16), such as iPhone 8, iPhone XS and iPhone XR.
Q2: How to Customize iPhone Lock Screen on iOS 16?
The exciting aspect of the iOS 16 update is that it lets you customize the device according to your preferences.
On your iOS 16 device, press and hold the Lock Screen.
Next, press the + icon(blue-colored) in the bottom right corner.
Here, you will be required to select a wallpaper. Simply swipe left or right to view the options.
Tap the + button under the Time tab to choose Widgets.
A list of options will be displayed under the Time to select widgets(You can insert up to 4 small widgets/2 small and 1 medium/2 medium widgets in the Lock Screen area).
Subsequently, you can customize the font and color of the Time.
Also Read: How to customize the Lock Screen on iOS 16
Final Thoughts
The Live Wallpapers feature is a late addition to the iOS platform as Android users have been using it for quite some time now. However, it is better late than never, and with the iOS 16 update, you can personalize the lock screen with such wallpapers. One of them is the Earth detail wallpaper, which displays your current location. After following our post to the end, we hope you can easily set up this attractive Astronomy-based wallpaper on your device.
Suppose you want to change your location on the lock screen without ever leaving your house. In that case, we recommend giving iToolab AnyGo for iOS a try!