"How to do Pokemon Go GPS spoof with no root & jailbreak? I wish to spoof my device's location while playing Pokemon Go to access different rewards and utilize other opportunities. However, all Pokemon Go spoofers that I have come across require me to root or jailbreak my phone. Is it possible to do Pokemon Go spoofing without root/jailbreak?"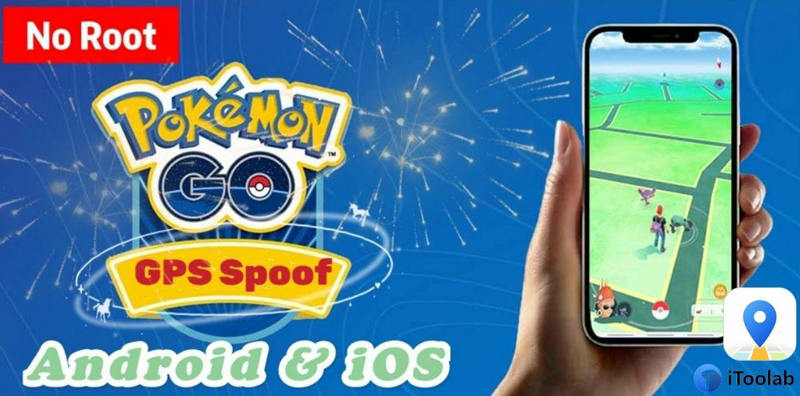 If you are an Android user trying to play Pokemon Go in a different location, you need to root the device for the conventional spoofing tool to work. However, some techniques are still available that prevent you from rooting the phone and teleporting its location to whatever region you like. This post will dive into those solutions and discuss how you can perform Pokemon Go spoofing without root.
Top 5 Ways for Pokemon Go GPS Spoof No Root [Android]
Here are the best methods available to allow you to do Pokemon Go GPS spoof without root on Android.
1. Fake GPS Location
Pokémon Go is a popular game where players use real locations to capture imaginary creatures. However, the Fake GPS Location app can take you to virtual areas while playing without rooting the phone, allowing you to gain more rewards.
Pros
Easy to use
Accessible on all modern Android devices
Cons
Glitches frequently
The app has compatibility issues with Samsung Note 20
2. Fake GPS Location – Hola
Hola is a GPS location that lets you play Pokemon Go without root. It is quite convenient for game users. Anyone with minimal experience or no technical knowledge can easily navigate the interface and change their Android device's locations.
Pros
Simple
Multiple locations available
Cons
Regularly using this tool can lead to a ban on Pokemon Go
3. NordVPN
A VPN is generally the go-to platform for a user to hide their current location and jump to any location they like by connecting to a server offered by the VPN. Though many options are available on the internet, NordVPN can spoof your position while playing Pokemon Go, and you won't have to root the device.
Pros
Reliable
Thousands of locations are available
Cons
It doesn't always work
4. Mock GPS with Joystick
Using this app, Pokemon Go players can now get the most out of their gameplay. The "Mock GPS with Joystick" enables you to change your location without any hassle, making it a popular choice among customers looking for an easy waypoint while exploring new environments in Pokemon Go.
Pros
The joystick feature is a standout
It doesn't take much storage
Cons
Maintenance issues
5. Fake GPS GO Location Spoofer Free
This application allows you to perform a Pokemon Go GPS spoof with no root requirement. It also offers several virtual locations to pick and play the game easily. Moreover, the app lets you create game routes and additional spoofing options to get ahead of other trainers.
Pros
Cooldown chart to avoid getting banned
Integration with other apps
Cons
Too many ads
Frequently crashes
Highly Recommended: Pokemon Go GPS Spoof No Root [iOS]
Now that we discussed the Pokemon Go spoofing without root, the next step is sharing information on how to teleport iPhones without jailbreaking them. We recommend using the handy spoofing program iToolab AnyGo, available on Windows and macOS, to teleport to any global spot you like and play Pokemon Go with new friends.
With AnyGo, you can simulate the game movements across a specified route automatically or using the Joystick feature, which lets you access new PokeStops and Gyms. The platform is accessible on every modern iOS device and has an intuitive interface that while teleportation process simple.
Spoof GPS Location on Your iPhone/iPad
Works well with LBS games and apps such as Pokémon GO.
Multiple modes to fake GPS movement.
Simulate walking, cycling or driving at a variable speed.
Spoof location of multiple iPhones simultaneously.
The steps to use iToolab Any spoofer to play Pokemon Go are listed here:
Teleport to any locations easily without moving.
Step 1: Connect the iOS device with your computer and at the same time launch AnyGo on it as well. Once the program opens, click on Start and proceed further.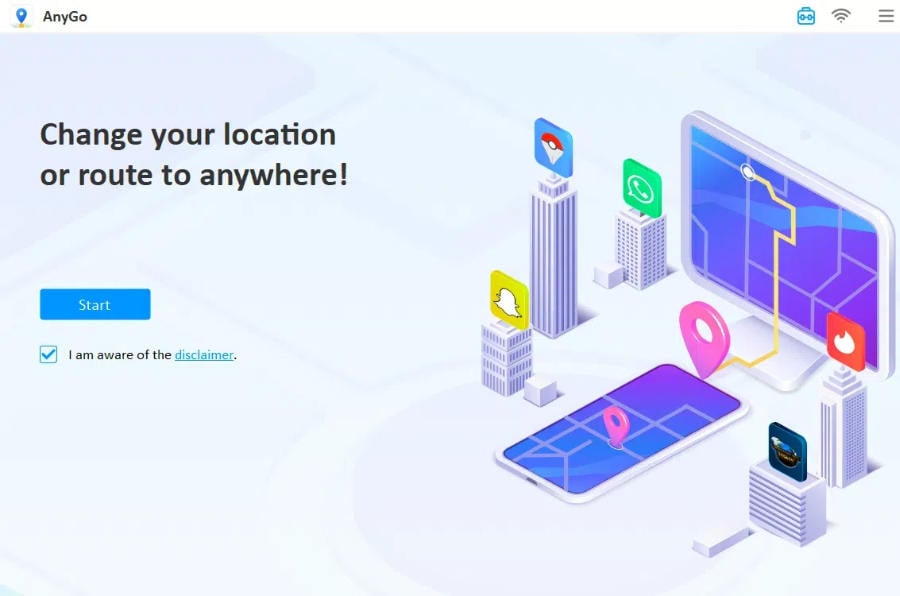 Step 2: Next, click on Teleport. Head over to the search bar on the top-left corner to enter which location you want to teleport to. Finally, press Search and move on to the next step.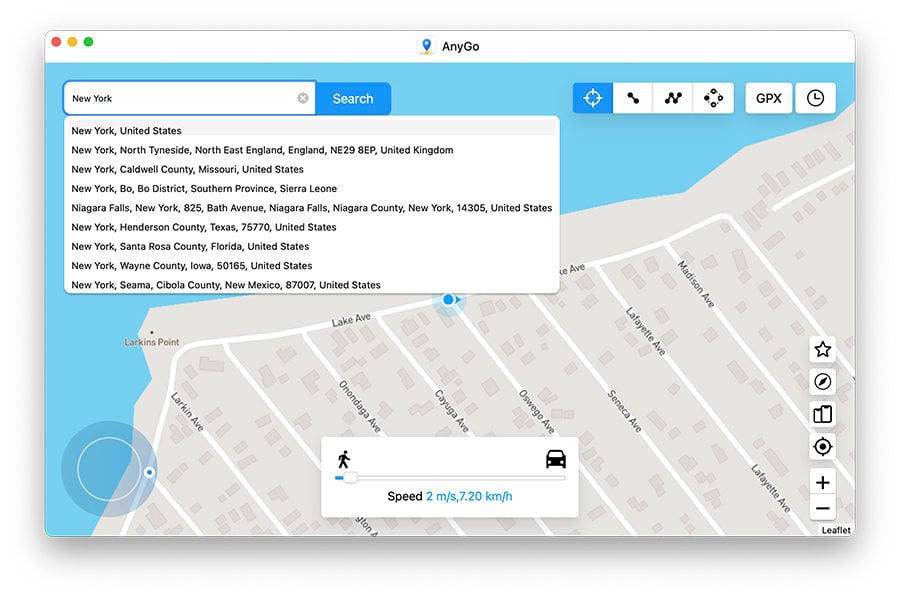 Step 3: Lastly, click Go, and access the spoofed location.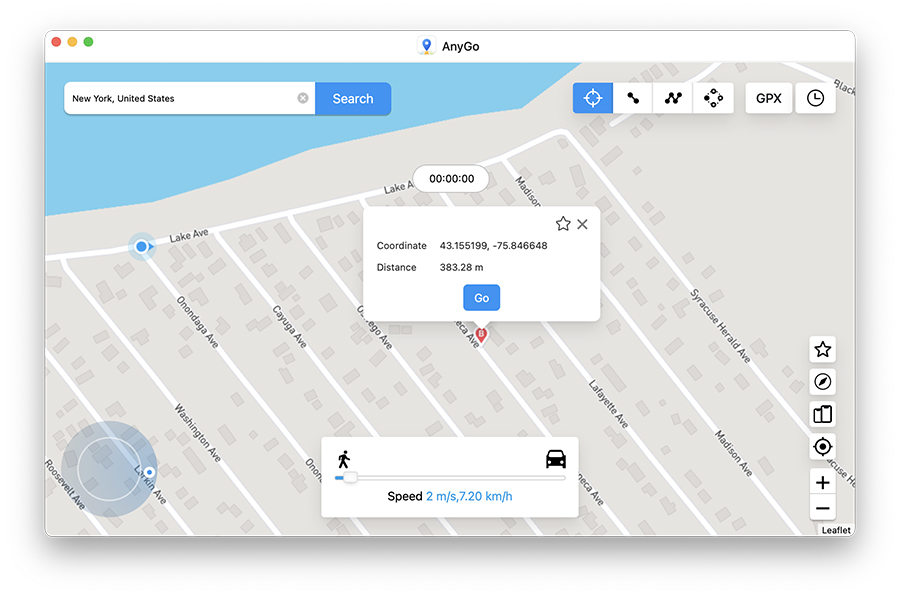 Simulate movement along a specified route:
AnyGo lets you select two locations and provides the means to simulate GPS movement between them to play Pokemon Go. Here's how you can perform the activity:
Step 1: Follow the same procedure mentioned in Step 1 from the previous section, and click on Start. Next, select the Two-spot or Multi-spot route button, and select the locations. After that, choose your walking speed or enable the Realistic Mode so that AnyGo can automatically change the pace.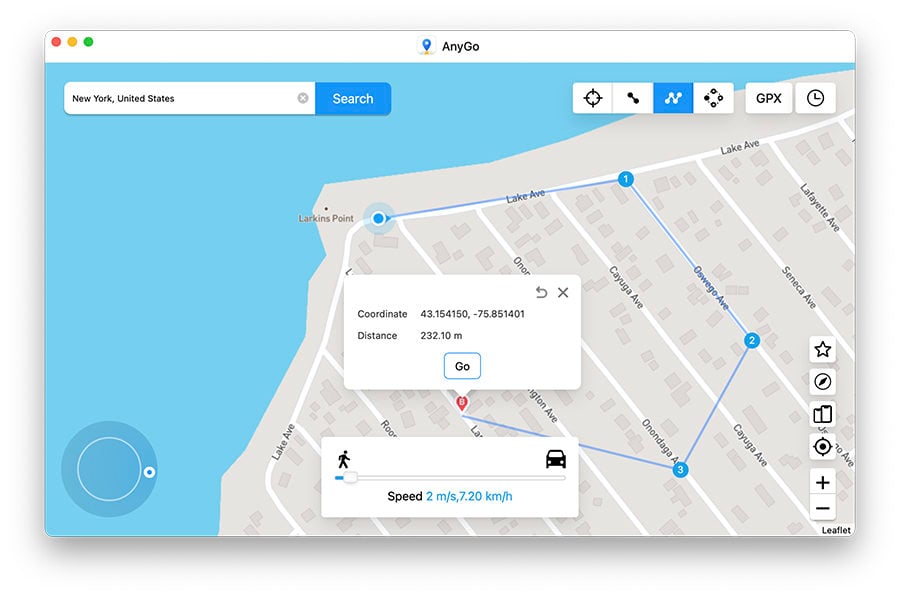 Step 2: Now, choose how many times you want to walk between the selected locations before clicking Go.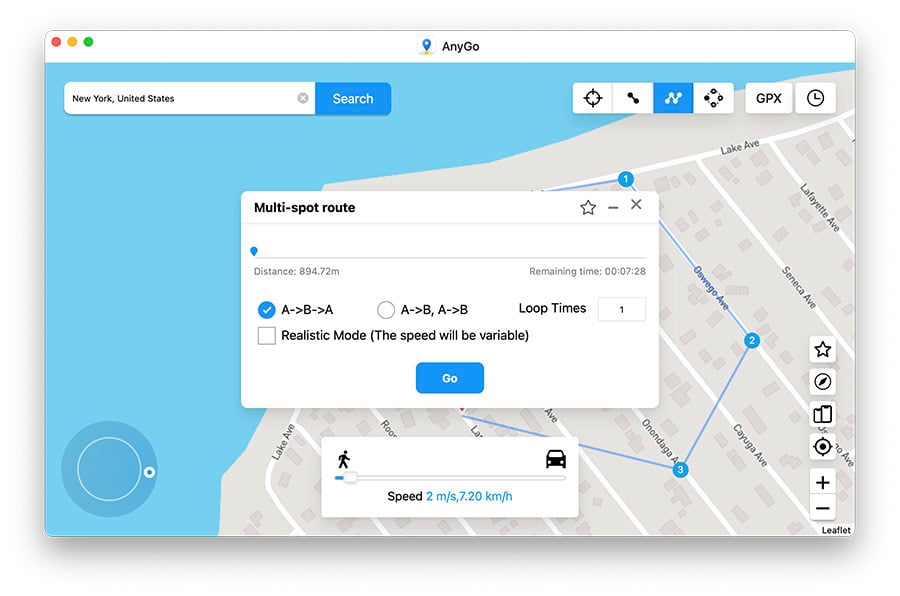 Best Tip: How to Prevent Being Banned When Spoofing Pokemon Go?
Spoofing is convenient, but there is always a chance that excessive use of the spoofer can lead to getting banned from playing Pokemon Go. Here, we will share some information on how to prevent such an inconvenience.
1. Don't Jump Your Location too Frequently
It could get quite frustrating when you jump to a new location to play Pokemon Go and do not find the required Pokemon. In such a case, you could try to teleport to various locations in a short span, which could lead to a soft ban. For that reason, we suggest patience is the key, and you should avoid changing the location too often.
2. Set Your Movement Speed Wisely
Some users set unrealistic walking speeds using the spoofing tool. Such action usually alerts Niantic to take action and ban the account. We suggest setting realistic movement speed while playing Pokemon Go.
3. Do Not Use Bots
The use of bots to collect Pokemon in Pokemon Go is against the rules and can get your account permanently banned. So, please do not use them under any scenario.
Using AnyGo's Cooldown Timer, you can wait for the predefined cooldown time with seconds between actions. This feature helps avoid being banned in Pokemon Go, where there is a timer, and it will not allow players to teleport continuously.
Another special function available through this program is Realistic Mode, which simulates walking at variable speed so that Niantic remains clueless about your activity.
Conclusion
Now you know which platform to use on your Android phone to do Pokemon Go GPS spoof without root. It is up to you which option you find the most suitable. However, if you happen to use an iPhone/iPad, then do not worry; just opt for iToolab AnyGo and teleport to any location of your choice instantly. If you find this guide valuable, then share it with fellow Pokemon Go players and play it all over the world.