If you've grown up watching and fanboying the Walking Dead TV series, you are most likely to be in love with Walking Dead: Our World as well. It's an AR-based first-person shooter where you have to save the world from a Zombie apocalypse by shooting Zombies in your nearby area. Within the game, you can rescue victims, build shelters, and acquire new skills to lead the world in a Zombie-threatened world. Of course, all these features require location access, which makes Walking Dead: our world a location-based AR game.
And, like any other location-based game, players are always looking for ways to spoof location in Walking Dead: Our World as well. If you're one such player, continue reading. In this guide, we'll take a look at how to spoof walking dead our world location and enhance your overall gaming experience.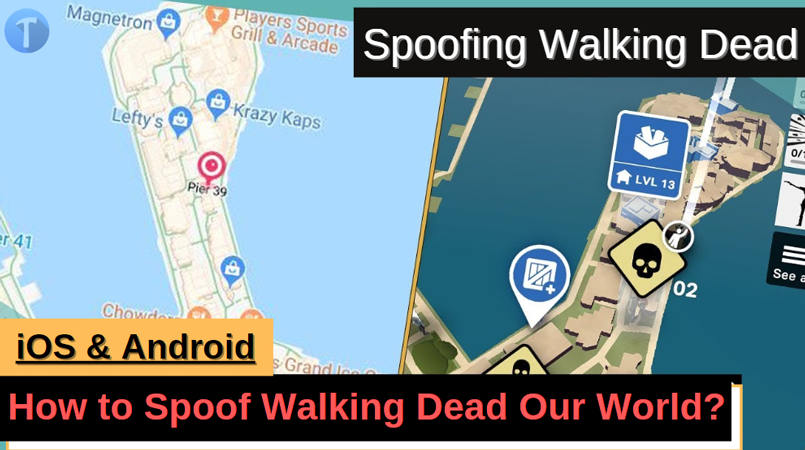 So, without any further ado, let's dive in.
Why People Want to Fake GPS in The Walking Dead Our World?
Now, before we talk about the steps to spoof location in Walking Dead: Our World, let's first understand why someone would want to change their location in the game. To tell you the truth, each individual has his own reasons behind spoofing Walking Dead: Our location. However, the most common reason is the ease of access. When you change your GPS location in the game, you don't have to move around to kill the zombies. You can simply jump from one location to another and keep shooting the zombies in different areas – all this without stepping outside your house even once.
Another reason why players want to spoof location in the game is to deal with COVID-19 lockdown curbs. Since the pandemic has again started to seep into different countries, governments have started to implement lockdown curbs in various cities.
These curbs are going to restrict players from going outside and enjoying their regular gameplay. But, by simply spoofing their geolocation in the game, they can continue playing Walking Dead, even if they are not allowed to go outside.
How to Fake GPS in Walking Dead Our World iOS?
Irrespective of why you want to fake GPS location in Walking Dead: Our World, if you own an iDevice, we recommend using iToolab AnyGo for the job. AnyGo is an exclusive geo spoofing application that's tailored to help users manipulate their iPhone/iPad's GPS coordinates with a single click. AnyGo comes with three different geo spoofing modes, i.e., 2-spot movement, multi-spot movement, and dedicated GPX route integration.
You can choose any of these modes and devise a custom movement path on the map to fake your entire movement. One of the biggest advantages of choosing AnyGo for spoofing walking dead our world location is its ability to configure a customized movement speed.
✨Features
✅ Works well with Location-based AR Games without walking.
✅ Change GPS locations with teleport or jump mode on iPhone/iPad.
✅ Simulate GPS movement along any custom path at natural speed.
✅ Spoof location of multiple iPhones simultaneously.
Let's quickly walk you through the detailed procedure of using iToolab AnyGo to spoof your geolocation in Walking Dead: Our World.
1. Change Location to Any Place in The World
Step 1 Install and launch AnyGo on your system and then connect your iDevice to the computer. Then, click on the "Start" button to get started.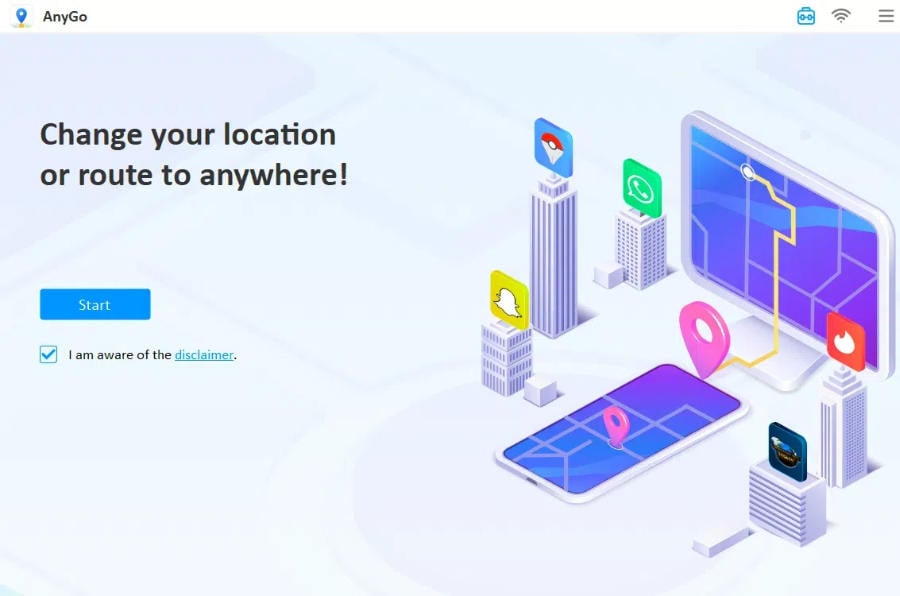 Step 2 A map will appear on your screen and you'll see your current location being highlighted. At the top right corner, switch to the "Teleport Mode" to proceed further.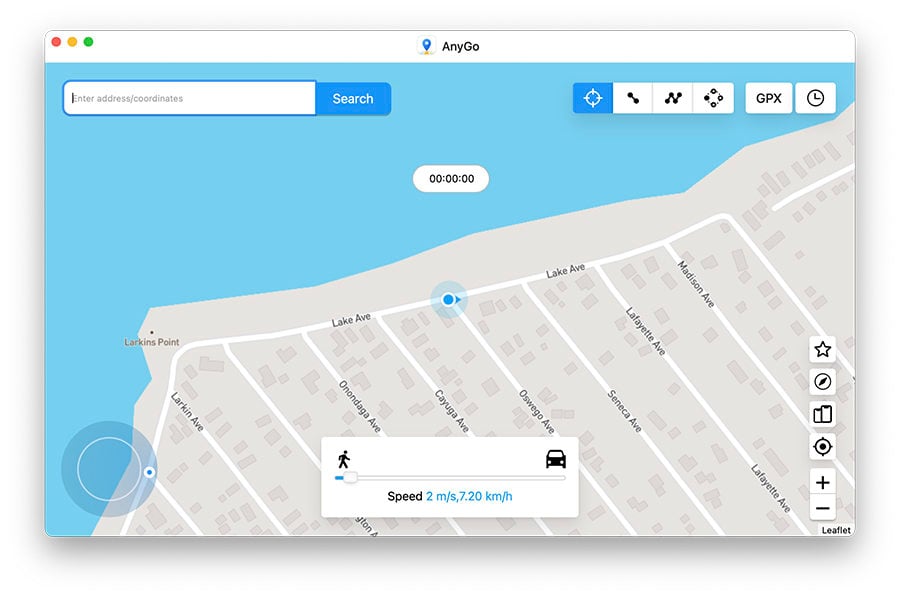 Step 3 Now, in the top search bar, enter the location name that you want to set as the current location and click the search button.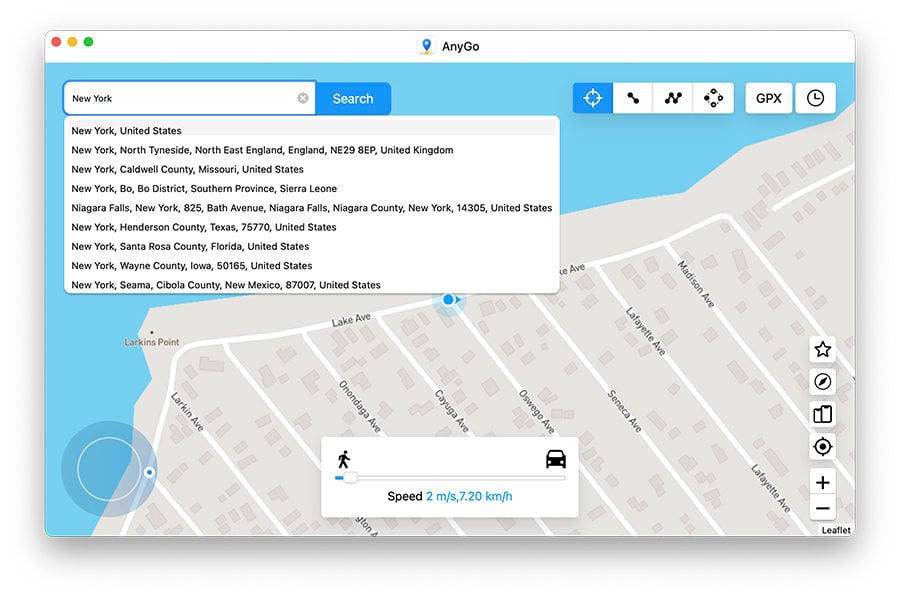 Step 4 The pointer will automatically move to the selected location. Simply click the "Go" button and your phone's location will automatically change to the selected location.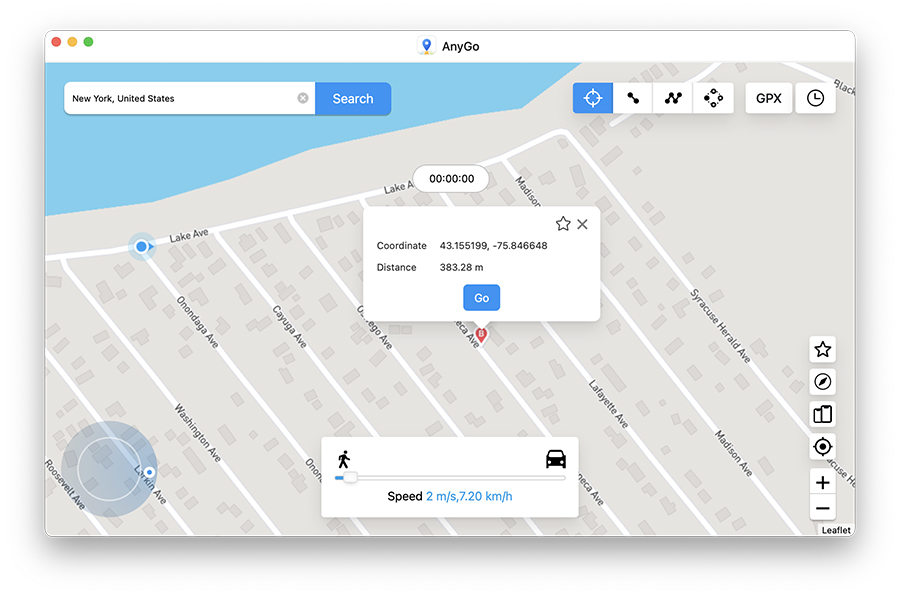 2. Simulate Movement along A Specified Route
Apart from changing your location to a particular place, you can also use AnyGo to fake your GPS movement in the game. While there are different modes to get the job done, we'll be showcasing the steps to simulate movement between two specific points.
Step 1 Launch AnyGo and repeat the same procedure to connect your device to the system.
Step 2 This time, select the "Two-Spot" mode at the top-right corner and then, select the place where you would like to move.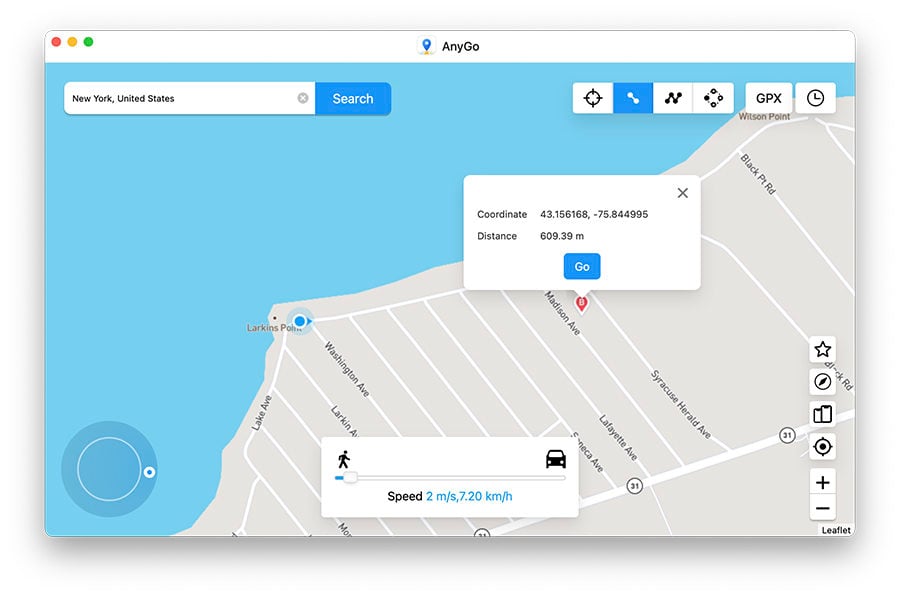 Step 3 Again, a dialog box will appear on your screen. In this dialog box, select the number of times you would like to move between the selected points and then, click on "Go" to initiate the GPS simulation.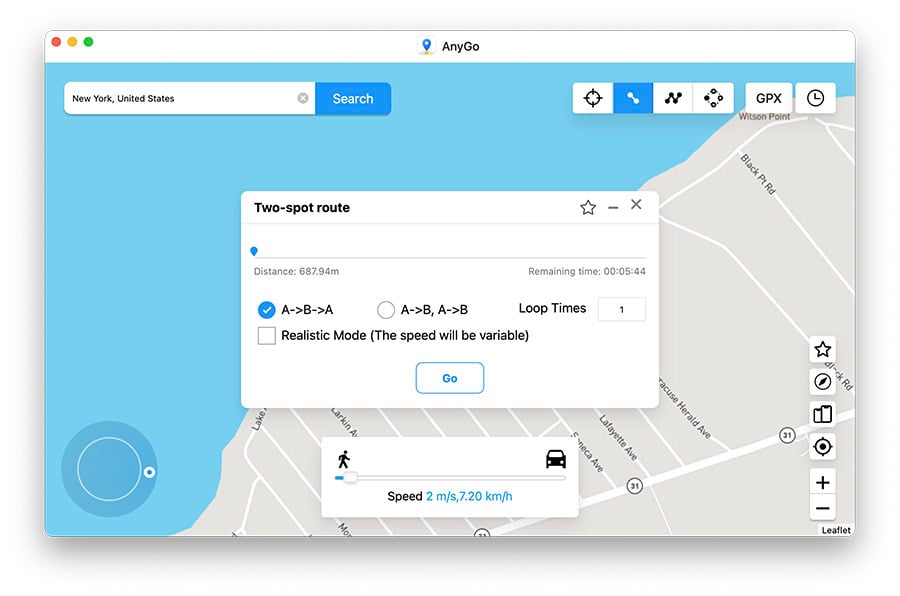 That's how to spoof Walking Dead: Our World location using iToolab AnyGo on your iPhone or iPad.
How to Spoof Walking Dead Our World Android?
Like iOS, you can also use a geo-spoofing application on your Android devices. The Google Play Store is stacked with dozens of GPS spoofing tools for Android that'll allow you to change your location on any Android device and play Walking Dead with a fake GPS location.
Follow these steps to spoof Walking Dead Our World location on an Android phone.
Step 1: On your Android device, go to "Play Store" and search for "Fake GPS Location". Then, click the "Install" button to install this spoofing app on your device.
Step 2: Now, to use a spoofing app on Android, you'll first have to configure mock location settings through the Settings window. To do this, go to "Settings>Developer Options" and click on "Mock Location App". Select "Fake GPS Location" from the list and this app will automatically get configured as the default geo spoofing app for your device.
Step 3: Now, launch the application and use the search bar at the top of the screen to find a particular location on the map.
Step 4: Once the pointer moves to the desired location, click the "Play" icon at the bottom-right corner and your phone's location will change automatically.
Hot FAQs about The Walking Dead Our World
Q1: Can you spoof The Walking Dead our world?
Yes, you can easily spoof the Walking dead our world location on both iOS and Android. To do this, you'll need dedicated geo spoofing tools that come with the Teleport mode and allow users to change their current GPS location to anywhere in the world.
Q2: How do I move around the world in Walking Dead?
Now, if you want to move around in Walking Dead Our world, you'll need a geo spoofing tool that also allows users to fake their GPS movement. Ideally, this is possible with the GPS Joystick feature that's designed to let users control their GPS movement on the map. iToolab AnyGo is one such spoofing application that you can use to configure multiple spots on the map and fake your GPS movement between them.
The Final Words
That wraps up our guide on how to spoof Walking Dead our world location on Android and iOS. It doesn't matter if you are an avid Walking Dead player or a simple weekend warrior, this guide would help you fake your GPS location in the game and kill hundreds of zombies from different cities. The best part is you won't even have to walk a single step to shoot all these zombies.
iToolab Sitewide Coupon 🛒🛒🛒
10% OFF iToolab coupon code for iToolab AnyGo
-10% 100%