What should I do if Google locked me out of my phone?
Google locked your phone for many reasons. It often happens when you buy a second-hand Google locked phone that was locked by the previous owner or even Google locked your phone if you forgot your Google account or password. This is an FRP lock that can't be unlocked without your Google account.
Luckily, you are at the right place. Here we gather valuable methods and techniques to unlock a Google-locked phone. So, don't miss out!
Part 1: What's the Google Locked Phone Meaning
What is a google locked phone?
When a Google Account Verification is activated on a device, it locks your phone until you enter the original Google account and password to complete the setup process. It is an FRP (Factory Reset Protection) lock to secure your device from data removal or factory reset, in case if your phone is lost or theft.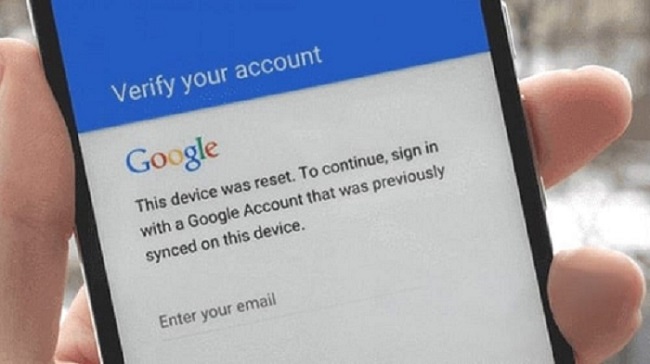 This security feature provides an extra layer of protection to your device, including screen locks and cryptic data. When the abnormal factory reset occurs on your phone, FRP lock is activated and your screen shows a message that this device was reset, sign in with a Google account that was synced previously to continue.
Another scenario is that the phone owner locked the device remotely with Google Find My Device to protect private data. That means you got a lost phone.
Also Read: How to Track Stolen Android Phone
Can a Google locked phone be unlocked?
The answer for "Google locked my phone" is YES, you have to unlock it with your Google account and password or make every attempt to find the password. The best option is to unlock your Google-locked phone with a professional tool that easily unlocks your phone in a few minutes. We will discuss it in Part 2. So, hang on! To catch the more proven methods that help you to bypass the Google verification page to complete the setup process.
Part 2: How to Unlock a Google Locked Phone without Google Account
Google will ask you for further verification of your account so you can't get past without your previously synced email and password.
So, wonder how to unlock Google locked phone without password? I am going to share with you the most powerful tool iToolab UnlockGo (Android) which solved the issue professionally in a few clicks. UnlockGo for Android should in the top list of Samsung FRP bypass tool supporting all Samsung devices (phones and tablets). Let's take a quick look at what it can do for you.
3 MIN FRP Bypass Android 12-5
Remove Google account from Samsung without password or PIN
Remove all Android screen locks, PIN, password, pattern, fingerprints, face lock
Unlock Samsung screen lock without data loss
Covers over 15 mainstream brands, 2000+ Android models
Video: How to break a Google locked Samsung phone
Step-by-step guide to get into a Google locked phone
Step 1: Connect Your Samsung device with PC
Before connecting, please download and install UnlockGo for Android on your computer. After that, connect your Samsung phone with a PC via USB. Open UnlockGo (Android) and choose the option Remove Google Lock (FRP) on your screen.
Step 2: Choose the latest solution
Click the START button to confirm that you want to bypass Google lock on Samsung device. Select the first option and click NEXT.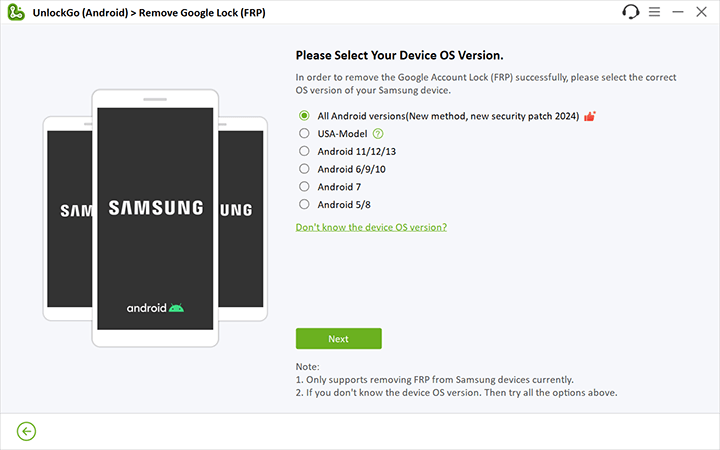 Step 3: Use the master code to unlock any Samsung phone
After selecting the bypassing solution, UnlockGo (Android) allows you to enable USB debugging that the device is ready to be unlocked. Keep your phone connected to your PC to complete the process seamlessly.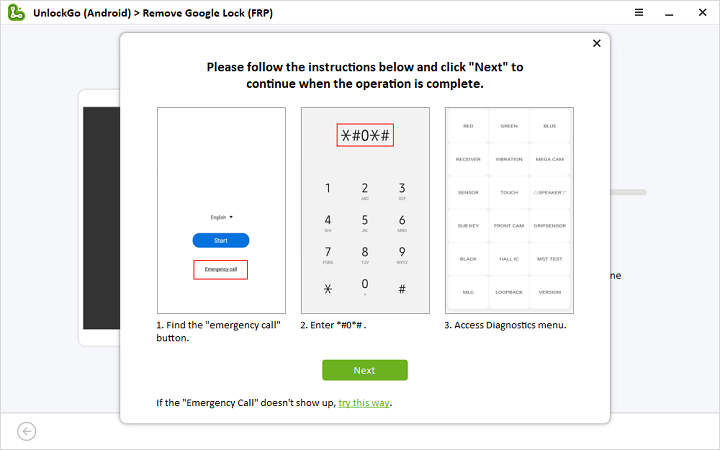 Step 4: Reboot your Samsung device
Once the process is finished, restart your device. Now, you unlock Google locked phone successfully.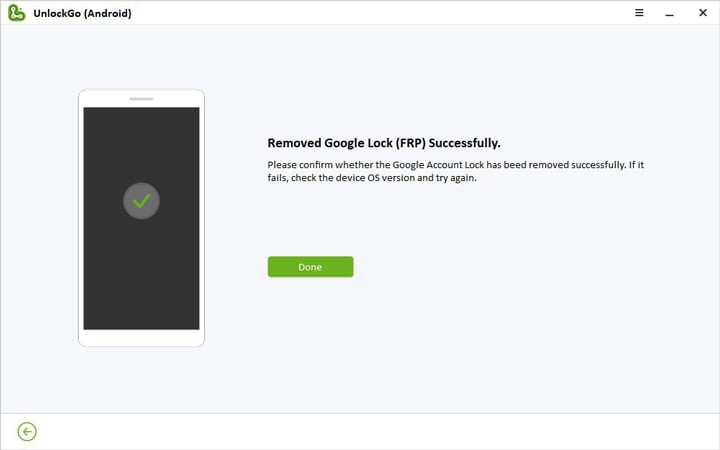 BONUS TIPS
No matter what Android brand do you have, iToolab UnlockGo (Android) supports a wide range of models of smartphones and tablets that remove any Android screen locks easily without data loss.
Part 3: How to Unlock Google Locked Phone with Google Account If Forgot Password
If you have a Google locked phone and want to unlock it but forgot your password then try to change it with a new one. The first option is to verify your identity by sending a text or making a call to the phone that is linked to your Google account, if it does not work try other means described below.
Note: To make these methods work, you must have access to the verification address or other necessary information regarding your account.
1. Reset Google account password by recovery Email
If you have a recovery email linked to your account then go through the following steps to verify that this account belongs to you.
Step 1: Sign in Gmail, select Forget Email. Input your Recovery email address linked to your account on the next page, as you tap the send option a code is received to that address.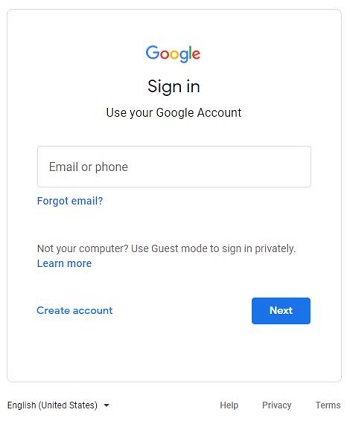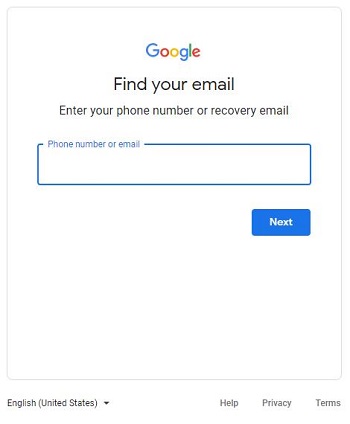 Step 2: Sign in to your recovery email and check if the verification code is received. Enter the six-digit code, after that, a new window appears that asks you to change your password.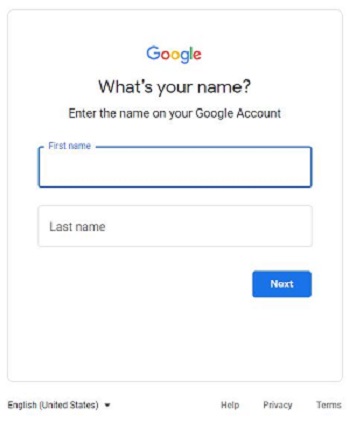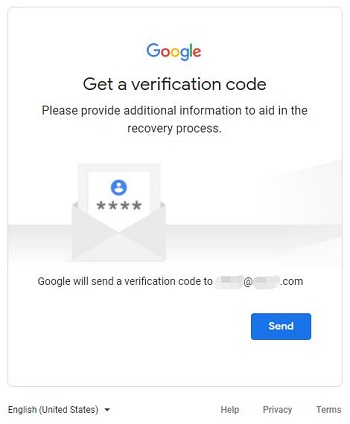 2. Reset Google account password via answering secret questions
If you were unable to unlock phone with a Google account by email recovery, try other methods like answering a secret question, such as the month and year that you created your account, then you can create a new password.
3. Getting a verification code to recover Google account
Follow these steps to recover your Google account by code verification method.
Go to Google Account Recovery.
Input username or phone number that is related to your account, make sure the phone number could receive messages.
Click Next.
Choose I forgot the password.
You will receive a verification code via SMS on the verified phone number.
Enter the code to verify your account ownership.
The above methods help you to unlock phone with Google account and give full access to your phone by signing in to your device or PC and resetting the new password.
Part 4: People Also Ask About Google locked Phone
Q1. How to remove Google activation lock?
Go to Settings.
Choose Accounts/ User and Accounts.
Choose the account type – Google.
Tap email address.
Tap the three erect dots that appear on the upper right corner of your screen.
Choose Remove Account.
Confirm Remove Account.
Some steps may skip depending on the variation of brands.
Q2. How to remove Google activation lock online?
Sign in to your Google account.
Go to Device Activity & notifications.
Tap Review Devices.
Choose the device that you want to eliminate from your Google account, tap the Remove option.
Select Remove.
Q3. Can I Buy a Google Locked Phone?
If you buy a Google locked phone, it might be tricky to unlock it. In this situation, you could use Google lock bypass tool to regain the full features on your phone as new one, which supports your Android device OS version (Android 5-12).
Summary
The methods mentioned above to unlock your Google locked phone with or without a Gmail account or email recovery need some technical efforts. To save your time and money, unlock a Google locked phone through iToolab UnlockGo (Android) that efficiently removes Google lock (FRP). It supports Samsung devices of Android 5-12 to give you full access to your phone.