When it comes to communication, WhatsApp is the perfect choice. It is easy to use and available for both iPhone and Android devices. However, nowadays, many people have started using GB WhatsApp because it provides more features than WhatsApp. With this app, you can use different options, such as seeing hidden messages, scheduling WhatsApp messages, choosing themes and more. But is GB WhatsApp safe? Since it is not available on Google Play Store, people are curious whether this app is safe or not. In this article, we will guide you through everything about GB WhatsApp and whether it is safe or not.
Part 1. Why Would Someone Use GB WhatsApp?
In this section, we will discuss why someone should use GB WhatsApp and what is the main difference between WhatsApp and GB WhatsApp.
1. Benefits of using GBWhatsApp
Allows you to use dual WhatsApp on the same device.
Easily set up an auto-reply and also find this option in your WhatsApp Business account.
The conversations can be viewed individually.
Get different privacy options.
Offers more chat alternatives.
Send a 50 Megabytes video clip rather than a 16 MB.
Up to 90 photos can be delivered instead of 10 images only.
You might wonder:
2. The differences between WhatsApp and GBWhatsApp
Many people don't know which is best, WhatsApp or GBWhatsApp. Well, both applications are good and work for both Android and iPhone devices. But if you are still confused, you can see the comparison table below, which will tell you the main difference between WhatsApp and GBWhatsApp.
| Number | GBWhatsApp | WhatsApp |
| --- | --- | --- |
| Release Date | 2014 | 2009 |
| Availability | Not found on Google Play Store | Yes, Available on Google Play Store |
| Status | Users can download the status | Users cannot download the status |
| Customization | Available | Not Available |
| Privacy | Not Safe | Safe |
| Passcode | You can add a passcode to your messages | You can't add the passcode |
| Deleted Messages | You can see deleted messages | You cannot see deleted messages |
Part 2. What are the Risks of GB WhatsApp?
According to a Cybernews report, some people posted an advertisement on the hacking community forum on November 16 and were selling a 2022 database of around 487 million WhatsApp users' mobile numbers. The report, which has been confirmed by multiple sources, is likely to be true.

— From www.businesstoday.in
Is it true that GB WhatsApp data is leaked? Yes, according to recent reports, On November 16, 2022, an actor posted an ad showing that an online hacking forum is selling a database of almost 487 million WhatsApp mobile users. The dataset had information from 84 different countries, including Egypt, Italy, Saudi Arabia, Turkey and more. So, it means GB WhatsApp is not safe? Yes, it is not safe to use this application. Here are some possible risks that you might face after downloading the application.
😥 Since the application doesn't come from a relied-on source, there are chances that it can damage customers' privacy.
😥 It can collect the personal data of customers.
😥 This app is hosted on a less safe surface, which means there is a high possibility of viruses and malware attacks.
😥 It doesn't have an end-to-end encryption feature, so that means a third person can easily read your messages.
😥 It is not available on Google Play Store, so it is not a good idea to use this application.
These were some of the top risks of the GBWhatsApp application, so we would recommend not downloading these modified applications as they can be bad for your devices.
Part 3. How Do I Transfer GBWhatsApp to Normal WhatsApp?
iToolab WatsGo – WhatsApp/GBWhatsApp Transfer Tool is perfect for transferring GBWhatsApp data to WhatsApp from Android to iPhone. More importantly, you can backup GBWhatsApp to computer and restore GBWhatsApp backup to your new Android phone.
Support for nearly 6000+ devices, with a variety of things being transferred, including messages, photos, videos, and more, you can easily move GBWhatsApp data to normal WhatsApp from Android to iPhone easily. Here are the steps which you can follow.
Did you enjoy this tip? Subscribe to iToolab YouTube Channel
Step 1. Launch the tool and click the "GBWhatsApp" option from the left pane.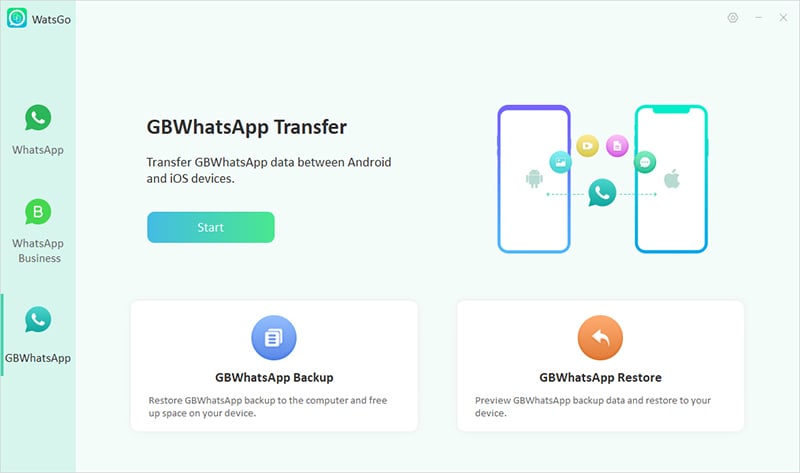 Step 2. Now, connect both your mobile devices to the PC and choose the flip option to select the source and destination.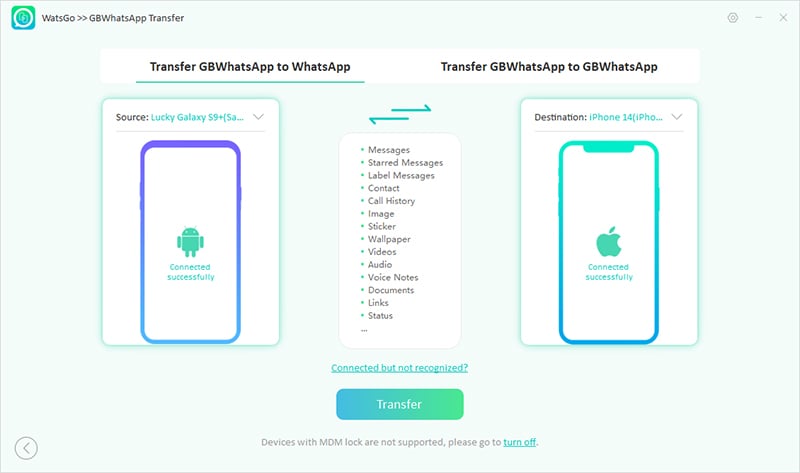 Step 3. Hit the "Start" option and choose whether you want to keep the existing WhatsApp data on your destination device or not. And then select what kind of data that you want to transfer.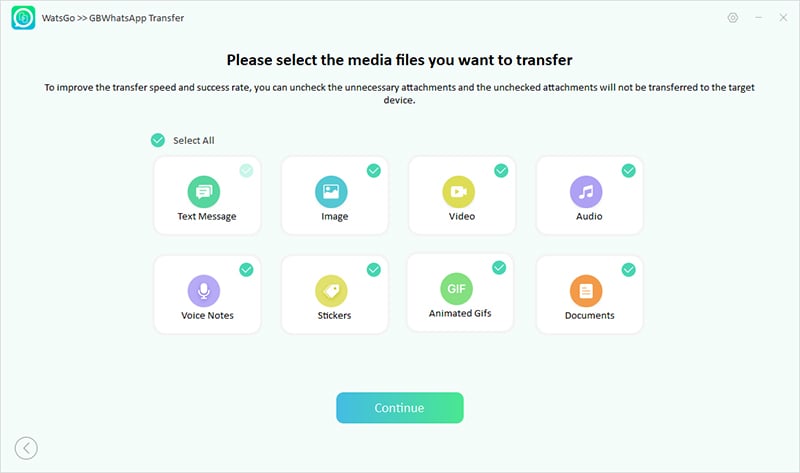 Step 4. Next, check the instructions on the screen and follow them to backup your WhatsApp data.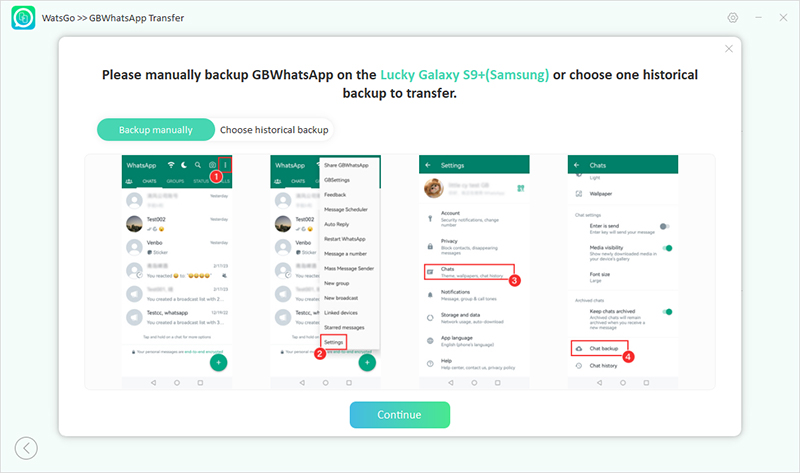 Step 5. Soon your data will start transferring, and you will see the "Successfully Restored" message on the screen.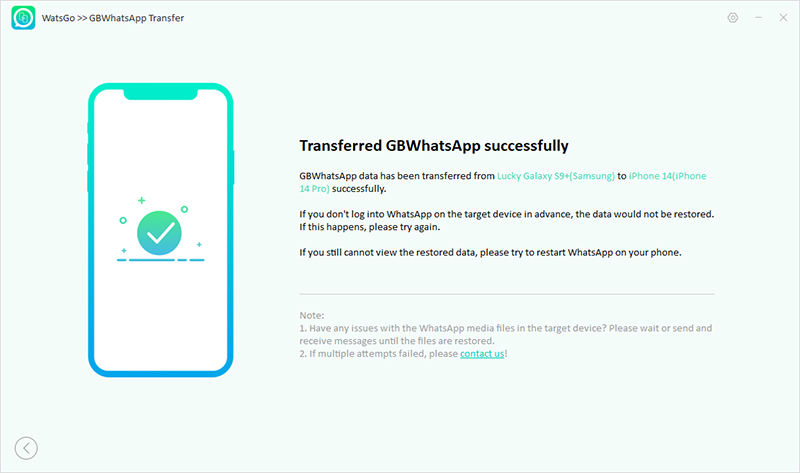 That's it! You have finally learned how to transfer GBWhatsApp to normal WhatsApp using iToolab WatsGo software.
Think before You Try, Really!
From the above information, we can conclude that GB WhatsApp is not safe for you and can cause different issues for your devices. Moreover, it is not a good idea to use this application as it is not 100% safe and can cause privacy issues. Apart from that, you can also convert your GB WhatsApp to WhatsApp using the iToolab WatsGo.