Oneplus is a relatively new smartphone brand that made headlines for its innovative features, affordable pricing, and brand deals with celebrities like Robert Downey Jr and Amitabh Bachchan. Oneplus phones also offer a great software experience which is reminiscent of Apple's iOS. So, many users frequently switch from Oneplus to iPhone and vice versa to take advantage of all the features that the respective platform has to offer.
However, during the switch, transferring WhatsApp from oneplus to iPhone became really difficult because of the limitation of their respective operating systems. So if you are wondering how to transfer WhatsApp data from oneplus to iPhone, Here is a detailed article to help you out.
Part 1. Does Move to iOS WhatsApp Transfer Working?
Move to iOS is a native app from Apple that allows users to transfer data seamlessly between Android and iPhone. However, because of compatibility issues, Move to iOS does not work when you try to transfer WhatsApp from oneplus to iphone. This creates a significant issue when users try to transfer their WhatsApp data between devices.
But thankfully, there are other third-party solutions that you can use to transfer WhatsApp from oneplus to iPhone. One such tool is iToolab WatsGo – Best WhatsApp Transfer Tool which is by far the most reliable and easy-to-use tool to transfer WhatsApp data between smartphones, irrespective of their OS.
Part 2. OnePlus to iPhone WhatsApp Transfer Using iToolab WatsGo
Now that we discussed what iToolab WatsGo offers let us see in detail what the tool can do for us. We will also highlight some of the iToolab WatsGo's main features and show a detailed step-by-step guide that anyone can follow to get started. But before diving deep, let's briefly discuss what iToolab WatsGo is.
1. What is iToolab WatsGo
iToolab WatsGo is a third-party app that allows users to transfer WhatsApp data from one device to another seamlessly. iToolab WatsGo is particularly useful because WhatsApp offers no native solution to transfer data between platforms. So, when you try to switch between an Android and an iPhone, you have to rely on Toolab WatsGo for the transfer. One best part of Toolab WatsGo is its multi-directional capabilities.
WatsGo – All-in-One WhatsApp Transfer Tool
Transfer WhatsApp from Android to iPhone, iPhone to Android, Android to Android, iPhone to iPhone.
Support more than 6000 Android devices including OnePlus, Huawei, Xiaomi, Samsung, Vivo, HTC, LG, etc,.
Faster WhatsApp transfer speed up to 10240kb/s.
2. How iToolab WatsGo is Trusted by Techtimes, Softpedia, Hongkiat, etc.
iToolab WatsGo is also a very reliable tool and is therefore trusted among several publications and tech companies like Techtimes, Softpedia, XDA-developers, Hongkiat, etc. If you want to transfer WhatsApp data from oneplus to iPhone, one major concern is reliability. Several transfer tools are not nearly reliable, and therefore, some of the data may be left behind. Another concern that many users have is privacy, as allowing access to transfer your WhatsApp data may open many vulnerabilities that WhatsApp may possess, which can be detrimental to your privacy. However, using a popular tool like iToolab WatsGo helps create a sense of reliability. Therefore, it is one of the major reasons for users to choose iToolab WatsGo over other third-party apps. iToolab WatsG is also perfectly safe and reliable, so you can safely trust it.

3. Highlights of iToolab WatsGo
Let's now look at some of the features that set iToolab WatsGo apart from other WhatsApp transfer tools.
Multi-directional support: We already mentioned the multi-directional capabilities that iToolab WatsGo possesses. Where most other tools from Samsung and Apple work only with their proprietary device, iToolab WatsGo takes it a step further. It works in transferring WhatsApp from Android to iPhone, from iPhone to Android, Android to Android, and iPhone to iPhone, including Oneplus, Huawei, Xiaomi, Pixel, and so on. So no matter what device you own, iToolab WatsGo has you covered.
Success rate: iToolab WatsGo also offers the highest success rate of any WhatsApp transfer tool in the market. It has a more than 90% success rate, and users can rely on the app without worrying about files being left behind.
Transfer large files: iToolab WatsGo is also proficient in transferring large files without deleting any data. This is particularly useful for transferring large video files.
Transfer Speed: The biggest perk of using iToolab WatsGo is the speed it provides. You can expect a fast transfer speed that rivals even the native solutions from Samsung and Apple.
Part 3. Step-by-Step Guide on OnePlus to iPhone WhatsApp Transfer
Now that we have established how much we can do using iToolab WatsGo, let's now discuss a step-by-step guide on how to transfer WhatsApp data from oneplus to iPhone.
Step 1:Download and install iToolab WatsGo on your computer and launch the app.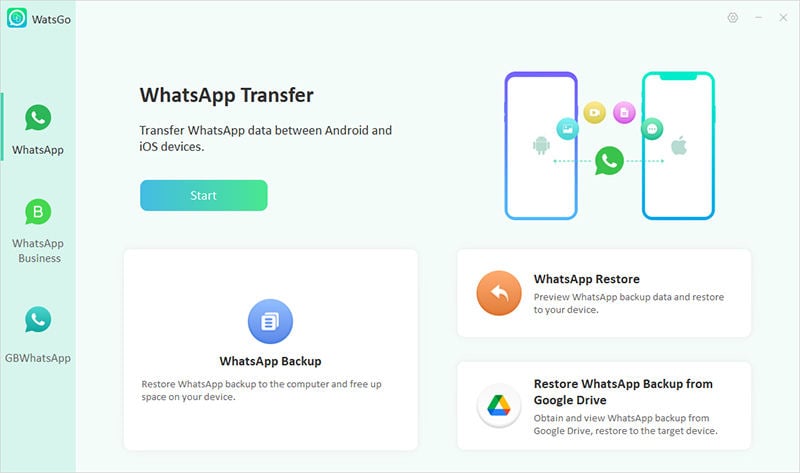 Step 2: Connect both your Android and iPhone with the computer and select "WhatsApp Transfer" from the left panel.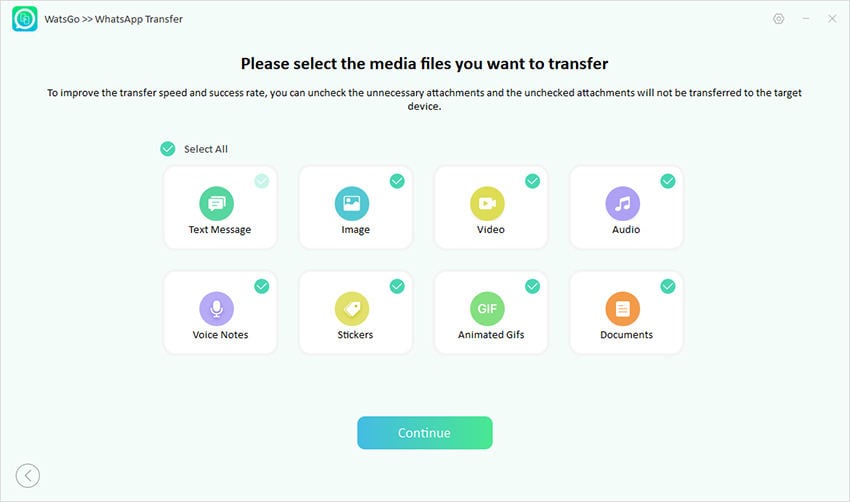 Note: Once your devices are connected to the computer, you can flip the source and destination devices by tapping on the flip button.
Step 3: After a successful connection with your device, the app will remind you that the target device will be overwritten, so make sure you back up your data before the transfer.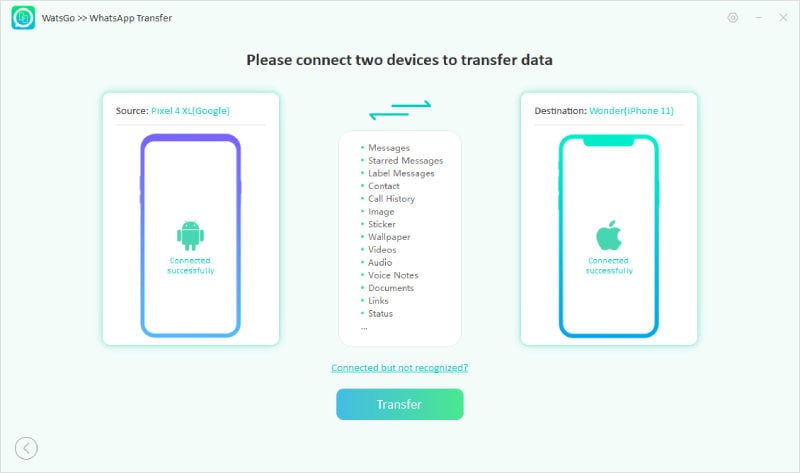 Step 4: Next, select the data you want to transfer. You can choose between text messages, audio, video, documents, and more. Once selected, press continue.
Step 5: Enable end-to-end encryption; follow the image below for reference. Note: Do not forget to take a screenshot of the password used for encryption; without it you can not gain access to your data.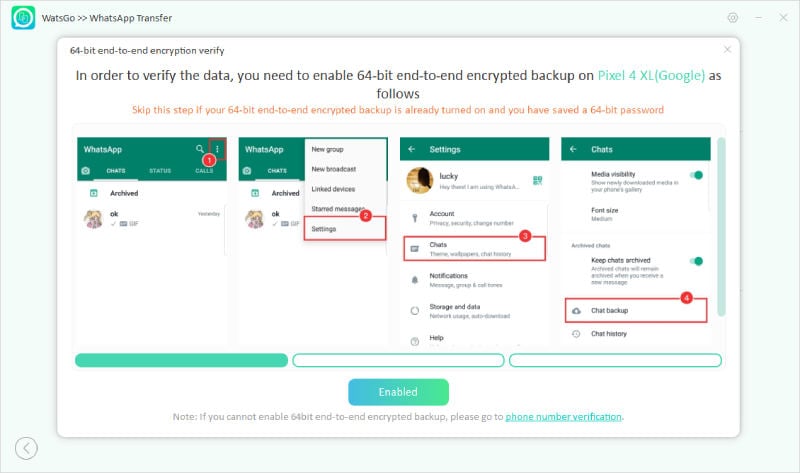 Step 6: Now, verify the 64-bit encrypted backup with the password you got from step 5. iToolab WatsGo will automatically generate a backup that can be transferred to your iPhone. The transfer will begin shortly; make sure you keep the device connected during the transfer.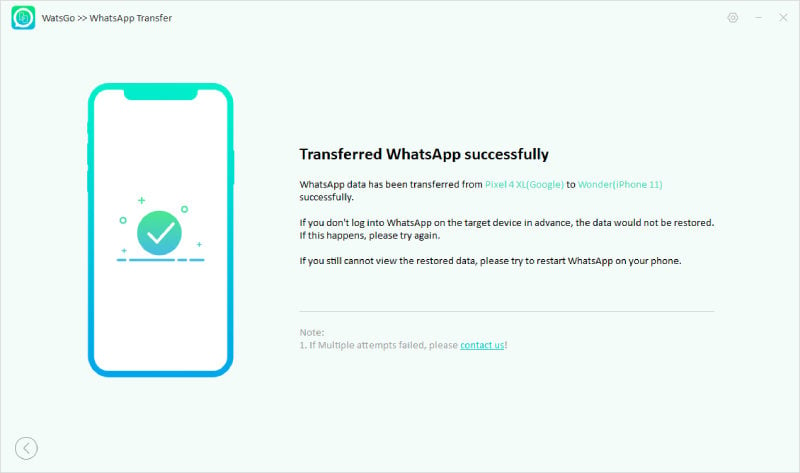 Conclusion
WhatsApp has gained massive popularity and is currently used by over 2 billion people worldwide. But it still lacks a native solution to transfer WhatsApp data between different platforms. However, tools like iToolab WatsGo – Best WhatsApp Transfer App allow seamless WhatsApp data transfer between Android and iPhone and vice versa. It also offers several perks over conventional apps, like multi-directional support and blazing-fast transfer speed. You can learn more about oneplus to iPhone WhatsApp transfer by clicking here.