What is the best Pokemon Go teleport app for iOS and Android? There isn't much happening in my neighborhood while playing the game, and I wish to change my location to unlock potential rewards and features.
Pokemon Go is one of the most popular smartphone games in history because of its augmented reality (AR) features. The game requires players to walk around real-world locations to find Pokemon using Pokeballs. The only problem with this is that AR location tracking makes it impossible to change your location or play the game indoors. There are, however, ways to minimize the time you spend outdoors or in the same neighborhood.
If you want your game to be as fun and rewarding as possible, then there's no better way than using an app to teleport in Pokemon Go. Read on to learn more about how these apps can make your game more convenient and enjoyable.
Top 5 Pokemon Go Teleport Apps
You can spoof your location on Pokemon Go on any Android or iOS device using the following apps:
Top 1: iToolab AnyGo (For iOS & Android)
iToolab AnyGo is one of the most reliable apps for teleporting in Pokemon Go. The platform offers a user-friendly interface, making it easy for users from every background. Besides its spoofing feature, you can also access the walking simulation tool so that no one can detect you are changing your whereabouts to play the game. This utility also reduces your possibility of getting banned, minimizing your risk.
Moreover, its excellent auto-cooldown timer prevents you from teleporting your location beyond usual. So, you should rest assured that no one will ever know that you are sitting in one neighborhood and playing in an entirely different one! In terms of compatibility, this app supports all modern or active iPhones/Android devices.
The Best Pokemon Go Teleport Apps
168,282 people have downloaded it.
Teleport your location to any locations with 1-click.
Simulate walking, cycling or driving at a variable speed.
Share virtual locations on social platforms.
Fully support the latest iOS 16/Android 13.
How to Use iToolab AnyGo for Android App.
Step 1 Launch AnyGo for iOS and you will see your current location on the map. You can change your iPhone GPS location by entering an address or coordinates in the search box.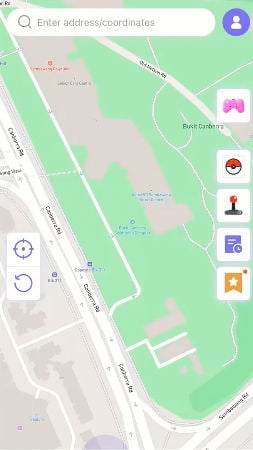 Step 2 Next, select the location and hit "Teleport" on and map.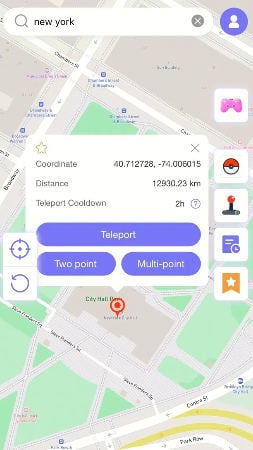 Step 3 iToolab AnyGo for iOS will ask you to configure VPN, click on "Configure VPN" to go on.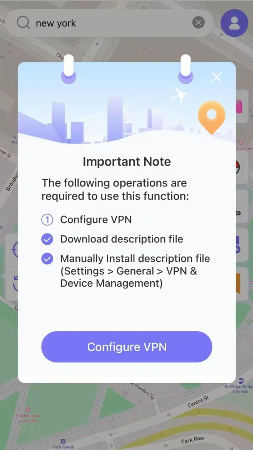 Step 4 In a second, your location will be changed to there.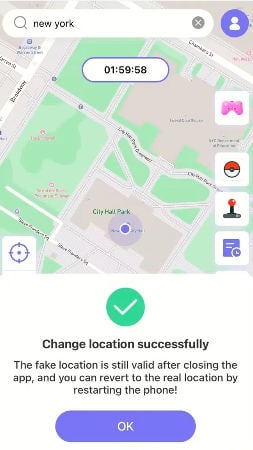 You can also use the built-in joystick feature to walk around the new location at a walking pace of your choice. So, what are you waiting for! If you are using the iOS device, please use the desktop version.
Video Guide:
Top 2: iTools (For iOS)
iTools by ThinkSky is another useful spoofing software that can imitate real-life movement in Pokemon Go while enabling you to play the game anywhere. It offers advanced GPX, and you can use it on multiple devices at a time!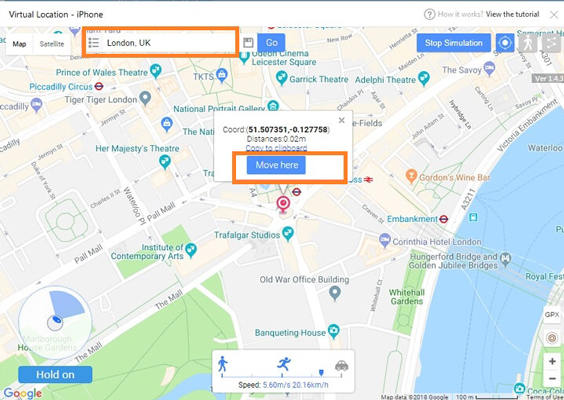 Top 3: iPogo (For iOS)
iPogo is basically a modded version of Pokemon Go, where not only can you change your current location but also unlock special features to make the game convenient. Specific functions include auto spins and boosted Pokeball throws to catch your favorite or a unique Pokemon. The one downside that can not be overlooked is this app can be detected by Pokemon Go, resulting in a soft ban and eventually a permanent one! So, be careful!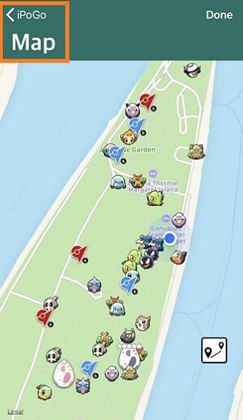 Top 4: Fake GPS Location – GPS Joystick (For Android)
The first three Pokemon Go apps that allow you to teleport were for iOS users, but that doesn't mean you can't spoof your location on an Android device. Simply download the Fake GPS Location – GPS Joystick from the Google Play Store, launch the app, and follow the instructions to manage settings. Next, enter the area you want to play Pokemon Go. It is that easy!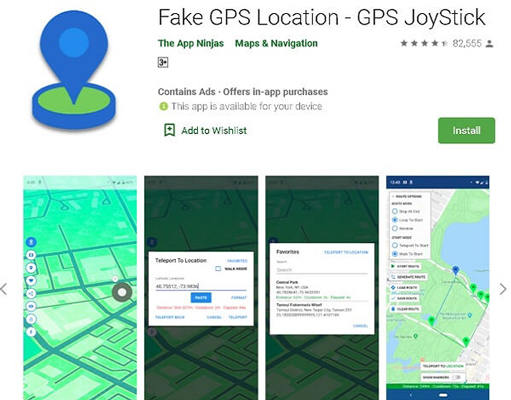 Top 5: Fly GPS for Pokemon GO (For Android)
Once you enter Developer Mode on your Android phone, you can launch the Fly GPS app to easily change your current location to play Pokemon Go. Similar to the previously mentioned Android spoofer, this one is available on the Google Play Store.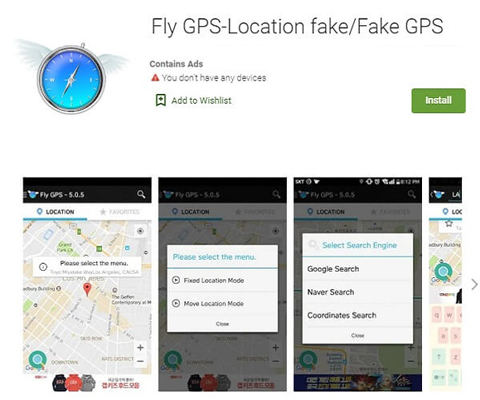 Bonus Tips: How to Teleport in Pokemon Go Safely?
Pokemon Go how to teleport without softban?It is a familiar concept that spoofing locations result in getting banned from Pokemon Go. It is pretty accurate, but if you follow the tips mentioned below, you can avoid such a hassle and play the game without any worry.
1. Follow the Cooldown Time in Teleporting
Apps like iToolab AnyGo offer the Cooldown Timer that restricts you from spoofing your location frequently. Also, it is better to stick to a limited number of sites in a single playing session.
Check the following cooldown time chart:
| Distance Covered While Teleporting(KM) | Cooldown Time Required (Mins) |
| --- | --- |
| 1-5 | 1-2 |
| 6-10 | 3-8 |
| 11-100 | 9-30 |
| 101-250 | 31-45 |
| 251-500 | 46-65 |
| 501-900 | 66-90 |
| 901-13000 | 91-120 |
| More than 13000 | 120+ |
Also Read: The Latest Pokemon Go Cooldown Chart 2023
2. Log Out of Pokemon Go Before Teleporting
Log out of Pokemon Go, spoof your location using apps like AnyGo, and then log in to the game to prevent any risk of getting detected. The game will instantly register the spoofed location instead of your real one, enabling you to play more freely.
3. Enabling Airplane Mode Before Teleporting
Airplane Mode cuts off all network, GPS, and data connections to your Android or iOS device. This feature also helps in altering your location using a spoofer. If you enable it before teleporting to play Pokemon Go, then there is no way of knowing that you have spoofed your online whereabouts. Though it is similar to logging out of Pokemon Go before enabling the teleport mode, it is equally convenient.
Hot FAQs about Teleport in Pokemon Go
Now that you know all about the Pokemon Go teleport apps and the essential tips to prevent any soft or permanent ban, follow this section to learn additional guidelines on avoiding bans.
Q1: How to Avoid Soft Ban when Teleporting?
You can avoid soft bans by following the cooldown time chart and using reliable spoofing apps like iToolab AnyGo.
Q2: Pokemon Go Soft Ban: How Long Does It Last?
The Pokemon Go soft ban generally lasts around 12 hours. Once the time limit has passed, log in to your account and try catching a Pokemon. If the procedure works, it means your ban has been lifted.
The Bottom Line
All things considered, there are plenty of ways to play Pokemon Go as much as you want without being suspected of cheating. However, a few preventive measures can help you get away with it. Firstly, use apps like iToolab AnyGo when you want to play the game. Secondly, follow the cooldown times mentioned above. And last but not least, don't spoof more than usual, or you will get banned from the game. If you love playing Pokemon Go, then these apps are definitely worth a try! They will help you enjoy playing the game even more.